Disclaimer: This post contains Amazon affiliate links.
Birthdays are a big deal to me, especially birthday number five. There's something magical about this age. They aren't quite toddlers anymore, but still aren't completely independent either. Five is the gateway to the next phase of childhood, and one we love to celebrate. For our first daughter it was a Frozen extravaganza, but for our youngest she's always been obsessed with one thing…cats.
It doesn't matter the size, shape, or color, if there's a cat in her presence, she will be its friend. She has a plethora of kitty cat headbands, shirts, pajamas and stuffed animals, so it made sense when I asked her what type of party to throw, she nonchalantly responded, "kitty cat!"
So how do you throw a killer kitty cat birthday party for 20 kids that won't break the bank? Check out these ideas I borrowed from Pinterest, and some cute ones I came up with on my own!
how to throw a killer kitty cat birthday party
We always have home parties, but since we had a huge water leak three days before Thanksgiving, we had to book a park on short notice. This pavilion with adjacent playground made a nice spot to hold the big crowd. (Note I've had these same pink pom-poms from IKEA for years, and recycled them from our Palace Pets party.)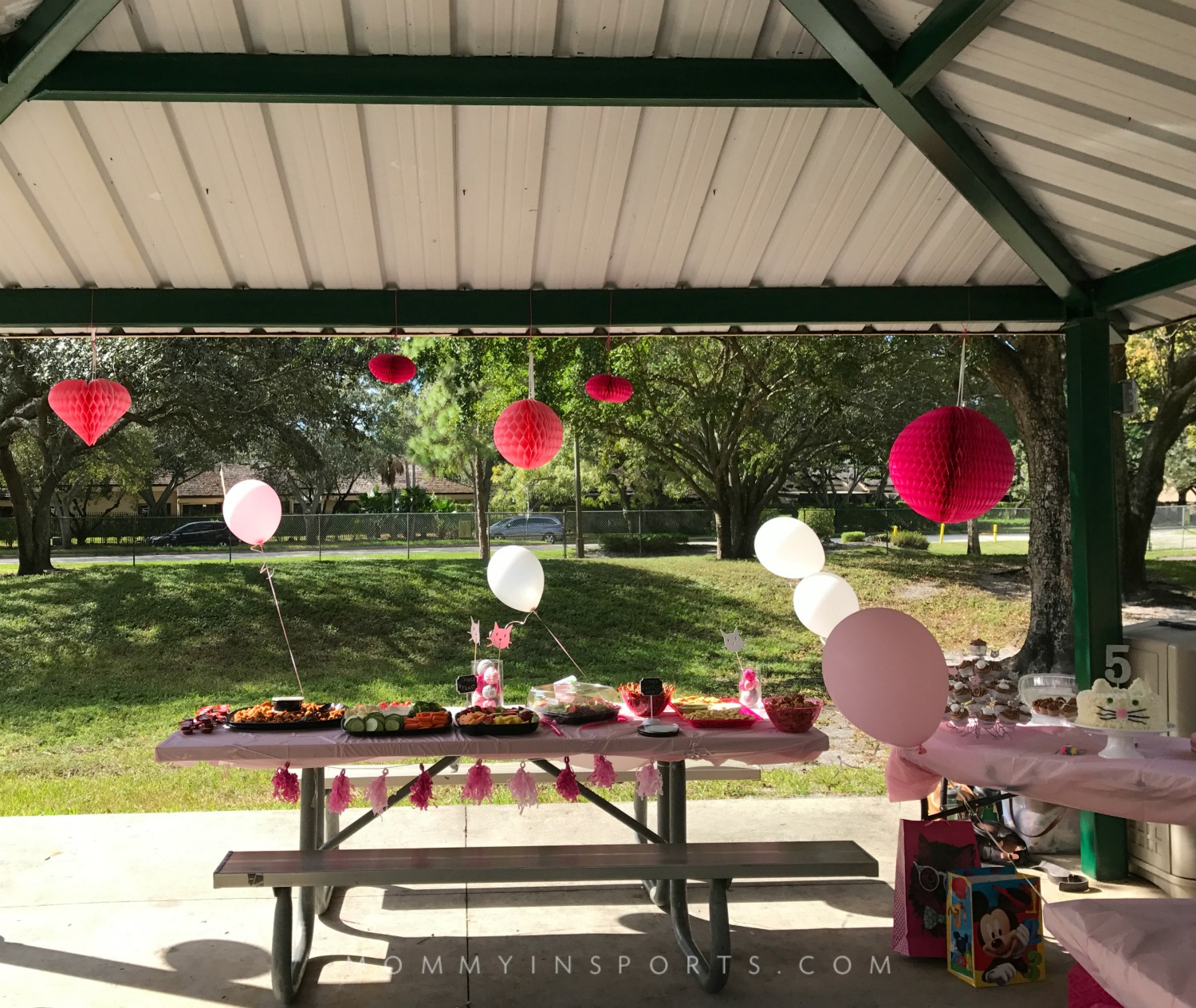 The girls and I made a big sign to welcome our guests the morning of the party, and they decorated the sidewalks welcoming in our furry little friends!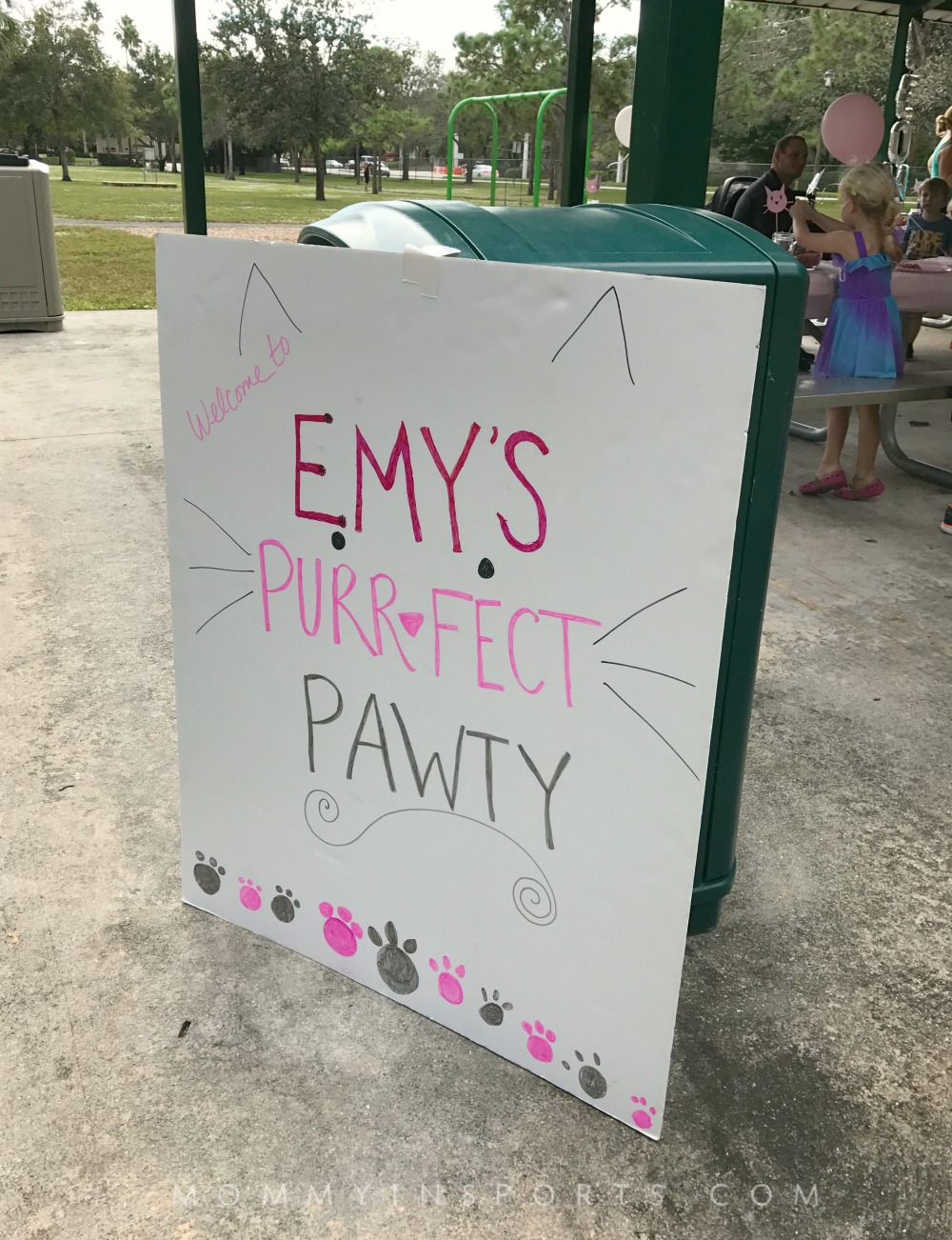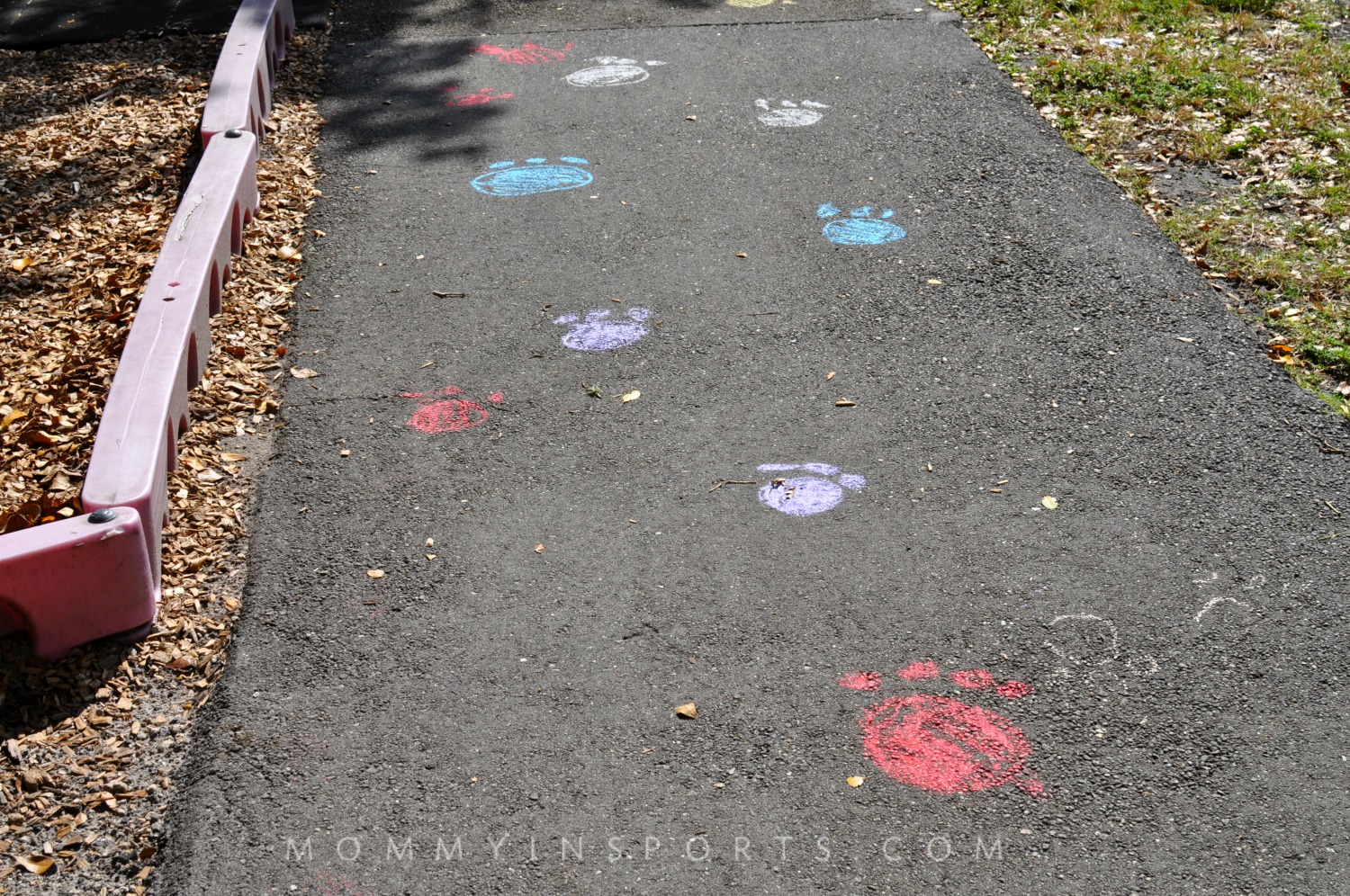 Since we thought the birthday party was going to be at our home, I went all out and made adorable table decorations. We bought styrofoam balls at the Dollar Tree and wrapped them in yarn to create yarn ball centerpieces. This was fun for the girls and our cats! I also bought little "fish bowls" at the dollar store and filled them with pink Goldfish crackers and Swedish Fish, because you know they're cats!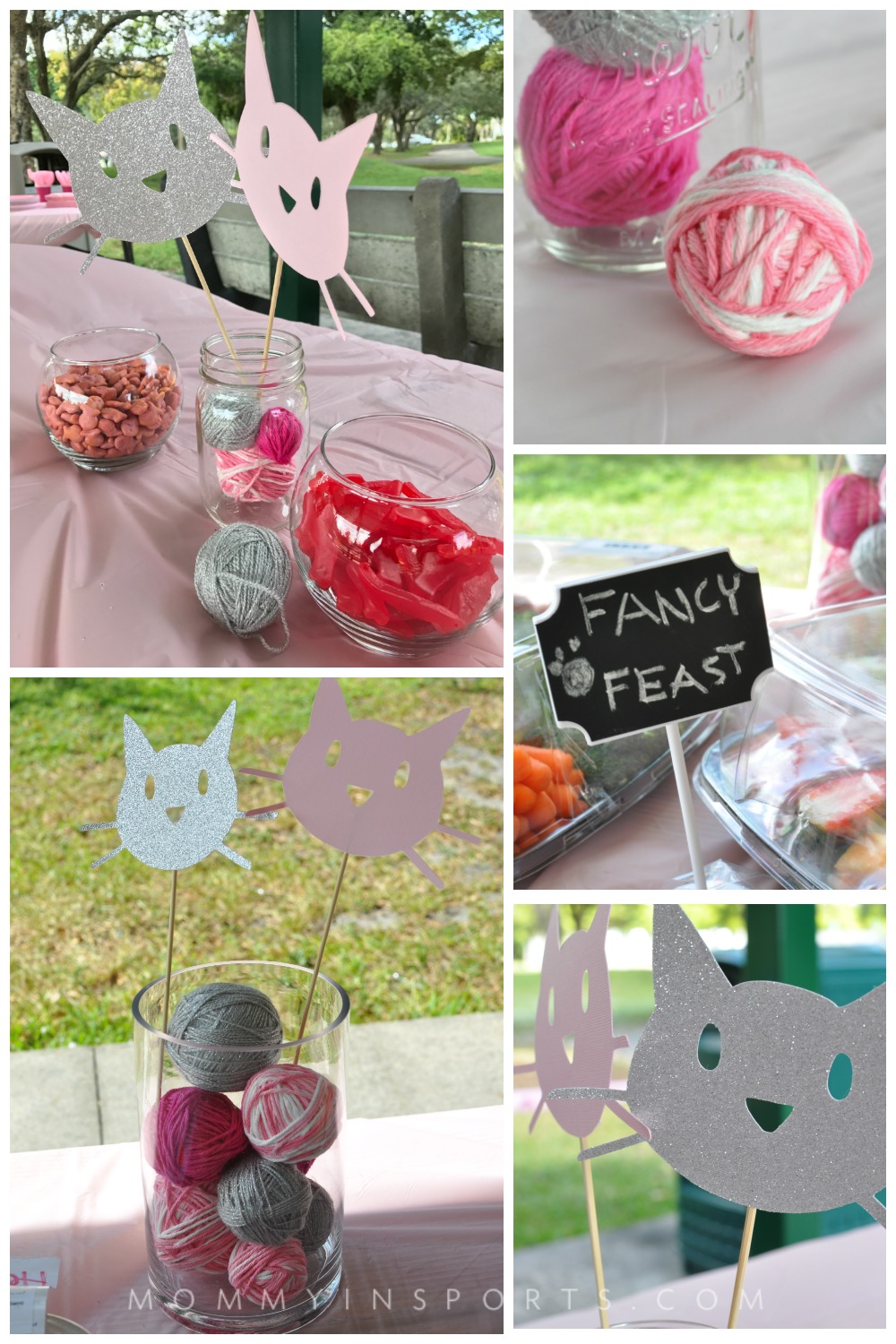 Those kitty cat picks – I bought them on Etsy. An added expense that wasn't necessary, but she's FIVE. (OMG my baby!) Keep in mind all the mason jars are recycled from all of our parties like Frozen, Ariel, and my mom's 70th. Upcycle people, save those mason jars!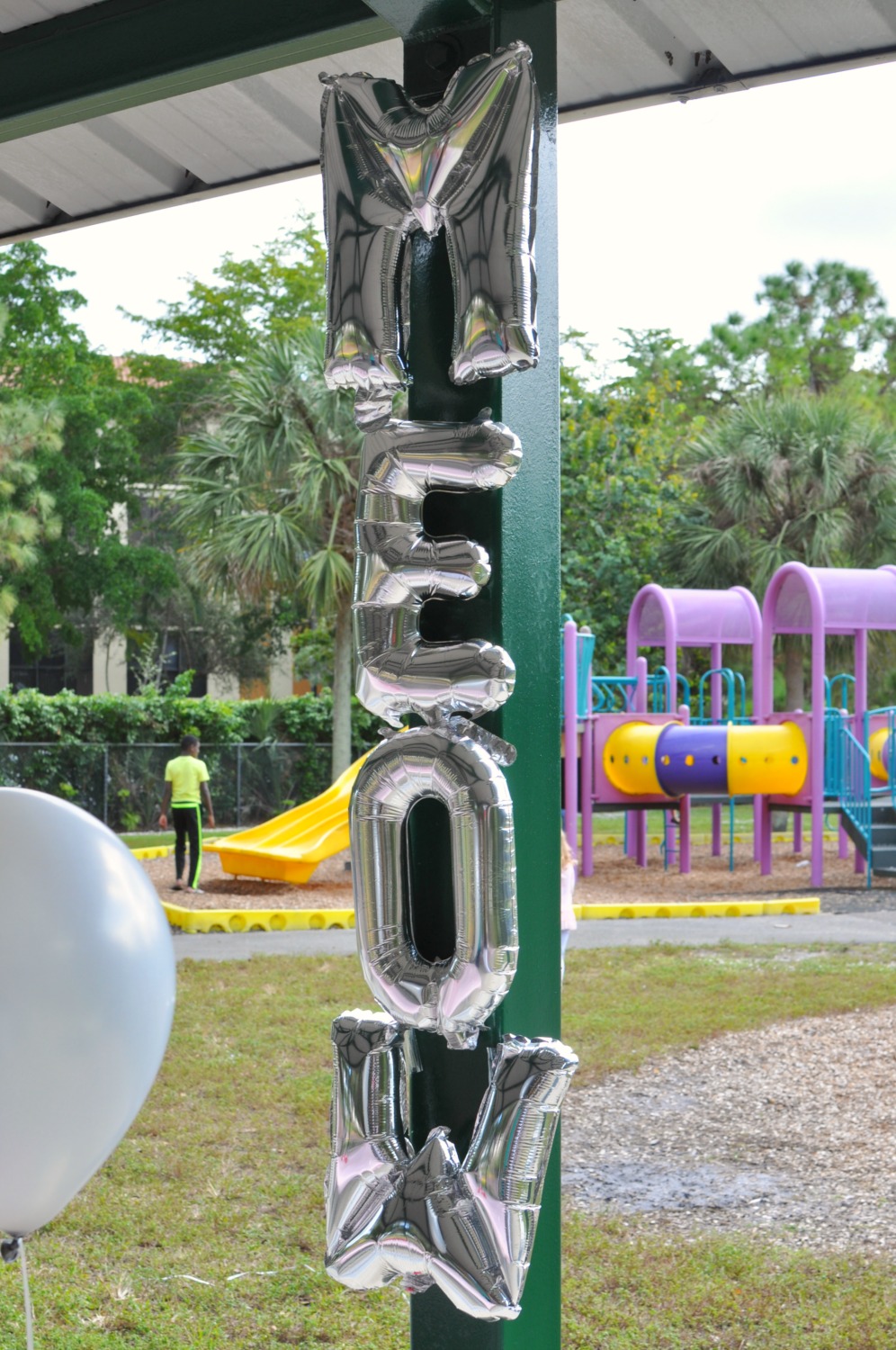 I was bummed we couldn't do a massive cake table, I even bought the balloons to spell out M-E-O-W. But just as in the TV biz, you just have lower your expectations and improvise.
You all know I'm bonkers for baking right? So I had to make a killer kitty cat cake. With the flood though, I had to bake the layers and freeze them before the mold remediation team took out part of our kitchen. Here's a quick tutorial on how to make this cake.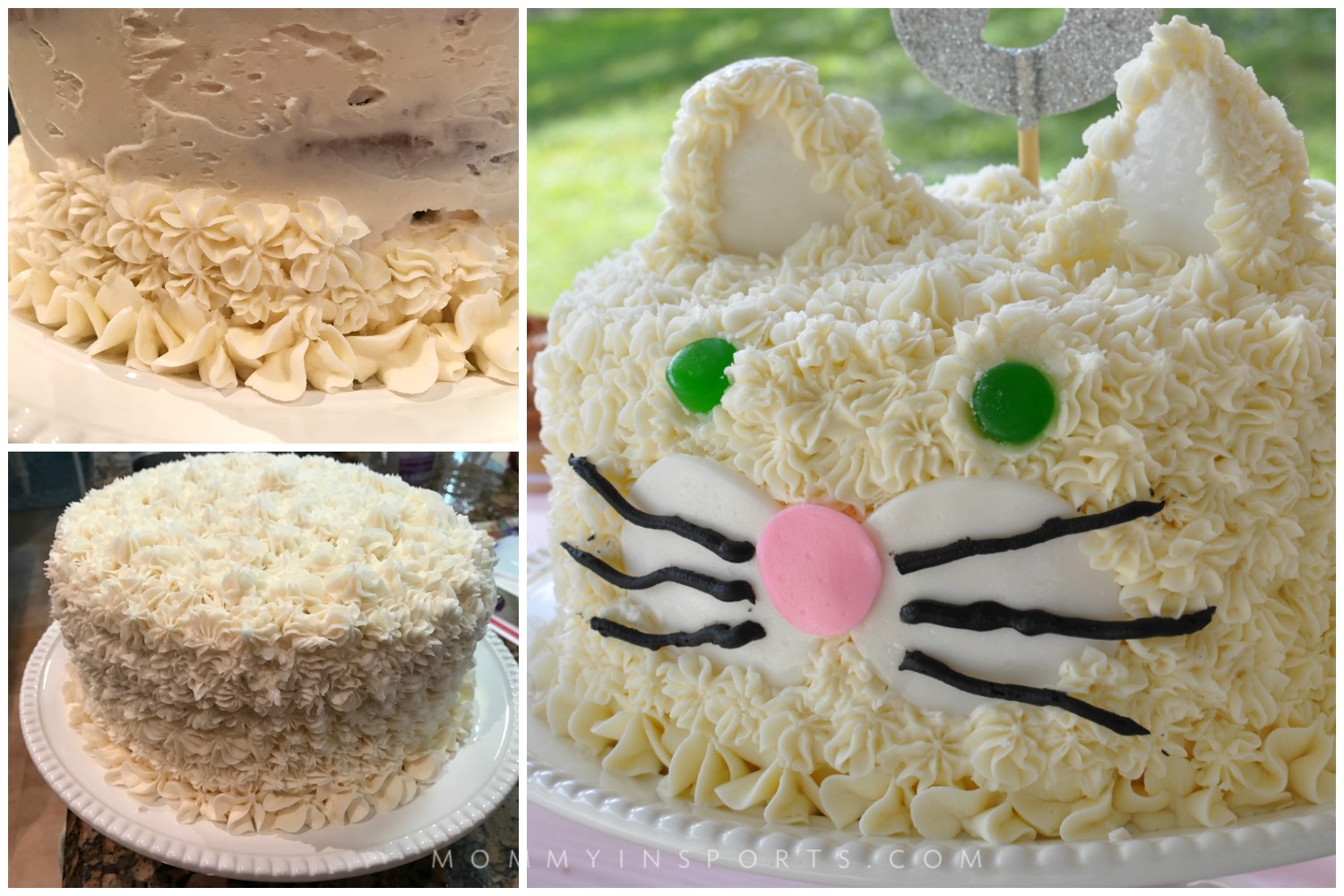 After a nice thick crumb coat of this three layer cake, I used the Wilton star tip to do thousands of these little stars. I had no time to make the fondant though, so my friend rolled out the face and ears for me. I added Dots candy for the eyes, and used black Wilton frosting for the whiskers.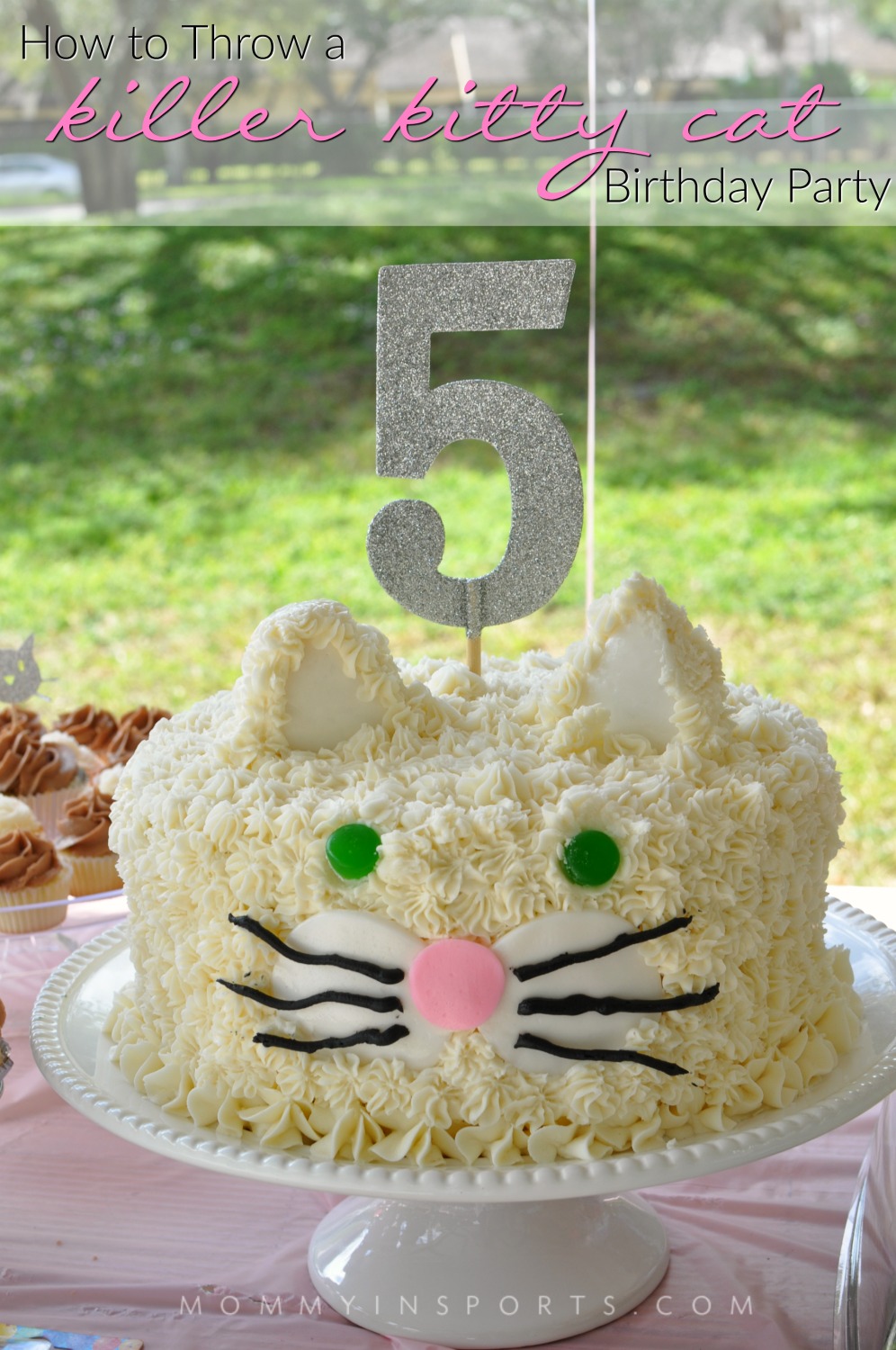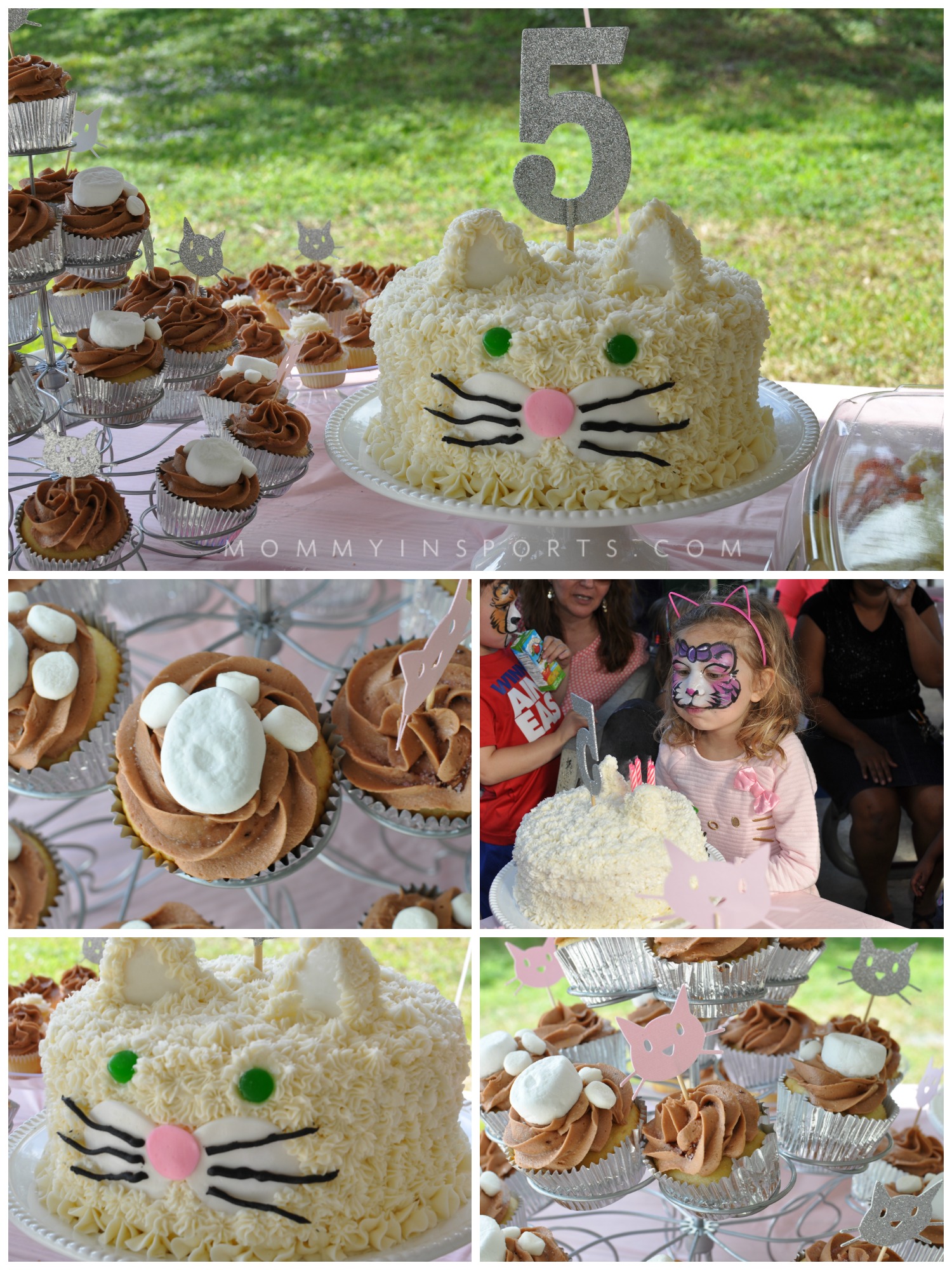 Our adorable five year old loves chocolate though, so I made some What the Fudge Frosting and added some matching kitty cat cupcake toppers and marshmallows to make paw prints. The girls did the cupcake paw prints for me. Really easy and looks so creative doesn't it?!
Oh and of course we had to have a face painter paint killer kitty cat faces on all of our little felines. Curly Sue is the bomb if you live in Broward!
I forgot to take a picture of the favor bags – but if you are looking for ideas they included:
No candy in our favors, and the kids loved them! Headbands are still kicking three months later!
Throwing it at the park was a much easier option, but setting it up while my husband was out of town was a mission impossible! The kids had fun playing, doing the limbo, and a parachute game with Curly Sue. And Emy was supremely happy, and so busy playing she didn't have time to eat the Chick-Fil-A she so desperately wanted at her party!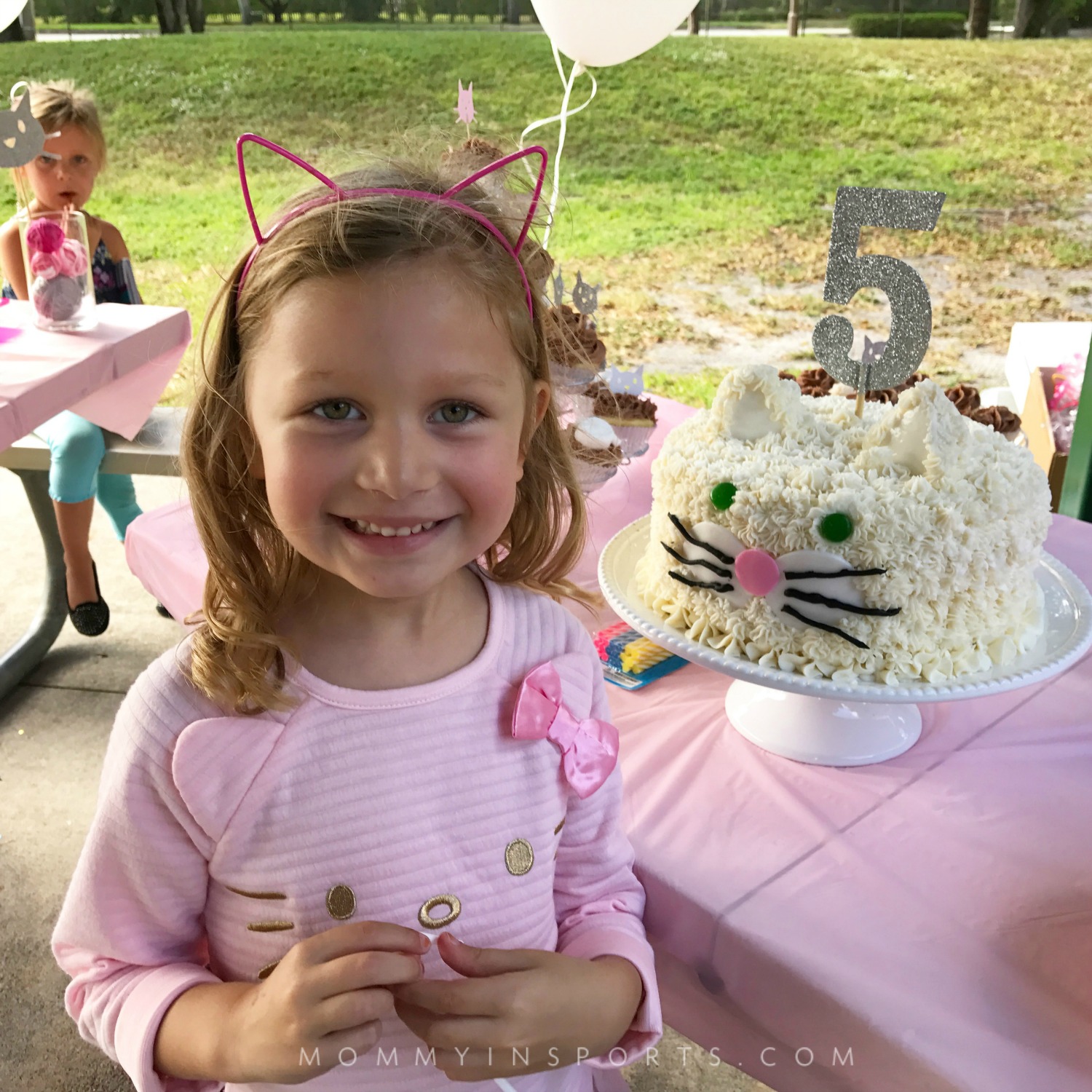 The kids had fun, and the parents helped me break down and clean up in minutes. It really ended up being a great day! So glad we could shower Emylia with love, laughter, and kitty cats galore on her big day.
Hope you too are inspired to throw your own killer kitty cat birthday party! And if you need more inspiration check out my gallery of birthday parties here!
Happy party planning! Don't forget to LIKE us on Facebook for more kids party ideas!
Want more great cake and cupcake inspiration? Check out these other great tutorials and recipes!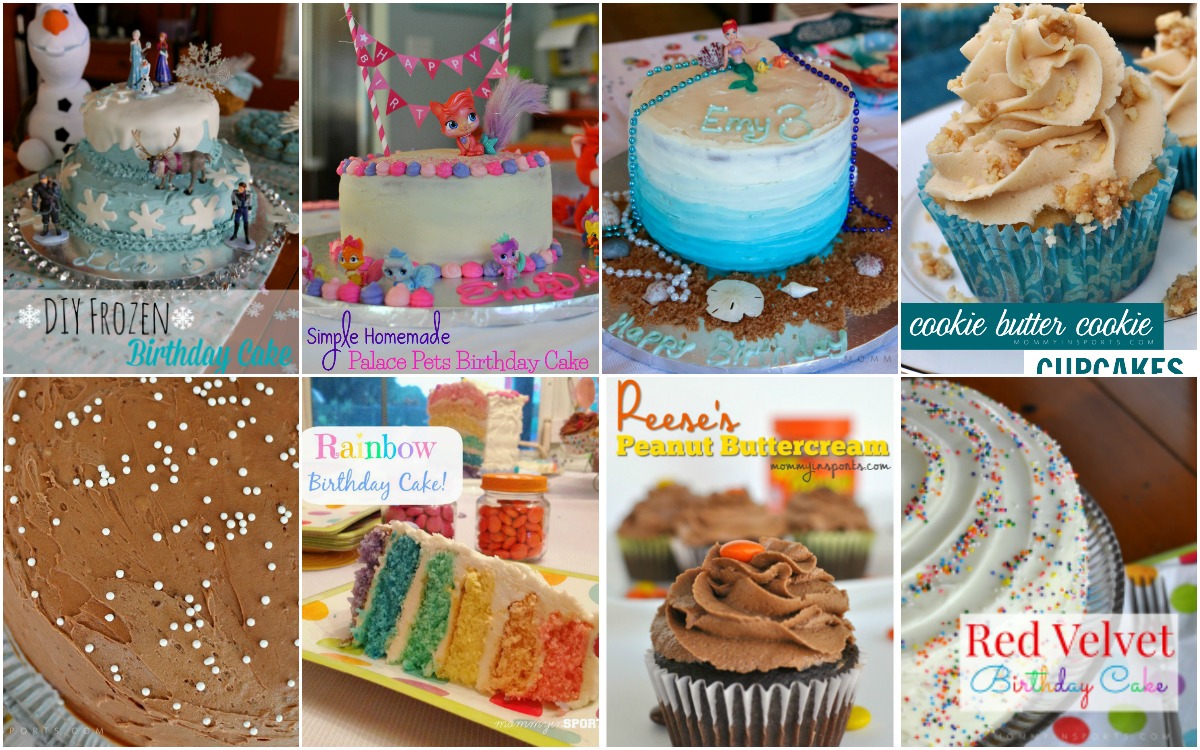 Simple Homemade Palace Pets Birthday Cake