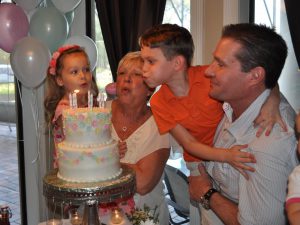 Make a wish! Hawaii next year?
Yes, today, August 13, 2013 is my beloved mother's 70th birthday. She's going to kill me for going public with her age…but as Mark Twain famously said, "Age is an issue of mind over matter. If you don't mind, it doesn't matter."
So after months of trying to arrange a family vacation, and then realizing no one will EVER agree on a location…me and my hermano Eric decided to throw her an unforgettable party in Orlando. Here's our rundown of the vintage themed soiree, which was simply stunning.
First things first, we needed amazing food. So Eric called on his friend and client Puff n' Stuff catering for a decadent menu. Yes the food was every bit as delicious as it looks, and the service was superb and perfectly attentive. They even helped with the decor (supplying all the candles), and making every guest feel like the center of attention. I highly recommend this caterer if you are in Central Florida, and no this post is not sponsored.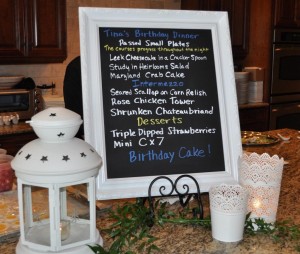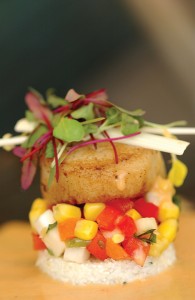 Next was a cake, and every one of my friends in Orlando told me to call
Sprinkles
in Winter Park, FL, so I did. Delish! We opted for two layers with two different flavors: Vanilla with chocolate ganache filling, and Italian almond amaretto with raspberry filling. Best. Cake. Ever.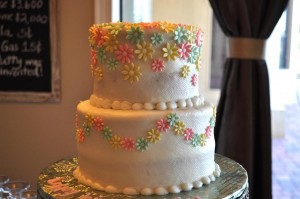 And of course the decor was key, and boy did I have fun with some thrift store finds. I used an old frame and roughed it up as a photo collage. I also bought a vintage mirror and turned it into a chalkboard, using cardboard and chalkboard paint to detail what life was like in 1943.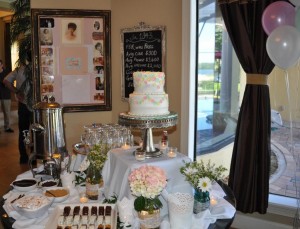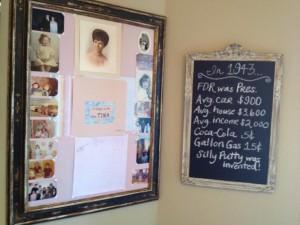 We also added vintage flowers in mason jars wrapped with burlap and lace, burlap table runners, and a milk glass bowl with a little message!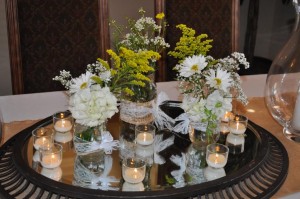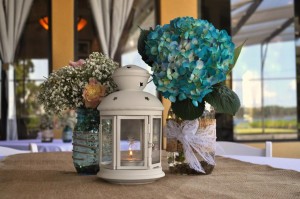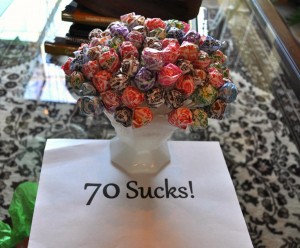 And you can't forget my mom's favorite card game, pinochle decks for favors.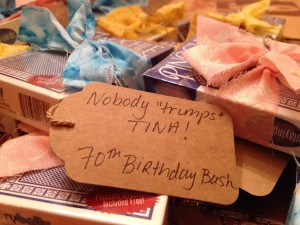 Planning the party was so much fun, but it was awesome to see her surrounded by the ones who love her most. And a special thanks to our friends from the old 'hood in Wekiva for surprising her. Happy Birthday mom! We love you and are so thankful for all you do for us. Now…don't forget this next time we need a babysitter…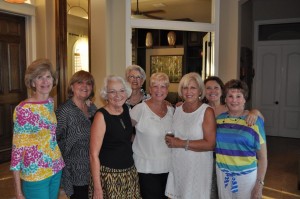 Tennis buddies who prefer Bunco with bourbon slush!