I wanted to make pink velvet cupcakes for our daughter's fourth birthday, but she insisted on a Palace Pets Birthday cake. So when the girls asked to bake their Daddy cupcakes one rainy afternoon, I thought, hmmmm…maybe I can convince them to try these! I mean who wouldn't love Pink Velvet Cupcakes with White Chocolate Frosting?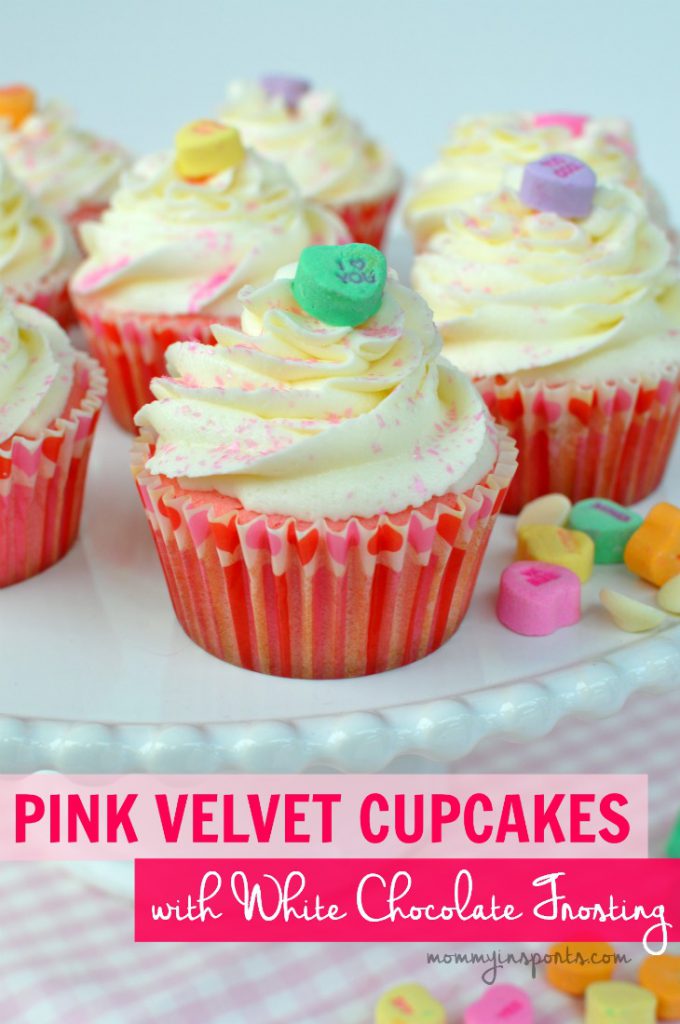 Plus with Valentine's Day on tap and our recent Dollar Tree cupcake liner purchases, I knew we had all the fixings for these moist, delicious, yet festive cupcakes! And conversation hearts make the perfect sprinkles!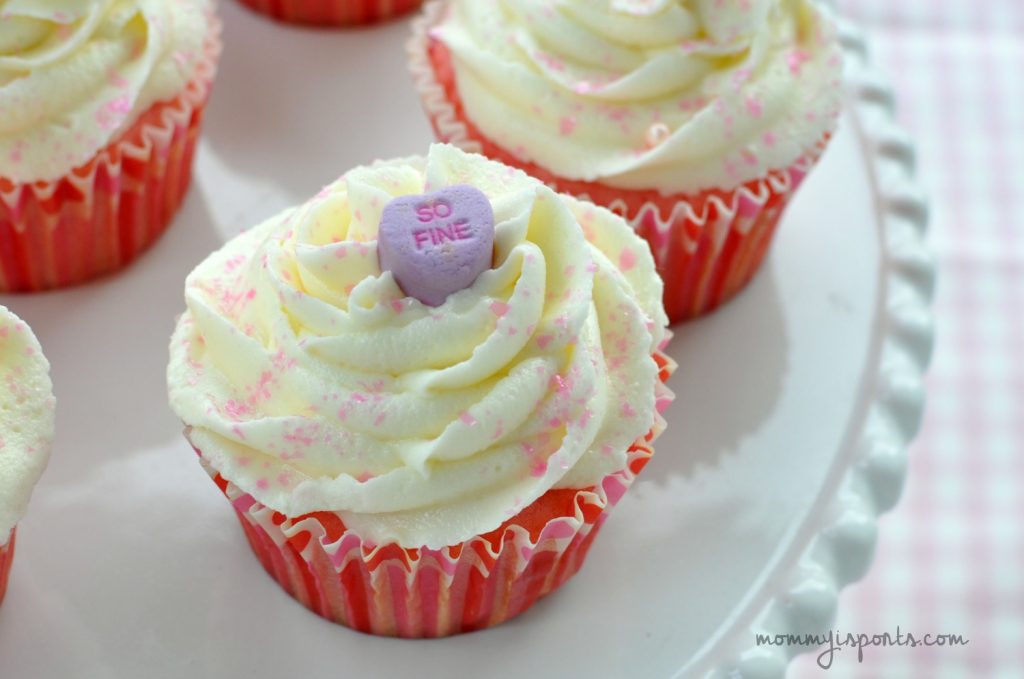 But contrary to the title, pink velvet is not like red velvet, there's no chocolate in these babies! Just good old-fashioned white cake tinted pink, but using buttermilk instead of regular milk. Not sure if this makes them velvety, but they sure are delish!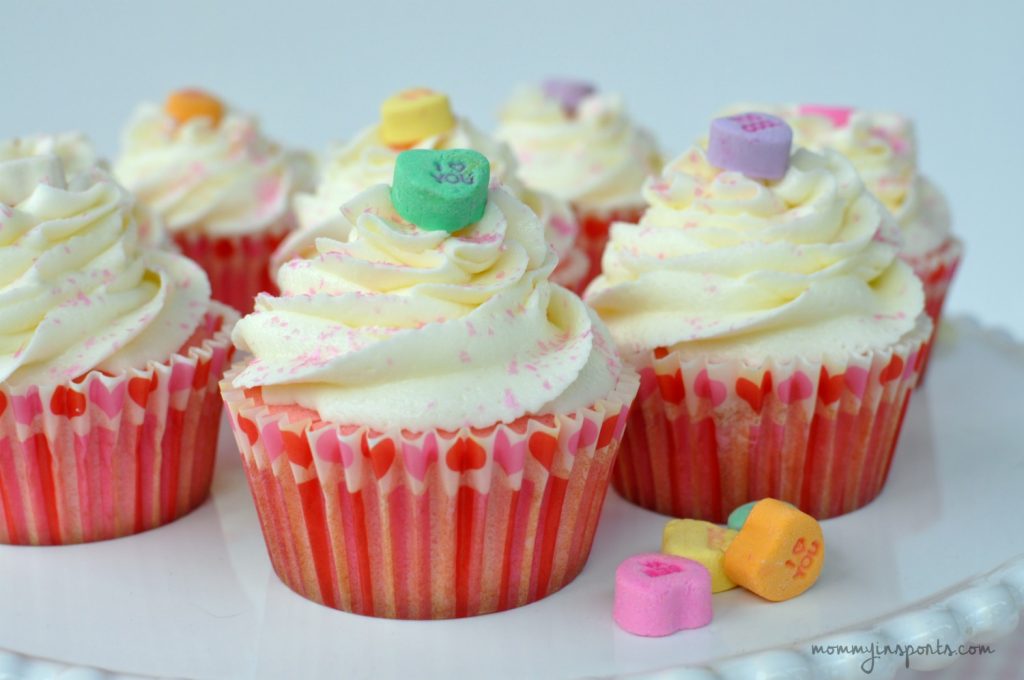 And we added some white chocolate chips to the buttercream frosting and wow, what a rich yet scrumptious frosting! Paired with this pink velvet cupcake recipe from Taste of Home, these cupcakes weren't too sweet. It helps that the cake is light on sugar, but big on taste!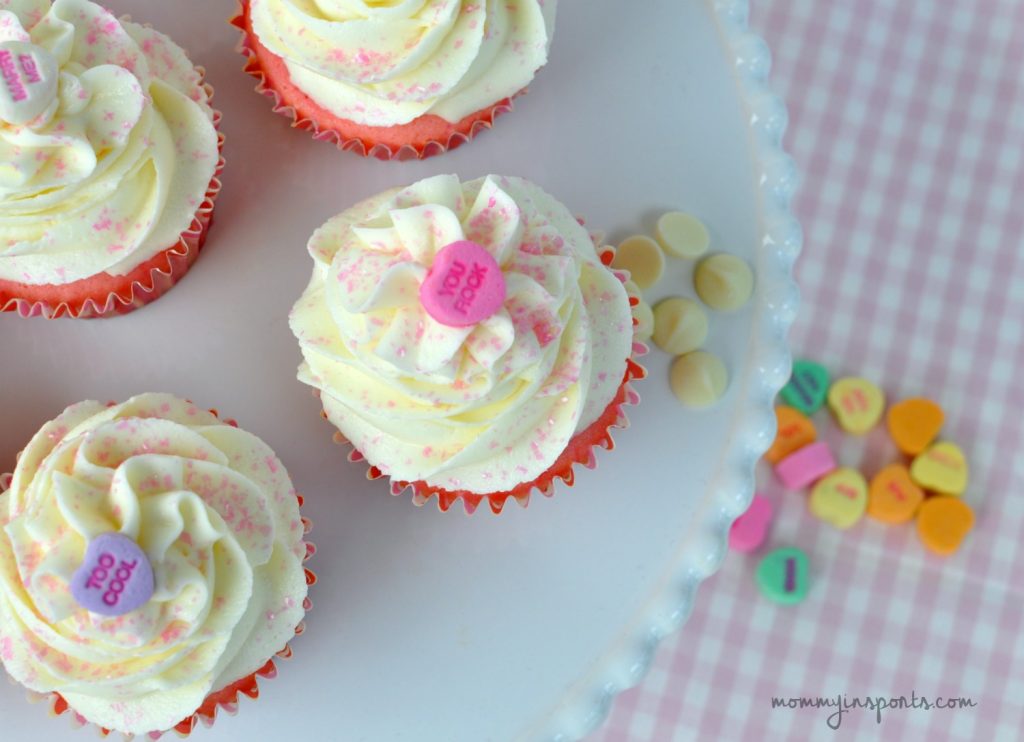 So if you are thinking of whipping up a special treat for someone you love, try these, with my white chocolate buttercream recipe below! Nothing says "I LOVE YOU" like a Pink Velvet Cupcake with White Chocolate Frosting!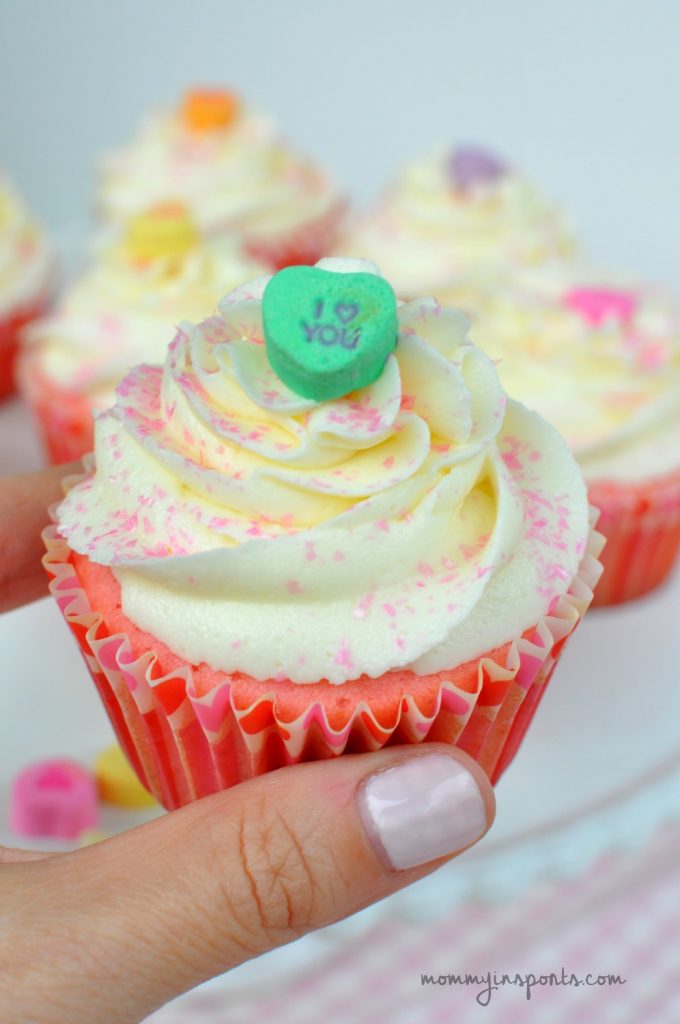 White Chocolate Buttercream Frosting
2016-01-20 18:33:56
Easy peasy rich white chocolate buttercream!
Nutrition Facts
Amount Per Serving
Calories 4327
Calories from Fat 2198
Trans Fat 7g
Polyunsaturated Fat 9g
Monounsaturated Fat 67g
Total Carbohydrates 533g
178%
Sugars 520g
Protein 9g
* Percent Daily Values are based on a 2,000 calorie diet. Your Daily Values may be higher or lower depending on your calorie needs.
Ingredients
1/2 cup white chocolate chips or 4 oz. white chocolate bar
1/3 cup heavy whipping cream
1 cup butter (1 stick salted, 1 stick unsalted)
3-5 cups powdered sugar
1 tsp vanilla
Additional whipping cream
Instructions
Start by melting the chocolate with 1/3 cup heavy whipping cream. If microwave, melt at :30 increments on 50% power. Takes around 1:30 to complete, stirring in between.
Mix butter
Add sugar
Add Vanilla
Add melted white chocolate mix
Add additional heavy whipping cream to desired consisitency
Notes
I like just one stick of salted butter, if you only have unsalted butter add a dash of sea salt!
Kristen Hewitt https://kristenhewitt.me/
For more great recipes, don't forget to check out my Pinterest boards!
Follow Mommy in Sports's board Cupcakes on Pinterest.