If you're truly on a paleo diet or follow the autoimmune paleo protocol I know what you're thinking, "Tomatoes are nightshades!" I get it. But some of us aren't truly affected by tomatoes and can handle them once in a while. And when we were hosting a brunch including french toast souffle for our nine-year-old's birthday, I knew I needed something I could eat! Enter these divine Paleo Tomato & Basil Mini Frittatas.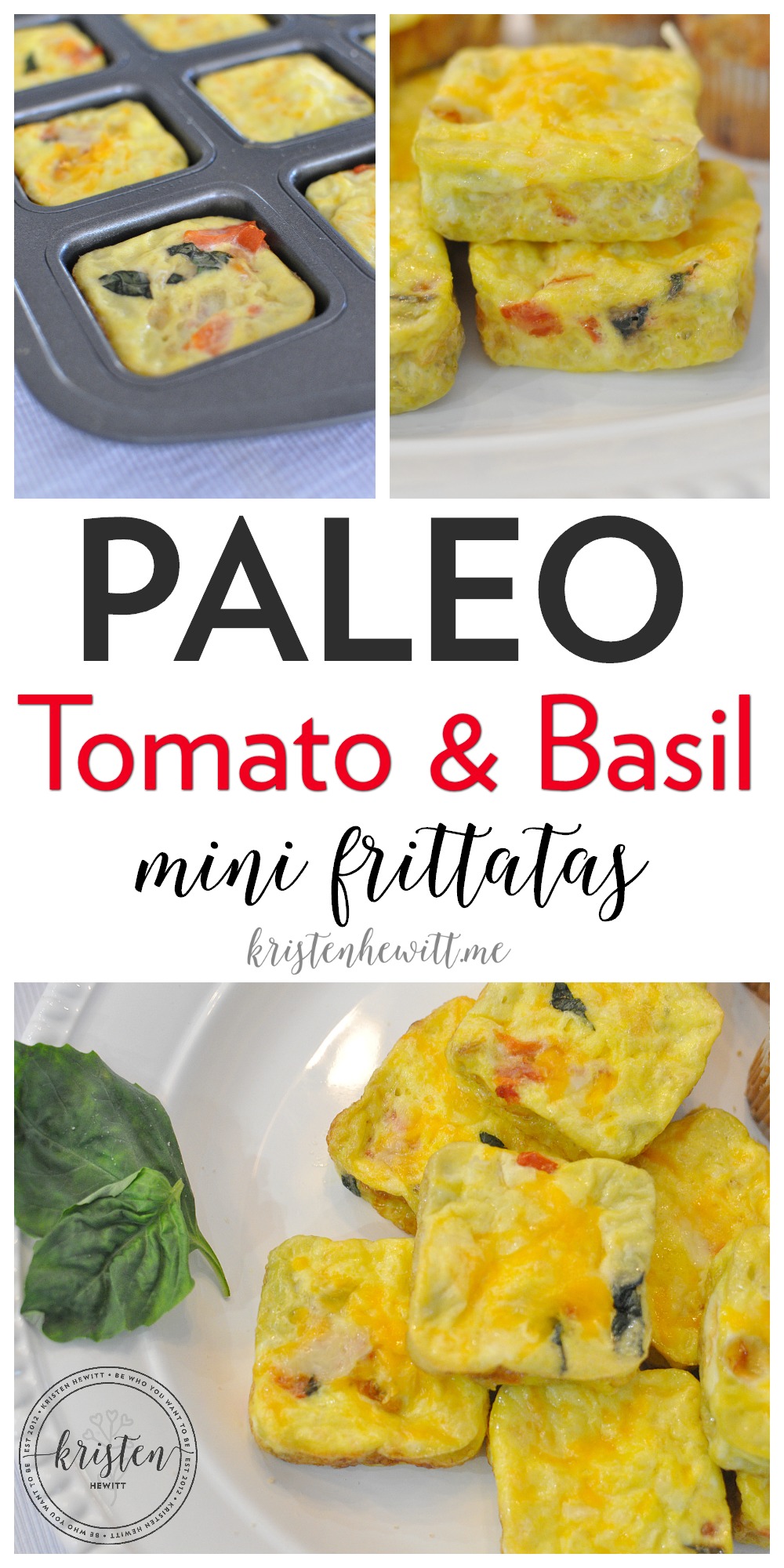 I based this recipe on an old quiche I used to make prior to my paleo days but wanted to make it crust free. So I played with the recipe a bit and came up with these adorably delicious little paleo tomato & basil mini frittatas.
To begin, I sauteed 1/2 of an onion in oil with a little sea salt. When it was nice and translucent I put it into my Pampered Chef brownie pan sprayed with Grapeseed Oil. I don't sell Pampered Chef, but I have to say, that I loved the size of these mini frittatas and they slid right out. No sticking like my muffin tins! (Maybe I need to sell it huh?!)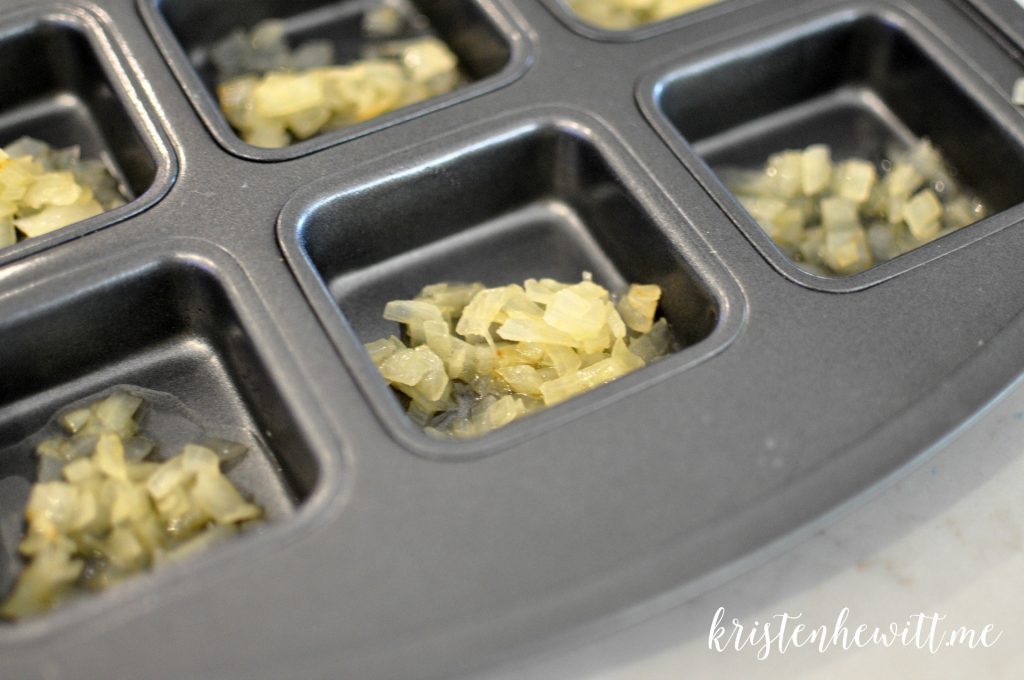 After I layered in the base of the onions, I sauteed three chopped plum tomatoes with about two tablespoons of chopped fresh basil. You only need to cook them in the pan maybe one minute on each side. They looked like this!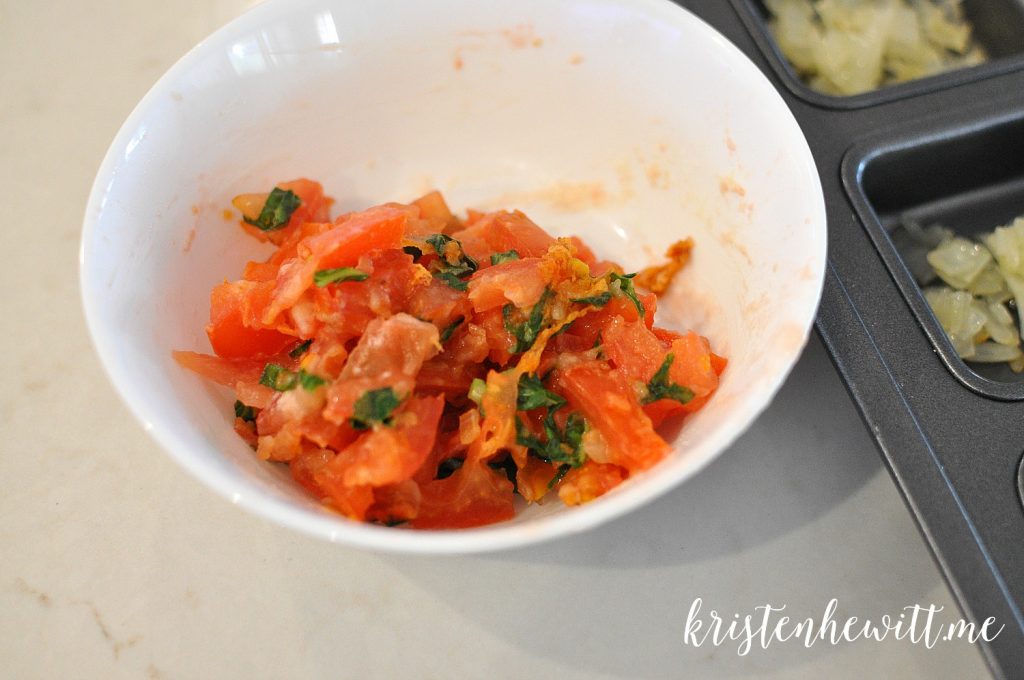 Then I added a teaspoon full of tomato to each mini frittata. Next up was the egg mixture. Since I wasn't doing the quiche, I had to eyeball this. I added four extra large whole eggs and three egg whites mixed with a little unsweetened coconut milk. I think maybe two tablespoons! It was just enough to fill a dozen of the rectangles.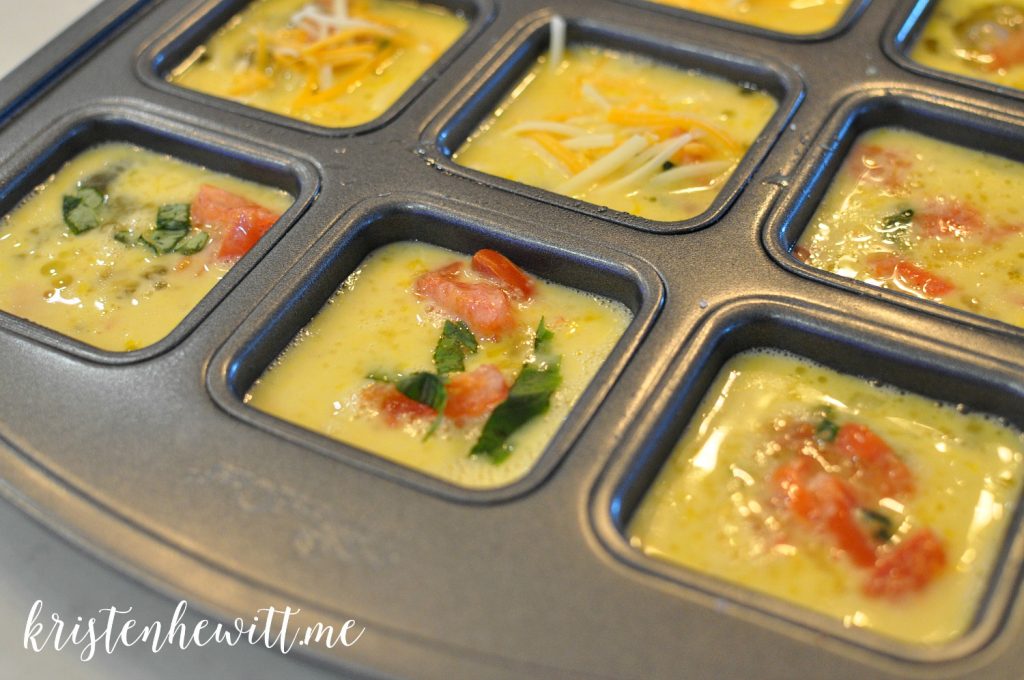 Since we were having a large group over – I made six plain for me and six with a little a mixture of Colby and Pepper Jack cheese. They puffed up so nice in the oven and the house smelled heavenly. Is there anything better than the scent of fresh basil?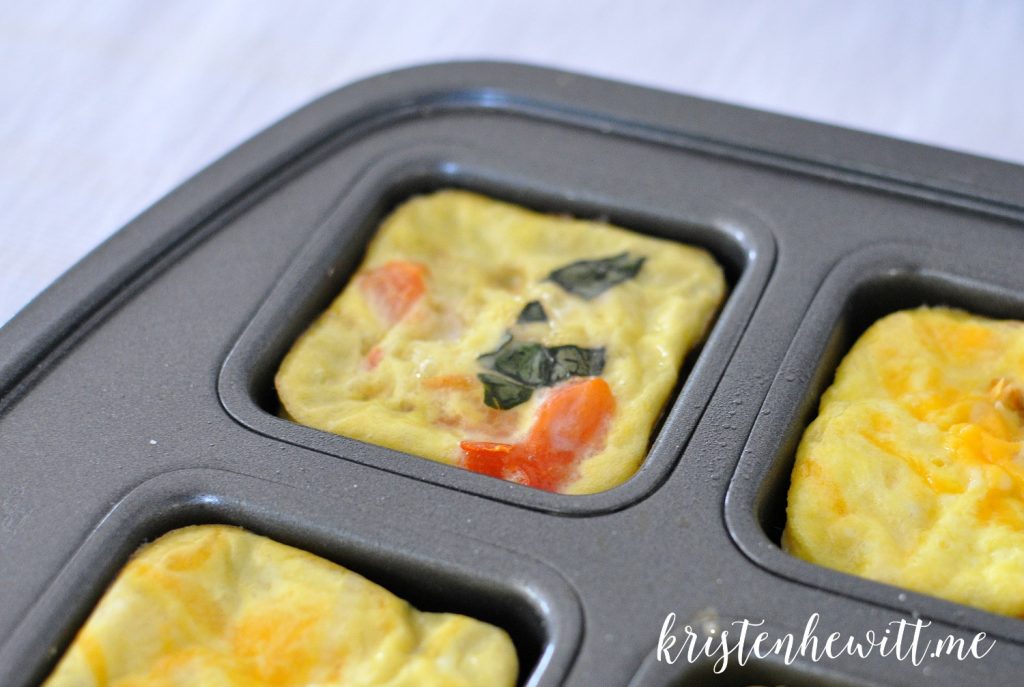 I'm sad to say that I only got to eat one of these bad boys because everyone gobbled them up! Next time I'm doubling the recipe for these paleo tomato & basil mini frittatas because I want to freeze these for early mornings on the run.
I hope you love them as much as we did. This is going into my monthly meal plan rotation for sure! Here's the recipe below and don't leave without checking out my paleo recipe archives!
Paleo Tomato & Basil Mini Frittatas
Ingredients
6-7 extra-large eggs
3 plum tomatoes
1/2 sweet onion
2 TBSP chopped fresh basil (dry works too)
1 tsp salt
2-3 TBSP non-dairy milk like coconut milk or almond milk
1 TBSP olive or grapeseed oil for cooking
Instructions
Saute chopped onion in a pan with 1 TBSP oil and a dash of salt.
Put aside and saute chopped tomatoes and basil for one minute on each side.
Oil your muffin tin or brownie pan with spray grapeseed oil.
First add a spoonful of onions, then a spoonful of tomato mixture.
Whisk together eggs, or egg white mixture with a few tablespoons of non-dairy milk.
Add salt and pepper to your liking.
Pour egg mixture into pans.
Bake at 350 for 15-20 minutes.
https://kristenhewitt.me/paleo-tomato-basil-mini-frittatas-3/
Did you like this post? Then please follow along on Facebook for more healthy recipe ideas! Also, check out these divine Paleo Fudge Brownies.