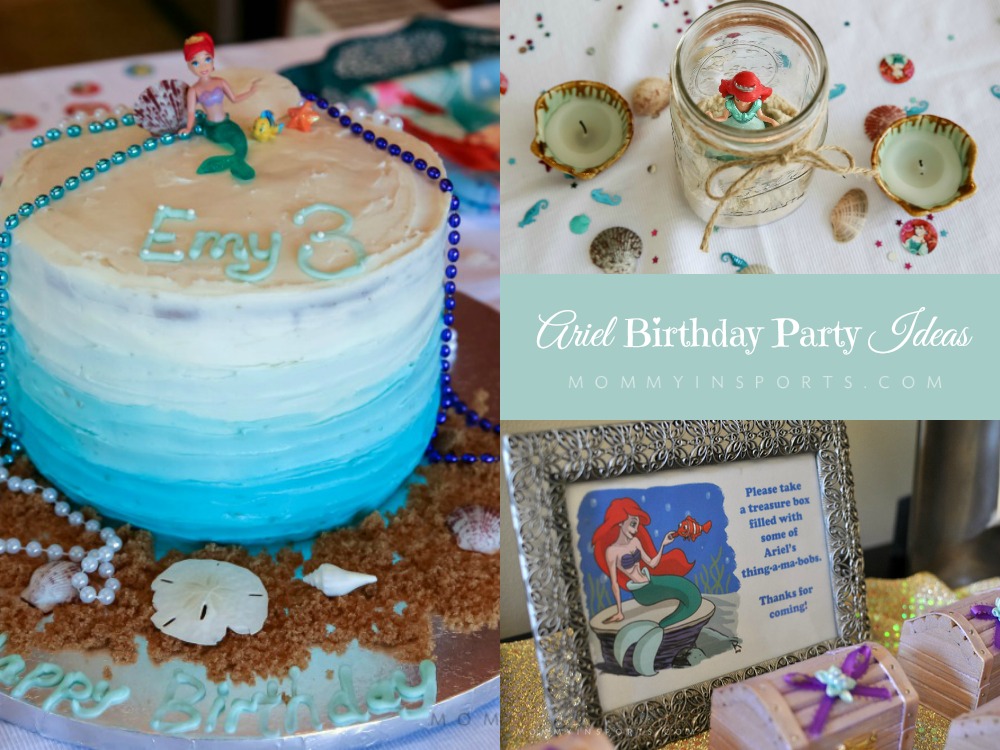 What is it with three year old's and the Little Mermaid? All our first daughter wanted for her third birthday was an Ariel dress and music box. It was deja vu this past weekend when our youngest requested the same theme for her 3rd, an Ariel birthday party. Thankfully we already had the dress and lots of toys to use as decorations and cake toppers! And I was pretty happy that we were able to talk her out of another Frozen party.
I had intended for this shindig to be small, but we have quite a few family members in South Miami, so my intimate party was anything but. On the flip side though, this was the least stressful party we've ever thrown, and not too expensive. (except for the character) Here are a few ideas for a mermaid soiree if you have a Little Mermaid fan of your own!
CAKE
I love to bake so I decided to try to make this ombre cake inspired by Java Cupcake. It's the same technique as making a rainbow layered cake, and only took about two hours to bake and freeze total. The only thing I had to buy was the Wilton Gel Food Coloring (I used teal), and some powdered sugar. Plus we had all the figurines and seashells from a recent beach trip. The total cost to make this cake was around $15 since I had all of the ingredients, cake pans, and base that I used to make Lila's Frozen cake. Score!
The Java Cupcake cake only had four layers, but I made an extra in order to feed the crowd. It really wasn't necessary, but sure looked pretty!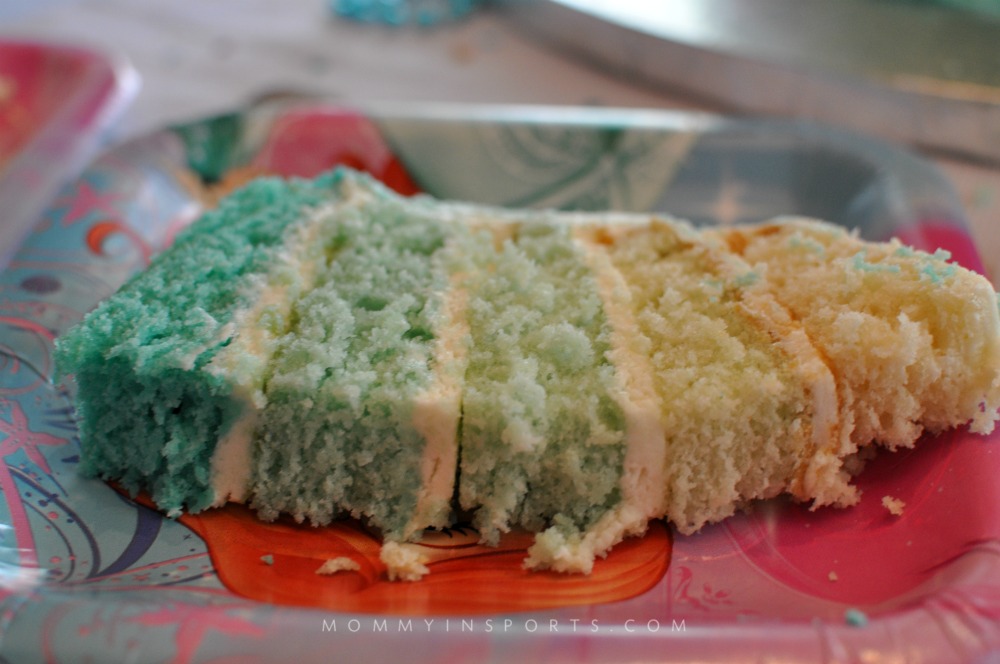 I also made two dozen mini cupcakes when I baked the cake, and a friend made some cake pops. I love a big dessert table…it's so much fun to let the kids indulge on their special day!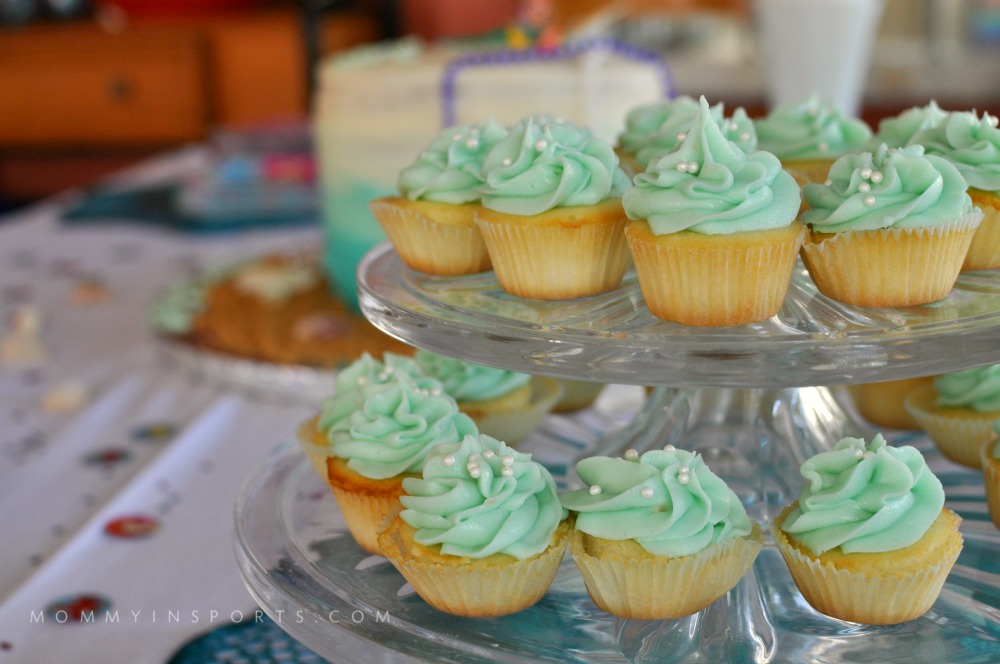 DECORATIONS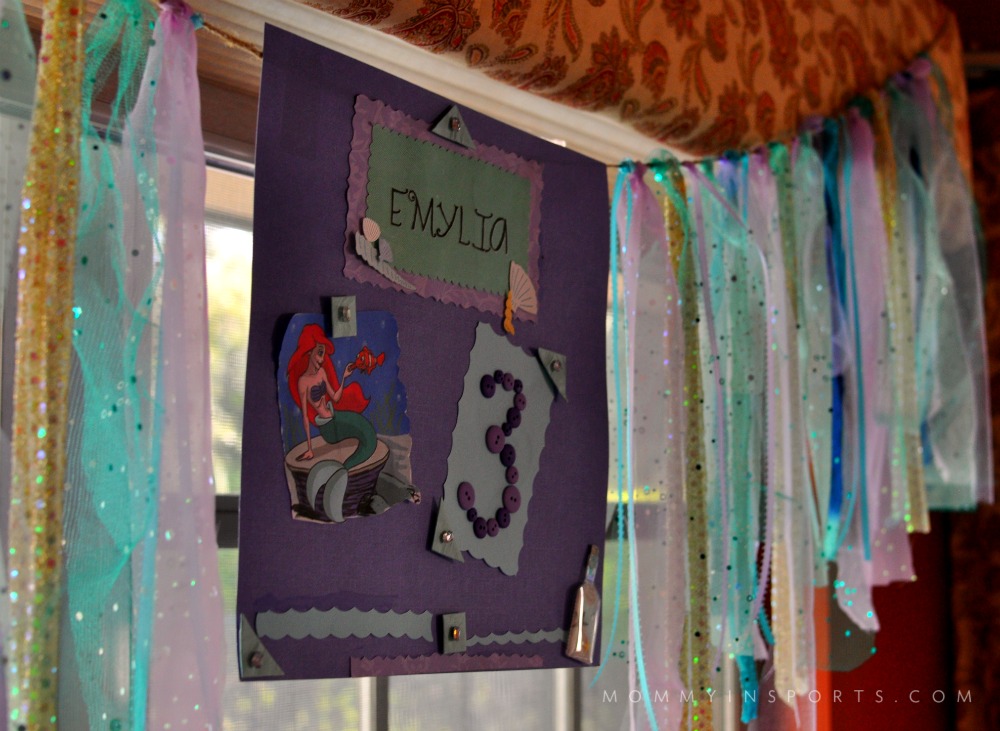 I wanted to buy a cute and homemade looking pennant banner on Etsy, but the price had me thinking I could make one myself. So I scoured the remnant bins at Joanne Fabrics and found these. Looked Ariel enough to me!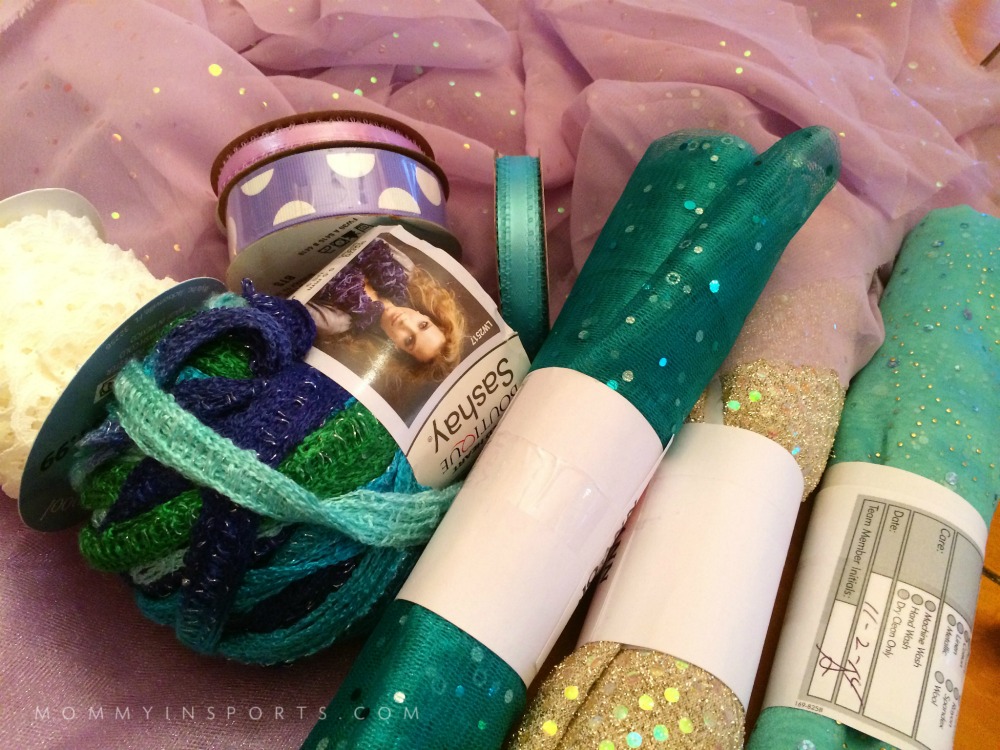 Then on a rainy Sunday a few weeks ago, the girls and I made fabric no sew banners, using the same technique as you would for a no sew tutu.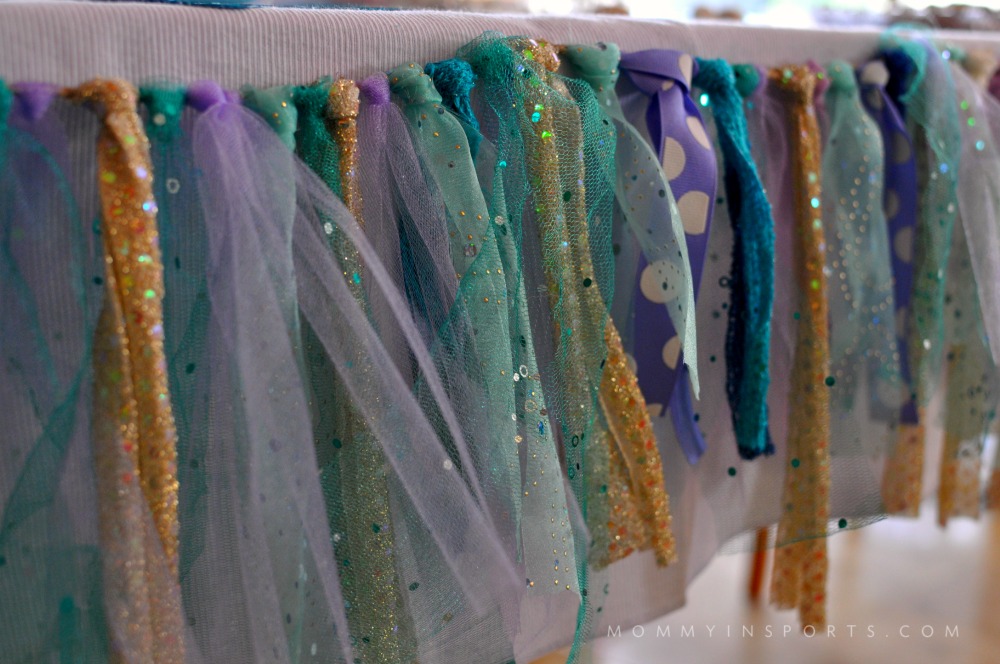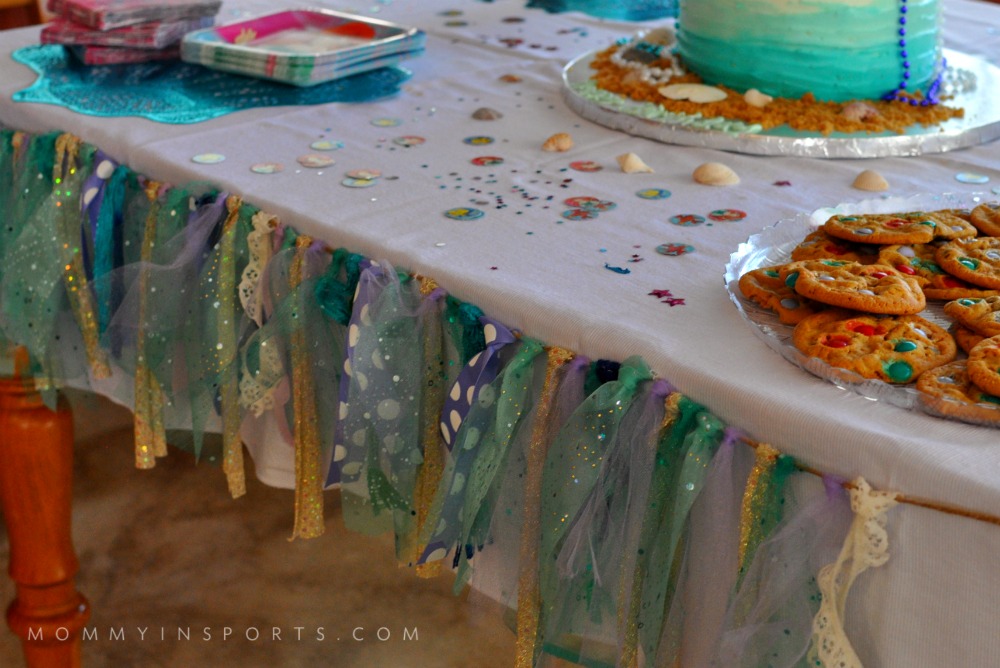 I had so much extra material I was able to make four different decorations for different areas of the house and dessert table. All of it cost around $20. Luckily I had all of the scrapbook materials already!
Since I'm still obsessed with mason jars, I emptied out my fall decorations, and added some sand and more Ariel dolls. Yes we have several.
FAVORS
My co-room mom at Lila's school found these little treasure boxes at AC Moore. She painted them purple and decorated them for us….so cute huh?! I filled them with these necklaces I bought on Etsy, chocolate coins, and Ariel tattoos. I ended up having some little boys join us, so they were able to take cake pops and balloons from the party home as favors.
ENTERTAINMENT
You can't have an Ariel birthday party without Ariel right?! This is the first time I hired a character and it is muy expensive, but worth it! She was great and kids loved her!
FOOD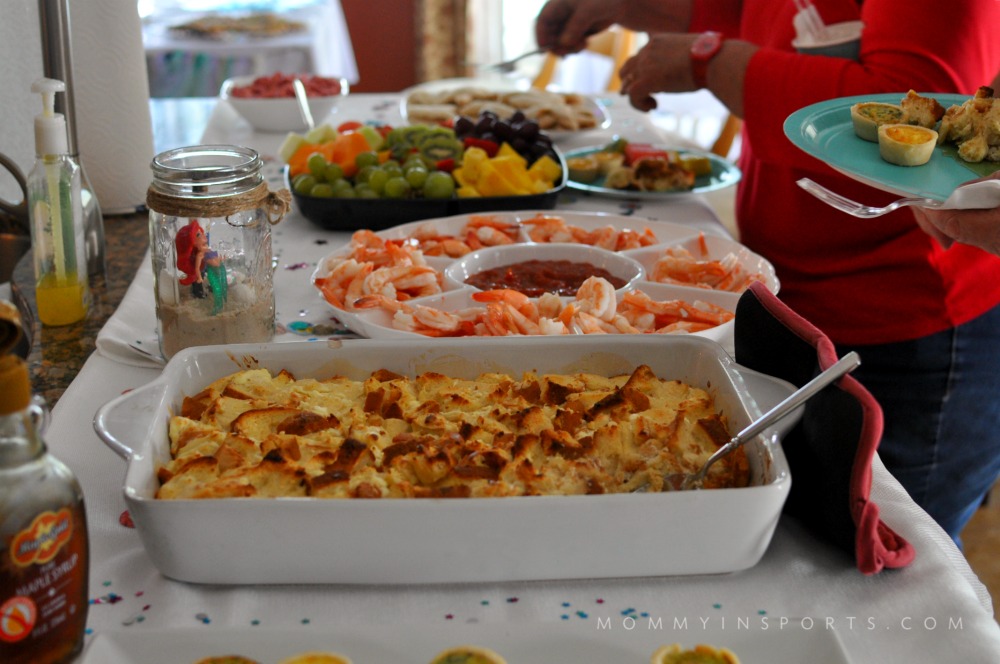 As if dessert wasn't enough we had lots of easy foods! Since the party was late morning, we served shrimp, mini quiches, I made a french toast souffle, and for the kids pink goldfish crackers with mermaid and starfish peanut butter & jelly sandwiches! How was this inexpensive? My wonderful mom and mother in law supplied the finger foods. (Thanks ladies!)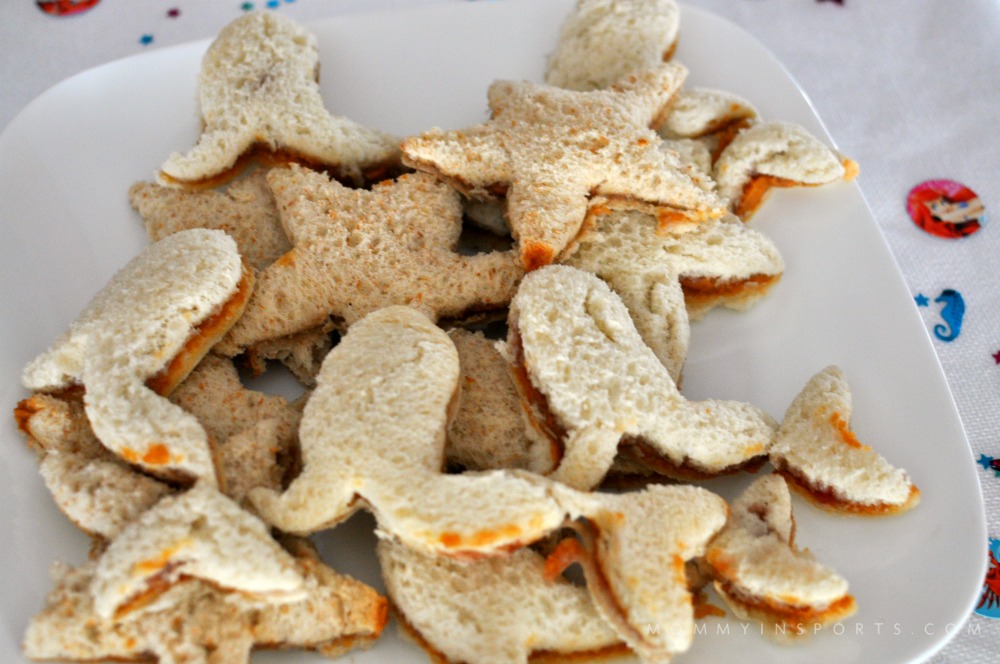 It was a beautiful day and I'm so grateful to my friend Melissa for celebrating with us, and capturing most of these lovely images. Please check out her gorgeous new photography site, follow her on Facebook, and tell her how much she rocks on her blog!
It truly was an under the sea adventure…and I can't believe Emylia is almost three!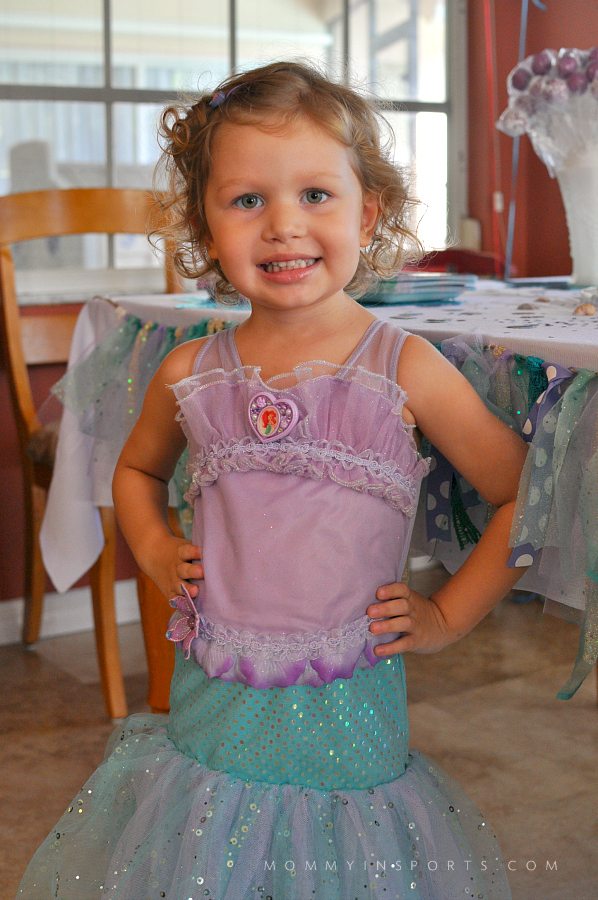 This is my favorite image of the day.