Disclaimer: I am not a professional baker or masquerading as a wanna be food blogger – just thought I'd share what I learned! Oh, and this post contains affiliate links, so if you buy something I may get an itty bitty commission.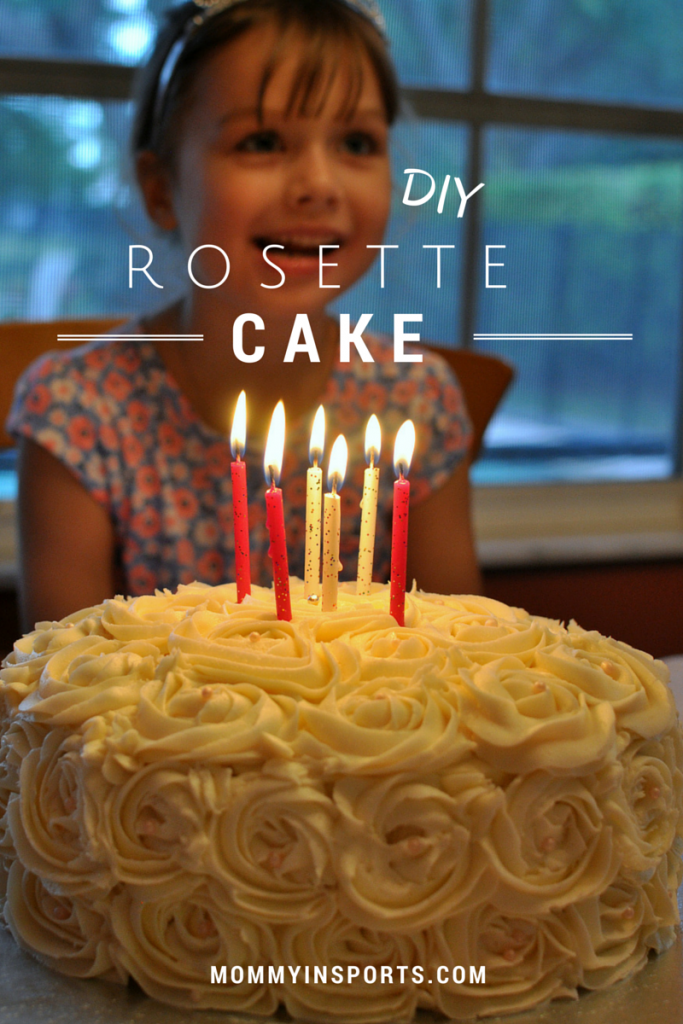 When Lila asked for a cake covered in roses for her birthday this year I was scared. I love baking, but decorating requires mucho patience, which I'm still impatiently waiting to acquire. So I searched Pinterest for something I might be able to handle and found that rosette cakes actually looked pretty easy. I had no intention of sharing a how-to of this cake because last weekend was my first try. (Plus it didn't turn out as perfect as the ones on Pinterest!) But I shared a few pics of our masterpiece on Facebook and was surprised at how many friends were impressed. This cake may look super fancy…but it seriously was one of the easiest I've ever made. So I figured if I can do this, then let me encourage everyone else to try to try as well. Don't fear the frosting bags people…you've got this!
diy rosette cake
I started with three 9″ inch layers, in blush, bashful…and well pepto bismol pink, prepared by our six year old. Channeling Shelby in Steel Magnolia's perhaps?! She loves her pink. (BTW these are my go-to pans, awesome-ly easy to get the cake out and bonus…they are cheap! I've had them for 10 years and they still are in perfect condition.)


If you aren't sure how to make colored layers, it's really easy. (I have directions in this rainbow cake post.) For this cake I doubled a standard cake recipe, and used two cups of batter per cake layer. You can just use two boxed cake mixes, but why when homemade tastes sooooo much better?! I froze my layers so the crumb coat was easy peasy.
How much frosting do you need? I made a double recipe which was barely enough, next time I'll go thinner on the layers and the crumb coat. If you want my recipe (which I hear is pretty good) let me know and I'll share it!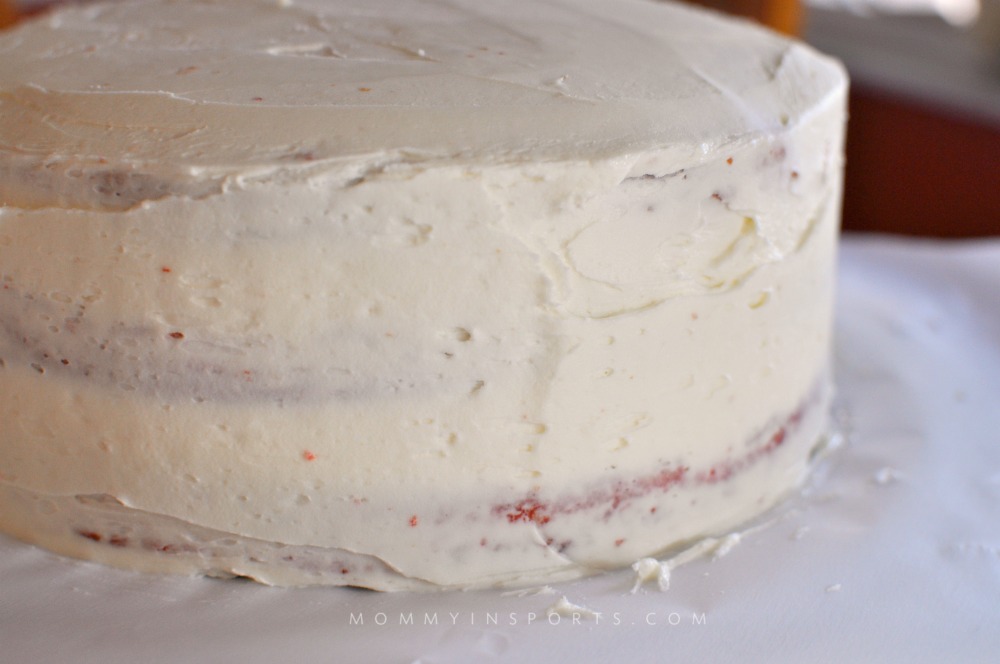 Then time to add the roses…woo hoo! But wait, how do I do that? Watch this.



See, told you it was easy! Then I grabbed my Wilton 1M tip and went to town starting with the bottom layer. The great thing about this if you mess up, just scrape it off and try again! (I did that a lot.)
Then time for the 2nd layer which overlaps a bit over the 1st layer. And don't worry if there are gaps you can fill them in later by making a little star! And then do the top of the cake starting from the outside and work your way in.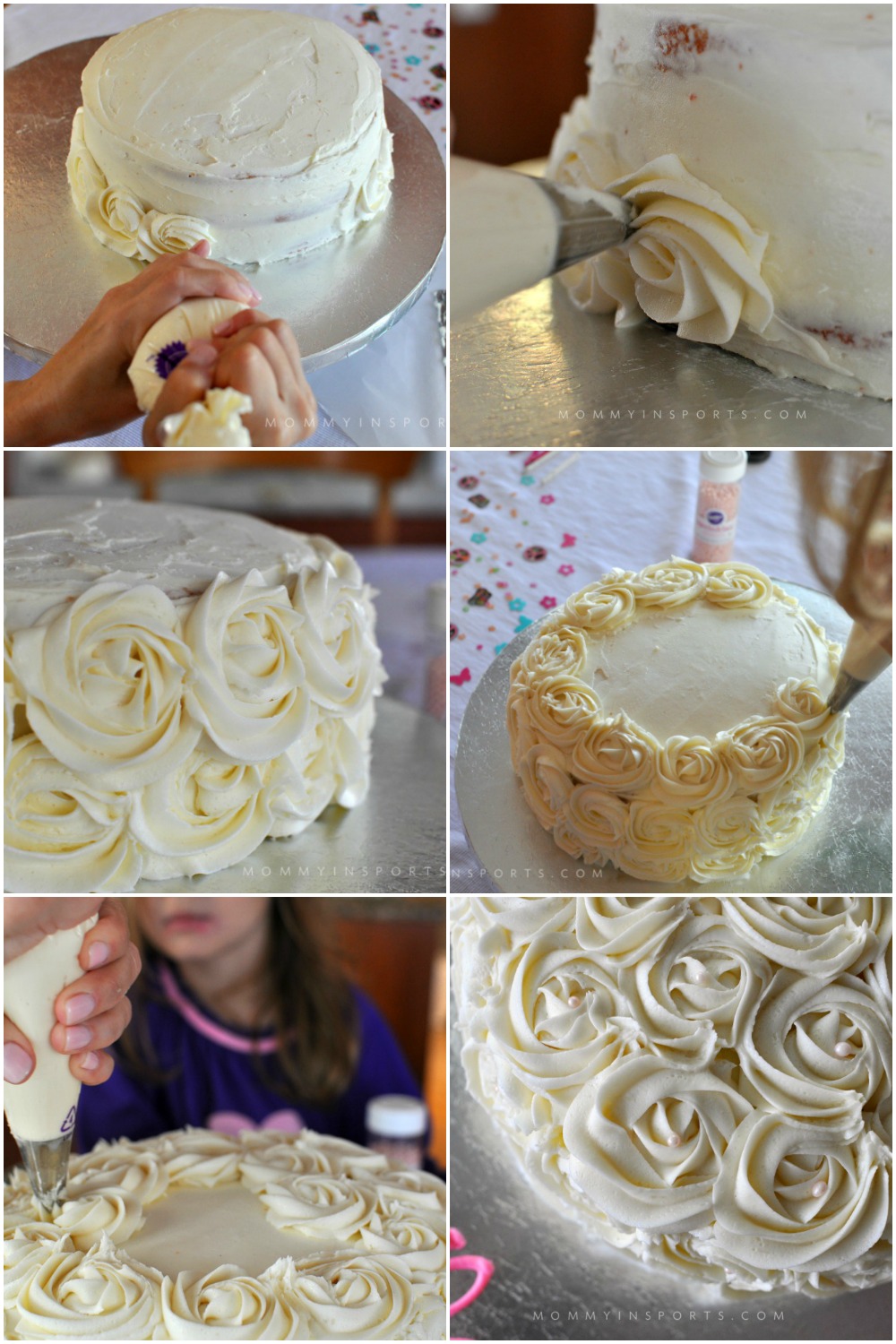 Lila added sprinkles in the middle of each rose…so cute! Oh and remember those gaps? Here's what I meant by a little star.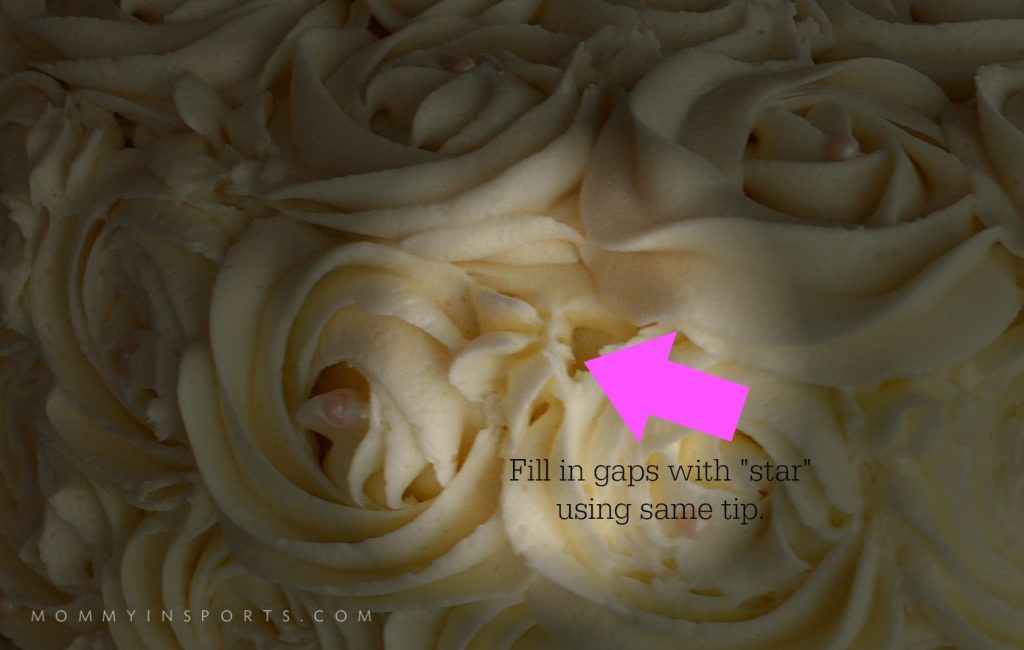 And here's the finished product!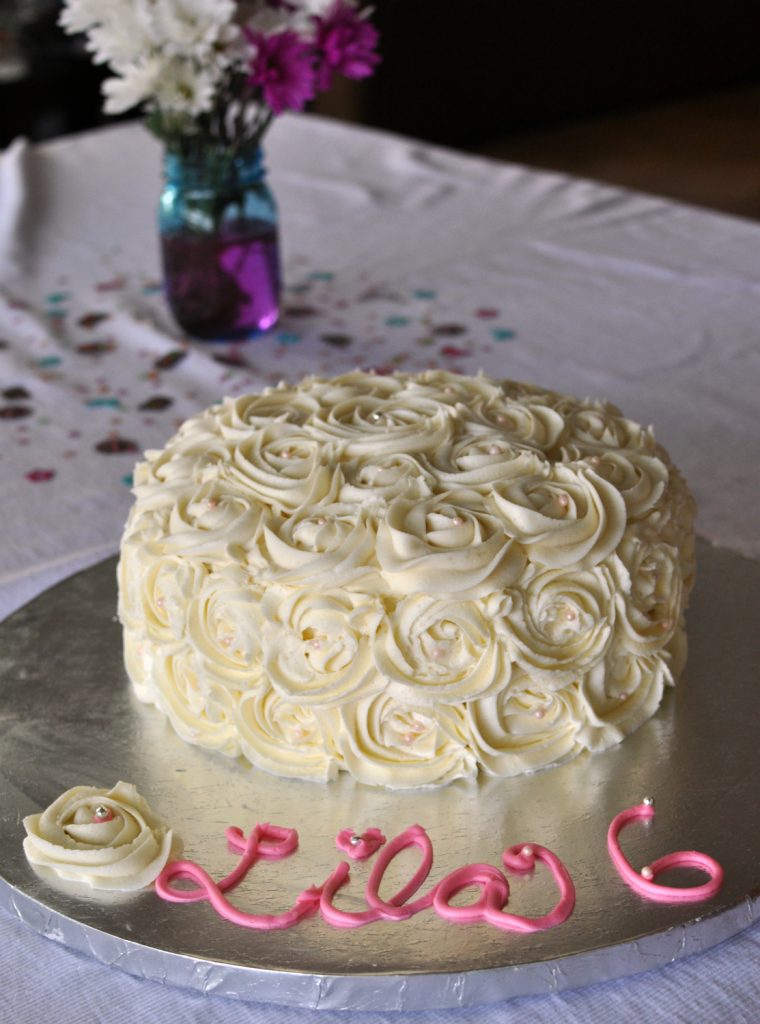 And the birthday girl…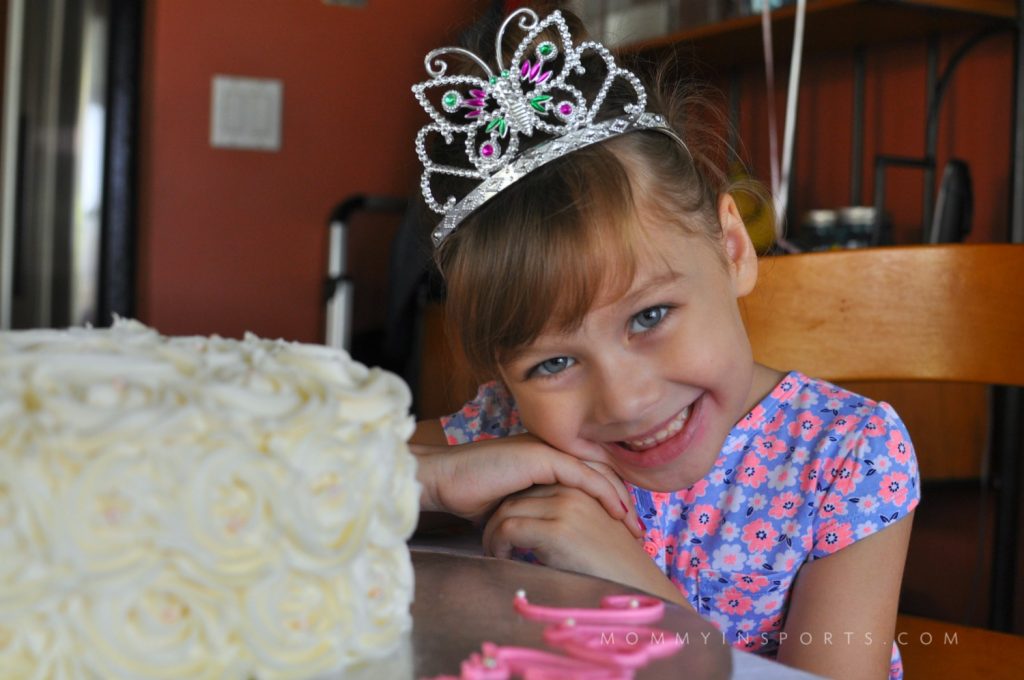 And a rare shot of me with my sweet girl on my 6th mom-iversary.
Oh and check out the sweet surprise inside! I love ombre cakes, even when they are all pink…this will forever be dubbed my Sweet Magnolia's cake!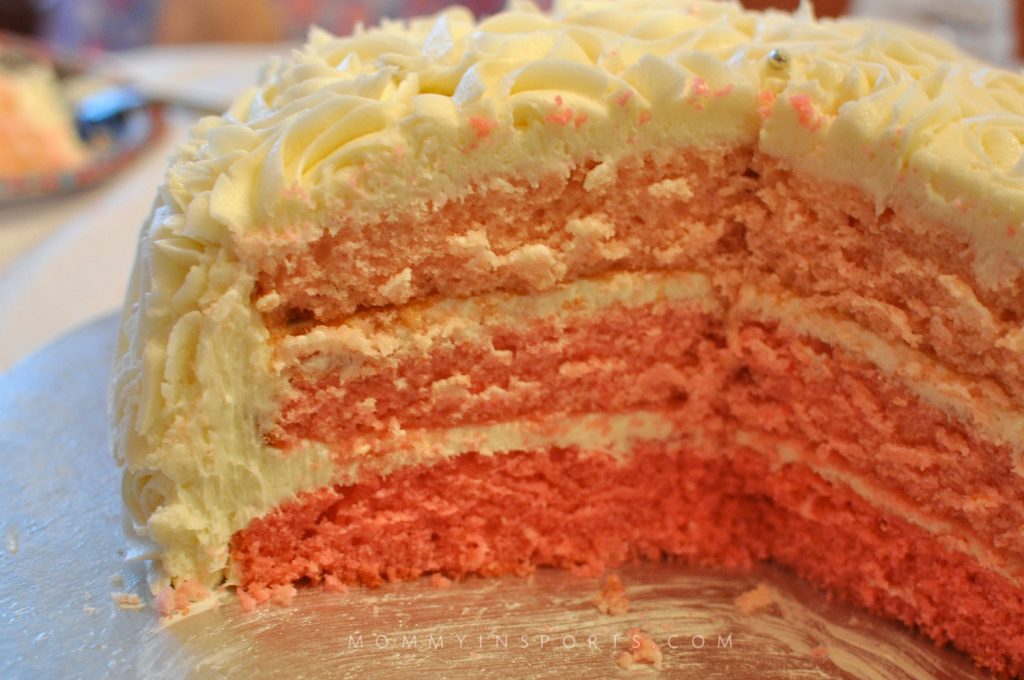 What would I do differently if I make a rosette cake again? First I wouldn't fill the icing bag as full, maybe only 2/3 so I could have better control of the shape of the rose. And second, I would use a juice glass and put impressions of circles around the cake to make them more 'uniform.' I know roses aren't perfect in real life…but I think more uniform sizes and shapes would be prettier. But then again this cake turned out perfectly imperfect, and isn't that what homemade is all about?!
Want more great cake and cupcake inspiration? Check out these other great tutorials and recipes!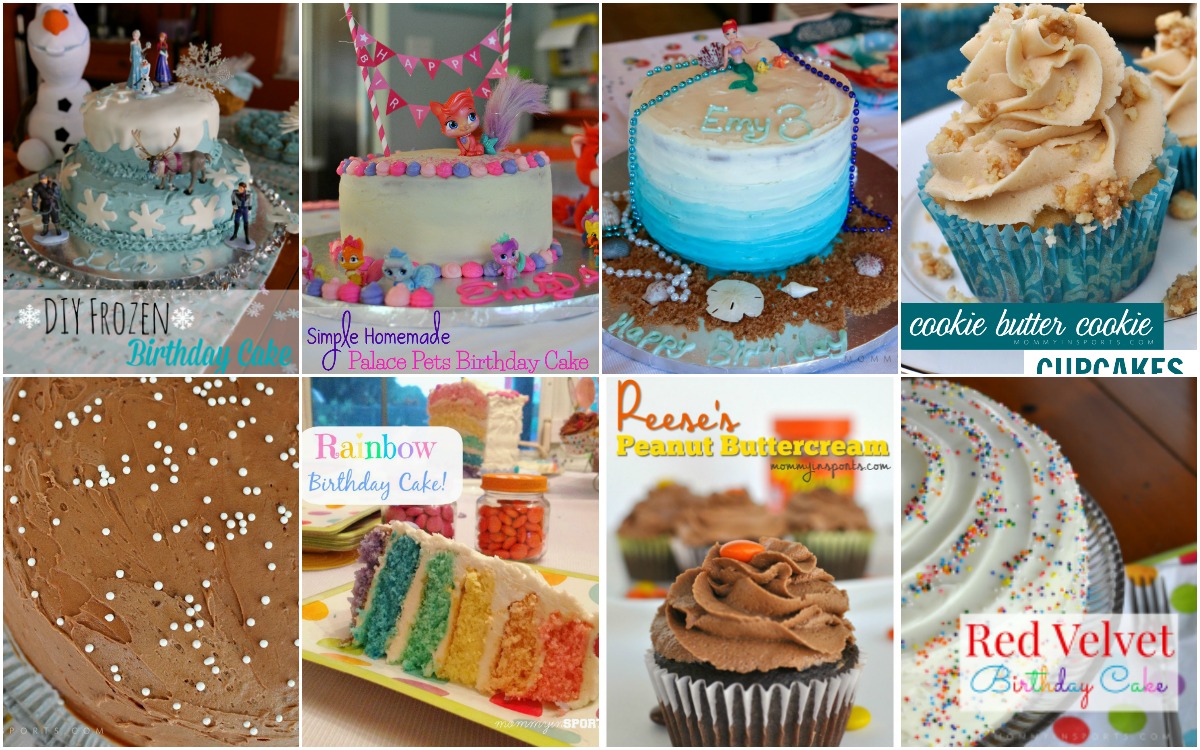 Simple Homemade Palace Pets Birthday Cake
what are your rosette cake decorating tips?