How many times have you seen Disney's new animated blockbuster Frozen? I can't even count at this point. My daughter Lila first saw it around Thanksgiving, and told me then, "I want a Frozen birthday party mama!" Yesterday we finally celebrated her birthday, a few days before she turns five.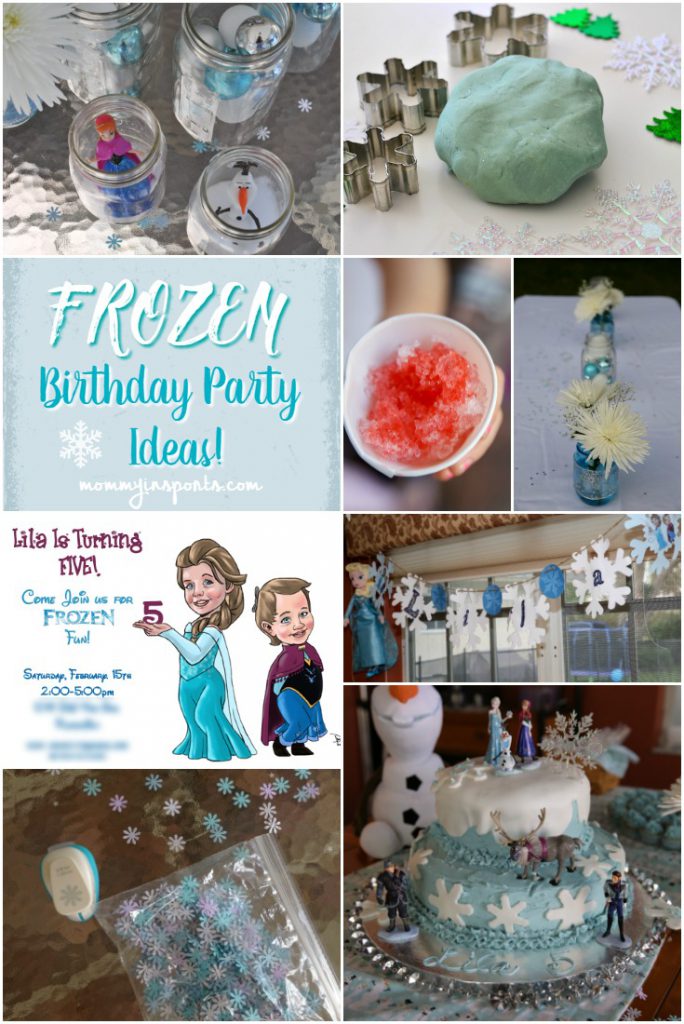 I didn't go the traditional route though, buying the plates, cups and other merchandise at party stores. Instead I went to Joann Fabrics in January after Christmas, and stocked up on winter themed items on clearance. Good thing too, because you can't buy anything Frozen related anymore. It's virtually sold out! So here are some ideas to help you if you are trying to create a winter wonderland for your little one at their Frozen Birthday Party!
Invitations
First things first – you need an invitation. I know most people use evite's, but I like to create one, even if emailed, that I can print for a keepsake. You can buy loads of invitations on Etsy, but we created our own in photoshop using amazing art by our friend Rob Cabrera. He drew my girls dressed as Anna and Elsa. Cute huh? We downloaded and used the fonts Frosty and Waltograph for free.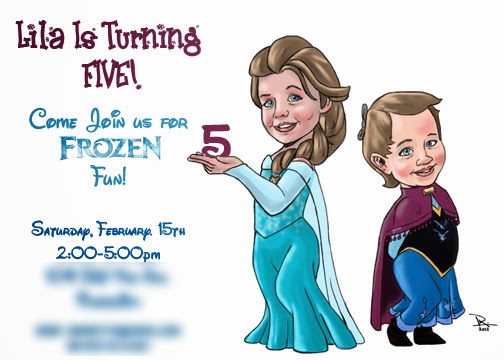 Desserts
I'm a sucker for desserts, and prefer to bake everything myself. So I served up this two-tiered Frozen cake topped with the figurines from the movie. It was the first time I've tried such an ambitious cake, and it turned out pretty good too! Here's the amateur tutorial on how to make this cake!
I also baked mini-cupcakes (for the littles) and made some cookies. The key is to bake everything a week or two before the party and freeze, then defrost & frost the day of the event.
Decorations
For decorations I used what I had…mason jars from my mom's 70th party that were leftover, and filled them with anything I could find! Ornaments, snowflakes, flowers, Frozen dolls, fake snow…whatever! (More Frozen decoration ideas here!)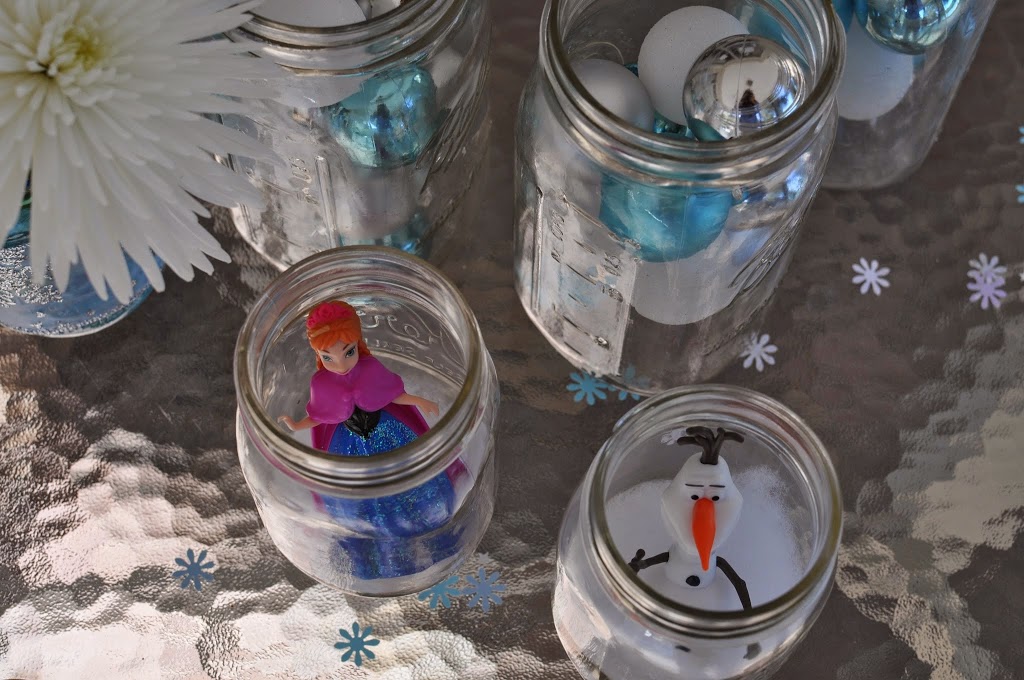 We put dolls, ornaments, and flowers in mason jars as simple yet elegant Frozen decorations!
This banner was a team effort! My nanny and daughter helped to create this homemade beauty, and we printed that same artwork from the invitation on the snowflakes as well!














Food
The food for the afternoon affair was simple. For the kids, I made nuggets (instead of buying a platter from a store or Chick-fil-a), Olaf's nose, and veggie straws. Oh, and snow cones of course…it was a Frozen party after all!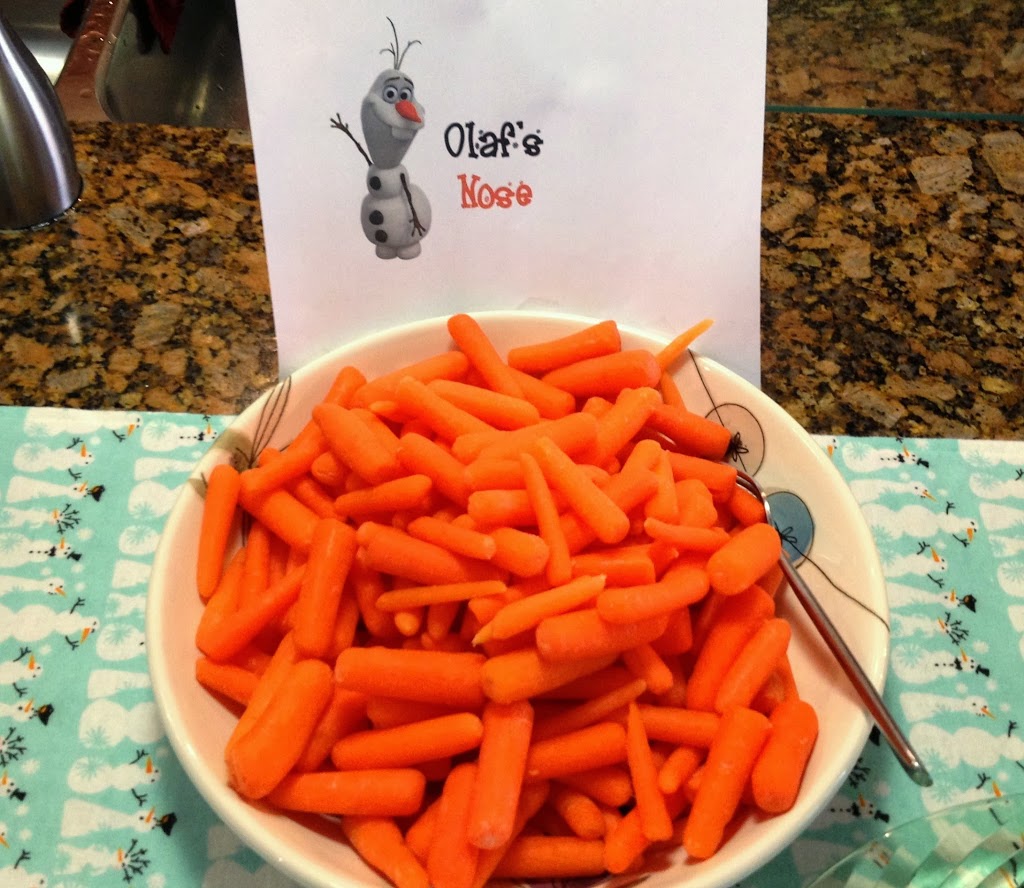 Who says kids won't eat veggies at parties? My 2-year-old kept saying "more o-waf nose p-eeese!"
The grown ups had spiral sandwiches from Costco, shrimp cocktail, chips and salsa, and of course winter wheat thins and cheese. And we had grown up icies called Bourbon Slush. Always a party hit! Here's my mom's famous recipe.
Favors
For favors I decided to shy away from candy and cookies (since the kids were already jacked up on snow cones and cake) and made homemade playdough. I scented it with peppermint extract and added glitter for the snow effect. Shout out to the Disney store for giving me these exclusive Frozen Valentine's to use as favor tags. Cute huh?! Here's the recipe, so easy!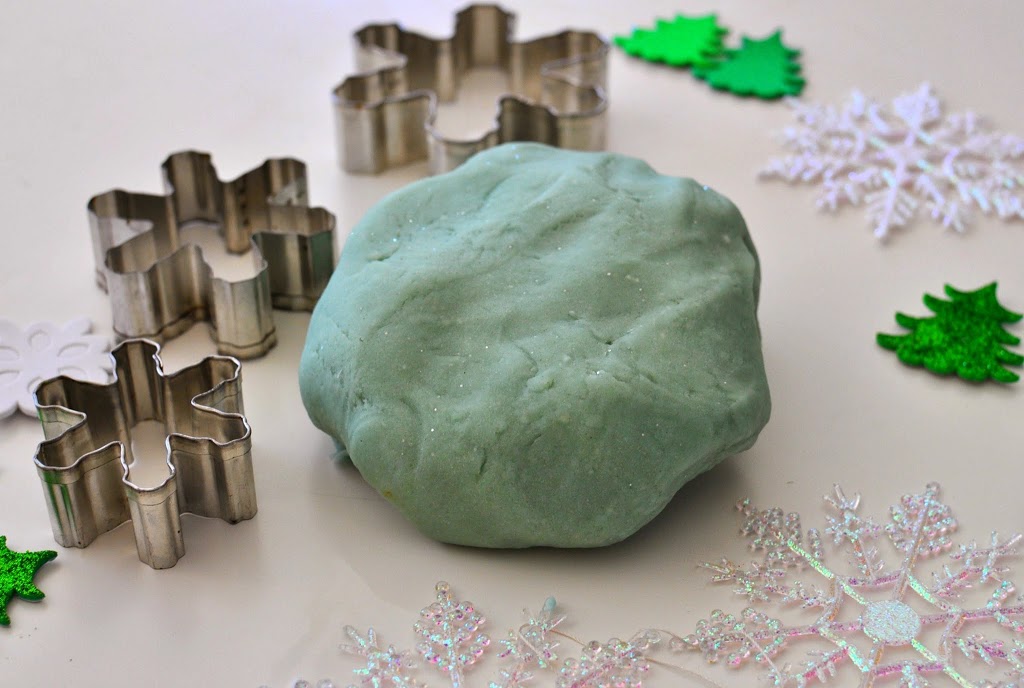 I had loads left over,so I put the extra on the porch for the kiddos to play with…in case they were bored of the bounce house, swing set, trampoline, or snow cones. Not easy being five huh?
Our friends and family have given us so many good reads, we wanted to share our love of books. So all the kids picked a book to take home as well!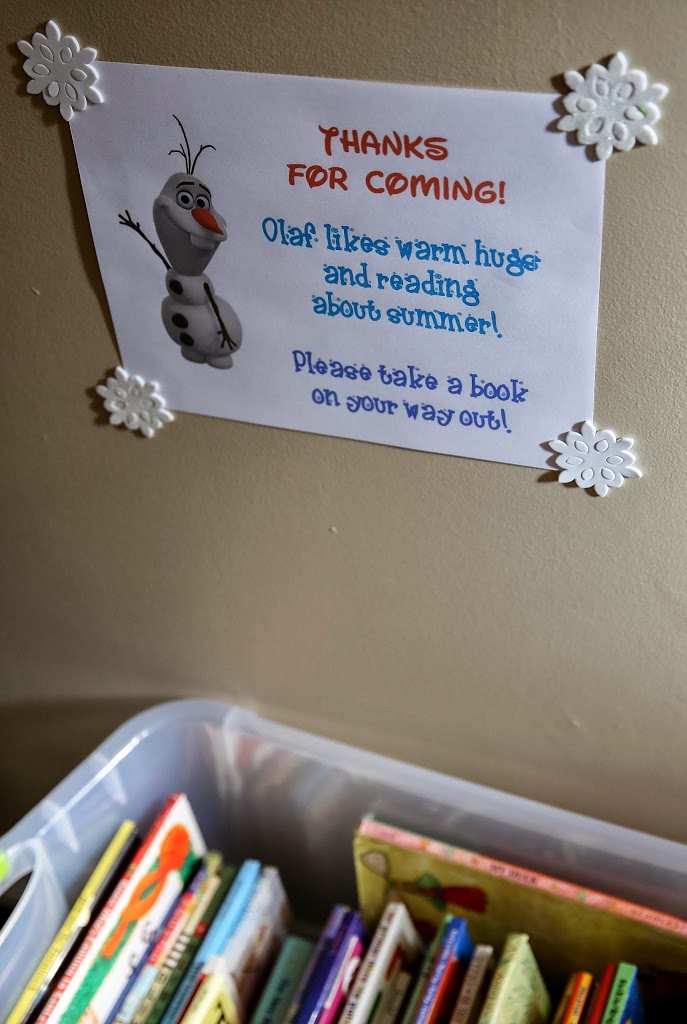 All in all, it was a beautiful winter-themed Frozen birthday party fit for a five year old princess! Most everything we did was homemade, but honestly I worked on this on and off for the past month. And I had lots of help from friends. It was all worth it when Lila said at bedtime "Thanks for my party mom…I'm special huh?" Yes. And even at five, you are still my baby. Happy Birthday big girl!
A special thank you to my friend Melissa Price of Priceless Photos by Melissa who took most of the shots in this blog. I am so grateful that she had her camera on hand, and captured these gorgeous photographs of our family and our special day.
Please pin this for later!

If you liked this post, or my blog, please click below and vote for mommy in SPORTS!