I have a little secret, I love to shop! Not grocery shopping of course, or clothes shopping, but shopping for gifts for other people. There's something so gratifying about finding the perfect gift for someone you love. But it always has to be on sale. No one has time or money for full priced gifts these days! And with the holidays sneaking up on us, I'm already over halfway done with my holiday shopping and wanted to share how you too can get your holiday shopping done before Thanksgiving.
Since having kids though the allure of shopping has faded. Lugging strollers and bored kids to the mall is no bueno, and the holidays have become so much more stressful. We have so many events now with holiday parties and shows at the kid's schools. Plus gifts are now needed not only for our children, but their teachers and some of our new school friends. And the last few years, despite my early shopping efforts, I was always rushing at the last minute. But this year is different. I started finding gifts this summer and am so far ahead of the game, I wanted to share some of the ways we all can get ahead of holiday shopping before Thanksgiving sneaks up on us.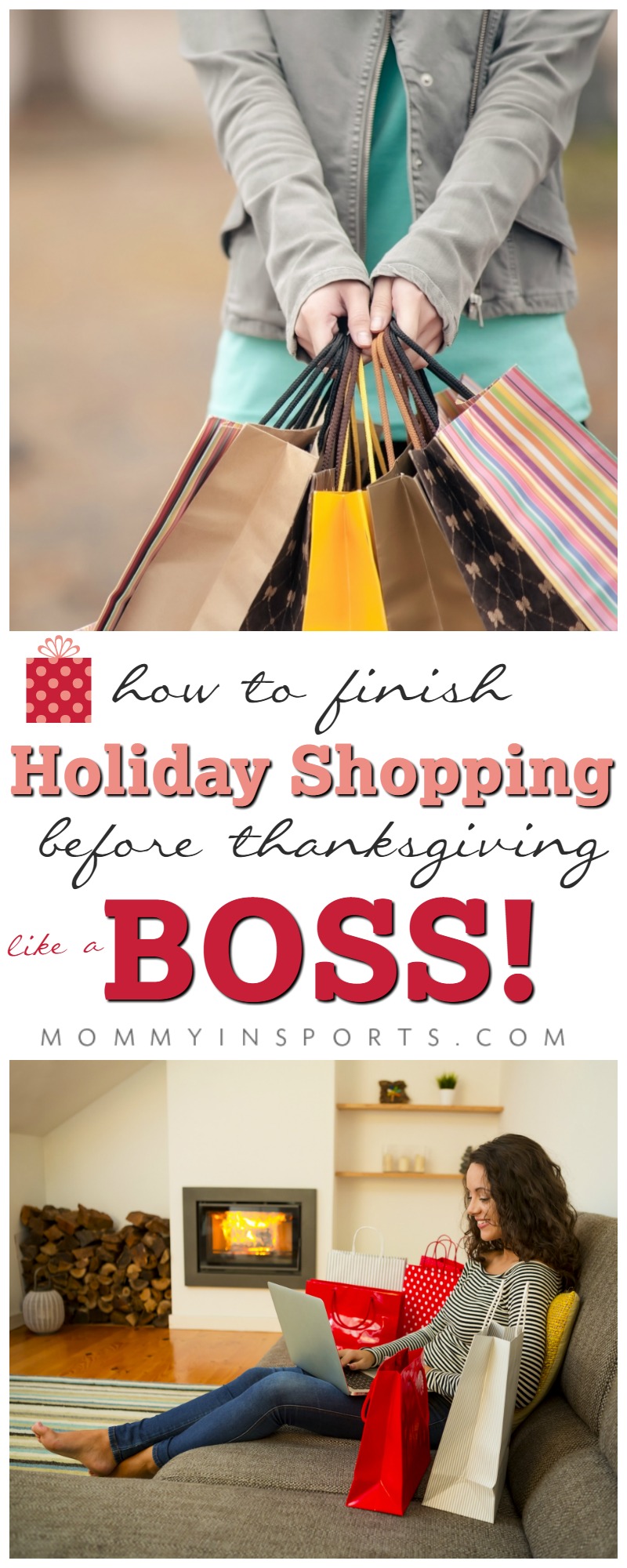 how to get your holiday shopping done before thanksgiving
1. MAKE A LIST – It's so important to get organized when you start your holiday shopping. Who do you really need to buy for and what's your budget. You can also add ideas on this list to help in your brainstorming sessions!
2. BUY IN BULK – One of my favorite things to do is share things that we use and love in our life with others. So think on a bigger scale! Is there an inspirational book or biography that moved you? A kitchen gadget you can't live without? A new lotion or lip gloss that rocks your world? Chances are if you love it others will as well. Here are some examples I shared in my recent My Favorite Things:
An oil diffuser is something I can't live without, so I've purchased one for everyone this Christmas.
Last year I bought these bracelets for all of my girlfriends. They were perfectly imperfect, but I waited for the $9.98 sale!
These mighty mugs seriously don't tip, and are great for any coffee lover. I was sent one last year and my husband loves it. Any coffee mug is a good idea. I'm obsessed with these funny ones at Nordstrom.
Candles on clearance for teachers, friends, or co-workers.
I found these fruit infuser cups on Groupon and am giving these as teacher gifts this year!
You get the idea! When you find something you love, buy it for all of your brothers or sisters or friends! It makes your life so much easier!
3. SHOP ONLINE – You can find the best deals online, and places like Amazon Prime ship for free. Plus I LOVE Amazon Prime's shows on our smart TV, and that I can borrow books on my Kindle. (By the way, I like Amazon Prime better than Netflix. Yeah I said it!)
I compare prices in Google shopping and set bookmarks to check when things are on sale. I find that sales are best even before Black Friday and Cyber Monday. Also, create a separate email address for spam and sign up for email newsletters. I find the BEST GIFTS (yes it deserves ALL CAPS!) on Brad's Deals. One year I found UGG slipper for under $30 and Tori Burch flip-flops for $19.99. I also find lots of team gifts for sports fans on Brad's Deals. I check their emails every single day, it's where I buy my boots!
4. BUY CLASSIC GIFTS FOR KIDS – You live, you learn, and last year I learned what not to do for my kids. They were obsessed with Palace Pets, so I added everything I could find to their wish list. The problem? Kid's tastes change quickly, and by the time Santa invaded our house they were almost over the Palace Pets phase. So this year I'm focusing on classic toys for the girls. A new bike, Lite Brite, Simon, board games, puzzles, a real baby doll, things that will last more than a month! Save the trendy items for stocking stuffers!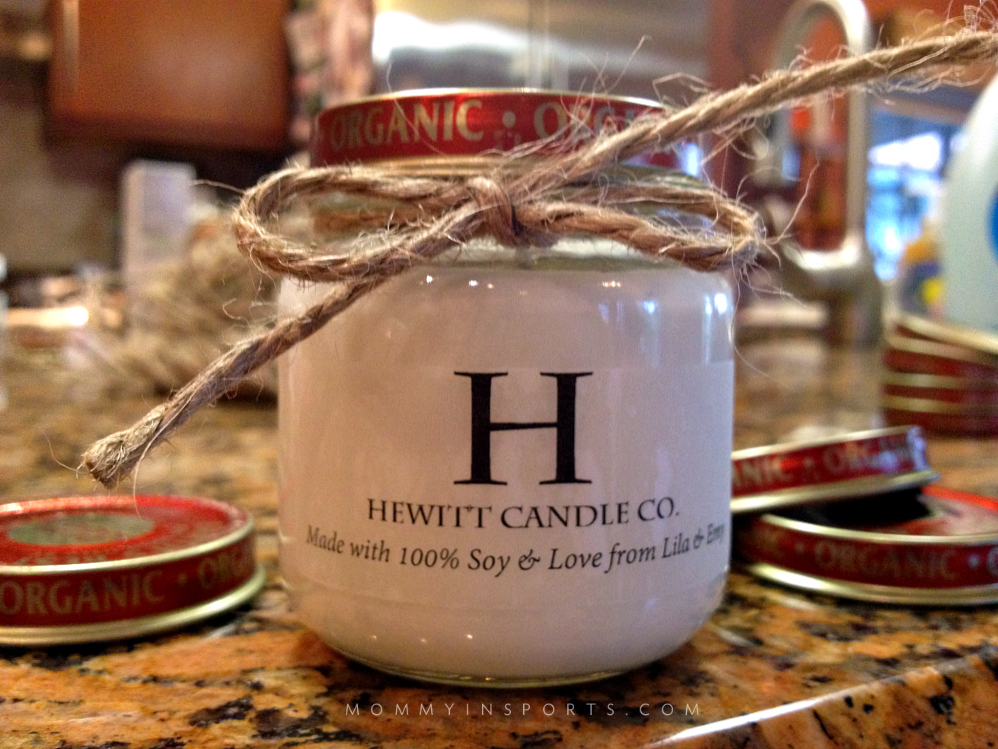 5. MAKE HOMEMADE GIFTS – One of the things I started doing when I first became a mother was introducing homemade gifts. I wanted our children to understand that giving was more important than receiving. So each year we make something for everyone. Baby food jar candles, DIY sharpie mugs, cookies, and loads of different Christmas ornaments. Don't underestimate the allure of homemade reindeer cookies! Now is the time to peruse Pinterest and start making your projects at nights and on the weekends. You'll be surprised how much you can get done! Our friends and family cherish their gifts and the girls feel so proud knowing they made something valuable.
6. GIVE YOURSELF A DEADLINE – Set a date on your calendar that's realistic and set it. Write it in stone. This includes not only completing your shopping, but also shipping gifts and holiday cards as well. Avoid high prices for shipping if you do it early. I tend to buy and ship all of my out of town stuff first, then do the gifts for the teachers, and lastly our family that we celebrate with.
7. ALWAYS BUY EXTRAS – When you buy in bulk, make sure you grab a couple of extra. There is always someone that shows up at a holiday party that you weren't aware of. Your nephew's girlfriend, or a co-worker you forgot about. We have a section of the guest room closet we use as our gift closet, and we always have a few things you may need in a pinch!
Hope these tips help you get ahead this holiday season so you can actually enjoy sitting by your tree and not stressing about all that you have to do!
And here's a great guide to gifts you can make with your kids!
Don't forget to follow along on Facebook for more great gift ideas! When I see a good deal, I post it!