[dropshadowbox align="none" effect="raised" width="auto" height="" background_color="#ffffff" border_width="1″ border_color="#dddddd" rounded_corners="false" inside_shadow="false" ]Disclaimer: This post contains affiliate links, which means if you should purchase something I'll receive a tiny commission. [/dropshadowbox]
Have you heard of Disney's latest and greatest creation? The Palace Pets of Whisker Haven are the adorable pets of each of the Disney Princesses. The marketing gurus at Disney really are evil geniuses, as they have given each princess not one, but three different pets! There is a Disney Princess Palace Pets App, an animated short on Disney Junior, figurines, and even stuffed toys.
Disney Princess Palace Pets are so beloved in our home, that we threw a purr-fect Palace Pets party at our own Paw-lace this month. So if you have little Palace Pets fans of your own – I thought I would share some gift ideas! Keep in mind that finding some figurines are tough, but Toys r' Us and Amazon have been our BFF's so far! Take a look at our list and see if you can find the perfect gift for the Disney Princess Palace Pets fan in your house.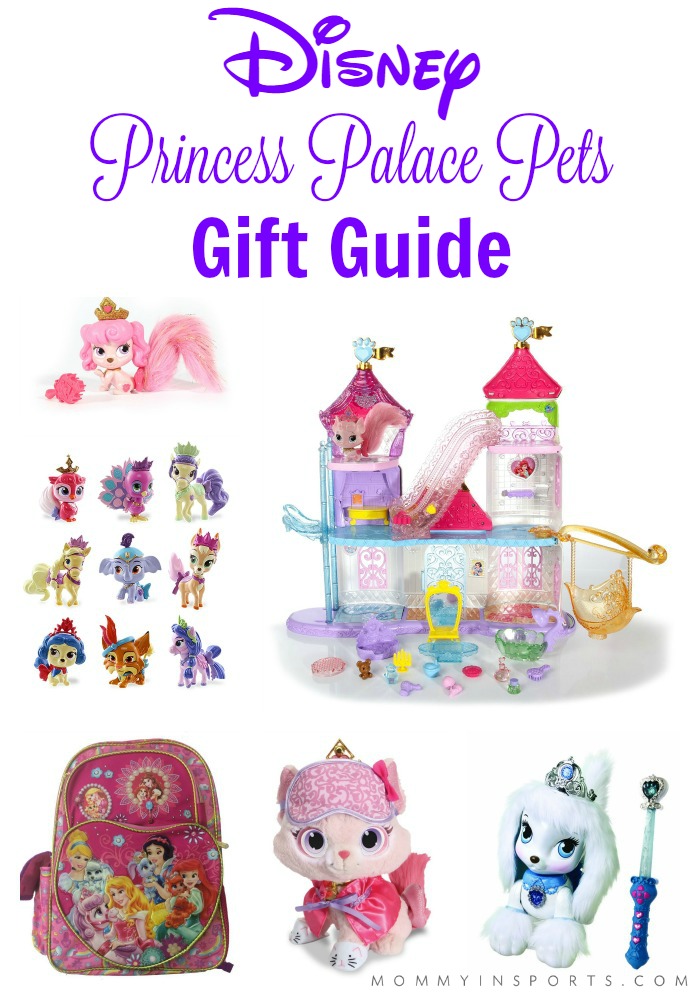 disney princess palace pets gift guide
must haves
Pawfection Styling Head Treasure: My daughter just received this and loves it!
Cinderella's Puppy, Magic Dance Pumpkin: Complete with a wand, this Princess Palace Pet can sit, wag its tail, and even curtsy!
Princess Palace Pet, Bright Eyes Dreamy: This Palace Pet belongs to Aurora. She falls asleep and wakes up, can say over phrases, and comes with some adorable accessories. Bonus on sale now…HURRY!
Disney Palace Pets Beauty & Bliss Treasure: The reason for our party, Treasure.
Disney Palace Pets Color 'n Style Purse Activity Set: Design your own Princess Palace Pet purse!
Princess Palace Pets Royal Pet Salon Game: In this game, your Princess Palace Pet will be pampered at the salon.
Palace Pets Nightgown: Because you have to sleep in a Palace Pets nightgown right?
Palace Pets Backpack and Lunchbox: Bring the Palace Pets magic to school!
pawlace, figurines, and more
Whisker Haven Lights Pawlace: Give your Disney Princess Palace fan this adorable castle that has 7 play areas, 3 different levels, a slide, and lights.
Disney Princess Palace Pets Pamper & Beauty Salon Playset: Ummm…of course they need pampering right?
Disney Princess Palace Pets Deluxe Figurine Playset: Princesses and their pets.
Disney Princess Palace pets Gift Set 1: The original Palace Pets!
Disney Princess Palace Pets Gift Set 2: Round 2 of the Princess Palace Pets to fill up the Whisker Haven Lights Pawlace.
Cinderella's Mouse Brie: This figurine is so cute! She comes with her own tiara, hairbrush, and sparkly tail.
Cinderella's Kitty Slipper, Magical Lights: Don't ya just love the names?
Aurora's Puppy Macaron: Cute pink pup with accessories.
Snow White's Puppy Muffin Doll: Loving this Palace Pet. She is as cute as a muffin!
Belle's Kitty Rouge Doll: Perrrrrrfect!
Ariel's Puppy Matey: What a cute name for a seaworthy pup!
Toy Organizer: You will be needing one of these to keep things organized.
If you find Rapunzel's dog Daisy let me know…a tough one!
pet palace ponies
Aurora's Magical Lights Pony Bloom: Light up this gem with the push of a button.
Ariel's Seashell: Adorably, pampered pony. All of the Palace Pet Ponies, including this one come with a signature paw print gem.
Mulan's Lychee Doll: This Palace Pet Pony is a great addition to Princess Mulan.
Snow White's Sweetie: Her name says it all.
Belle's Pony Petit: Loving the color on this one.
books, activities, accessories, and stickers
Crayola Disney Palace Pets Color n' Sticker Book: Loaded with over 300 stickers, this gift would keep small hands busy for hours of fun.
Grab n' Go Sticker Sheets & Play Scenes: If they love Rapunzel, they'll love this!
Palace Pets Reward Stickers: A nice little gift.
Palace Pets My Busy Book: This has cute figurines, also sometimes you can find at Costco.
Five Minute Palace Pets Stories: Cute book for bedtime!
Palace Pets Ultimate Handbook: You will need this.
Palace Pets Wall Decals: If you need decor, they've made that too.
Good luck finding what you're looking for! Our girls are obsessed with these hard to find Palace Pests Pets.May you have better luck than us… Happy Shopping!