Disclaimer: This post contains Amazon affiliate links!
Looking for a way to upcycle those baby food jars? I had over 200 sitting in my garage, and had saved them thinking "maybe I can reuse them someday with the kids". So two years ago I made these adorbs DIY Baby Food Jar Candles and gave them to everyone I know for Christmas. I mean, who wouldn't want a homemade gift right? And hot wax and kids are a perfect combination…right? (yeah I'm crazy) But I did find productive tasks they loved…I promise!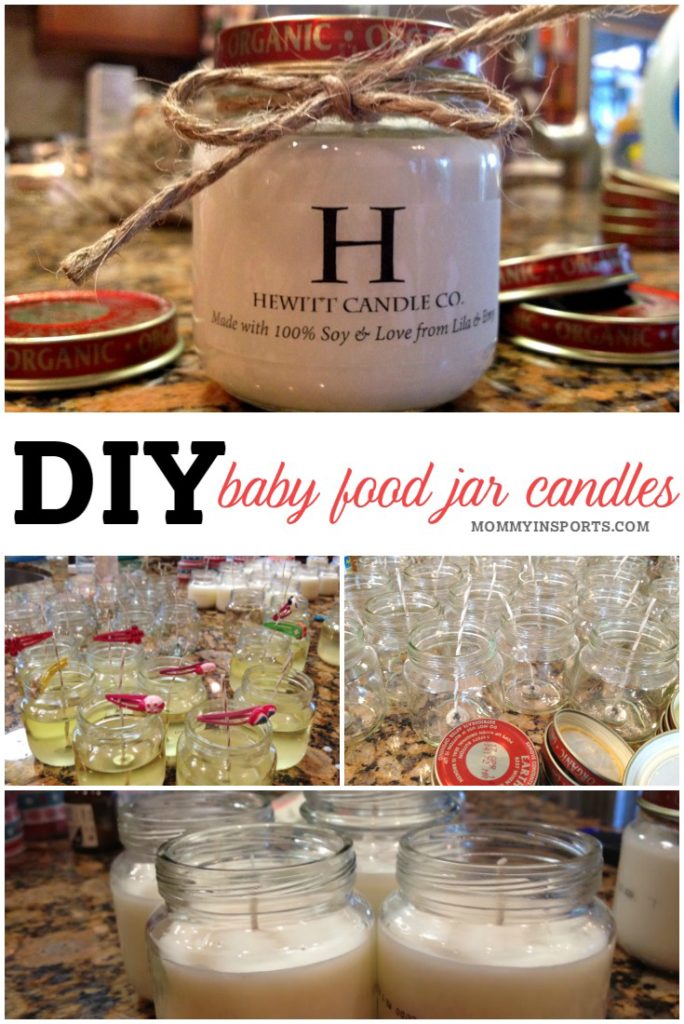 So first I hit the web trying to figure out what to buy. After doing some research, I chose soy wax. You can order it online at several candle places, but my virtual shopping cart was bulging. So I did what every crazy mom did, I went to Michael's the day after Thanksgiving and capitalized on big sales. However I just scoped out Amazon and the prices are really great!
what you need
All you really need are the the wicks (super cheap compared to Michael's), the wax, and a silver pitcher to melt the wax. Everything else the websites tell you to buy is unnecessary in my opinion. You probably don't even need the special pitcher, but I didn't want to worry about ruining one of my pots.
Here's a step-by-step idiot proof guide on how to make inexpensive DIY baby food jar candles. Let me preface this by saying I am very impatient, and even for me, this was a breeze.
diy baby food jar candles
Step 1. Clean baby food jars and get sticky stuff off. Goof Off to the rescue, don't even bother with anything else.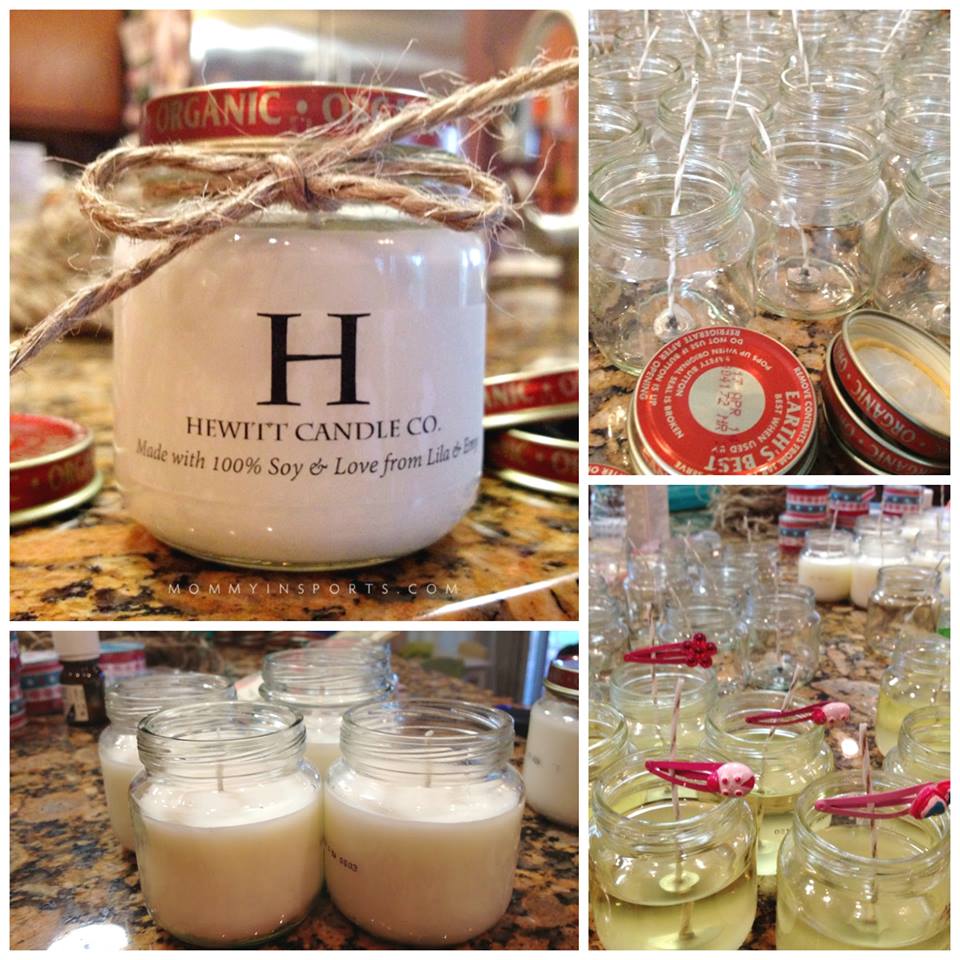 Step 2. Hot glue the wicks in. Don't buy the fancy stickers they sell, hot glue is cheaper and everyone needs a hot glue gun…especially if you have little girls with tiaras!
Step 3. Heat up wax. There's all these directions online about heating the soy wax up to 175 degrees, and letting it cool to 150 degrees before you pour. But I didn't buy a fancy thermometer, I just used a meat thermometer. But, you do need to keep the wick still after you pour the wax in. You can buy wick clips, but again too much dough for me. So be inventive! I used my daughters hair clips and they worked fine. Oh and you can add scent if you want! I had lavender and rosemary on hand, (what I use sometimes when I clean) so I put a few drops of lavender in a few batches.
Step 4. Let them cool.
Step 5. Decorate! I used clear mailing labels from an office store, I think this was the most expensive part of the project. I also bought different ribbons, but settled on good old-fashioned twine from Home Depot I had in the garage. I thought it looked rustic and cool…kind of what a homemade gift should look like…right?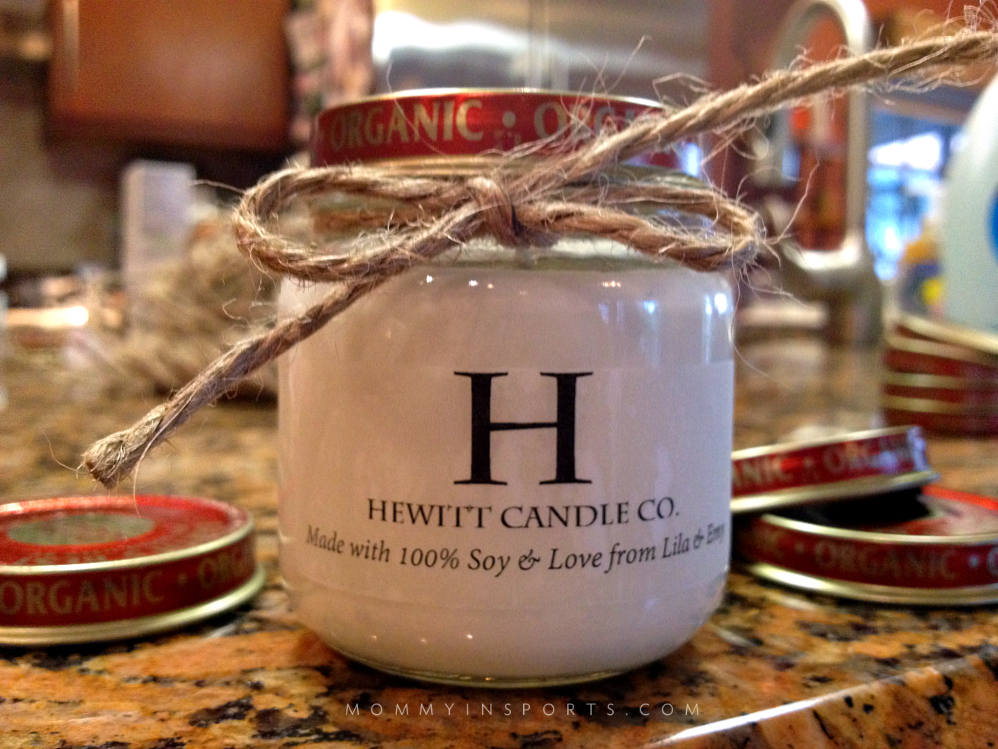 Super cute DIY baby food jar candles huh? But I bet you're wondering…"how did the kiddos help?". Well, that was tricky because I forgot about the hot wax part when I started. But Lila was able to use her scissors and cut all the twine for me. She loved measuring each piece with her Hello Kitty ruler! She also added the lavender and counted the drops. She was pretty good with putting on the stickers too, and she and the little one helped me put on the lids.
These were great gifts for family, teachers, friends, neighbors, and co-workers. Plus they were made with love…which is why we celebrate in the first place! Good luck and happy candle making! (Pin this for later!)

Did you like this post? Follow along on Facebook for more cute DIY Projects like these! (Links below the projects!)
How to Make a Planet Using an Old CD
We also have loads more ideas on Pinterest! See you over there!