I have a very creative daughter, who loves to draw. Her favorite subject these days is rainbows, so it came as no surprise when she told me she wanted to be a rainbow for Halloween. A few catalogs came in the mail, and she fell in love with a rainbow costume from Chasing Fireflies. I thought about buying it, but come on! $68 not including shipping. So I did what every frugal mom does…searched Etsy. Tons of rainbow tutu skirts for around $25. After doing the math I thought…hmmm…Pinterest might have a way to make a DIY no sew tutu. Then I found several and thought "Low and behold, I can do this!"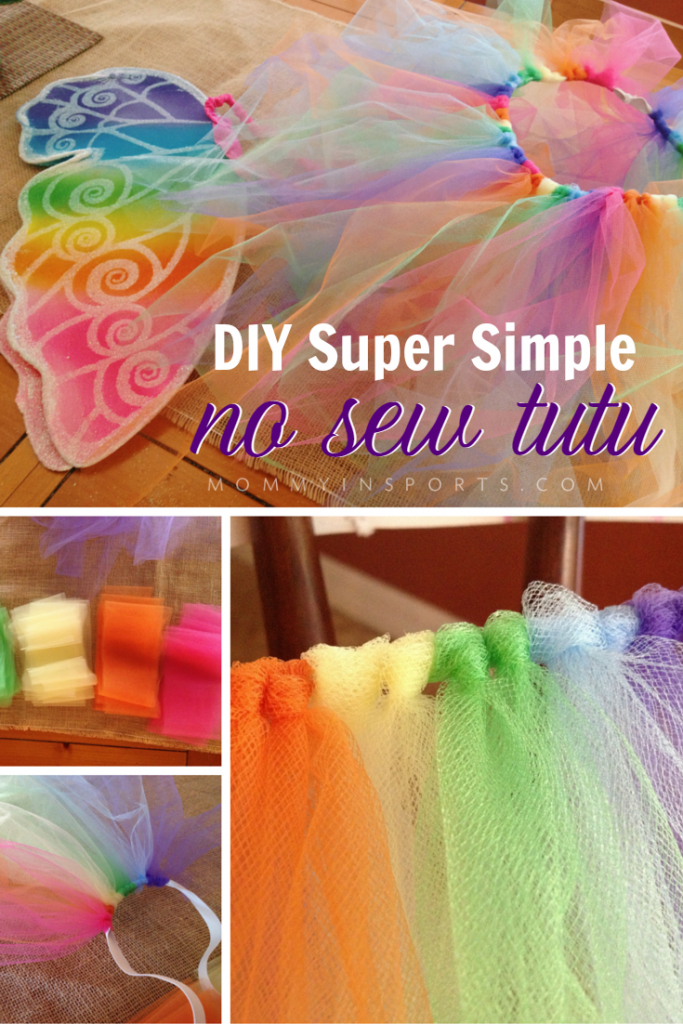 So here's my completely novice, impatient, and frugal (nice way of saying cheap) tutorial of making a DIY super simple no sew tutu. If I can do this, so can you.
materials for diy no sew tutu
1/2 thick elastic — or ribbon to tie
4-6 yards tulle for size 4-5 girls (Walmart is cheapest, .97/yard)
Measuring tape
Scissors
Patience
First things first, how long do you want the skirt? Measure the length, then double it, and add an inch. My daughter wanted it longer…14 inches. So I doubled, added an inch and cut at 29 inches. So that's the length I cut the first color of fabric. Later I made it 30 inches to make sure it was long enough for my budding diva.
Next cut the tulle into 4 inch strips.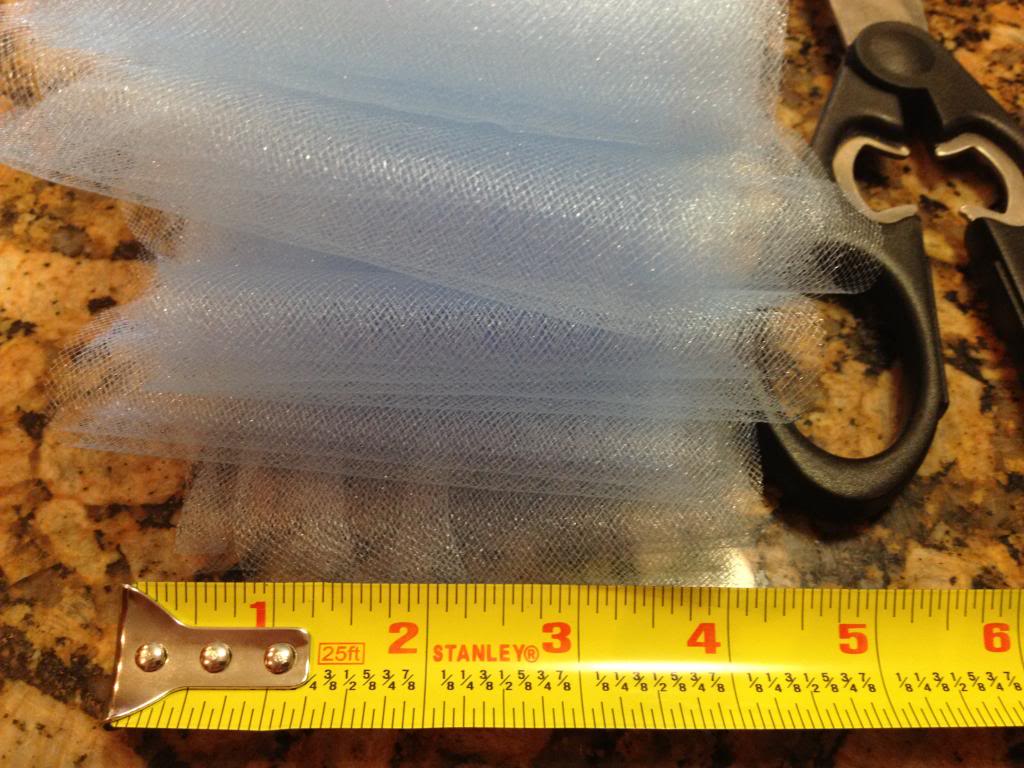 Be sure to fold to the fabric over a couple times so you don't have to cut the tulle the entire length. It's so flimsy and hard to cut, especially with kitchen shears! (told ya, I'm not a seamstress.)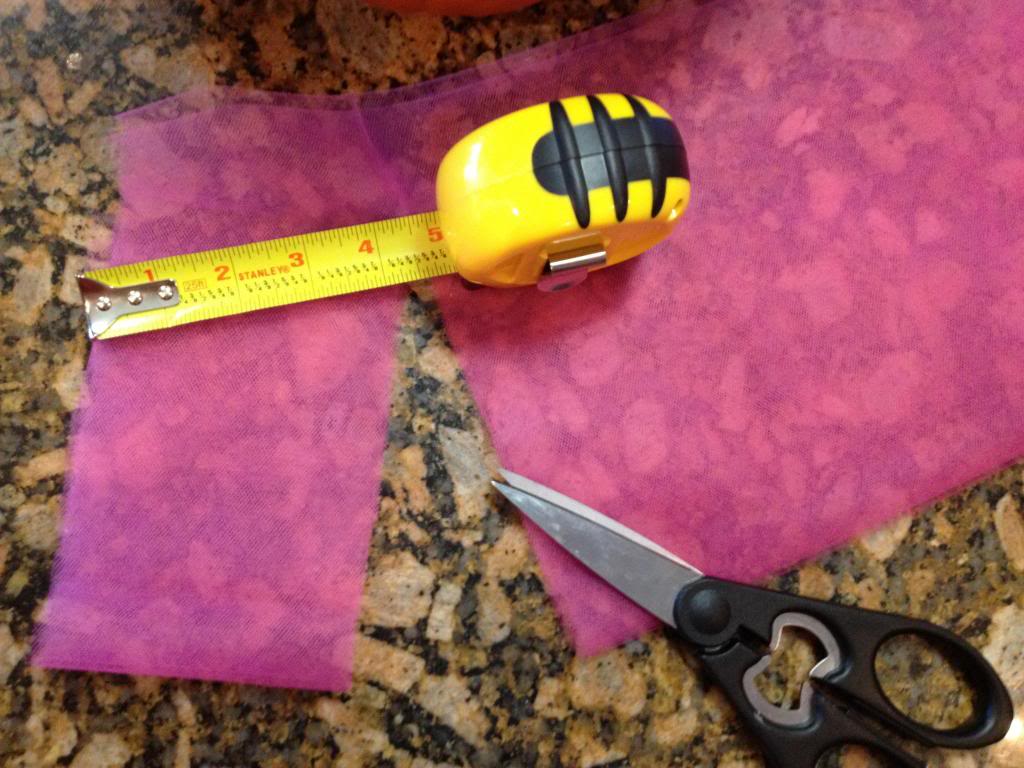 Here's what it looked like after I finished cutting. Elapsed time, only about 30 minutes. And that's with the kids playing with it.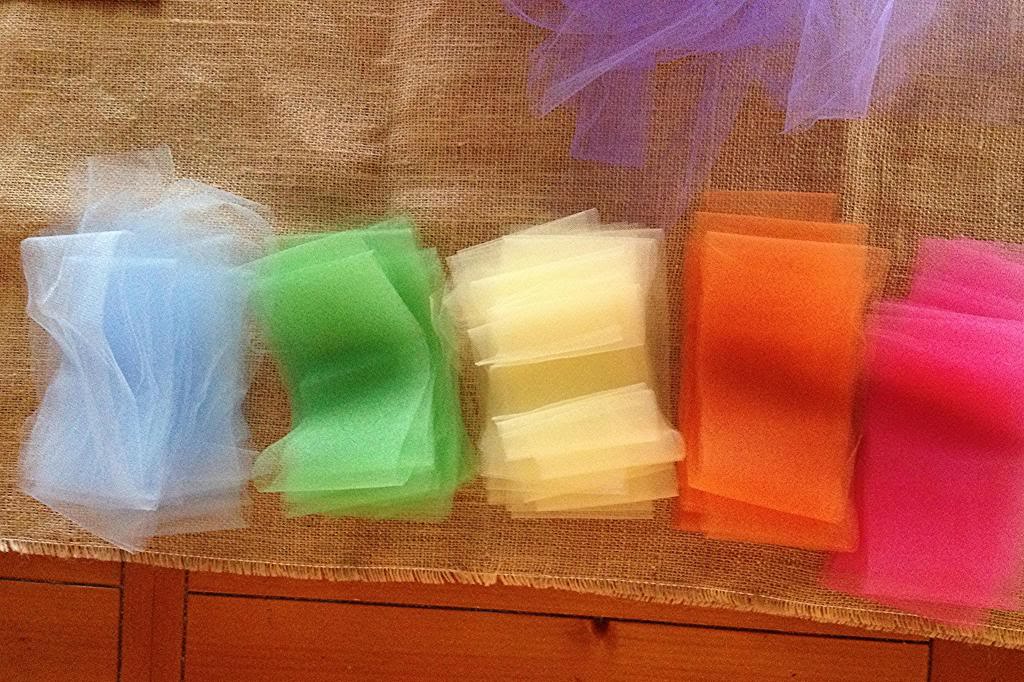 So now it's time to assemble. Remember that 1/2″ thick elastic? Yep, now you need to measure the waist and cut it. I would leave it a few inches longer and tie it loosely while assembling the skirt. Then sew it later. Yes, you have to sew like 3 stitches, it's really easy. And yes, technically it's not "no sew" if you use elastic. It is "no sew" however if you use ribbon as the base, and tie it in a bow afterwards. I made the mistake of sewing it together prior to making the skirt, and it stretched. I can fix that later though! Here's what you do…put the elastic on a chair, and start tying knots.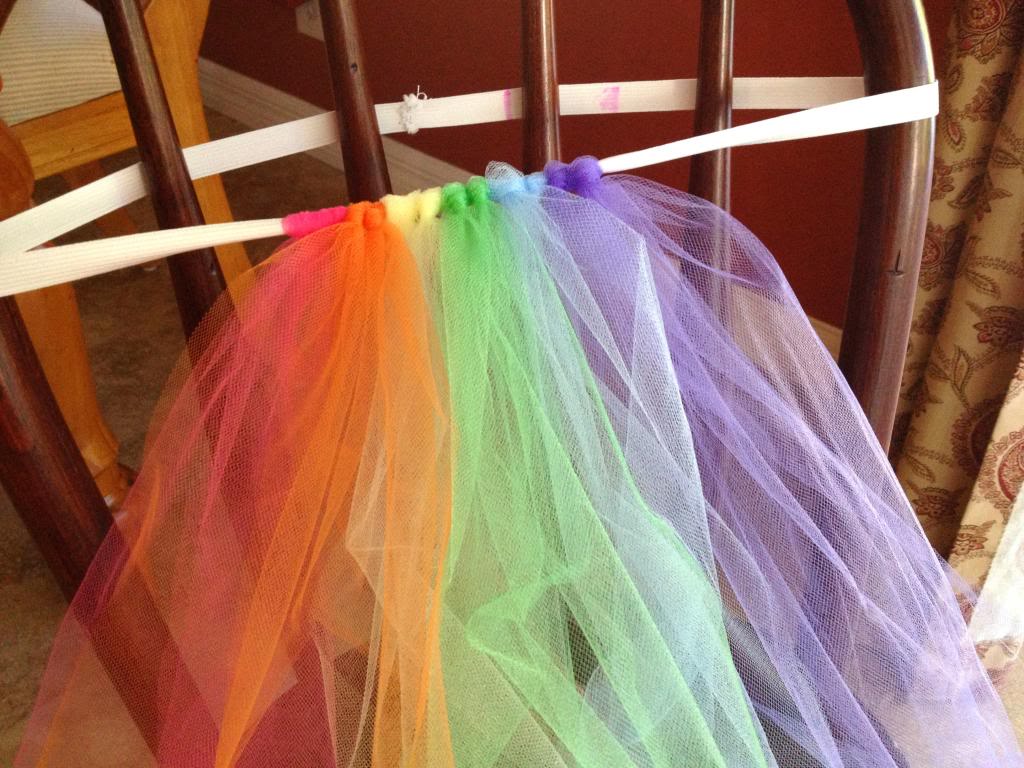 Already so cute huh? I totally want one of these for me too!
Here's how you do the knots. Fold the fabric in half, and take it and loop it around the elastic.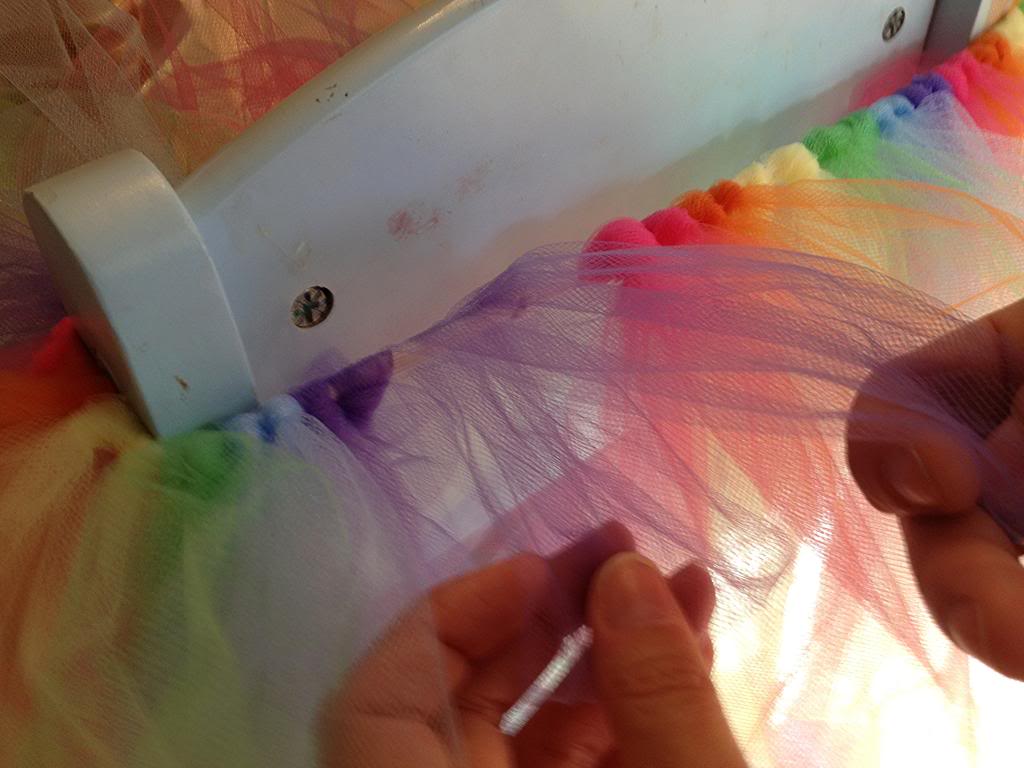 Disregard my daughters messy chair….please.
Then open the loop…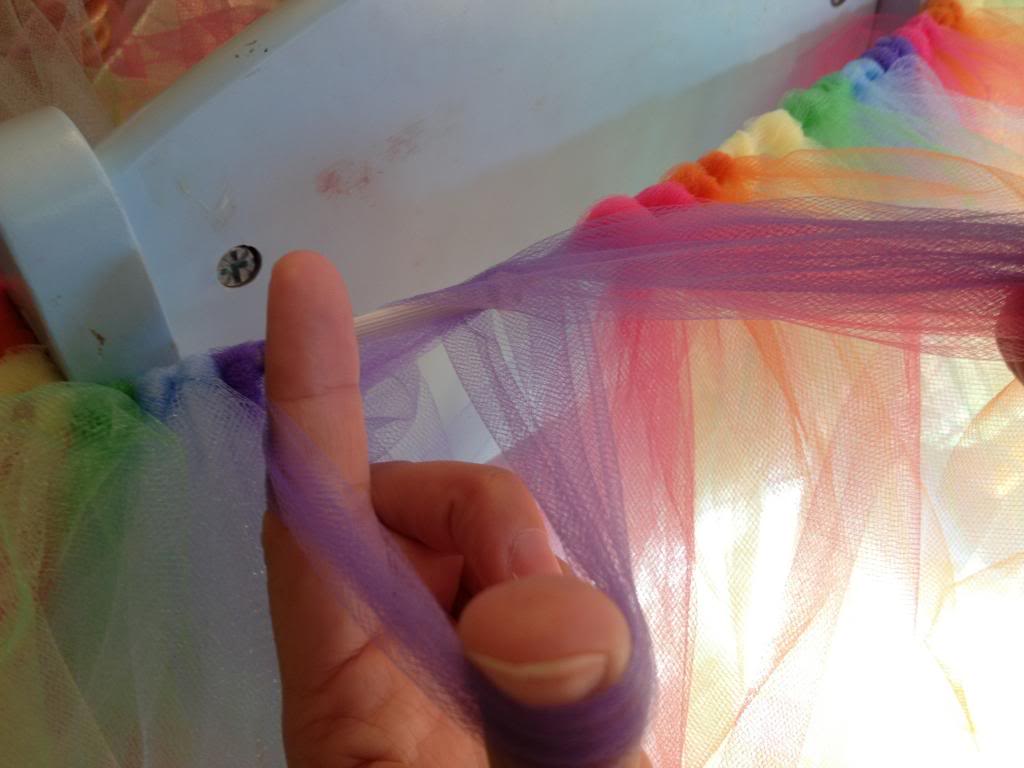 And pull it through.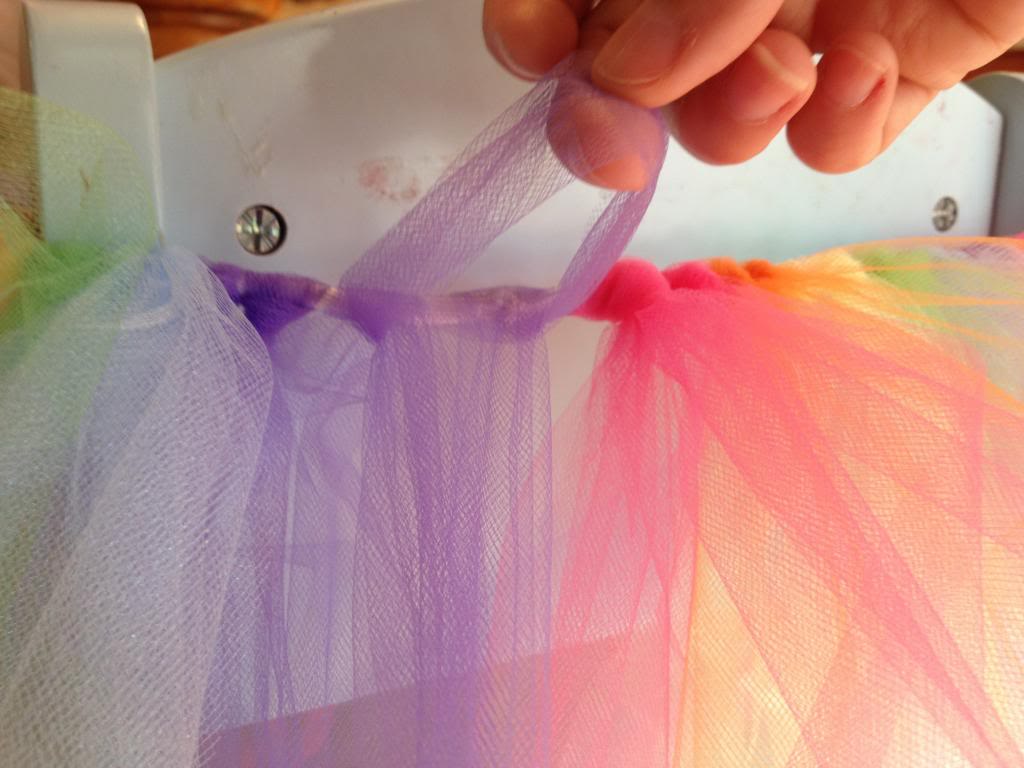 Here's what the knotted tulle looks like. You can leave them looser if you'd like, it uses less fabric and the knots will be further apart. I personally like them tighter, it keeps the fabric from sliding and makes a fuller skirt too! But whatever floats your boat…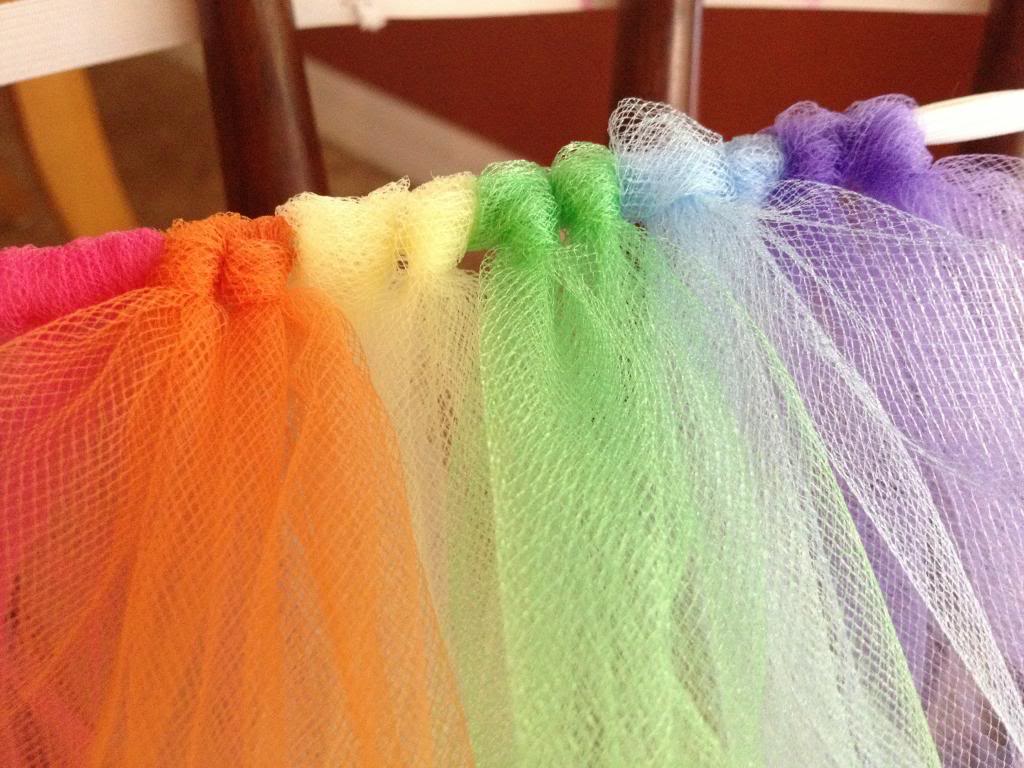 ROYGBIV baby! I paid attention in one of those subjects in school. Science was it?
Keeping tying in your pattern until finished. I told you it was simple! Once you get going, this portion only took 30-40 minutes. And here's what it looks like completed.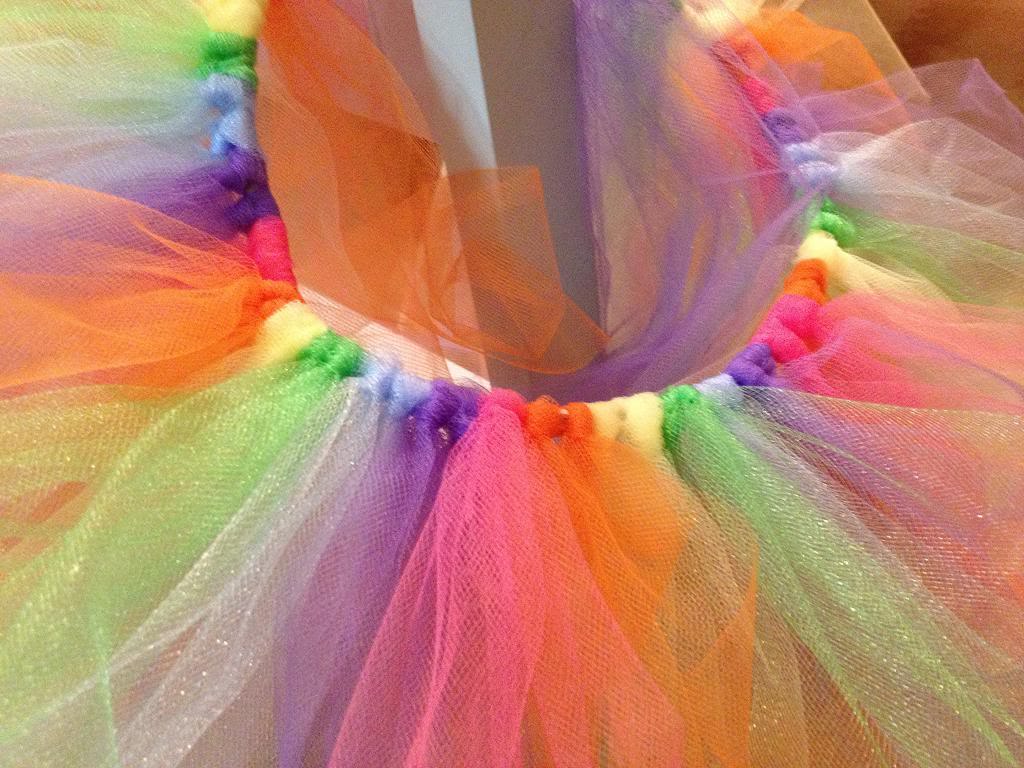 And Lila modeling it for me when she woke up the next morning. Complete with rainbow fairy wings and hand-drawn rainbow shirt designed by Lila herself! My friend is actually making a rainbow veil headband to complete the Halloween look.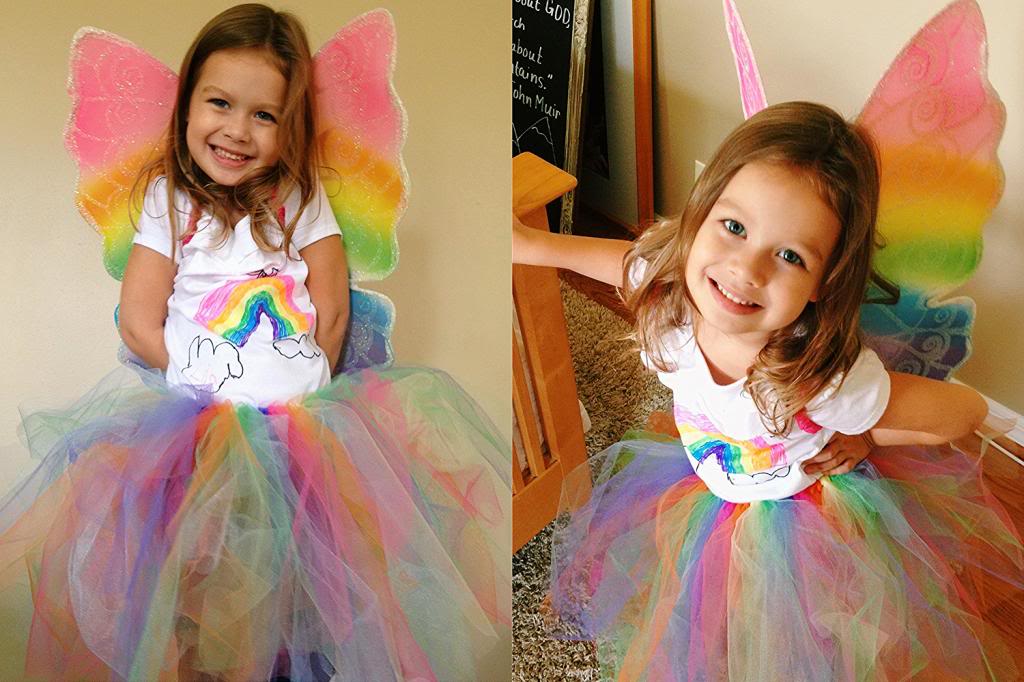 So so so glad I actually did this myself. Seriously, this was super easy and this DIY no sew tutu turned out too cute! Bonus, I saved a bunch of money. With the wings, makeup, and fabric markers, we spent around $30 to make this. But the skirt portion was literally $6.00 of fabric and elastic. Can't beat that!
The hardest part of the project was navigating Walmart, and explaining to the dude in the fabric department that tulle is actually fabric, not part of the tool department. What a tool. (pun intended)
Bottom line, if you need a tutu, and don't want to pay big bucks, give this DIY no sew tutu a try. Totally worth it…and you can unleash your inner twirl!
For more great ideas follow me over on Facebook, or let's get lost in Pinterest forever! And if you liked this post, check out my DIY Baby Food Jar Candles!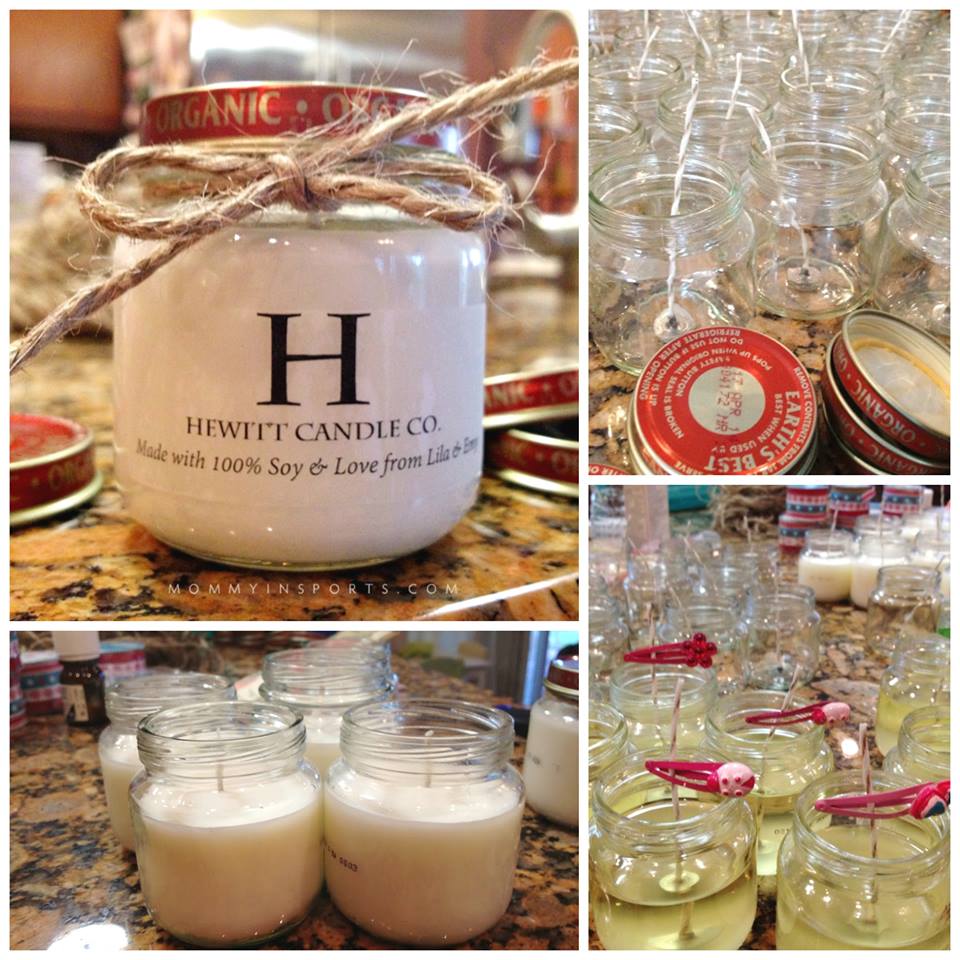 Or our DIY Sharpie Coffee Mugs with Kids!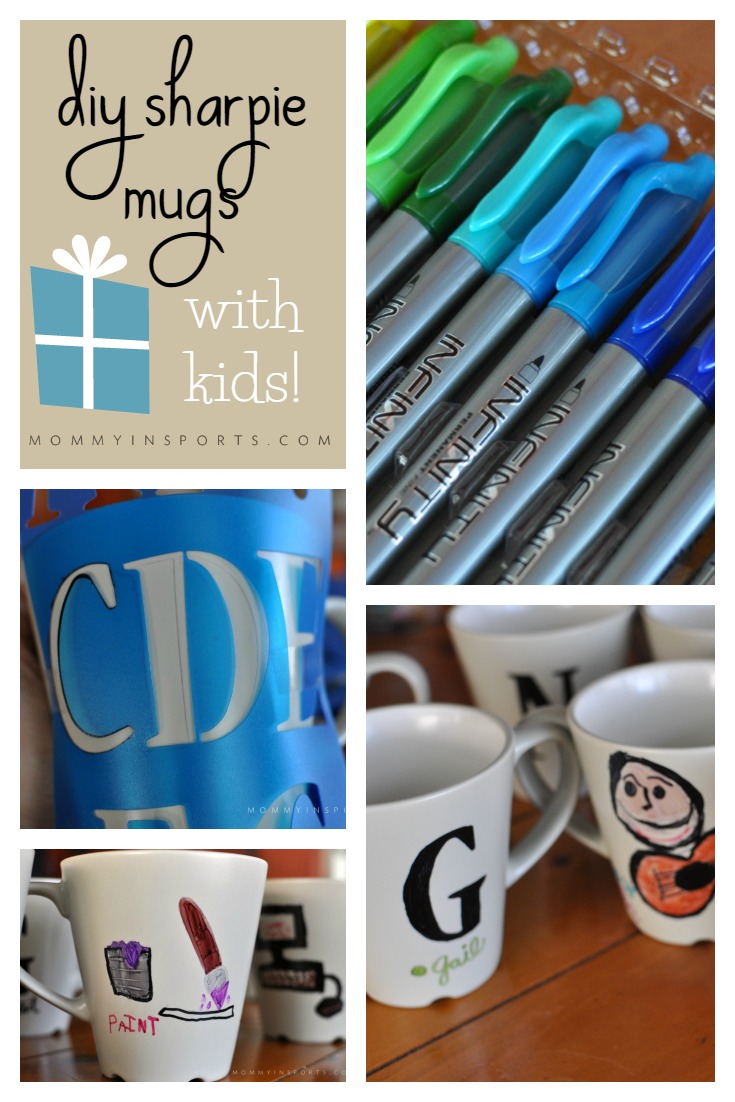 Follow Mommy in Sports's board DIY on Pinterest.