When a little water leak in our ice line behind our fridge turned out to be a monster problem, I had no idea what we were in for. Floors were ripped out, cabinets gone, mold remediation teams moved in, and four months later, we still don't have a working kitchen. While we are supremely grateful for the new kitchen we are about to receive, we had no idea how trying this kitchen renovation would actually be. So after months of living like vagabonds, cooking on camping stoves, and eating out like fools, I decided to pen The 10 Commandments of a Kitchen Renovation.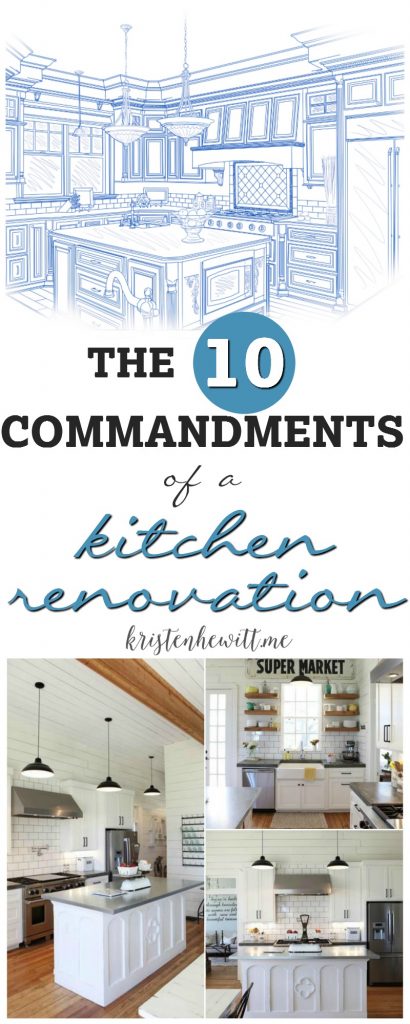 If you are about to embark on construction of the kitchen of your dreams, BEWARE. The road to sparkly stainless appliances, farmhouse sinks, and trendy light fixtures is paved with blood, sweat, lots of tears, and will likely bankrupt you.
the 10 commandments of a kitchen renovation
Thou Shalt Go Over Budget – This is a given. No matter how carefully you create your Excel spreadsheets with exact costs of material and contractors fees, you will go over budget. We had $4000 in our "contingency budget", and are down to $1800, with another 7-10 days to go. There are of course diamonds needed to polish scratches out of the floor, all those online purchases you have to return multiple times, the West Elm kick ass light fixtures, and the cost of eating out. Make sure you have at least 5-10% leftover in your budget for things you never saw coming.
Do Not Covet a Timely Renovation – Something always goes wrong, so when your contractor gives you a finish date, add a month. We had drawers that were too small and the wrong crown molding delivered, which took over two weeks to rectify. Always expect the unexpected, and don't plan the construction around a holiday. You will be disappointed.
Honor Thy Paper Products – I am so grateful for the manufacturers over at Dixie for making paper cups and plates, and for the people who are likely ruining our environment by making plastic forks and spoons. Washing dishes in a bathroom sink and using a toilet as a drying rack just plain sucks. Just use paper, it will save your sanity.
Thou Shalt Not Kill The Contractor (Or anyone else that screws up, multiple times) – OMG can you just show up on time people? I have to give our contractor credit, when he says he's going to be there, he usually shows up 15 minutes early. It's the days when he doesn't show up that are making my hair turn gray. And making me want to poor gasoline on the mess and light it on fire. (Just kidding – sort of.)
Do Not Take the Lord's Name in Vain (Though you will have plenty of opportunities) – Keep your temper in check. I recommend a meditation app and wine every night.
Honor Thy Spouse, Even When Their Design Ideas Suck – You will likely not agree with everything your spouse likes. You have two choices, fight like cats and dogs or try to blend your styles collectively. We did both. And will have the most awesome contemporary farmhouse kitchen you've ever seen!
Thou Shalt Supervise All Workers at All Times – Keep your eyes peeled ya'll. I had to keep an eye on each piece of tile they installed (and yes one has a filler mark the shape of a penis – not sure how I missed that!) and make sure they are doing what you want done. Don't be afraid to speak up, (in a nice way of course) to make sure you get quality workmanship.
Thou Shalt Stop Obsessing About The Details – This is a hard one for me, but sometimes you have to let them finish the job before you can see the big picture. I fretted for weeks about drawer pulls, and ended up loving the originals I bought. Go figure!
Thou Shalt De-Clutter BEFORE The Construction – I highly recommend the decluttering process prior to work being started. We are living amongst boxes full of crap from three junk drawers. It would have been so much easier to do this before they demo'd the kitchen.
Thou Shalt Be Grateful You are getting a New Kitchen!- When you are at your worst, living in hovel and can't find the magic in the mess, do not burn down your house. Remember, the payoff will be gorgeous and just like childbirth, it will all be worth it.
Obviously, these 10 Commandments of a Kitchen Renovation could be applied to any construction project. Wishing you much luck and calm vibes for your own renovation. Also hoping I have a shred of sanity left when ours is finally done. Cheers to home ownership!
Need some design inspiration? Here are my favorite white kitchens inspired by Fixer Upper!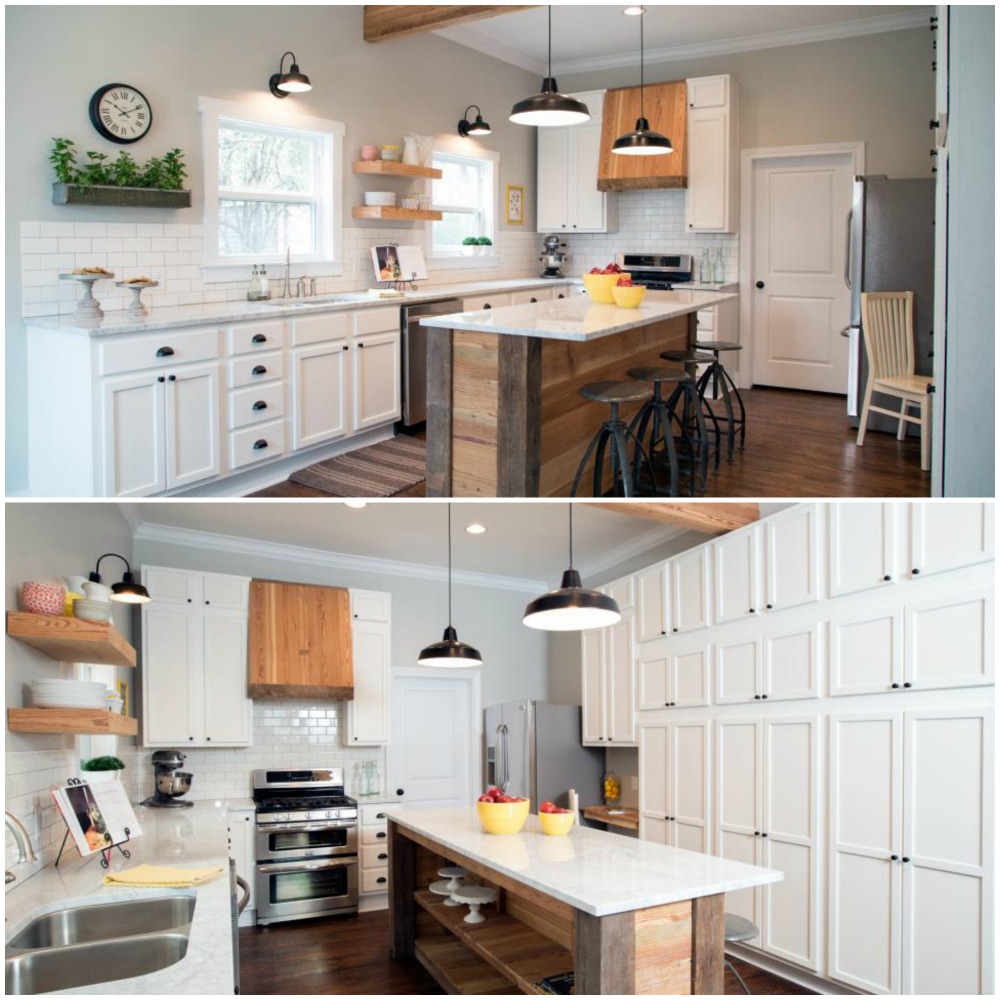 And the best kitchen lights for your modern farmhouse design!