After my second knee surgery, I knew I was bound to get a boatload of questions. Especially since I can't drive, am in a ridiculous straight leg brace for six weeks, and have been sharing my knee saga for nearly six months on social media. But I wasn't prepared for the barrage of questions I received when I returned to work at the Miami HEAT.
Players, coaches, security guards, broadcasters, PR peeps, our television crew, bathroom attendants, Burnie…basically everyone saw me hobbling into the arena with my leg dragging behind me all asking incredulously, "What happened?!" (Actually Juwan Howard doesn't ask, he just shakes his head and say, "How did YOU get hurt?! Again?") I get this too at school, the shoe store, dance, Publix, restaurants, kid's basketball games, basically anytime I leave the house. So I figured I'd put all the answers in one place and blast it on social media in hopes that I wouldn't have to answer any more questions.
Probably won't work but it's worth a shot!
1. ARE YOU OK?! – Yes surprisingly. I mean most of the time, though I have been known to be grouchy. The surgery was harder than I thought and the recovery is tough emotionally and physically. To give up control, not be able to drive or do anything has been beyond frustrating. But I am OK and happy to be feeling a little more normal.
Wrote more about surrendering on Instagram.
https://www.instagram.com/p/BuB8TBZAM-3/
2. HOW DID YOU GET HURT? – Honestly, I don't know. I have been feeling pain in this knee over the years when we would go skiing. Or if I would squat sometimes, but I chalked it up to hitting 40 and having a creaky knee.
Here's my best guess: I had my hysterectomy last year and had a looooooong recovery. When I finally got the OK to workout I think I came back too fast. I had weak abs and a tight back, which led to tight hamstrings, which starting pulling on my IT bands, which in turn affects your knees. When I ran my knee would hurt and in September it really hurt. But my sister-in-law was dying from pancreatic cancer, so I ignored it. On the day she died, my birthday, I woke up and legit could barely walk. It was super swollen, bruised, and painful.
But I had to get to Orlando to plan the funeral, so I ignored it for two more weeks. Then the orthopedist made me do physical therapy for a month before they did an MRI which revealed patella tendinitis and a torn meniscus. Or so we thought.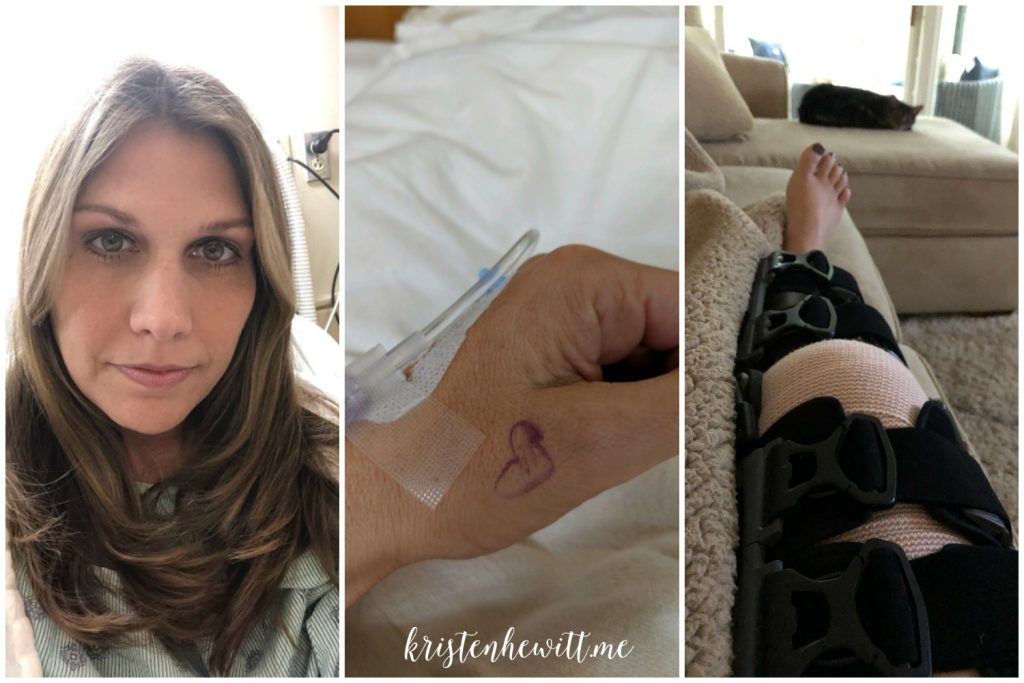 3. WHY TWO SURGERIES?
Awwwww Lord. I wish I didn't have two. Here's the dealio.
When I found out I had a torn meniscus the orthopedist I was seeing near my house said the patella tendon just had tendinitis. I saw the HEAT team ortho for a second opinion (who is amazing and operates on all the famous NBA players) and he said it was a torn patella tendon as well as a meniscus tear, and that I needed this massive surgery which would mean no driving for 4-6 weeks, and no skiing in February. I panicked and wasn't prepared for such a large surgery and recovery, so got a 3rd opinion. He said, "NO WAY! Don't do that surgery…that recovery is ridiculously painful, just do the meniscus and you'll be skiing in three months." So I copped out and did the easy surgery.
On November 14, 2018, I had my first scope and when I arrived at the hospital and they put in the IV my intuition said to me, "This feels wrong, you should have listened to the HEAT doctor." I knew it in my bones, the patella tendon was so painful. And after nearly three months of rehab after the surgery and horrendous patella tendon pain that wasn't getting better, I realized Dr. Selsnick was right. I gambled and lost.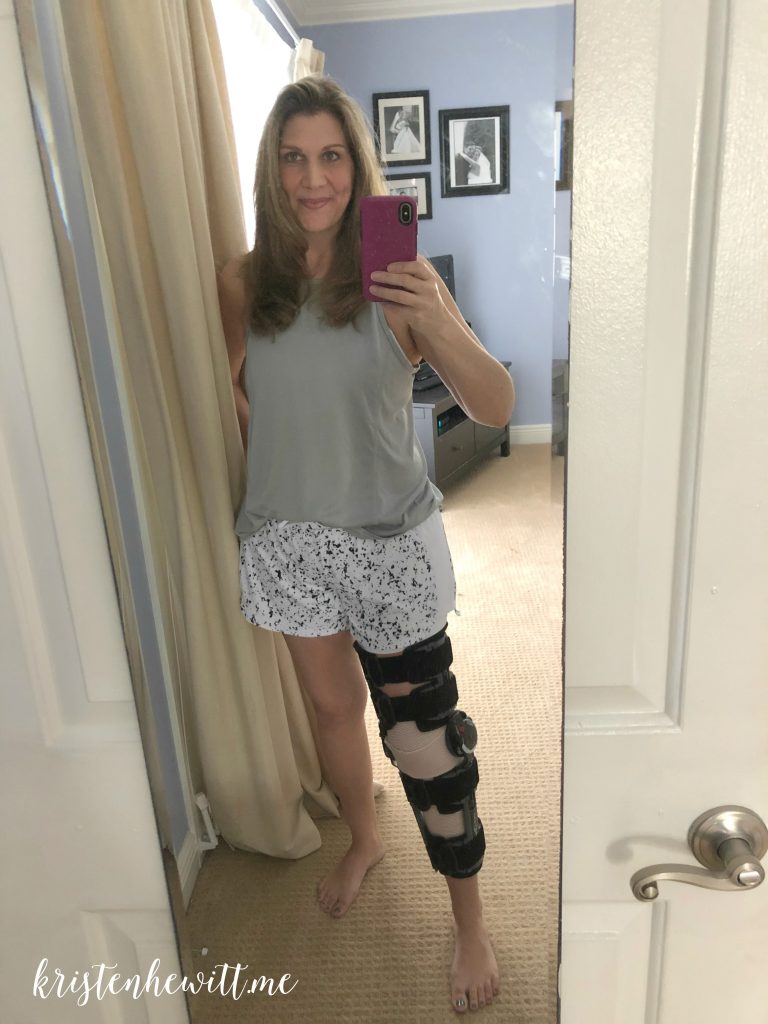 So I went back to my surgeon (are you keeping up?!) and he referred me to a sports medicine specialist who did an ultrasound in January and did discover the torn patella tendon. (Seriously, no one told me this ultrasound thingy existed prior to this?) They offered me pricey options like PRP injections and shock therapy not covered by insurance, but those only offered a 60-70% chance of healing. So we went with the HEAT doctor who is amazing, patient, and didn't say, "I told you so." Even though I'm sure he thought it!
4. ARE YOU IN PAIN?
Not all the time. The first nine days post op were excruciating though, and I do get these shooting fiery pains sometimes. And the brace is a torture device that isn't even remotely comfortable. My back hurts and spasms from walking weird, and of course my left leg is sore from baring all the weight. But other than that it's honestly not terrible, it could be so much worse. I rest a lot at home in between work and life with the kids and go to acupuncture when I can.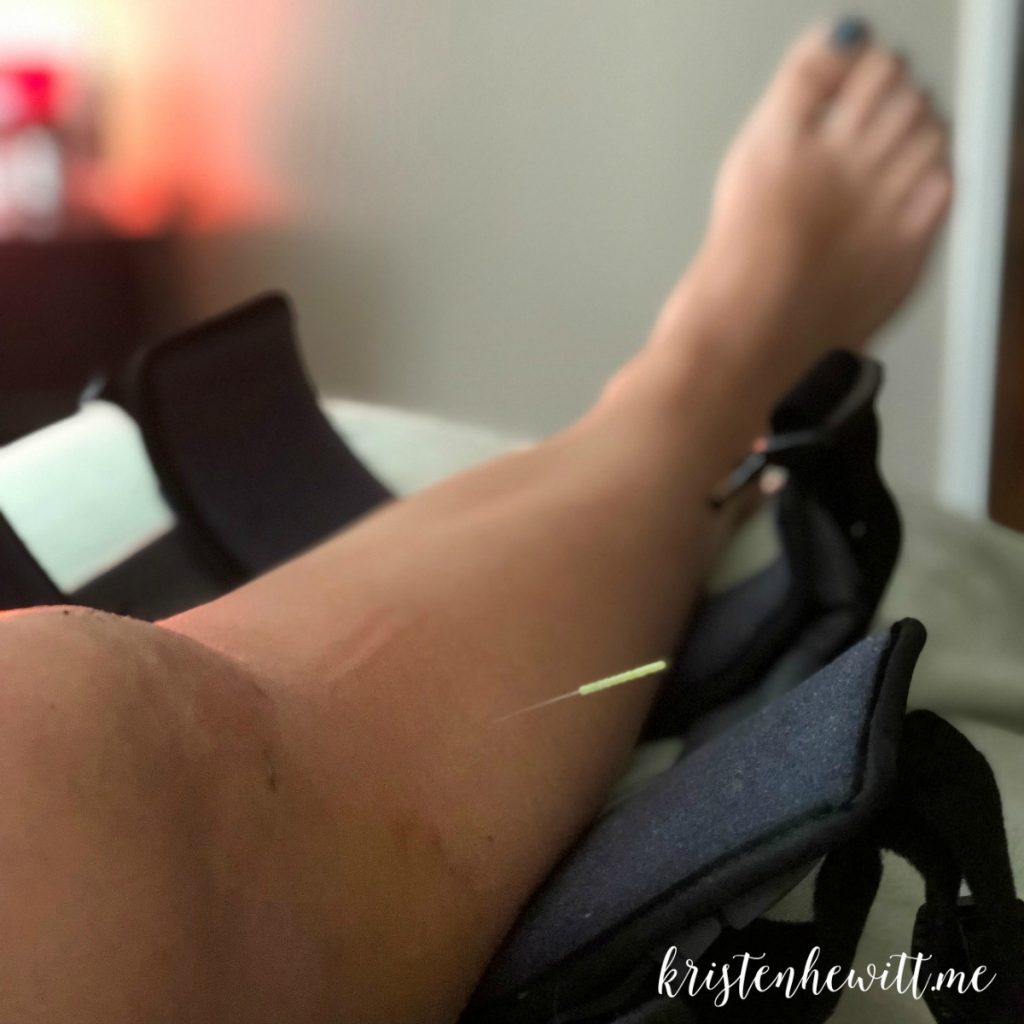 5. WHEN WILL YOU BE BACK TO NORMAL?
A year. For real, it takes that long. I have to be in the straight leg brace three more weeks and start bending gradually in another week. I start rehab next week as well that will be intense and last at least three months. They say you can resume "normal" activities within six months so I'm looking forward to August 12th.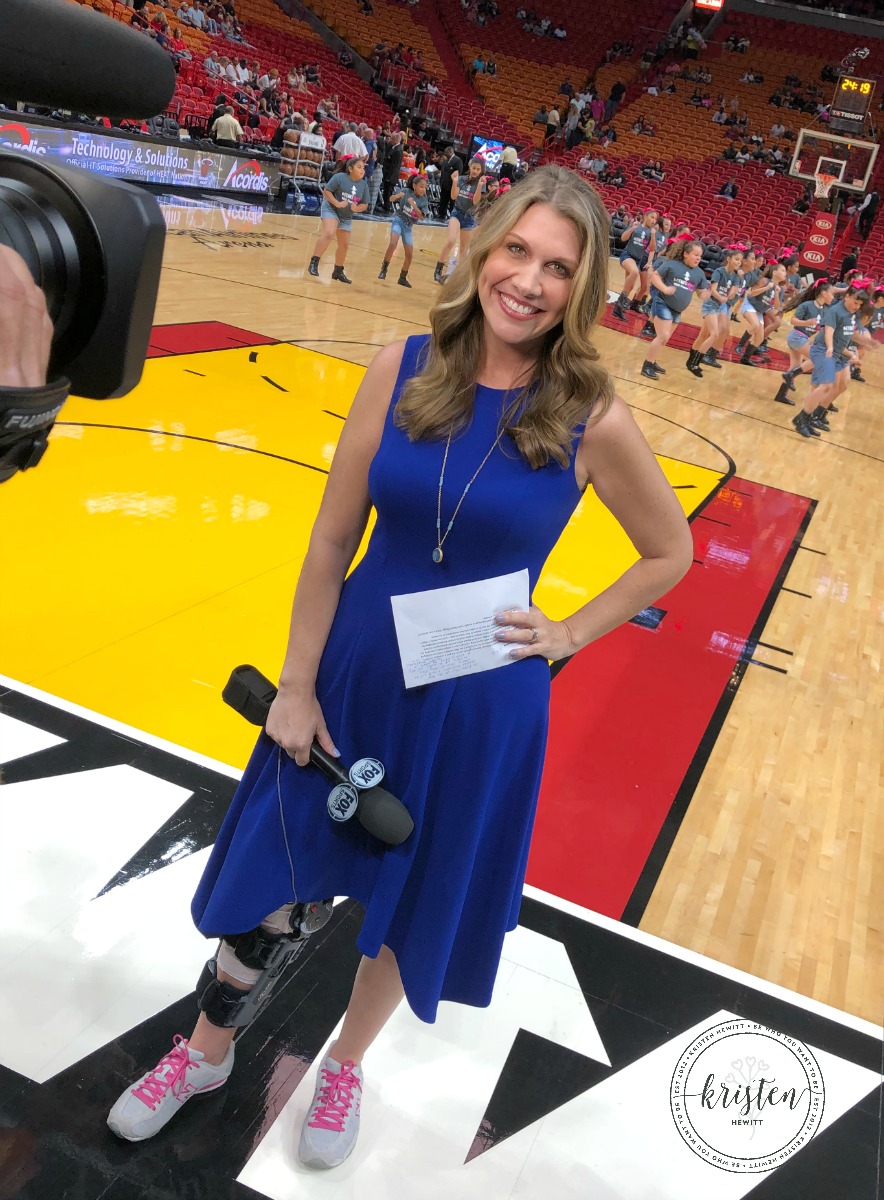 6. WHY ARE YOU WORKING?
So there are these things in life called bills. Like you have to pay for food, electricity, a mortgage, dance classes etc. And if I don't work, I don't get paid so there's that. Also, hello…it's Dwyane Wade's last year and I sort of want to see him play a few more times. Not to mention I have some serious Cuckoo's Nest cabin fever and need to get off the couch. Plus I like to work, it's fun!
7. HOW ARE YOU GETTING AROUND WITH THE KIDS?
I am lucky to have awesome moms at our daughter's school who have been helping with driving them to and from school. We also have a nanny that helps do grocery shopping and laundry, and she works on days they have activities or if my husband is out of town. My mom has been awesome and has come to stay with me twice from Orlando. And if all else fails I'm keeping Uber and Uber Eats in business single-handedly.
8. HOW DO YOU STAY SO POSITIVE?
I am not positive all the time. The first four days we were shellshocked with the scope of the surgery and the pain. I couldn't shower, eat, or go to the bathroom without help. It was humbling, degrading, and soul-crushing. I cried all day. I still cry at least once a day. I mean if you saw my quad right now it's horrifying. It doesn't exist and sometimes I look down and freak out knowing the long road I have ahead of me. But honestly, I just saw someone I loved die before my eyes. Life is a freaking gift and I'm so lucky it's not cancer or something life-threatening. I mean it's a stupid knee, but in a year I'm going to be at the top of a powdery slope in Colorado looking back at how far I've come!
9. HAVE YOU ENJOYED YOUR DOWNTIME?
Yes! Yes! OMG Yes! I have read a bunch of books, watched too many episodes of Say Yes to the Dress, Fixer Upper, and Property Brothers, and basically love working from bed. I also have enjoyed watching our daughters really pick up on the responsibility front. They are doing the dishes, litterboxes, putting away their clean clothes, this has taught them and quite honestly my husband a lot. But it's also brought out a ton of emotions I'm processing still like grief. I keep telling people that this was a wakeup call from God to slow down and I'm listening!
So if you made it this far, there you go. A not so quick recap on my stupid knee. I'm halfway through the torture device and looking forward to starting rehab and getting stronger! Thanks for all your messages and comments, and may you all learn from my many mistakes. If your knee hurts, go to the doctor right away! And if a world class surgeon who has operated on Hall of Famers tells you to do something, do it!