It's been a ritual in my house before we even had children. Friday nights for me have always included a glass of Pinot Grigio, a comfy couch, and binge watching numerous episodes of TLC's popular show Say Yes to the Dress. Oh how I wish I knew Kleinfeld's existed when I got married over 13 year ago. There's something so magical about watching someone find their dream dress, and the romance of marrying their true love.
Then there's the drama, you know the 15 people that brides bring with her to the bridal salon, who seem to want to tear down her self confidence. I never understood why people are so rude, or why brides bring so many people! I mean hello? Of course they are all going to have annoying opinions.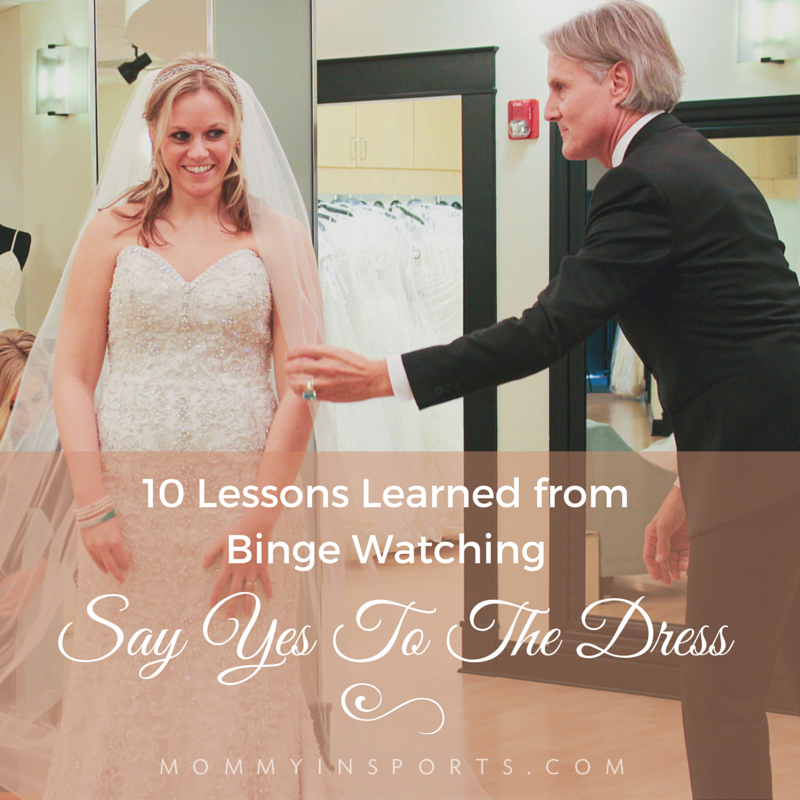 But now that I'm a mom, I watch the "wedding dress show" (as it's been dubbed by our daughters) with the girls by my side. Each week the three of us cuddle together and are smitten by all the beautiful gowns. And as I sit shaking my head in disbelief, I repeatedly tell them, "I promise you can pick your own dress. It's what you want, not mommy." So when the time comes for our girls to walk down the aisle, I'm now prepared with what not to do when wedding dress shopping with someone you love. Thank you Say Yes to the Dress for teaching me these ten important lessons. Someday I will pull out this post and make our daughters read it prior to finding their dream dress.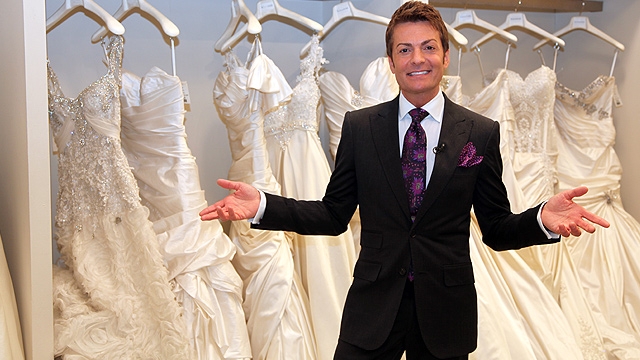 Shop Alone – Or with a small group of people who you really trust. Don't feel like you have to include everyone in your life. This is a special moment, please only bring friends and family whose opinions truly do matter to you.
People are Assholes – There are so many people in this world that are insecure, and they unwittingly put others down to build themselves up. If someone insults you, it's up to you how you take it. Most likely it's their jealousy, so bury it and keep your head held high.
You Need a Randy or Monty on Your Side – Seriously, these guys make the show…and the appointments. New York, Atlanta or anywhere in between, every girls needs a person like Randy to stand up for the bride.
Cheap Dresses are Pretty Too – Yes we all want the Pnina Tornai dream dress, but let's be real, $10,000 for a dress you wear for four hours and sits in a box for 30 years is a lot of dough. Think of all the crap you could buy for your new house, or the awesome honeymoon you could go on for that price! You can find deals on the sample racks or shop sales. It's not the label that matters but the total package.
Don't Try on the $30,000 Dress – Just don't OK? Of course it's gorgeous, but if you wouldn't test drive the Rolls Royce, then don't put on that dress. Stick to your price point or you will be devastated. This goes for house hunting too FYI…
Play Mind Games with Your Entourage – If you really like a dress, then try on two super ugly ones before the one you love. That way when you come out in your favorite everyone will oooh and aaahhhh.
Champagne is a Girl's Best Friend – Before she messes with their heads, why doesn't the bride just get the entourage a little tipsy? It would make it so much more fun don't ya think? Or perhaps in vino veritas would be even worse? Only one way to find out.
Get Jacked Up in the Dressing Room – Everyone looks beautiful in a veil and tiara. If you really like a dress and you think no one else will, get jacked up in a veil and jewelry in the dressing room. Then wear it out onto the runway and no one will say you look ugly. Unless you really do look ugly of course…
Trust You Gut – If you feel great in the dress and you love it that's all that matters. It doesn't matter what jealous cousin Susie thinks, ignore the b***hes!
If Mom Cries You've Found Your Dress– Seriously, every single time the mother of the bride cries that's the dress the bride picks. Except my kids will be seriously screwed because I cry at everything…even preschool chapel.
Thank you TLC for giving us this epic show every week. It allows those of us who are old and married to re-live our romantic fantasies…and boy do we love the drama. You may have struck out with Honey Boo Boo and The Duggars, but please don't ever cancel the wedding dress show. It has become a family tradition that we can't live without. Keep finding the crazy families and we'll keep tuning in each week!