*Disclaimer – this post contains affiliate links.
The first few weeks after a woman has a hysterectomy I describe as being stuck in a Paula Abdul song. One day you take two steps forward and the next you take two steps back. It's a rollercoaster recovery full of twists and turns and is not only physically taxing but emotionally exhausting. You're tired, in pain, possibly anxious or depressed, dealing with new hormones, and sometimes mourning the loss of your womb.
I had a robotic laparoscopy hysterectomy leaving just my right ovary, an appendectomy, and excision for Endometriosis in May of 2018. During the first week of recovery, I was miserable and had a hard time staying grateful and present. But then on day seven, I felt like I turned a corner and could finally see things from a new perspective. Since I feel better I decided to share some of the things I've learned about healing in order to help others who may need a hysterectomy.
So if you too are embarking on this surgery, here's what every woman recovering from a hysterectomy needs to know.
20 Things Every Woman Recovering from a Hysterectomy Needs to Know
Everyone has different conditions and circumstances, and each surgery is unique and different.
Every one of us heals differently due to our age, health, and pain tolerance.
Comparison is a joy-stealer, do not let someone who is doing better than you make you feel less than. Also when people tell you that they vacuumed three hours after their surgery, smile and move on.
Fear is an emotion based on your thoughts. The second you feel fear – say and think something positive. (Eckhart Tolle's "A New Earth" is a great book to help you release fear and stay present.)
Expectations will depress you. Have none and your mood will improve greatly. There will be twists and turns – ups and downs just like life.
THIS TOO SHALL PASS. Repeat this over and over again.
Each day you will heal exponentially.
Trust your instincts. Even if your doctor tells you to increase activity – if you don't feel right – LISTEN TO YOUR INNER VOICE. I was cleared to drive at seven days post op, but waited another few days until I was fully ready.
Throughout your recovery – remember how far you've come, and what your goals are.
Drink Water. Not only will it help you heal faster but it will help with your bowels. (I use this water bottle!)
Stool softener is your BFF. Trust me.
Music heals. I did a dance party the morning of my surgery, had a playlist in pre-op to keep me calm, and ironically my favorite song was playing in the OR. I still use music when I'm feeling down. Whatever your thing is, don't forget to do things every day to make YOU happy.
Walk. The sooner you get up the better. It releases the gas if you had a laparoscopy and gets you and things moving. Also wear a belly binder, it will help reduce pain and swelling. If the hospital doesn't give you one this one is super cheap!
Be compassionate. We have all been through SO much leading up to this. Give yourself grace. Eat comfort foods. Do what you need to do to make yourself feel better. You're WORTH it!
Use all of the pillows! Pillows will help you when you try to sleep on your side and back. Also, you might want to invest in a body pillow for maximum comfort.
Get help getting up. The first week it's tough to pull yourself out of bed. Have someone help you or buy this. This bar next to my bed was a lifesaver for me!
Be Grateful. Some days it's hard to find something to be thankful for, but if your eyes are open and you're breathing, that's a win in my book. (This gratitude journal is AWESOME. Use code BEYOU for 10% off.) Also, I have a free gratitude printable here if you need a little help!
Ask your doctor everything. And I mean everything. Keep lists and don't be afraid, we need answers!
Surrender. This was so hard the first week for me. But I finally leaned in and just allowed whatever was going to happen to happen.
Find comfort in the discomfort. Ya'll this is something we all need to do regardless of the surgery, but try to find joy in the healing. Read a book, watch a TV show, do something that makes you feel better as often as possible.
While this surgery can bring many feelings of fear, anxiety, and apprehension, please know that in a blink of an eye you are recovering and feeling better and stronger every single day. Good luck and stay faithful. Also if you are looking for more hope, my friend Christine wrote this book. It's a short read and has lovely suggestions to help you prepare for any recovery.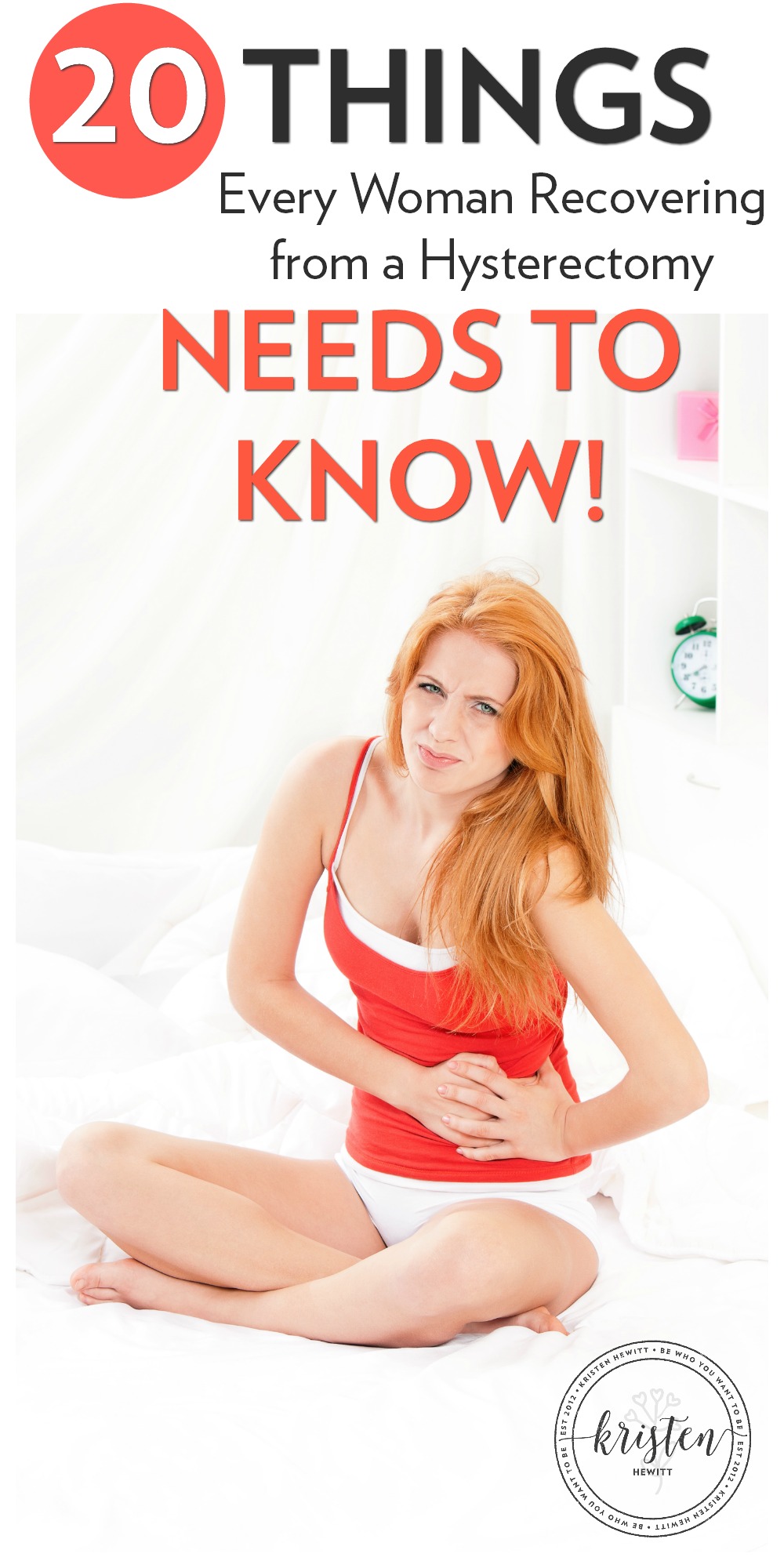 If you liked this post, please follow along on Facebook. Also, you may like Saying Goodbye to My Uterus.