Anxiety is never easy to navigate. Not only can it masquerade as fear or nervousness, but it can cause a plethora of physical symptoms fast. I never knew I had postpartum anxiety disorder until six months after the birth of our first daughter. I would feel the pressure on my chest, the electricity pulsing through my body, and feel my heart beating lightning fast as I would wait for her to wake up again for a feed. But once I was able to differentiate the feeling of anxiety for fear or other emotions, then I able to try to tackle it.
Medication is an option to live with anxiety, and it works for so many of my friends and family members. But the side effects never were easy for me to handle, so I've chosen more natural methods to cope when panic attacks or anxiety strikes. And recently, I've gone a bit deeper. Early one morning after a meditation session when my anxiety was particularly bad I went through a variety of steps, and it helped. So I decided to share what worked for me in hopes that it might help someone else who lives with anxiety.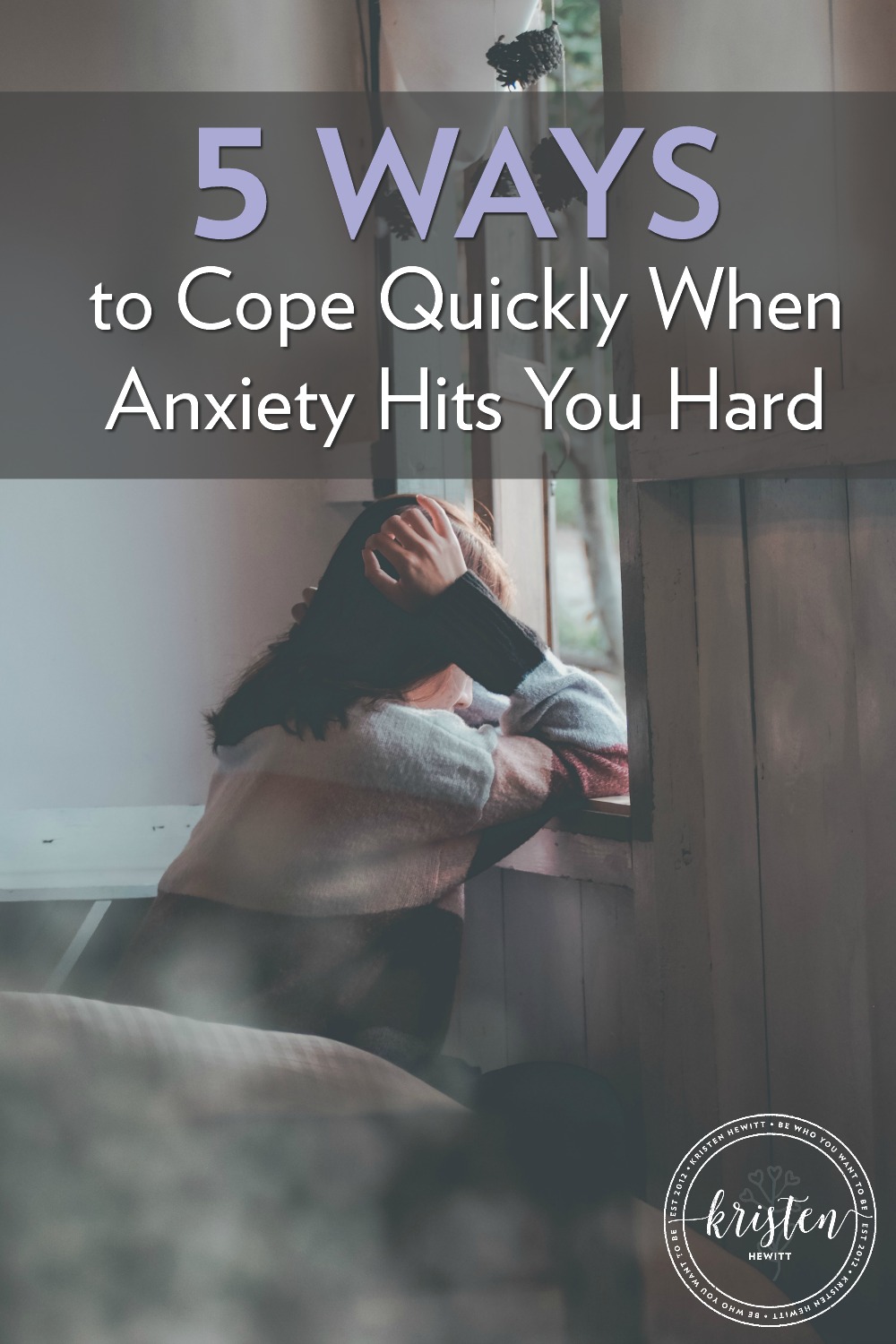 5 WAYS TO COPE QUICKLY WHEN ANXIETY HITS YOU HARD
Sit with the Anxiety – When I first feel anxiety I find a place to sit or lie down. I close my eyes and identify what the anxiety feels like. Where do I feel it in my body? My chest? How does it feel in my shoulders? Is my breath changing or my heart racing? I find that noticing where the emotion manifests in my body and becoming aware of it slows down my active mind.
Notice Your Thoughts – The next thing I think is what was I thinking when I started feeling anxiety? Then I write down those thoughts with a pen and paper. If it's, "I have so much to do today, I don't know how to get it all done!" Or maybe, "OMG when is my knee ever going to feel better?" Then I try to reverse the thought. "I am lucky my knee isn't worse." Or I make a to-do list and identify what things I can do another day so I don't feel overwhelmed. Usually, it's housework that triggers it at home! Also doing the morning pages from the book The Artist's Way is a wonderful morning exercise to purge your emotions onto paper. Or writing in a gratitude journal. (<–If you are looking for a gratitude journal, try this one, it's awesome! I designed it! Here's why!)
Meditate – I cannot stress how important meditation is in so many aspects of my life. Just 5-10 minutes of focused breathing really helps to slow down my mind and help calm the anxious feelings. I prefer to use free apps like Insight Timer (Andy Hobson is my fav!) or you can pay for an app like Simple Habits. There are also hundreds of free mediations onYouTube. Bottom line, TRY IT! I know you are going to tell me and yourself that you can't quiet your mind – but that's just a thought, and you are not your thoughts. Also, you can meditate. (Here's my post on how to meditate and podcast interview with Andy!)
Change Locations – Do you have nighttime anxiety? Have a hard time falling asleep then realize you won't get enough sleep and freak out? Me too. Bedtime anxiety is the literal worst. And getting up, moving to a new room, and reading or watching tv really helps. Usually just 10-15 minutes later and I find the attack is nearly gone. Also, I find going outside helps to get present.
Breathe – If you won't or can't meditate, then try just breathing. Focus on where you feel the breath in your body. You belly or nose. Count to three on the inhale, and then count to three on the exhale. By breathing and focusing on your breath and not the anxiety, a lot of times the anxiety dissipates. Or at least weakens a bit.
I know that these are not cures for anxiety, (and that I'm not an expert!) there is no cure for an emotion that sometimes can overtake your life. But these are a few coping mechanisms to try when you are feeling like anxiety has taken control of you. Remember, don't judge yourself. Try giving yourself compassion, and remember this too shall pass.
If you liked this post, please follow me on Instagram and Facebook. You might also like 9 Natural Ways to Cope with Anxiety.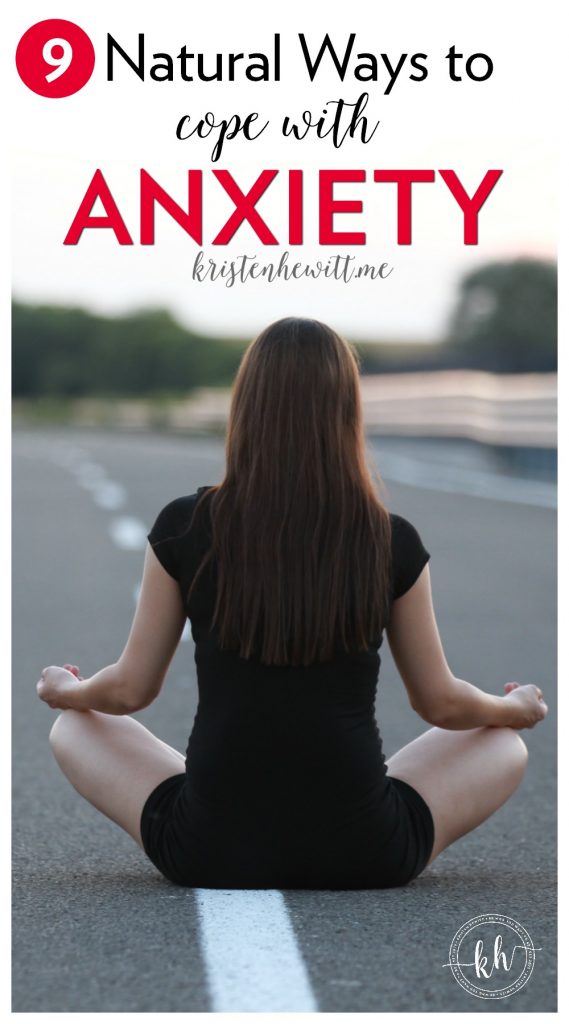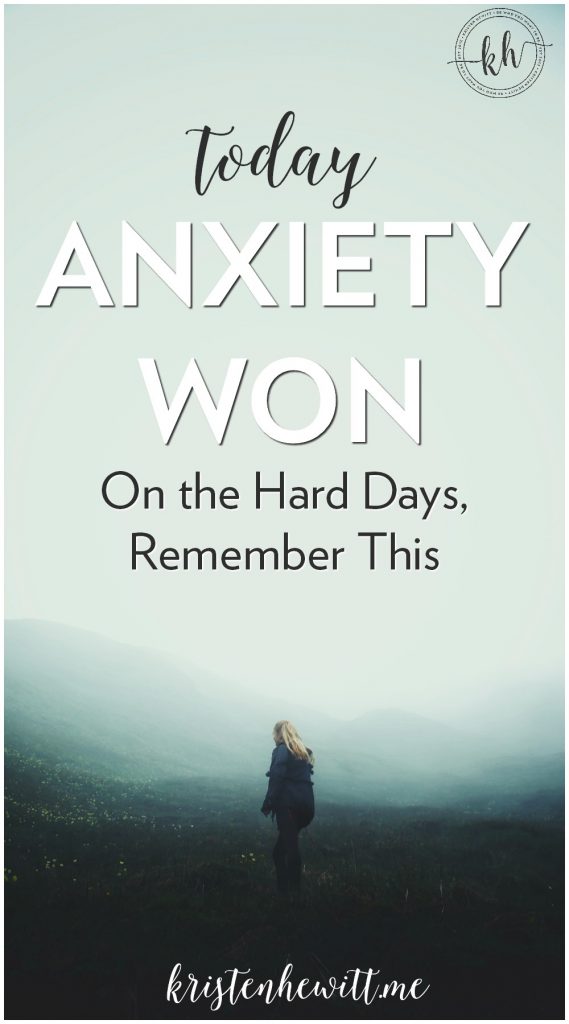 And this is What Anxiety Feels Like.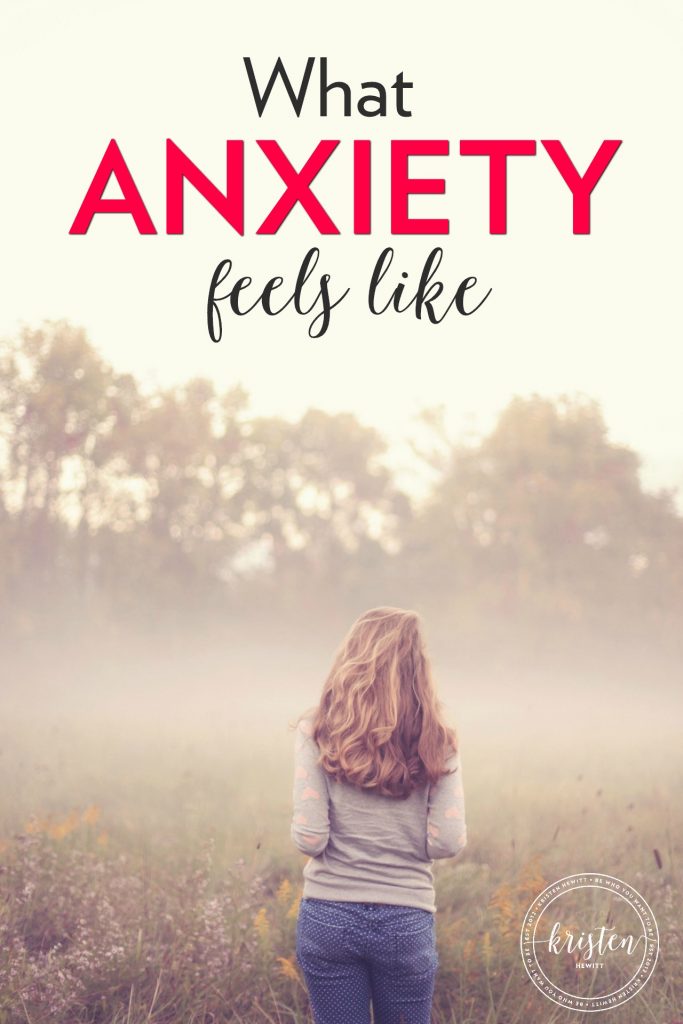 And if in the mood, give How Not to Suck at Meditation a read!