There's only one craft item in this world I loathe more than glitter. Play dough. The cans you buy at the store smell awful, and when when your children have finished destroying their creations it crumbles up into your furniture and floors. Unfortunately though, our kids love play dough, and when we used to attend baby classes they played with it every week. So over the years I've decided instead of outlawing this sensory exercise, let's just make our own. It's simple to throw together, and we love our trips to the Dollar Tree to buy fun props to play with. So this week with the holiday looming we decided to make Monster Halloween Play Dough!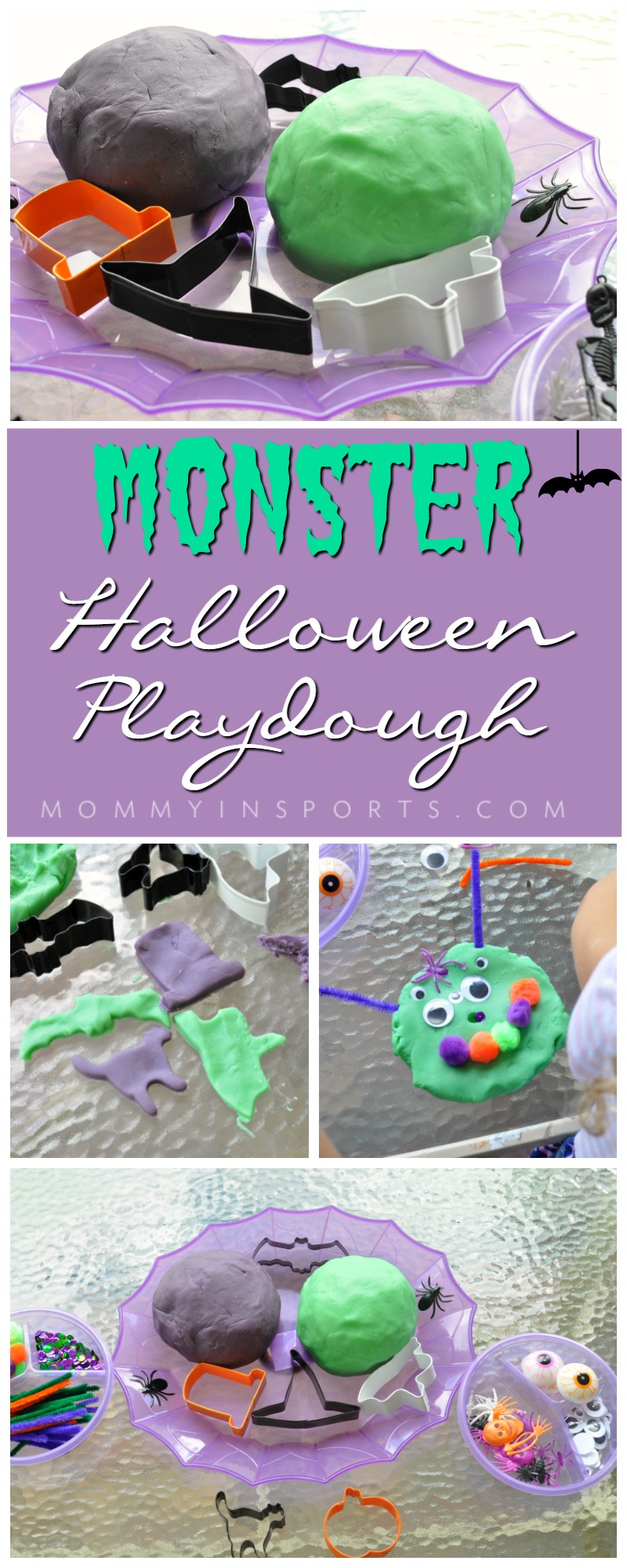 With two girls in the house, most everything is princesses, Barbie's, and anything frilly. So I wanted to get some scary bugs and eyeballs, and a few other fun props to play with. Cookie cutters are also super fun, so we raided our baking cabinet for what we could find.
Monster Halloween Play Dough is really easy to make, and instead of doing just one color this year, I went a little crazy and did two! And the best part of making your own is you can choose the scent! We went with raspberry purple and vanilla green monster this year.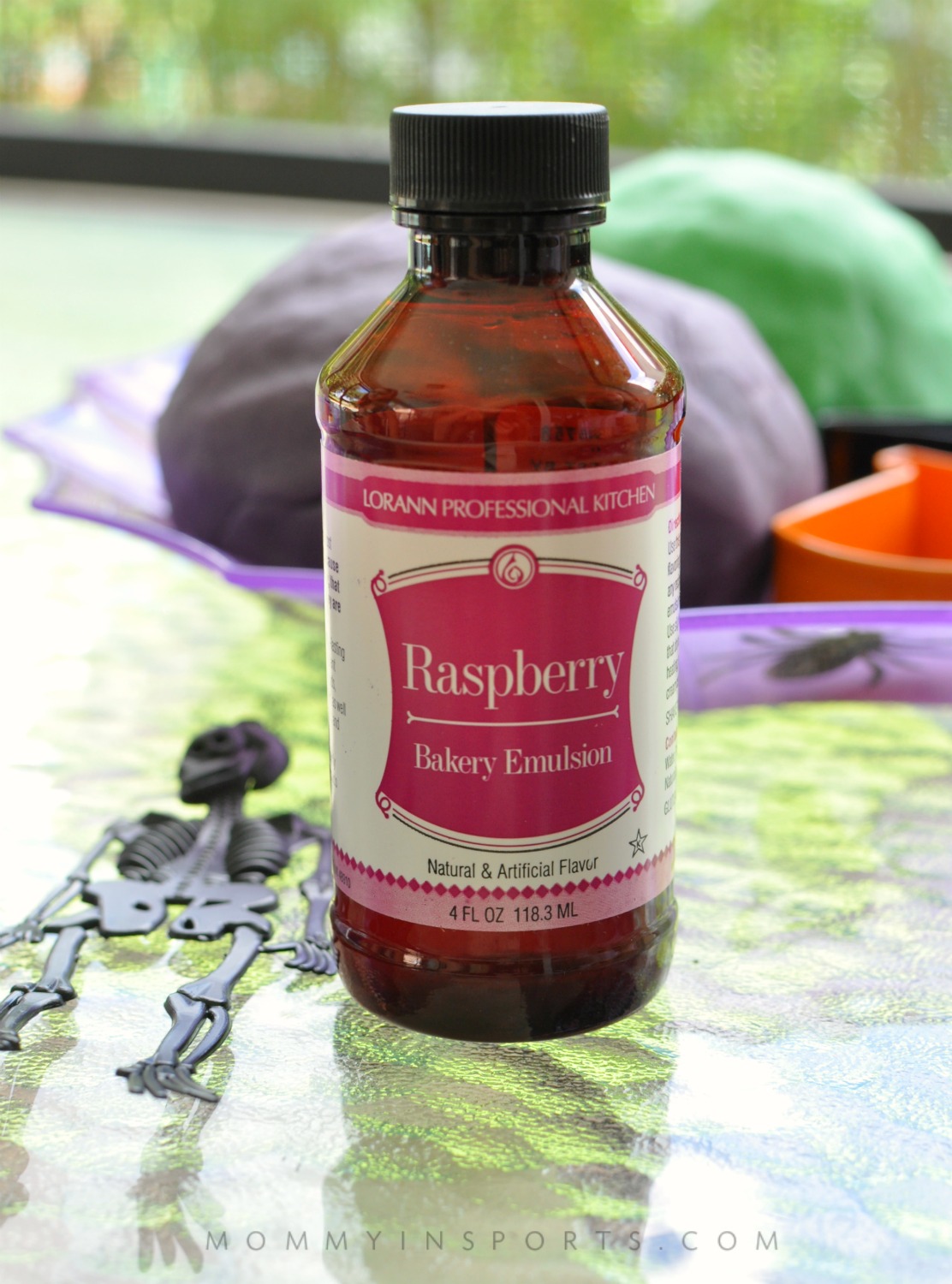 Then we went to town adding the ingredients and making this together! I love that at ages four and seven they can do almost everything. They measure, and mix, and stir, and even had a lesson in color mixing as we tried to find the perfect purple. Note – the play dough will darken as it hardens, so make your color a little lighter than you might actually want it! We learned our lesson after the super dark grape colored play dough was done, so went lighter with the green. It turned out monster-rific! Once it's done and cools a bit, it's time for the kiddos to knead the play dough.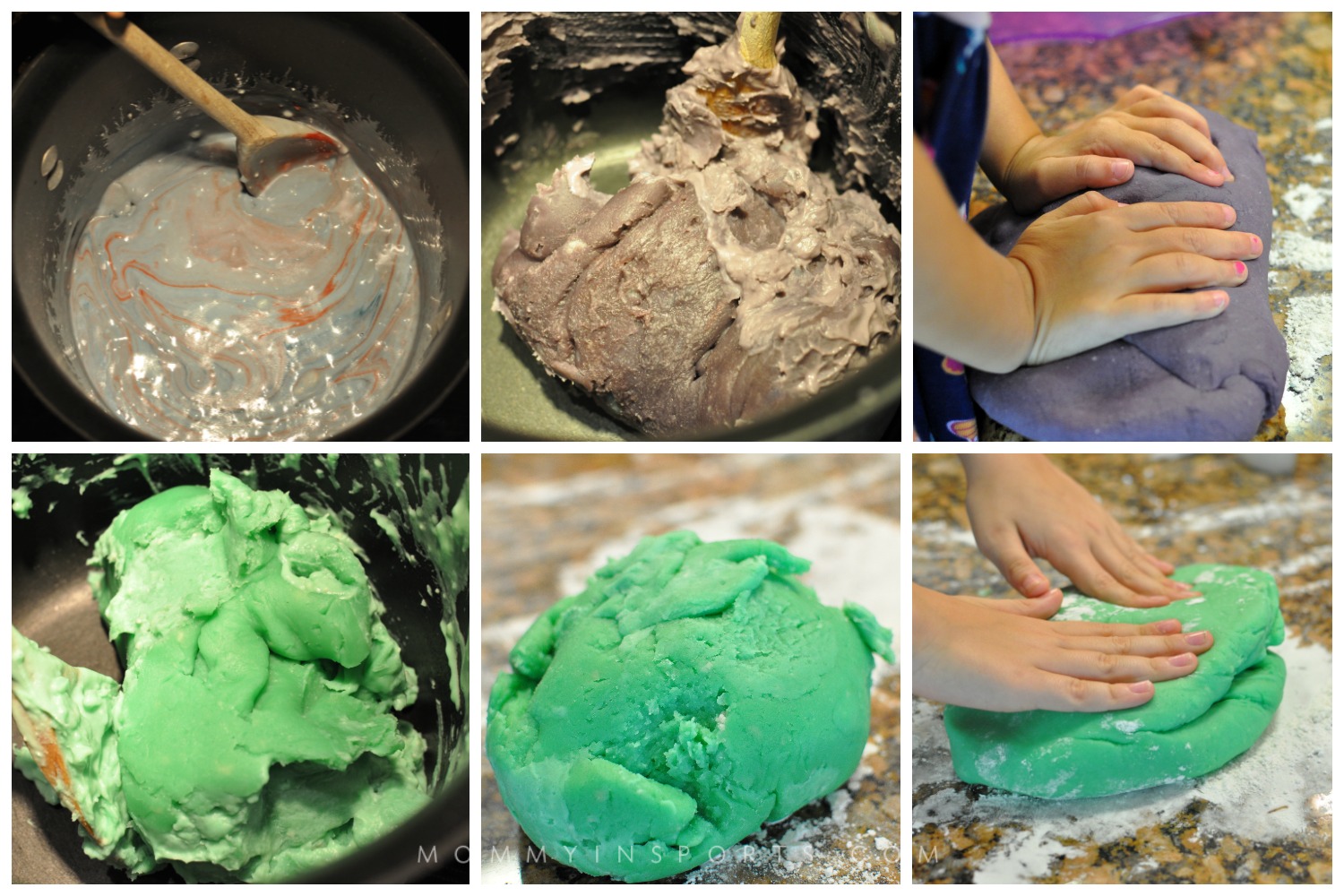 And then set out your Monster Halloween Play Dough creation station! I like to use all kinds of different textures and items to see what they will create with them.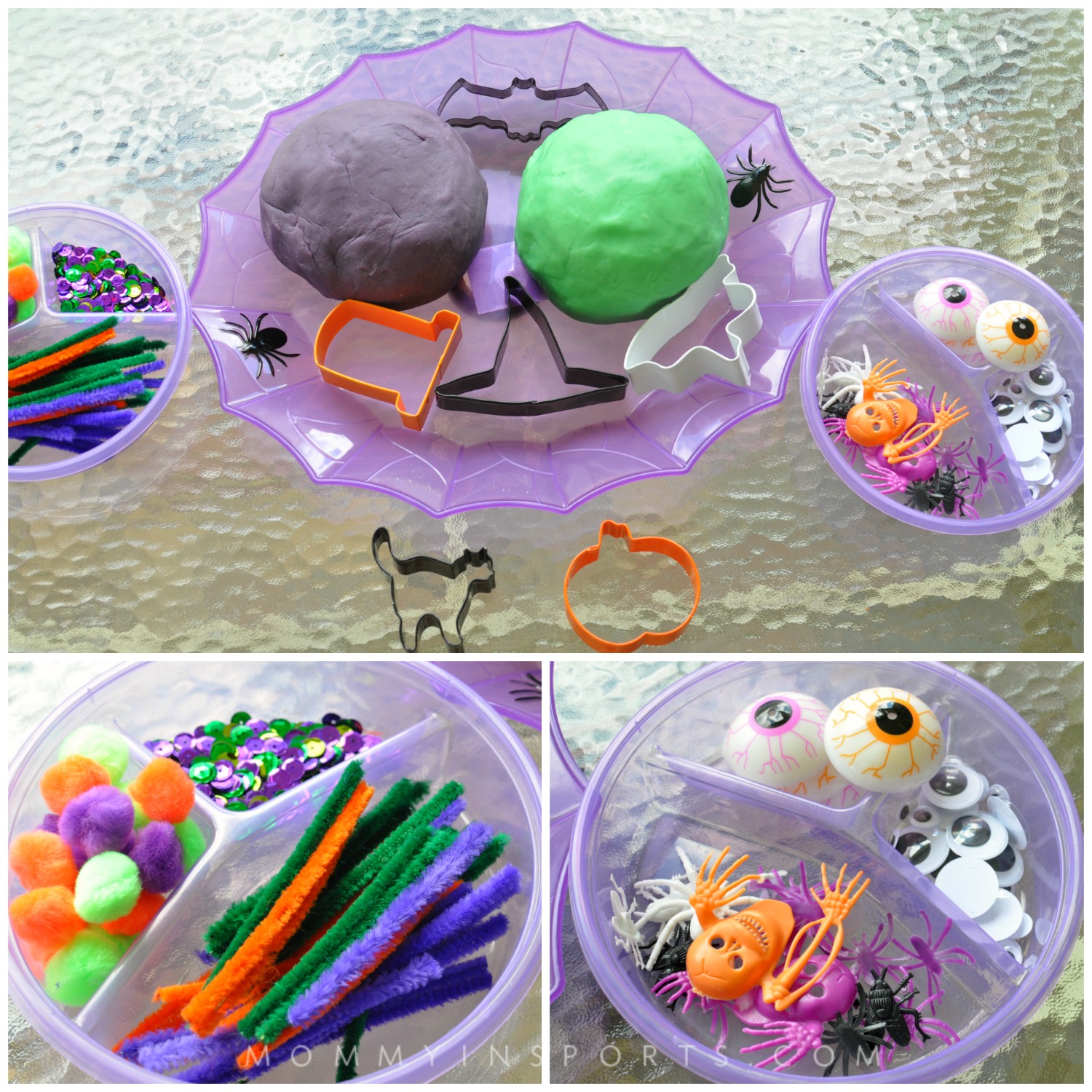 I was curious to see if they would actually make monsters, or even touch the faux bugs and eyeballs. It's safe to say our littlest embraced the Monster Halloween Playdough challenge!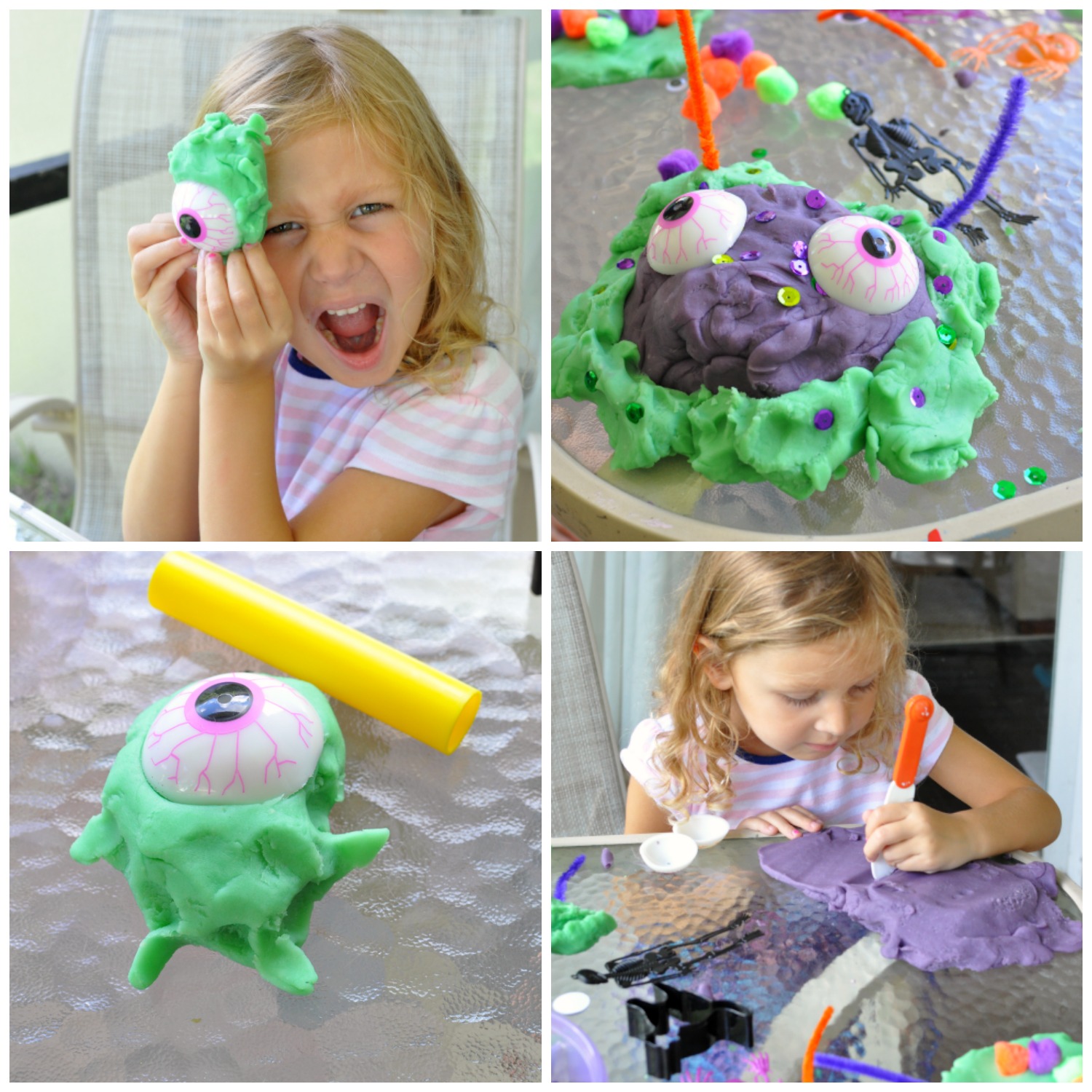 And our sevenTWEEN year old went a different route, make a four layer pumpkin ombre cake. (Wonder where she learned that?! I love baking ombre cakes!)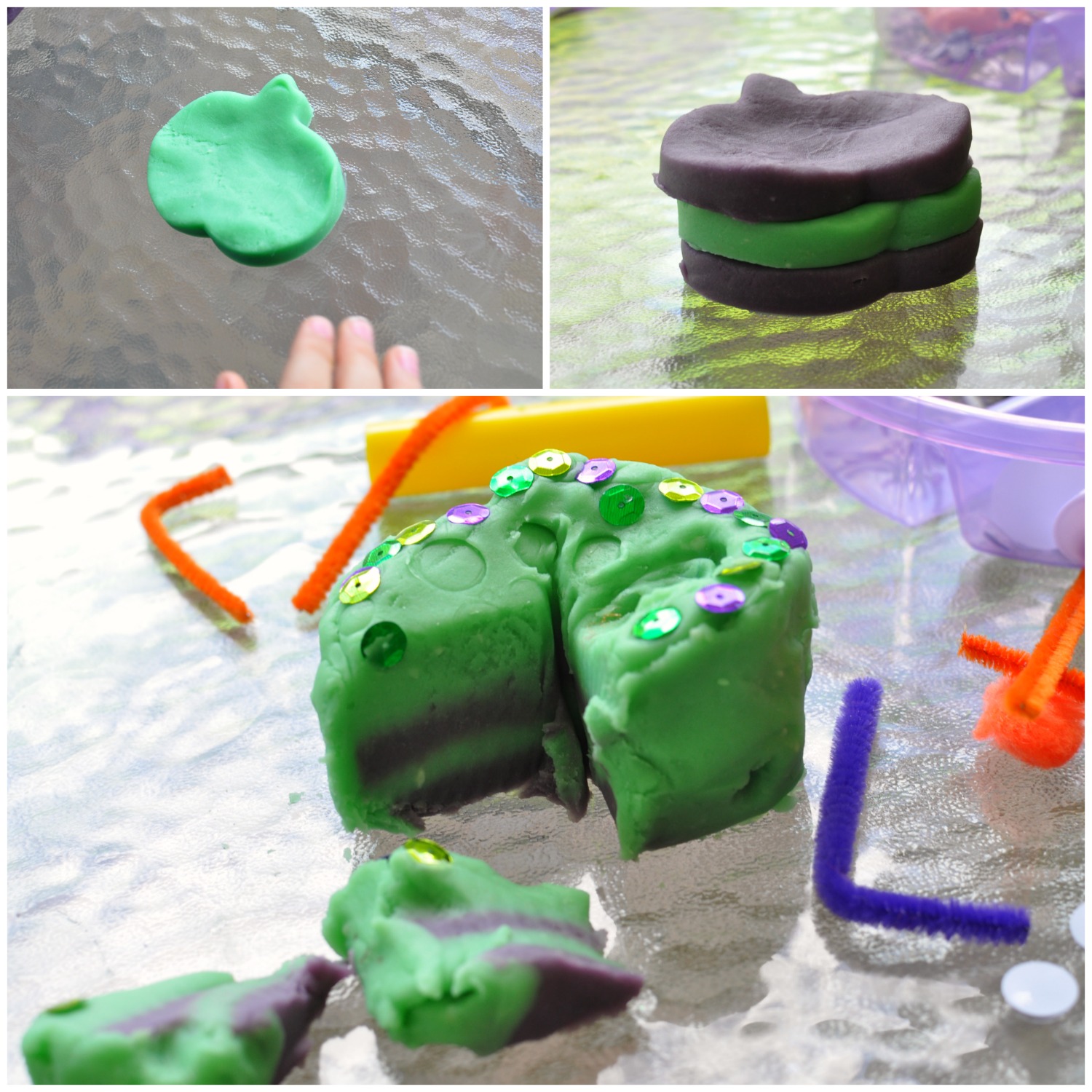 And had fun with the cookie cutters and also building her own style snowman monster!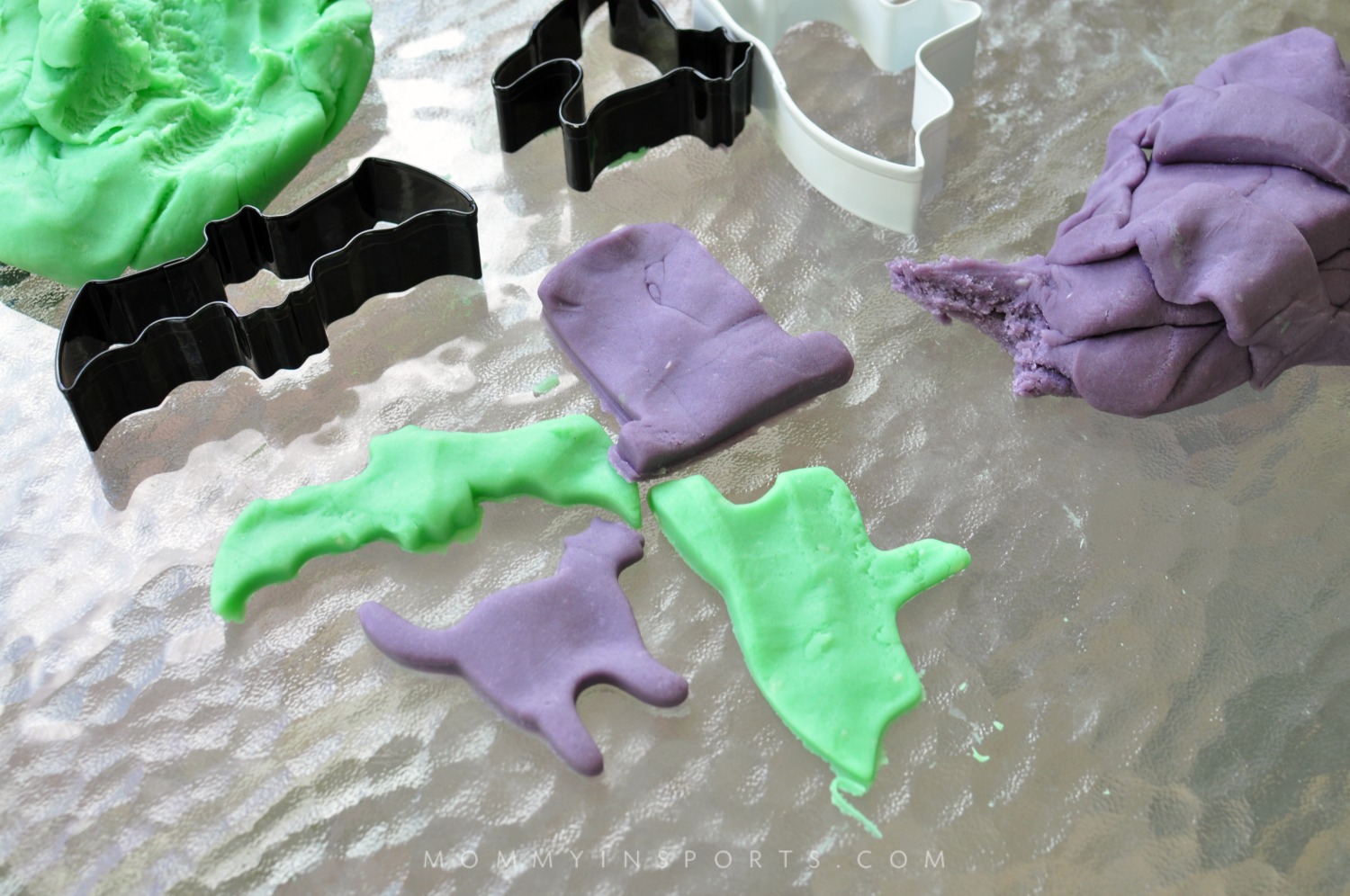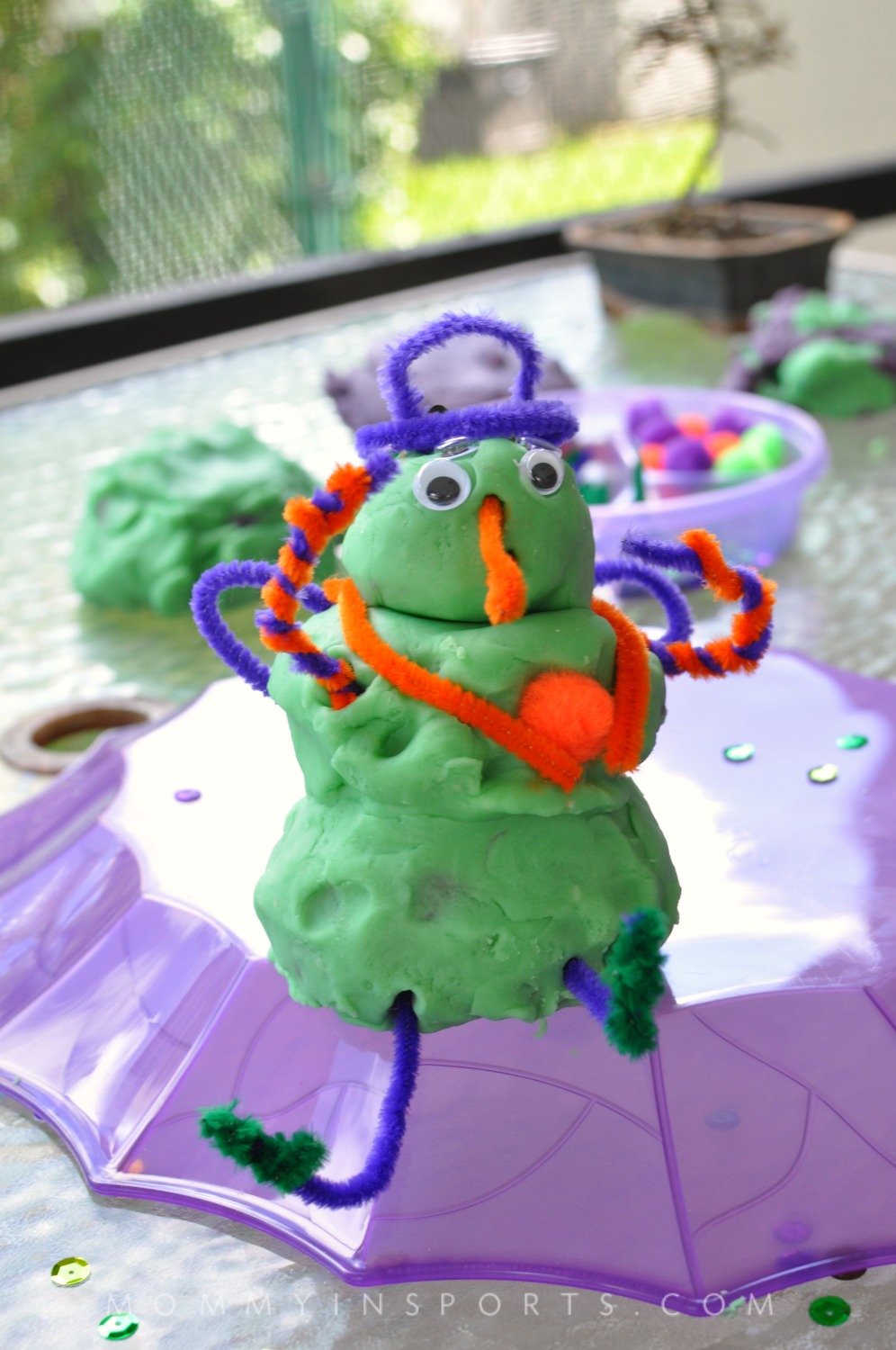 I learned a big lesson watching them play and create – I have to let go of my playdough-mixaphobia. They both mixed the playdough and I cringed! But luckily when you make your own it's so much smoother and easier to separate. We salvaged quite a bit from this afternoon project and have played with it several times since! The Monster Halloween Playdough lasts about a month in a Ziploc bag.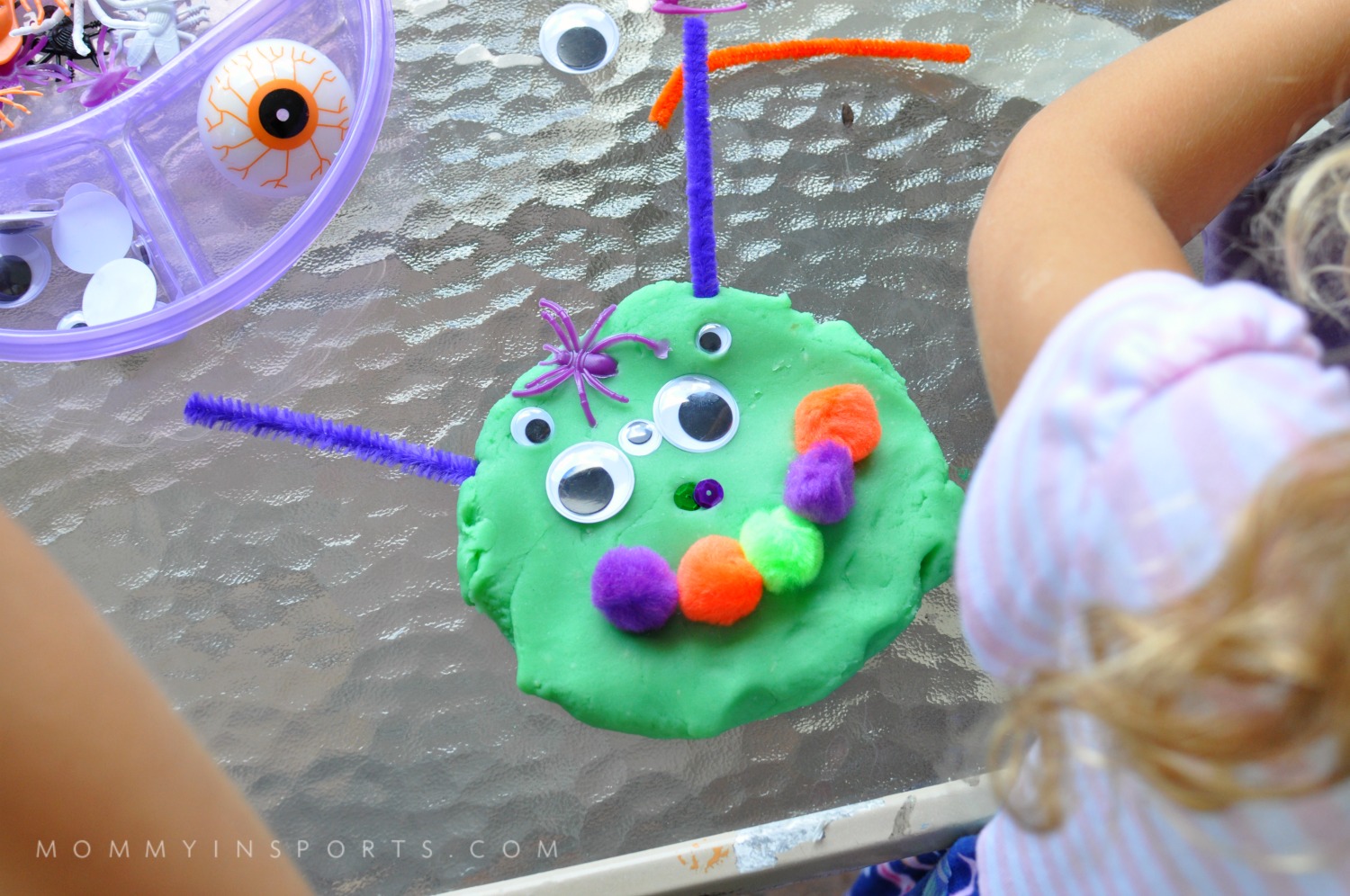 Yes there was a ginormous mess of sequins to clean up afterwards, but I think it's worth it! If you'd like to make your own, I'm including the recipe below for the purple playdough. Obviously it's the same for the green playdough, you just have to adjust the food coloring. And while I used natural food dye in our monster cupcakes this year, this time around I used regular food coloring. It's less expensive and wouldn't be consumed.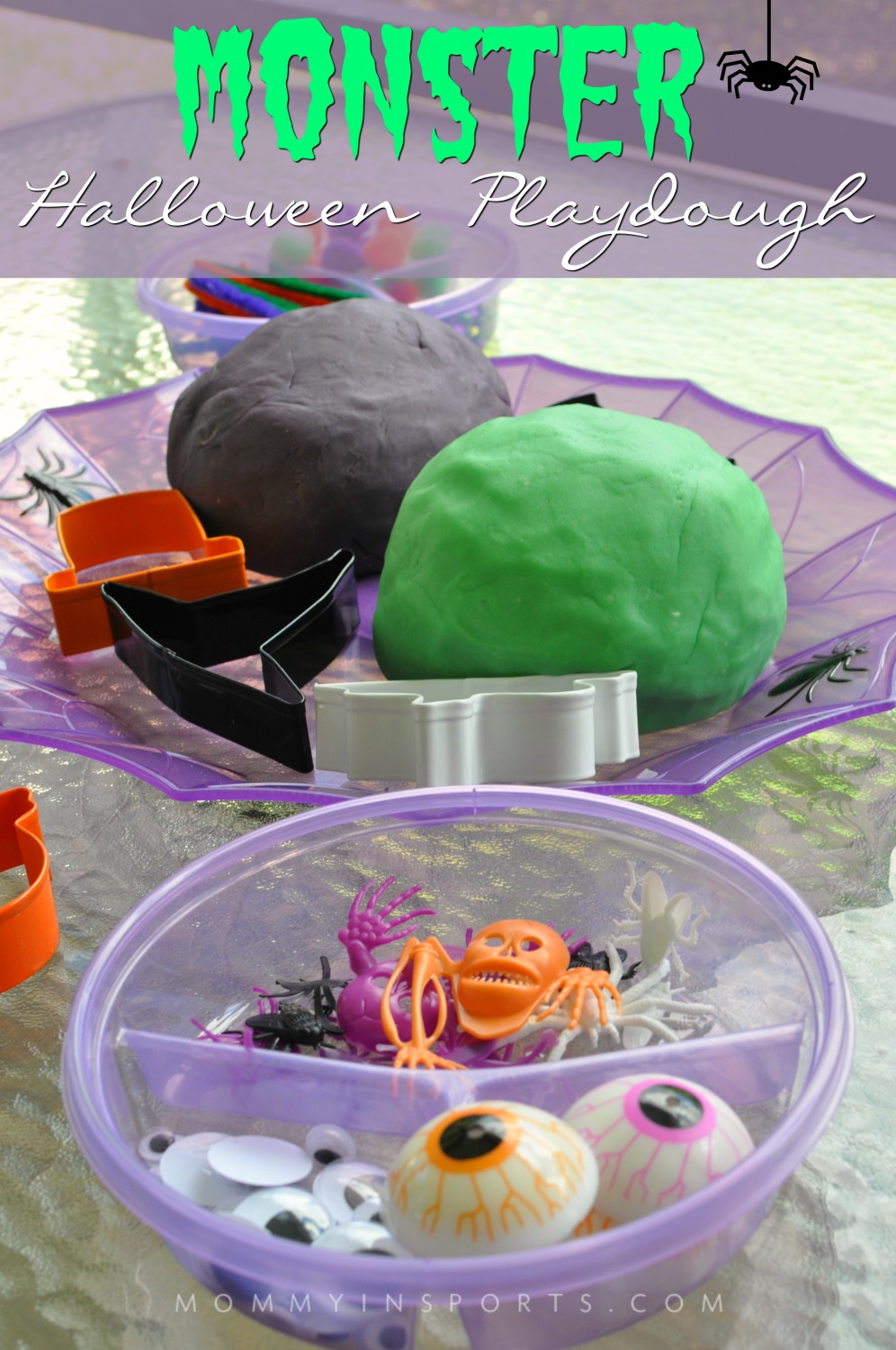 Hope you enjoy this as much as we did!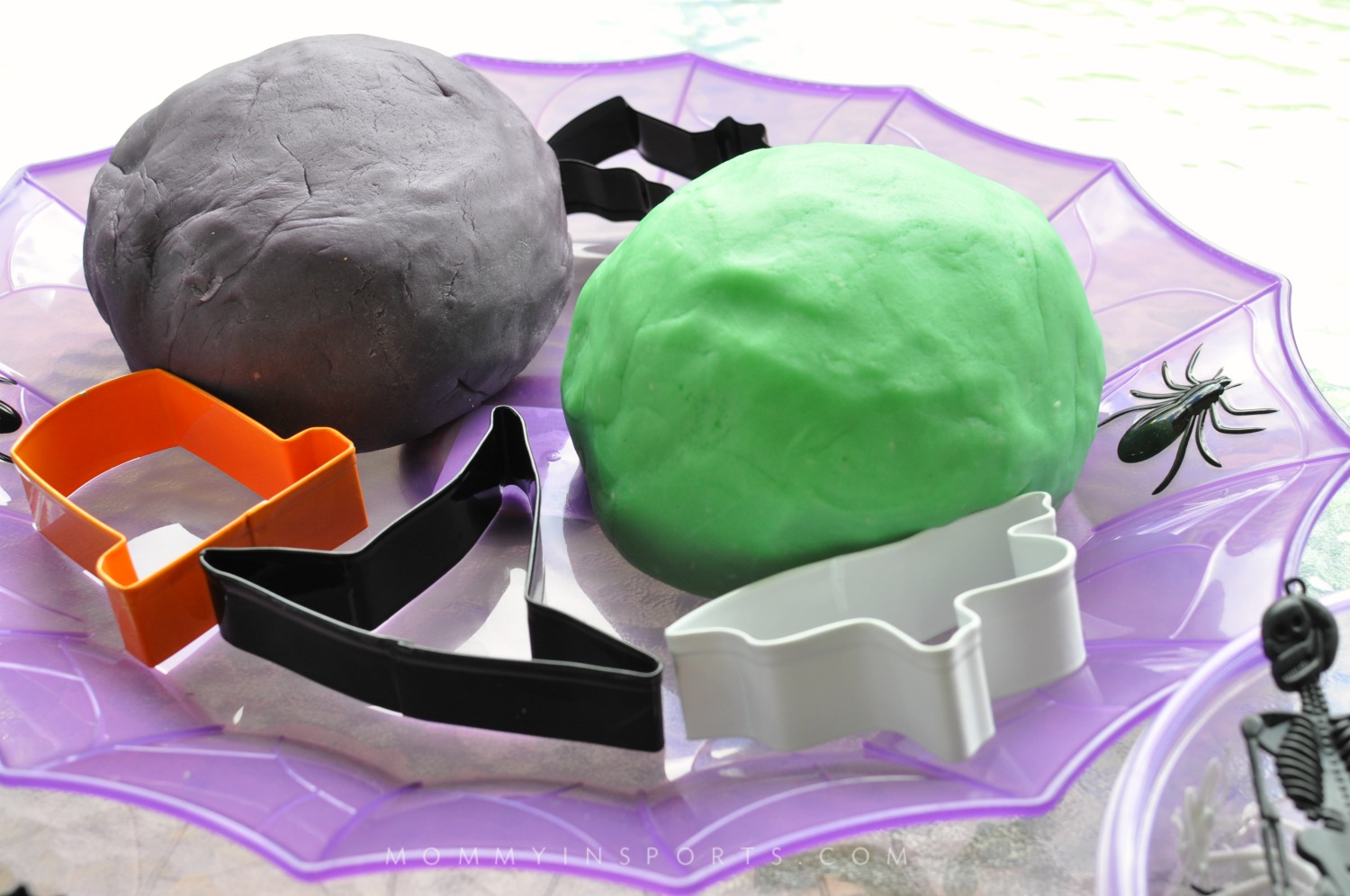 Monster Halloween Playdough Recipe
2016-10-11 06:50:11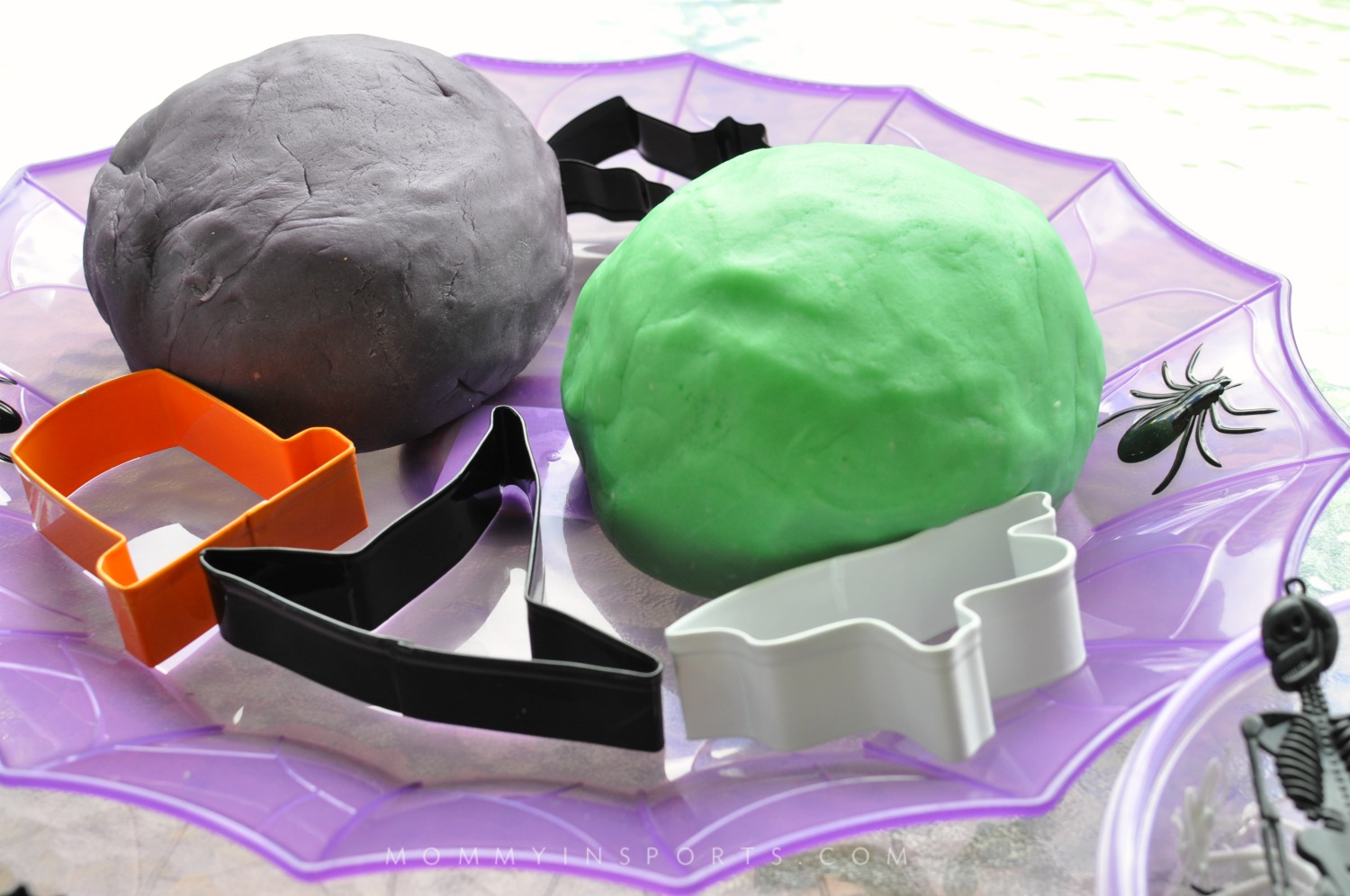 A simple and fun math and sensory project for kids!
Nutrition Facts
Amount Per Serving
Calories 1189
Calories from Fat 268
Trans Fat 0g
Polyunsaturated Fat 6g
Monounsaturated Fat 20g
Total Carbohydrates 198g
66%
Sugars 1g
Protein 26g
* Percent Daily Values are based on a 2,000 calorie diet. Your Daily Values may be higher or lower depending on your calorie needs.
Ingredients
2 cups flour
2 cups warm water
1/2 cup salt
2 TBSP vegetable oil
4 tsp cream of tartar
1/2 bottle raspberry emulsion (or whatever scent you prefer)
2-3 drops glycerin (makes it smooth and shiny, optional)
food coloring to your desired color - for purple around 10 drops blue and 5 drops red
Instructions
Mix all of the dry ingredients together, and then add the wet ingredients, Stir until well blended.
Cook over medium heat, stirring constantly until ball forms.
Transfer hot playdough carefully to a floured surface. Knead as dough cools.
When cooled store in a Ziploc bag or airtight container.
Have fun!
Kristen Hewitt https://kristenhewitt.me/
And if you'd like to make other holiday themed playdough, check out my recipes for
Pumpkin Playdough
.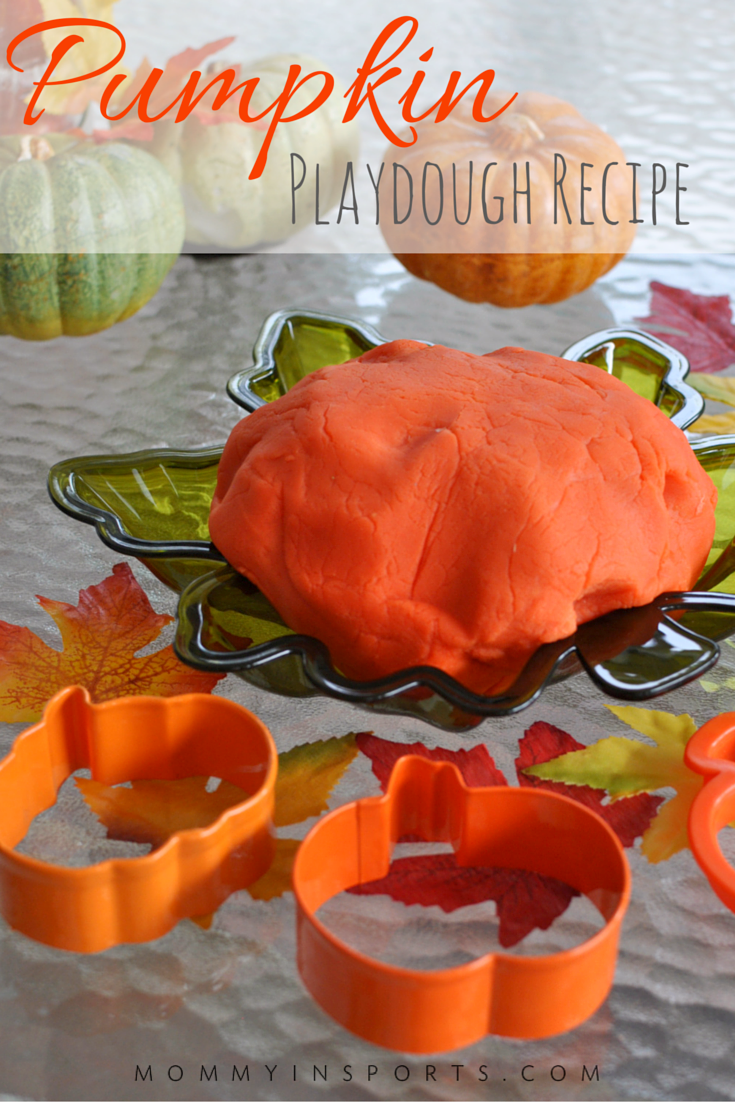 Oh and make these Natural Food Dye Monster Cupcakes too, your kids will love you!