Disclaimer: This post includes Amazon affiliate links. But I obviously loved everything enough to buy it so…
It's finally done! (Almost.) But done enough to share the pictures of our brand new modern farmhouse kitchen. When a little water leak in our fridge turned out to be a big ordeal, we were very grateful to receive a new kitchen. The process though has been a hair-pulling nightmare, which prompted me to write these 10 Commandments of a Kitchen Renovation.
Here's the before picture, which was really after we lost part of our kitchen. This kitchen was already existing when we bought our home, and was custom and beautiful. Except I've always dreamed of a white farmhouse Fixer Upper inspired kitchen!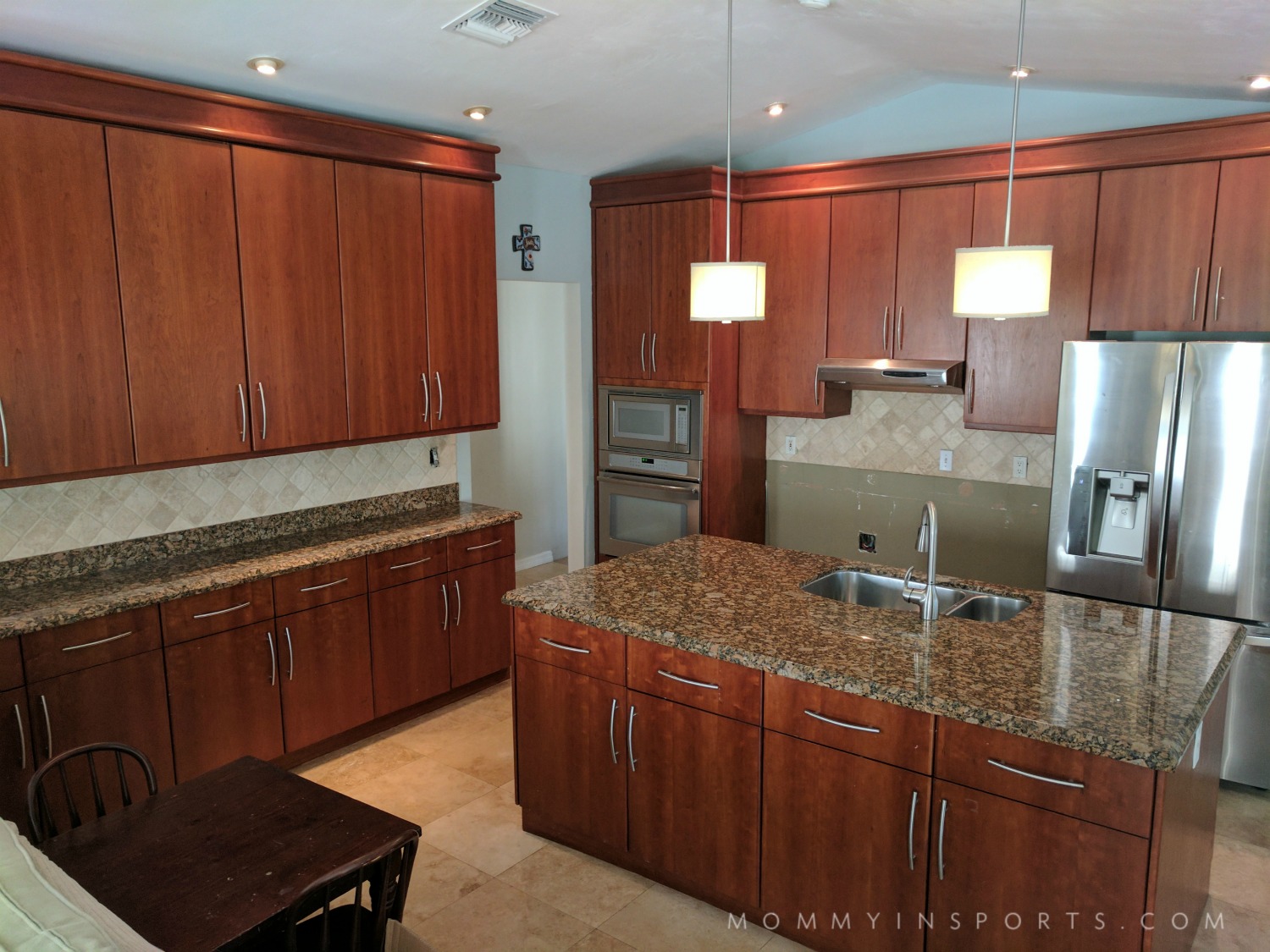 And here's the after! Pretty isn't it?(Or as the kids say, it's lit.)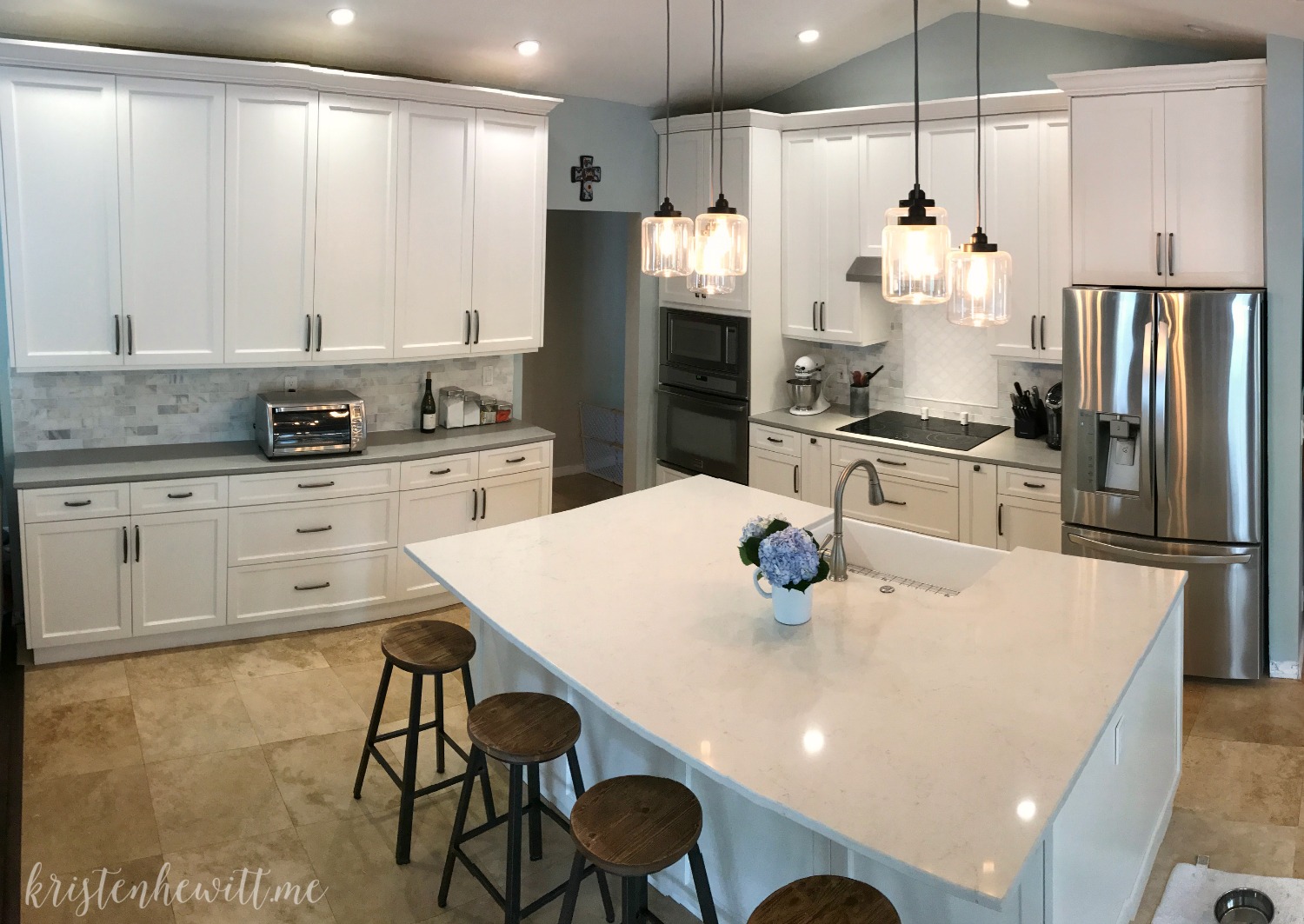 Don't worry, I have about a thousand pictures to share and will detail what we did in case anyone else needs a little design inspiration!
cabinets
We started with shaker style all wood American Maple cabinets, but added a little picture frame edge to them. I had them painted Benjamin Moore Dove White. It's a softer white but not cream, and really is the perfect white. This will also be our baseboard color through the whole house. Paint in our kitchen and family room is Benjamin Moore Woodlawn Blue. Don't you love the molding?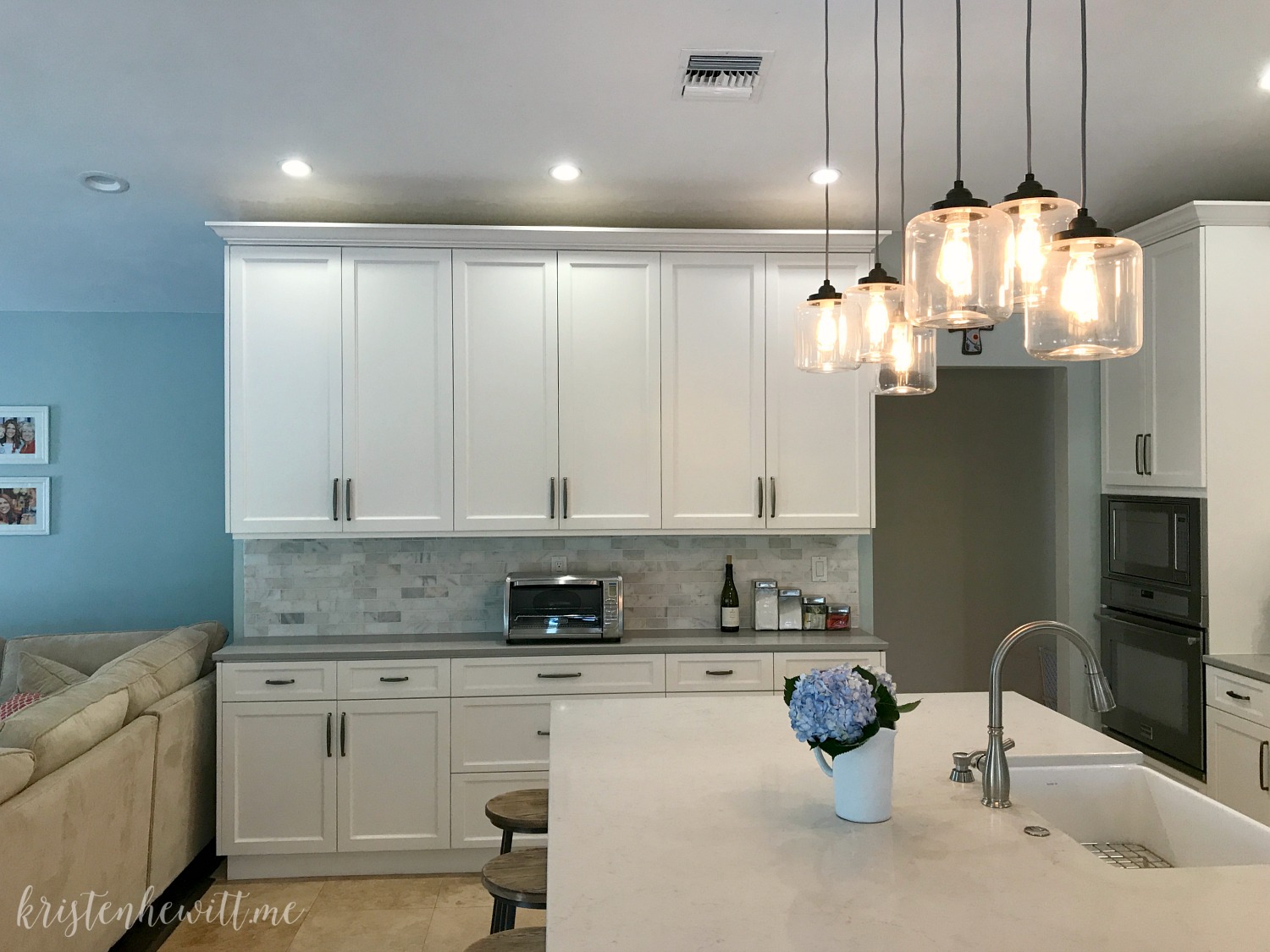 Our island was already big, but we extended it another 12 inches and lost the drawers. We kept the cabinets though underneath for mass storage. And added these cute and stain proof stools from Hobby Lobby. (On sale too!) I wanted the killer upholstered luxurious looking stools, but we have kids and way too many pets, so maybe in a decade?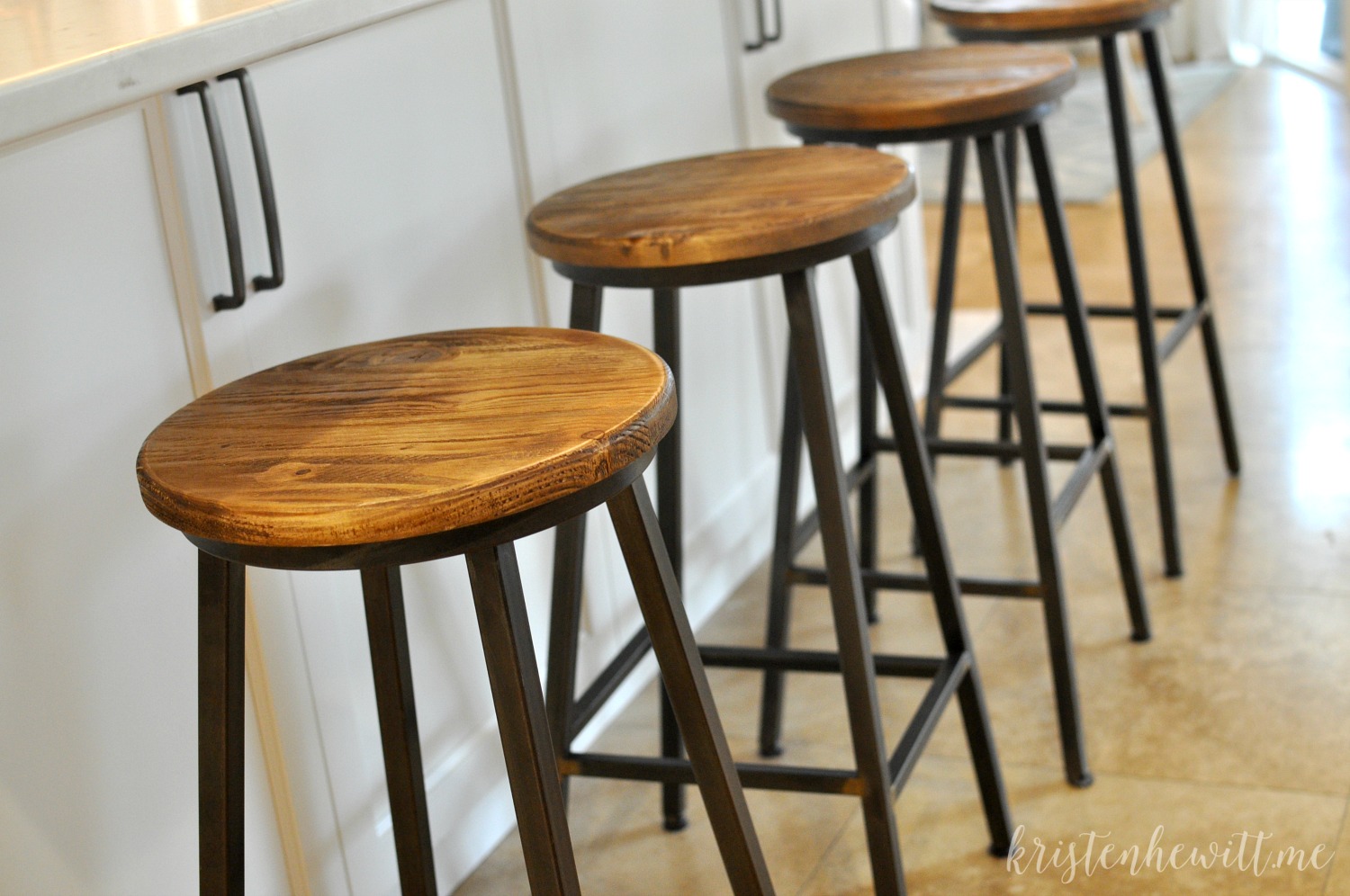 caesarstone quartz countertops
Let's talk countertops. I wanted Carerra Marble or Quartzite, but holy expensive and maintenance! So we started scouring marble look-alike countertops that didn't look like spider veins on your legs. (You know what I mean right?) We also have really brown Travertine floors and I wanted to add a grayish tint to the kitchen but wasn't sure how to do that. We loved concrete counters, but were afraid it would be too dark on the big island. So we looked at MSI products, went to loads of granite and quartz places, but fell in love with Caesarstone. Since I'm more farmhouse and my husband is more contemporary, we mixed materials and went with a jumbo slab of London Grey Caesarstone on the island.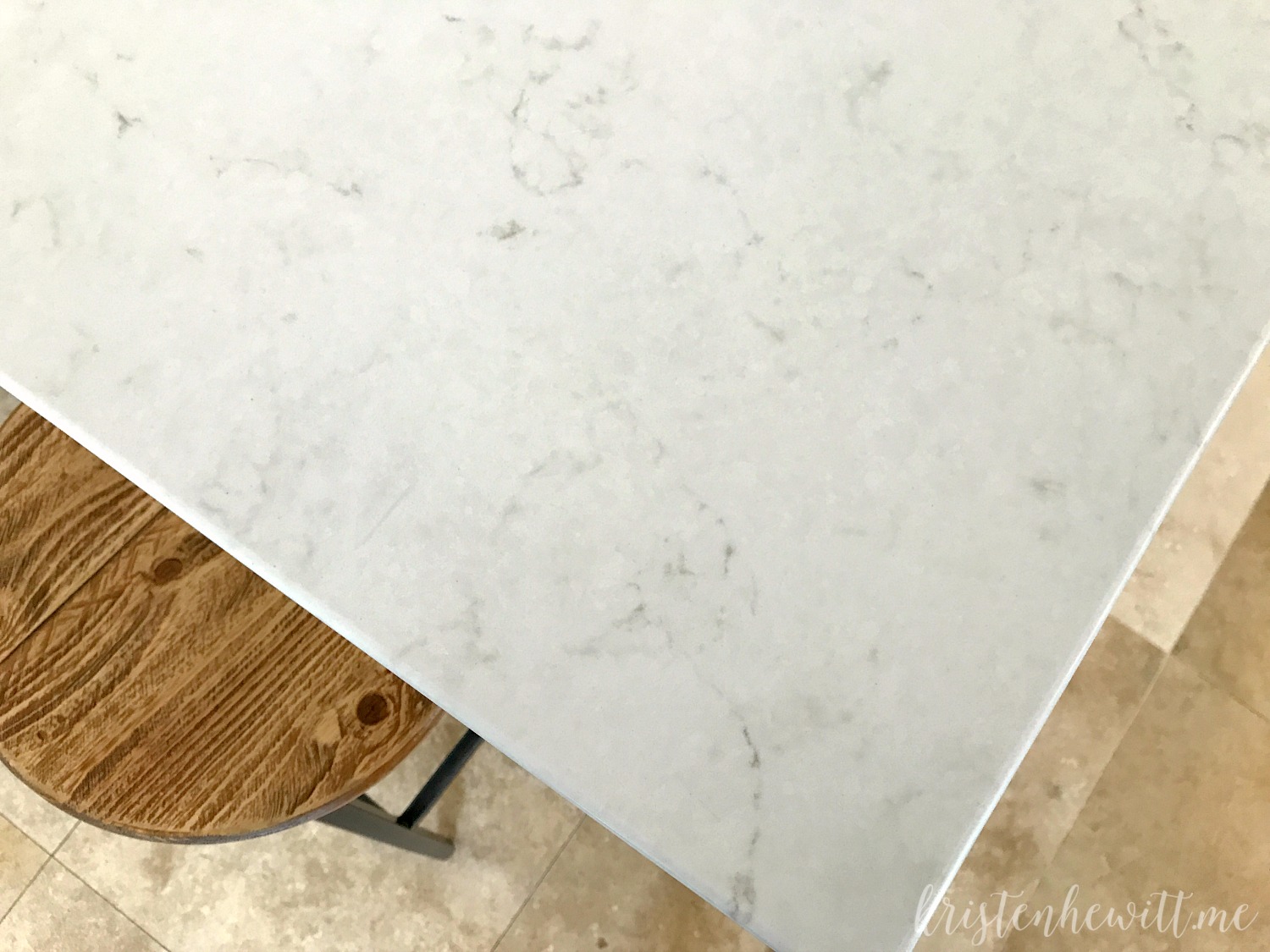 And Raw Concrete Caesarstone on the surrounding countertops. It's so pretty! I love them both and the fabricator did an excellent job on the edge. Our counters are 3cm thick, and we didn't have them stack the counters, we wanted it clean and contemporary with a more rounded edge in case the kids hit their heads. Which they do often.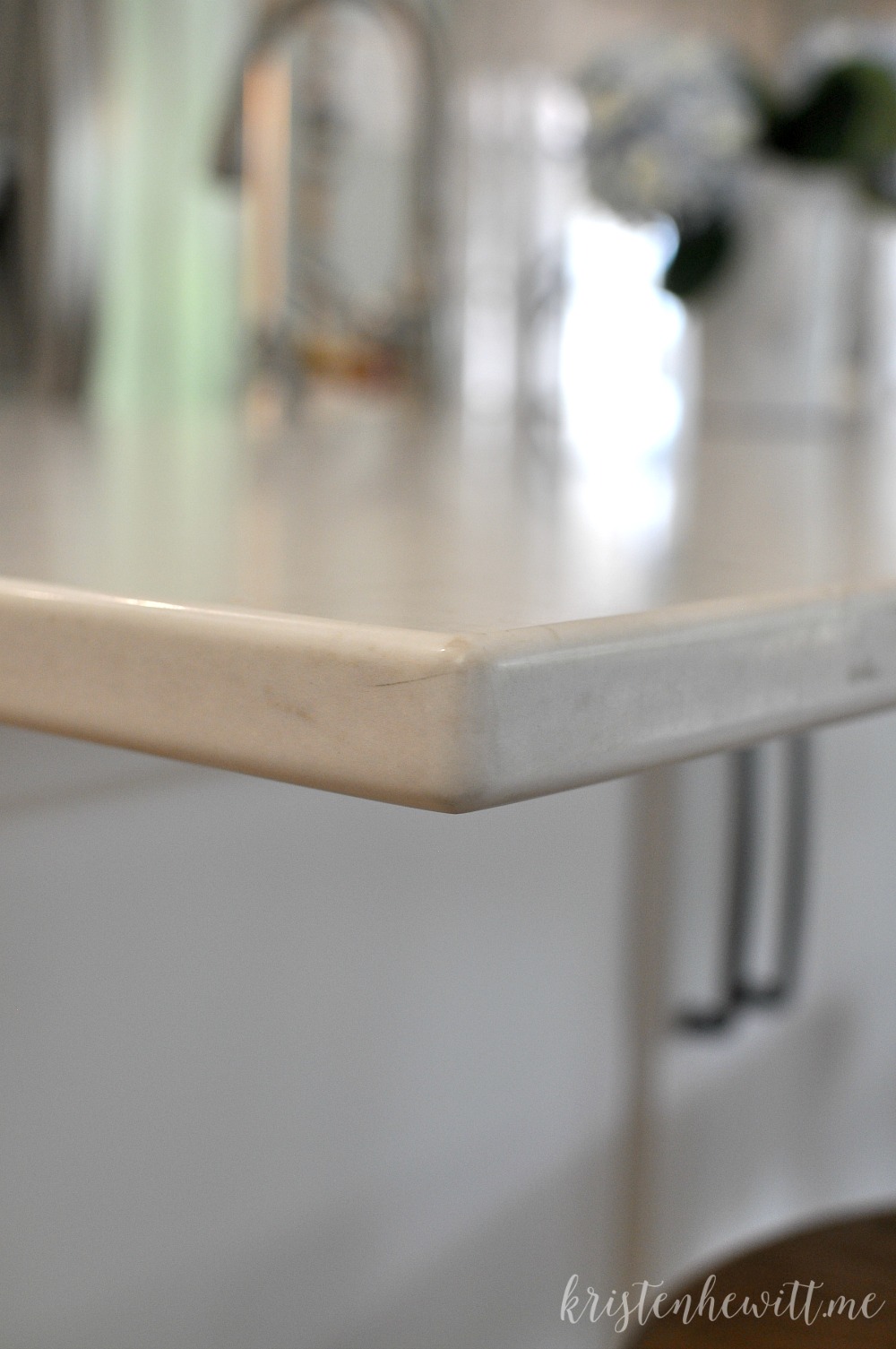 backsplash
My favorite part of the kitchen is the backsplash. I just love love LOVE it. I wanted the whole kitchen to be the white tumbled marble arabesque, but I'm so glad we did it as a cutout detail instead! White on white on white is a huge trend right now, but we like a little contrast.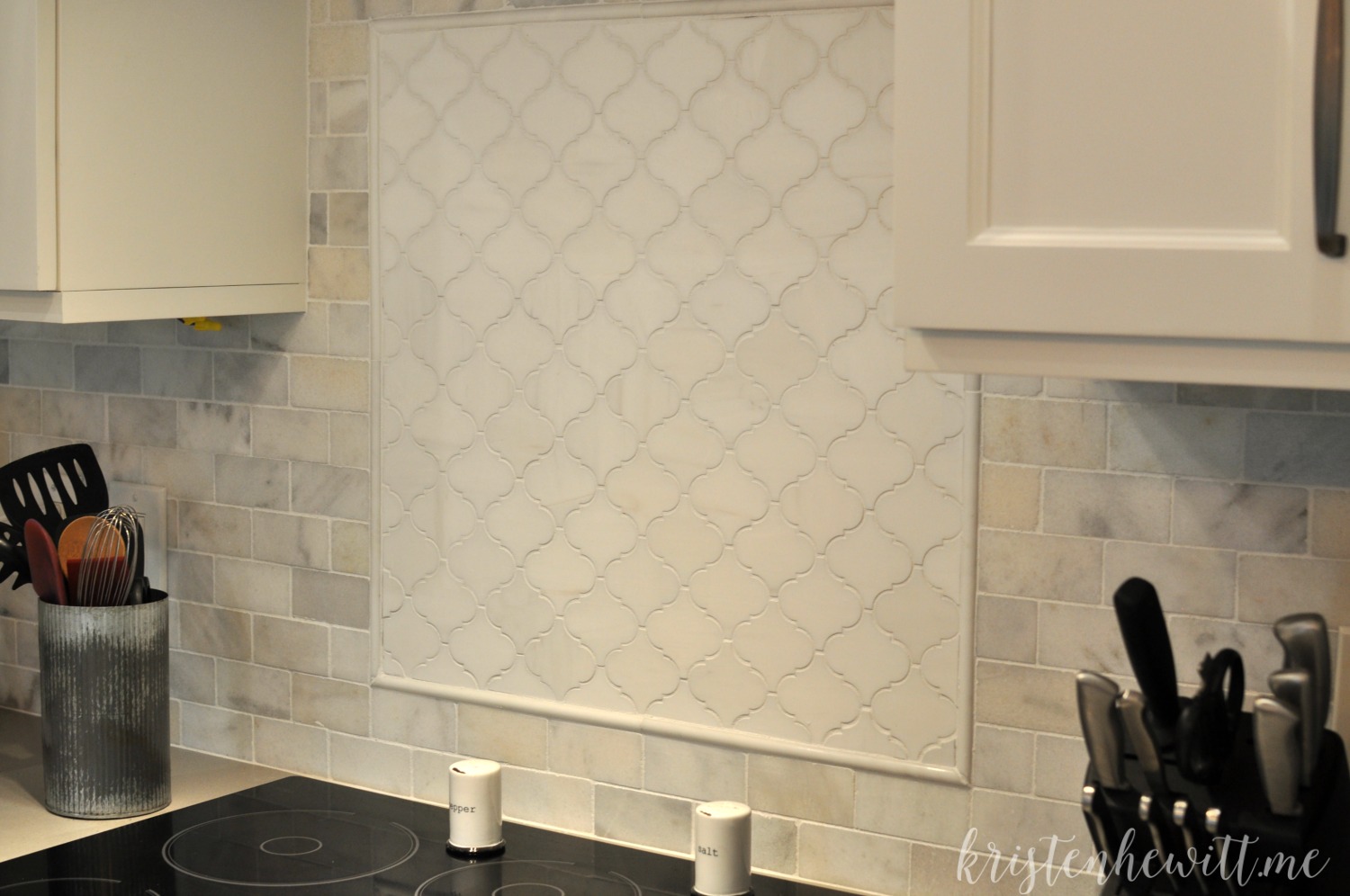 And then we did this grayish-white honed marble subway tile for the rest of the backsplash which gives it a nice, simple, and modern feeling. Plus it has a little bit of brown to tie it into the floor and couch color. Did I mention how much I love the backsplash?
white fireclay farmhouse sink
OK I lied, my favorite thing about the new kitchen is the white farmhouse sink, which is a necessity in every modern farmhouse kitchen. It is the bomb, seriously, you can put all the things in this sink and it's just so pretty!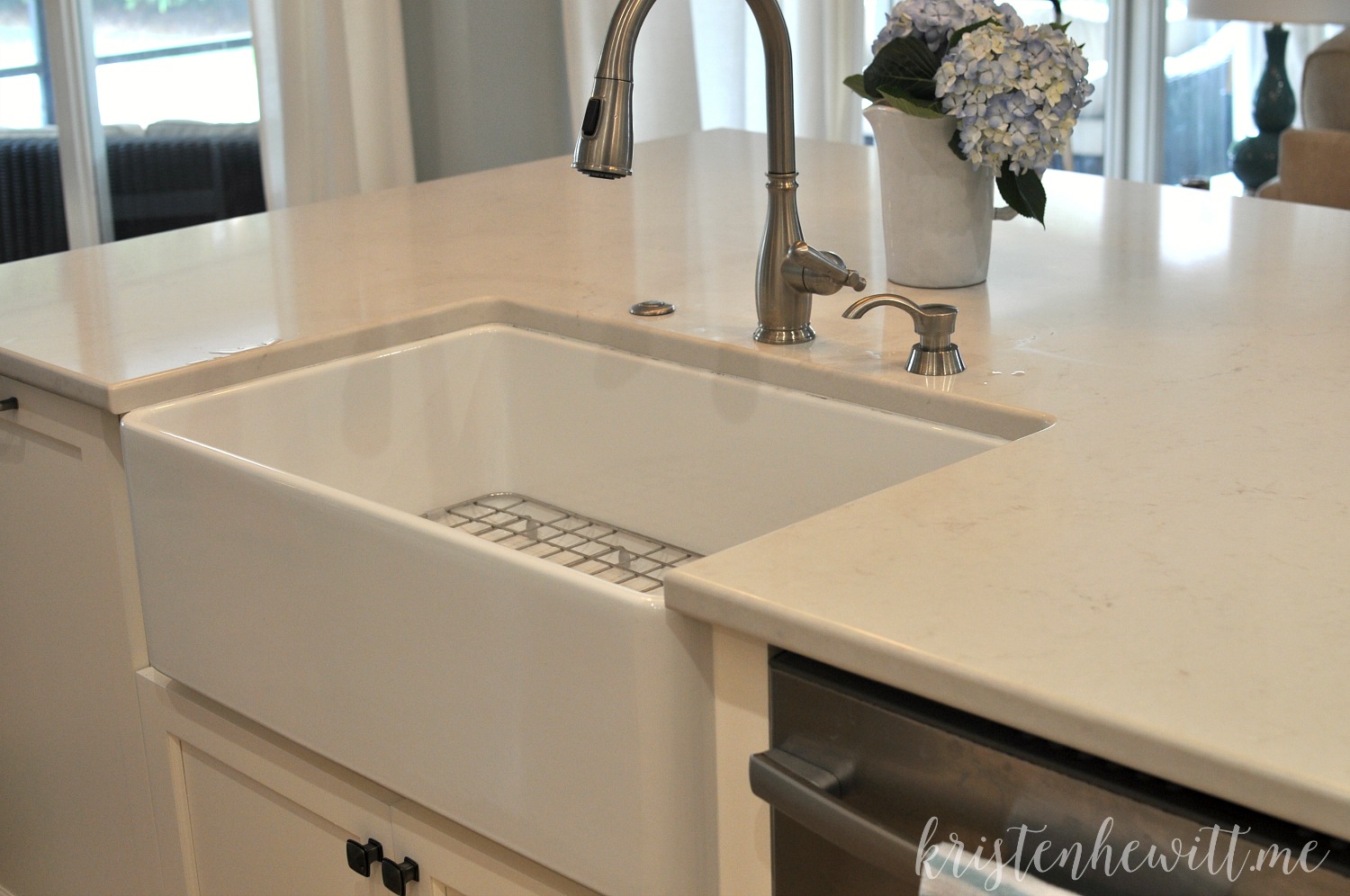 It's a LaToscana reversible fireclay farmhouse sink, and we bought it at QualityBath.com with free shipping and no sales tax. Holla! I also paid the big bucks for the wire rack at the bottom but it's a life saver! And sink saver.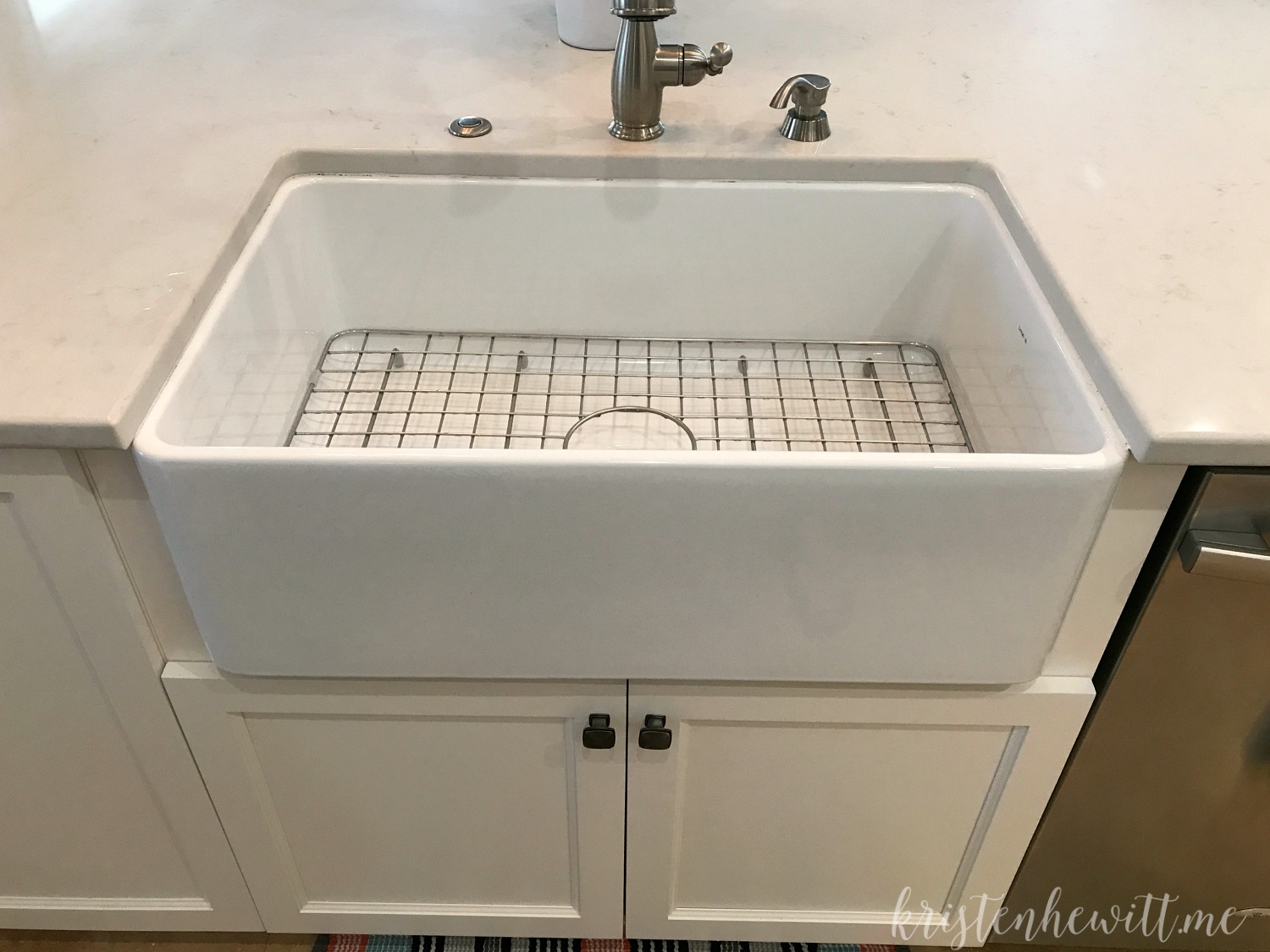 No kids dropping and breaking the new sink and the best purchase in my opinion. Oh and the faucet is by Delta, I felt like it had a nice rustic farmhouse feel to it!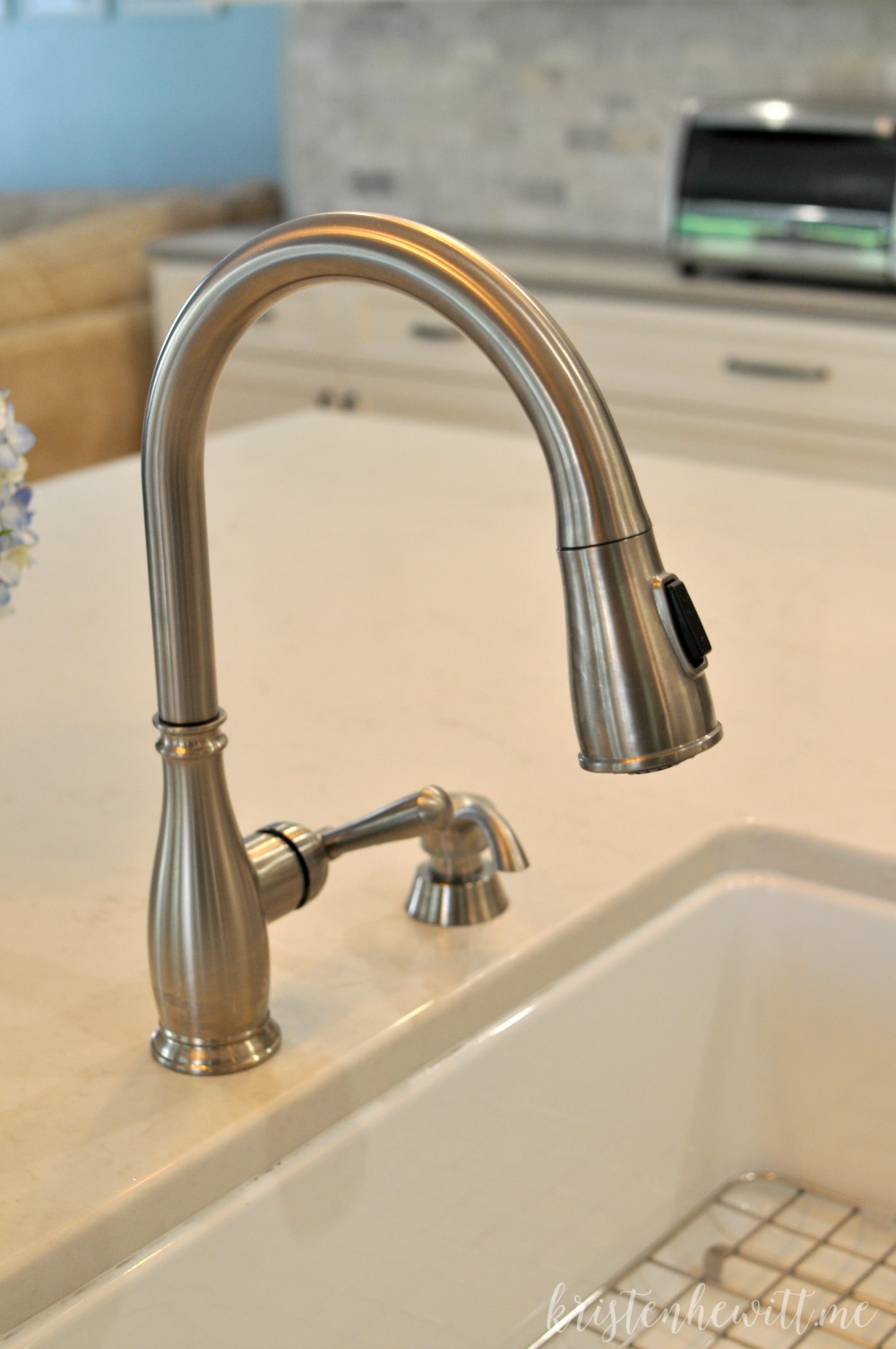 appliances
We also had to get a new fridge since the old one was the cause of the big mess, and we went with this LG. We picked it up in Miami at AAAA Universe, it's also where we got the new LG cooktop which I love!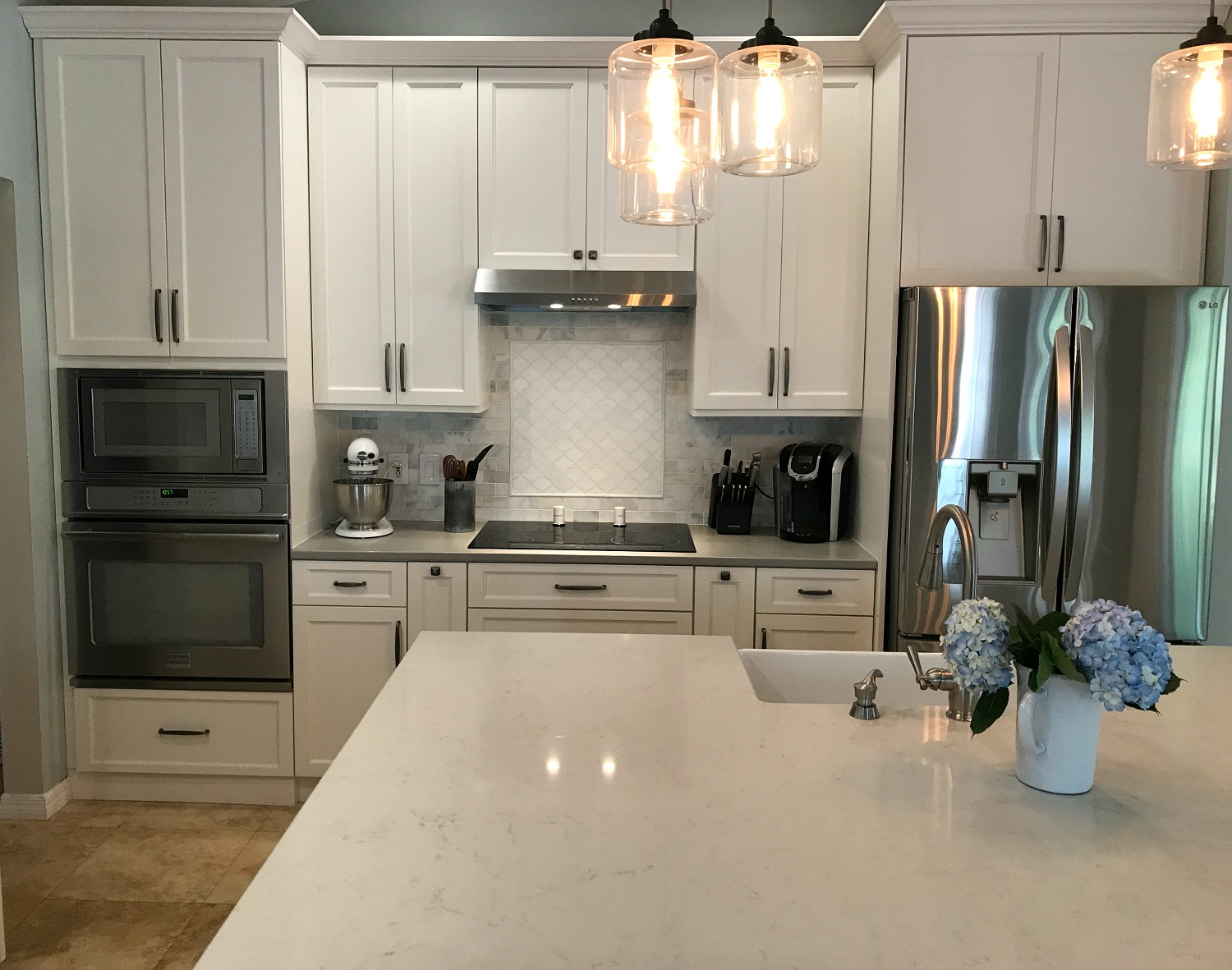 And since we were going big we bought a new Presenza Stainless range hood too. It's the hubby's pick and he nailed it! (He was also in charge of the refrigerator and stove by the way and those are great too!)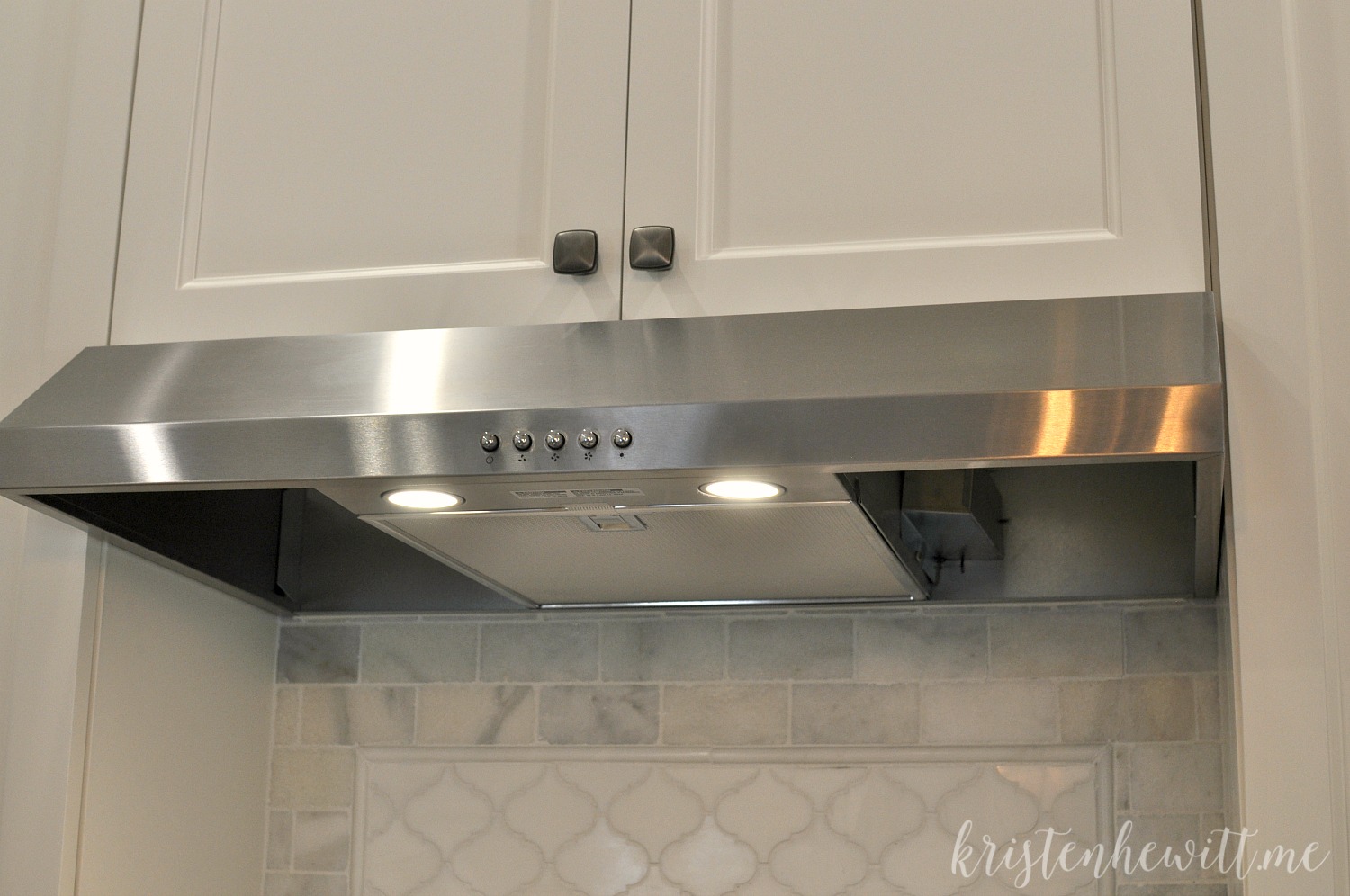 light fixtures
Believe it or not, the two hardest decisions after picking countertops were drawer pulls and light fixtures. I must have looked at every single light fixture on the planet. I even wrote a blog post about my favorites! But here's what we chose:
These West Elm Chandeliers work awesome as pendants (and are on major sale!) and are a serious statement piece in the room. Everyone that walks in says they love them!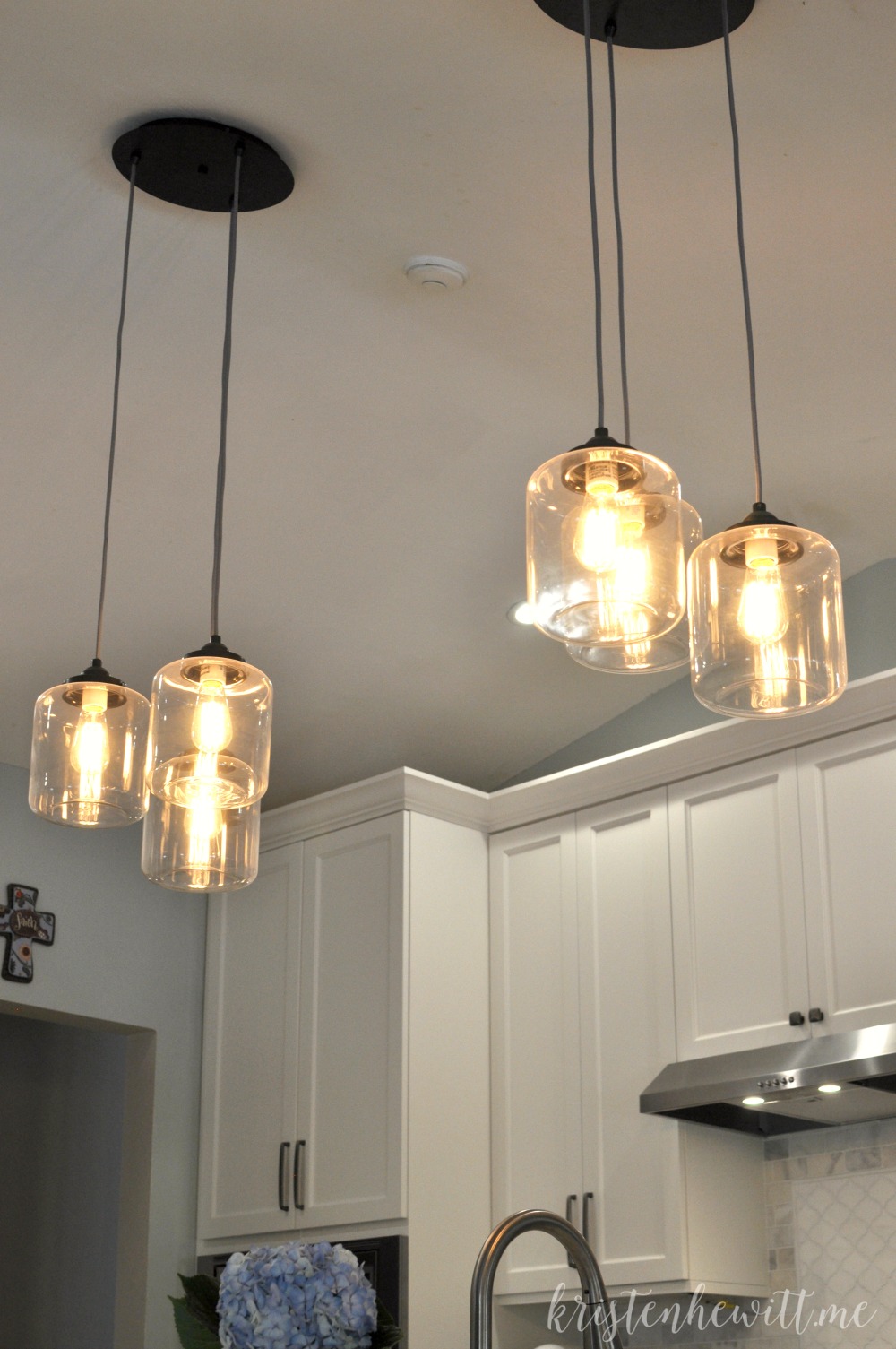 Then in the kitchen nook I added a little whimsey with this three light pendant! And by the way, if you see my kids, that crystal that hangs beneath the orb is how Santa and the Easter Bunny watch them while they eat their meals. So don't spoil the magic yo.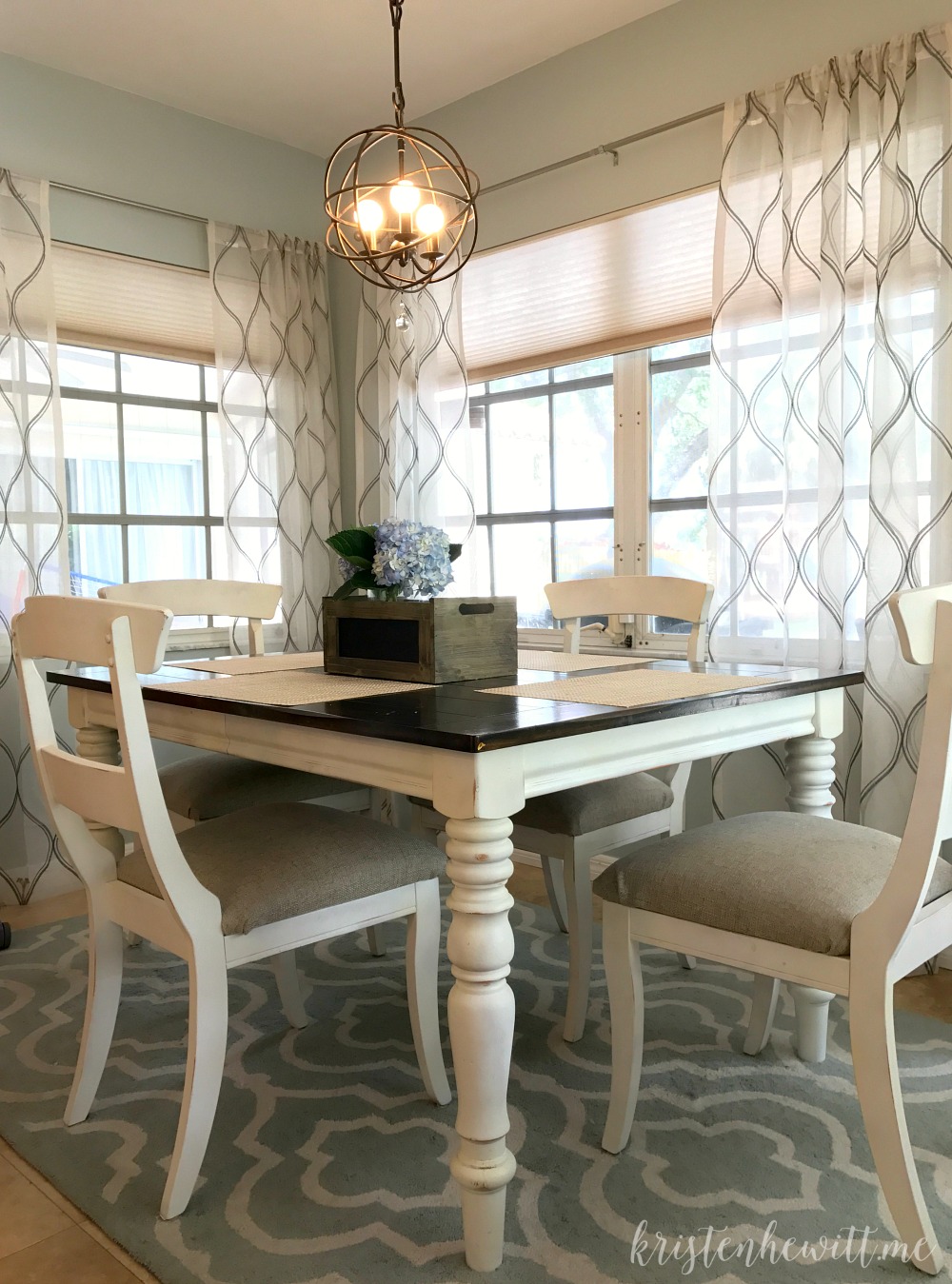 As you've been scrolling through I'm sure you've seen all the variations of drawer pulls and knobs we used. There was no rhyme or reason, I just wanted things a little more eclectic. So I used an antique silver finish that matched the light fixtures, longer drawer pulls on the big cabinets, smaller ones on the smaller drawers, and knobs because that's what Joanna Gaines does! (Told you I was Fixer Upper a nerd, I even cataloged my favorite white kitchens here.)
I found what I liked on Houzz then found it cheaper on Amazon. (Links below if you liked it too!)
Cosmas 6 5/16″ Antique Silver Long Cabinet Pulls
Cosmas 3 3/4″ Antique Silver Shorter Drawer Pulls
Cosmas Antique Silver Cabinet Hardware 1/4″


And of course, I always have my favorite flower in my new kitchen. Home is certainly sweeter these days!
Check out this newly renovated modern farmhouse kitchen!
Click To Tweet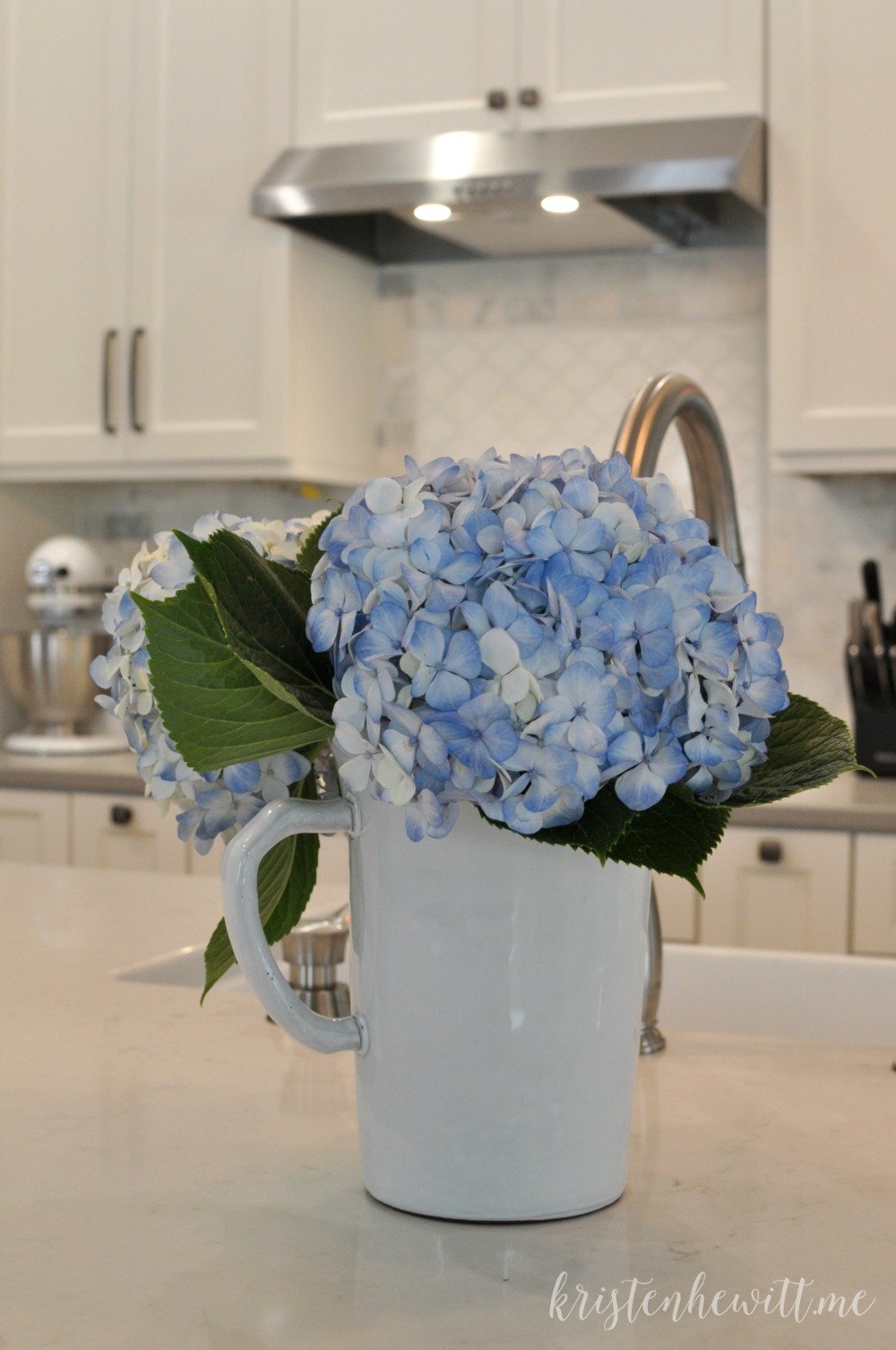 My husband asked me if I'm happier now that we have a new kitchen. My response? "Hell yeah."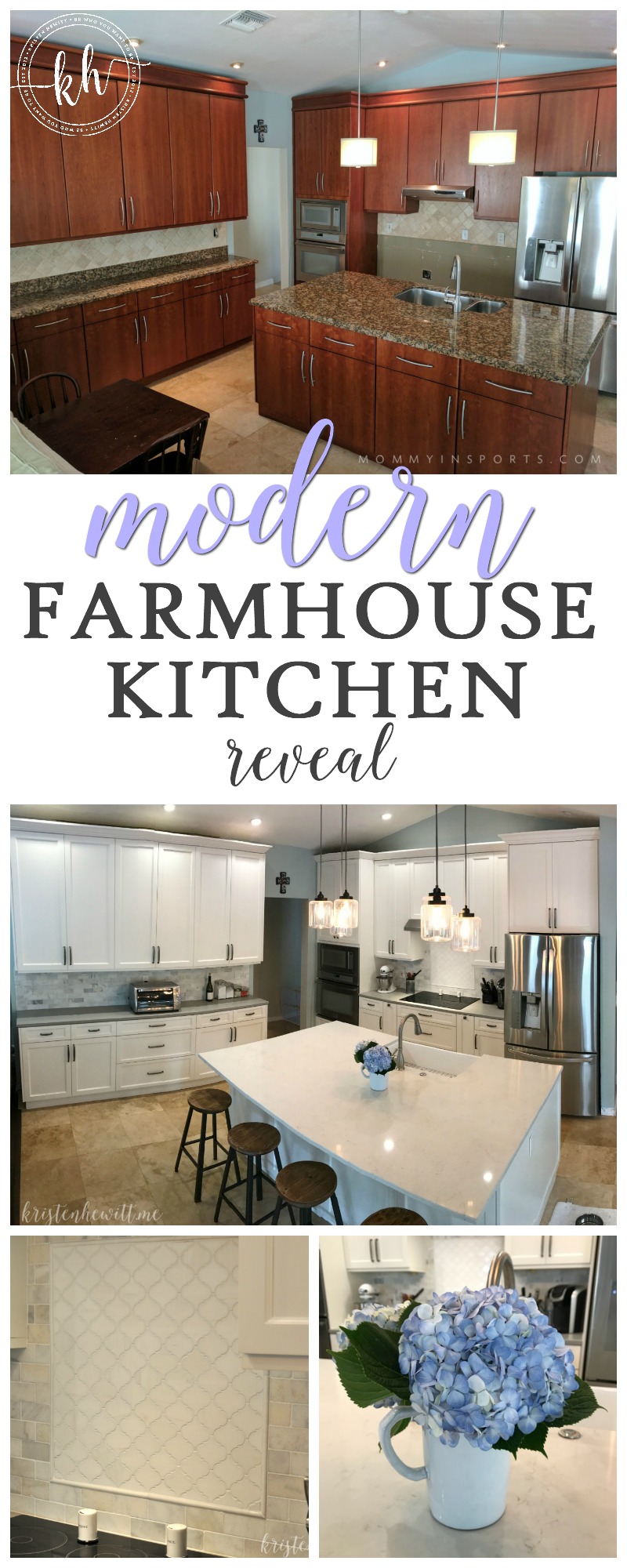 If you've made it this far, thanks for reading about our modern farmhouse kitchen! And if you are remodeling, good luck! It's a frustrating and time-consuming process, but one day you too will have the kitchen of your dreams. And in case you were wondering, my house will never be this clean again.
If you liked this post, please read my favorite white farmhouse kitchens!
Or my 10 Commandments of a Kitchen Renovation!
And don't forget to check out my trip to Magnolia!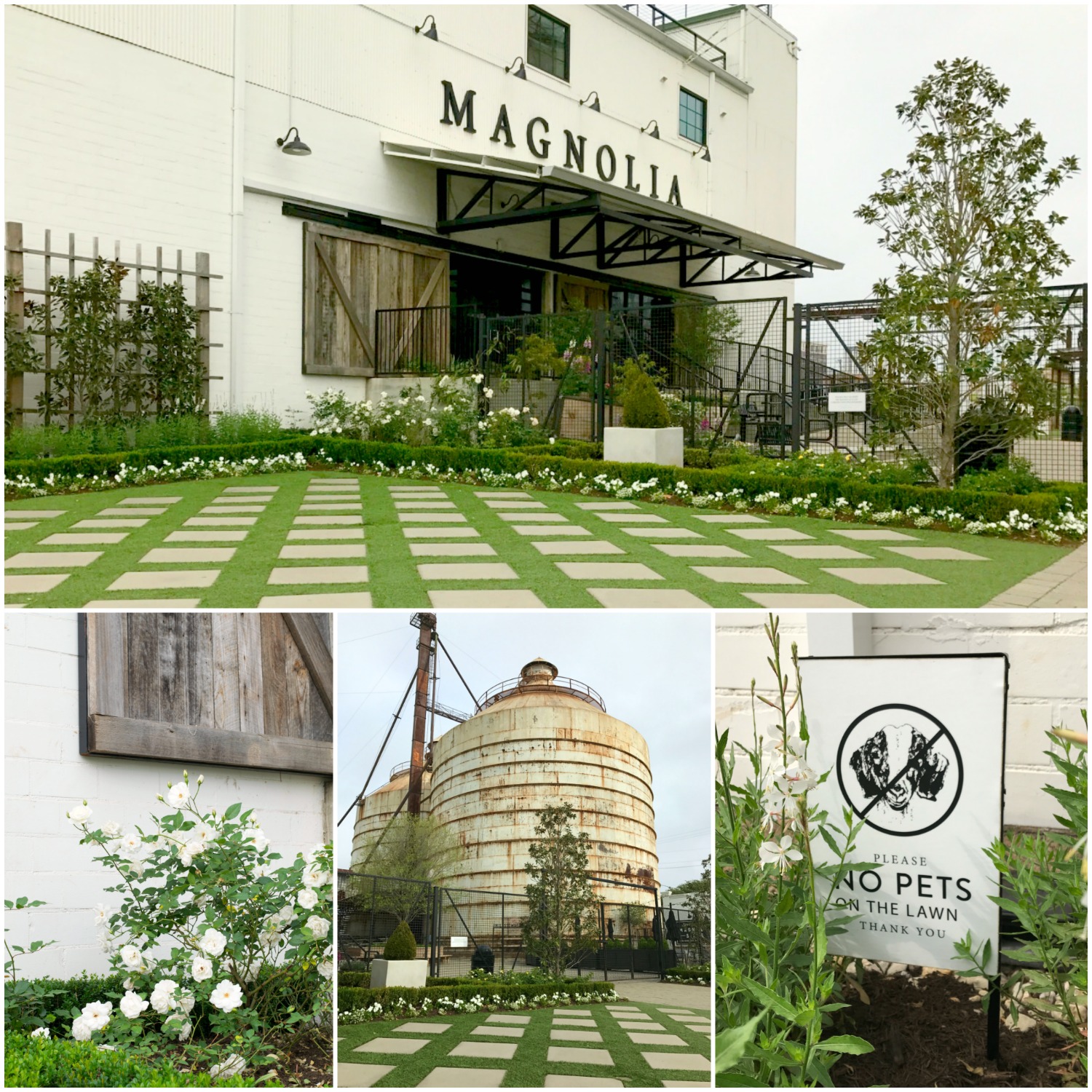 And don't forget to say hi on Facebook! Would love to hear what you think!