She's a Hollywood actress, social media starlet, influencer, and mom of two, and there's nothing she won't talk about on her popular Instastories. Busy Philipps, who's appeared on shows like Cougar Town and Dawson's Creek, has captivated her fans on Instagram, where she boasts over a half million followers.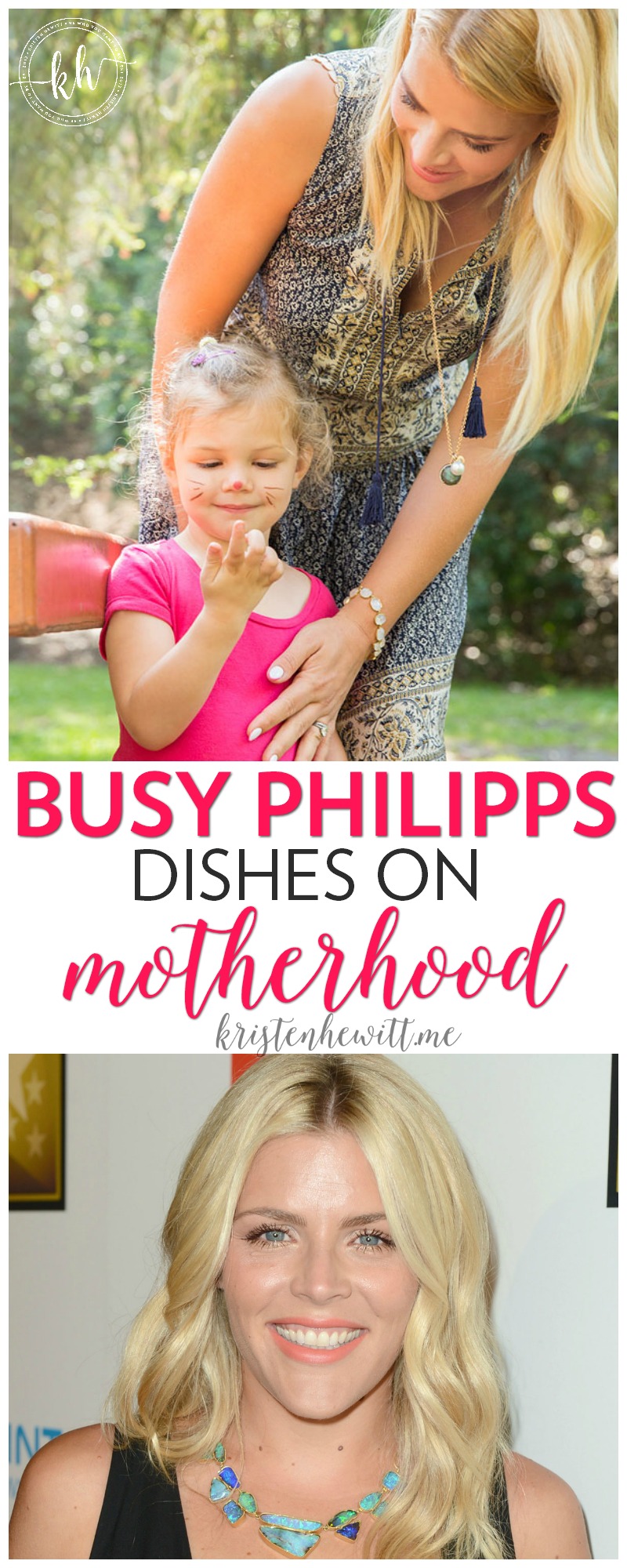 She's beautiful. She's funny. And she starts every post with, "You guys!" But most importantly – she's real. Like really real. Like, will unabashedly poke fun at herself and remind you that it's OK to be who you want to be. Philipps posts old photos on #TBT of herself before she lost the baby weight, and shares candid moments with her daughters Birdie and Cricket.
https://www.instagram.com/p/BVLH3LXhPUG/?taken-by=busyphilipps
It's refreshing to see someone in the public eye who isn't afraid to show the tough moments, as well as the glam ones. And I had a chance to speak to Busy Philipps recently about America's social media obsession and of course motherhood.
Q: Are you surprised at how fascinated that people are with your life on Instagram?
BP: I can't put anything on Instastories without it ending up viewed, and sometimes it gets misconstrued. But I do love the response that I get from social media. People seemed relieved that they can see someone, an actor or celebrity or whatever I am, who shows the other sides of life. And that being said I'm not an idiot, it is curated. This isn't content that goes up without thought. It's not every real thing that happens in my life, there are plenty of things I choose not to share. Even in the most down to earth real version, you have to understand that this is not the 100% accurate version out there.
https://www.instagram.com/p/BVPjjC-hlzR/?taken-by=busyphilipps
Q: How important is it for society and the media to stop putting unrealistic expectations on moms to bounce back after giving birth?
BP: I love the real mom campaigns and the real body campaigns. I mean let's take the pressure off of parents and mothers in general. We should all have the understanding we can't all look like fitness models two months after giving birth. And some days you struggle and feel like you're failing as a working parent.
https://www.instagram.com/p/BUhjqq3FLK5/?taken-by=busyphilipps&hl=en
Q: Do you have days like that, where you struggle and feel like you're failing?
BP: Of course! Somedays you have great days where they are sweet angels, and you think, "Why don't I have 47 more?!" And the next day they do something to make you crawl under your bed the rest of the afternoon. So you know I just want to quit, I'll become a mom that abandons their family and they can find me in Florida 40 years later. It's tough, everybody has tough days, and the more open and honest we can be is better for everyone. Taking the judgment off of parenting, there's not one right way to parent your children. A million different things work for a million different people and all of our kids are different. They just are. They are just not the same, you know that once you have more than one child.
Q: How are your kids different? Is there any particular issue that's hard for you?
BP: I was really proud of myself and maybe a little bit too smug when I had my first baby and she was one of those kids that would eat anything. Artichokes, and sushi, and spinach, and salmon, and I just felt like I was had done everything right. And I had friends that had kids that would only eat chicken nuggets, and I wouldn't say it to them, but in my head I was sort of roll my eyes and think, "If you just offered your kids healthy food…" And then I gave birth to Cricket who only wants to eat white pasta and chicken nuggets, despite my putting salmon in her mouth three times a week. And she's just a different kid and has her own thoughts, and it has so much less to do with me than I ever thought. It's all them and the kind of person they are born as they are inherently people.
https://www.instagram.com/p/BN2ZP_nj6yG/
Q: What's harder? Being at home all day or working on a set for 18 hours?
BP: Let me just cut you off because this one is easy! Being home with my children is way harder than acting for an 18 hour day. I have so much respect, my one friend from high school, she was a SAHM mom for 10 years with no help. I have a nanny, even when I'm not working because it's hard to be me. I feel like that doesn't get enough attention or play, the amount of help that people get. I believe it takes a village. And if I could figure out a way to have communal living that didn't involve a cult, I would totally do that just because I feel like parenting and marriage and friendship is so much easier when you have a group of people doing it together. And it's part of the reason I love our vacations we go with a group of friends we take turns watching the kids, making dinner, and it's an easier way of existing. I'm always in awe of stay at home moms and what they do. It's nut to me.
Philipps is also a seasoned traveler, and shared her hacks for traveling with kids over on Huffington Post! You can follow her on Instagram and Twitter!
Did you like this post? Then check out my other interviews like this 2-Minute Drill with Jason Taylor!