Disclaimer: This post contains Amazon affiliate links.
Every summer I can't wait for one thing, Monday library visits. It's our thing. We pile into car after breakfast and wander around the stacks of books waiting for adventures to be found. My kids are obsessed with The Warriors series, Katie Kazoo, and of course Harry Potter. And I always fluctuate between biographies, self-help inspirational, and gaudy romance novels. I can't help it…who doesn't love a sexy fairy tale?
But lately I haven't had a clue what to read, and whenever I need a suggestion I always go to my friend Jenn Bairos. She's a blogger and a book aficionado, and her Instagram account is amazing. Whatever Jenn says to read, I go for it. So I asked her for her summer must have list and she happily obliged.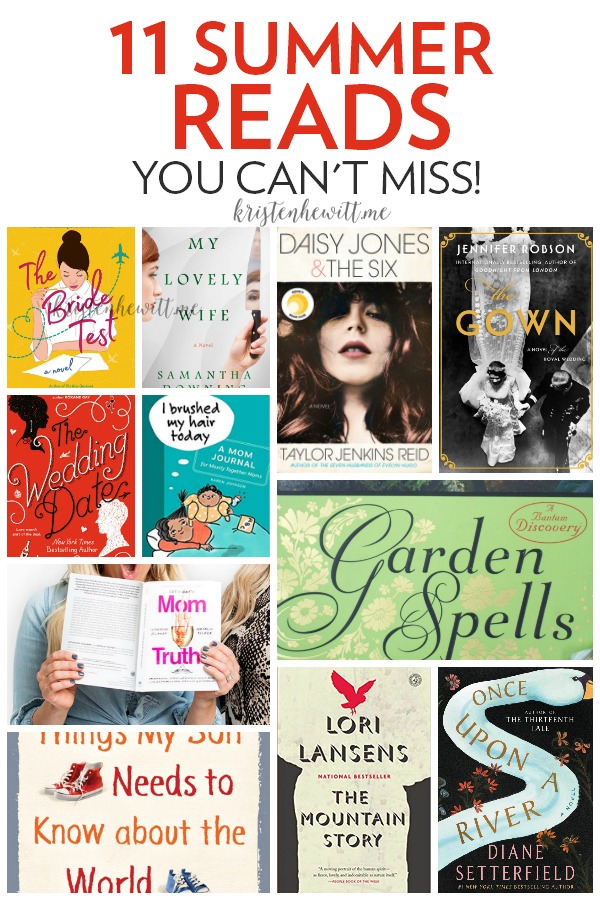 Check out her blog, Facebook, and Instagram page, and read below for her recommendations. Happy Reading! And thanks Jenn for continuing to inspire me to read new genres!
11 Summer Reads You Can't Miss!
A LITTLE HISTORICAL
The Gown, Jennifer Robson
After her grandmother passes away, Heather discovers a set of hand-stitched flowers that look strikingly like those on Queen Elizabeth II's wedding dress. She takes an opportunity to fly to England and discover a secret history her grandmother had hidden from their family.
Woven through Heather's journey, the reader learns about her grandmother, Ann Hughes, and Ann's close friend Miriam Dassin, a French émigrée who escaped the Nazis and came to find work in London after the war. These two women forge a deep friendship as they work on embroidering the royal wedding gown. This is a book about their friendship, their hardships, and their hope for the future during a time when hope was likely hard to find.
Kristen's take: I've read this book and loved it!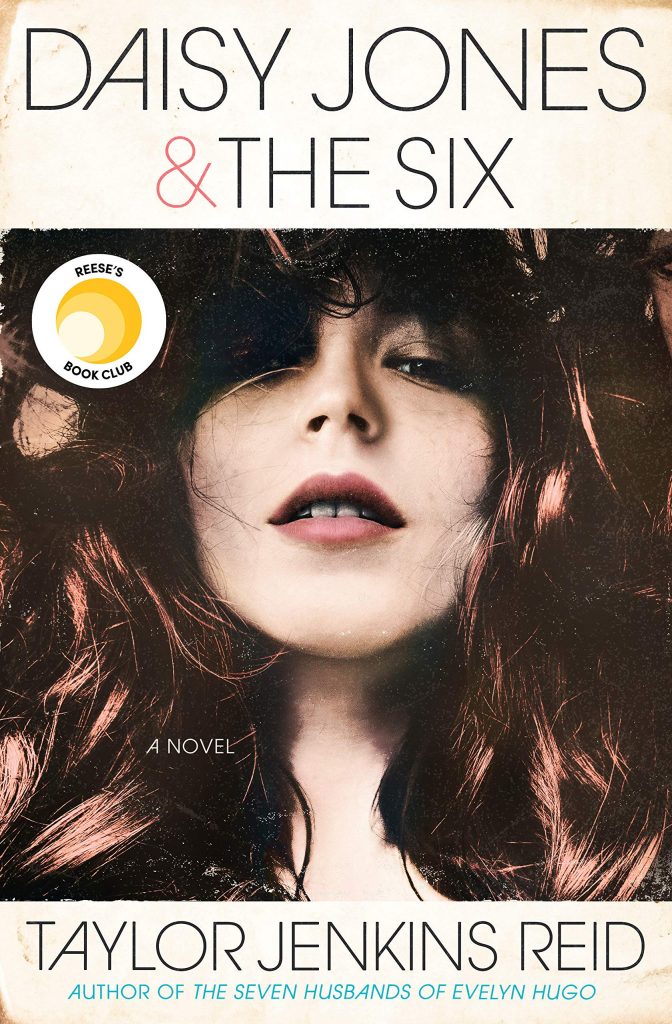 Daisy Jones & The Six, Taylor Jenkins Reid
What happened to the (fictional) 70s rock band Daisy Jones & The Six? What caused them to suddenly break up when they seemed to be on top of the world?
Told in a documentary/oral history style, this novel answers those questions. From the exhilarating highs to the tragic lows, we learn what brought Daisy Jones & The Six together, along with what would ultimately tear them all apart. I was aching to hear the music in real life as I was reading this book. It is so great!
Kristen's take: I had never heard of Taylor Jenkins Reid before Jenn introduced me to her, and all of her stories are A-MAZ-ING!
A LITTLE ROMANTIC
The Bride Test, Helen Hoang
I absolutely adored Helen Hoang's debut last year with The Kiss Quotient, and have been waiting for her next book to arrive. The Bride Test follows Khai on his journey towards love. However, Khai is autistc, and he does not believe he is capable of important emotions. Add a meddling mother and what follows is a swoon-worthy romance you won't be able to put down. The Bride Test is also great if you're looking for an #ownvoices book to read as Helen Hoang also has autism herself.
The Wedding Date, Jasmine Guillory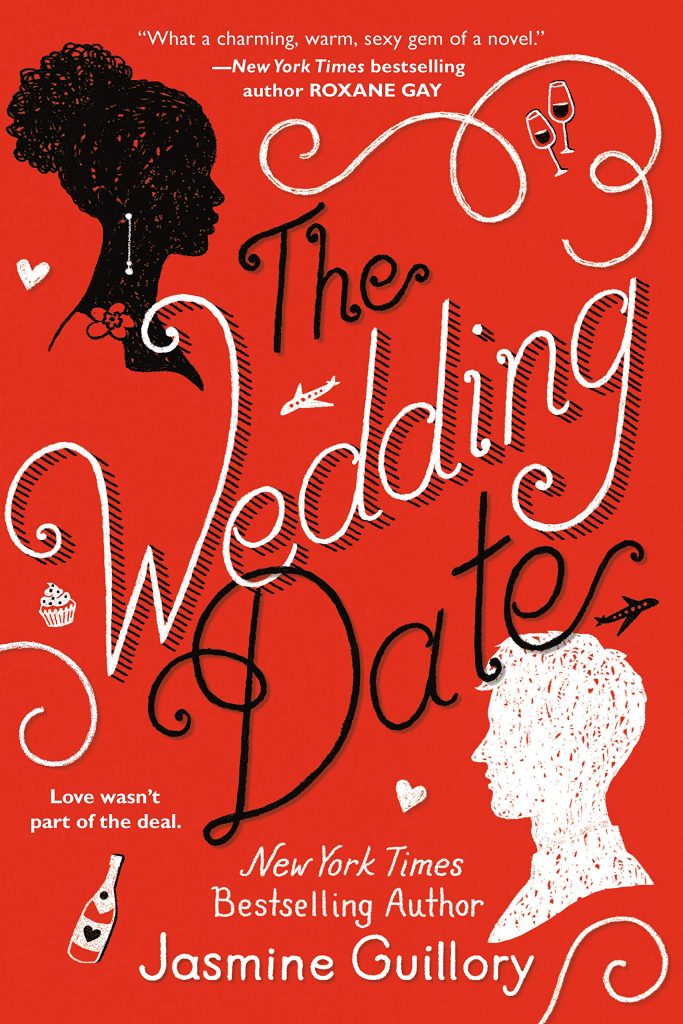 In The Wedding Date, Alexa and Drew meet while they are briefly stuck together in a hotel elevator. Alexa agrees to be Drew's last minute date to his ex-girlfriend's wedding. They pretend to be a couple in front of Drew's friends and seemingly have a blast all weekend long. However, is it real? Or is it just part of the act they are putting on? As they continue to see each other casually via a long-distance relationship, Alexa and Drew begin to wonder, is this really casual? Or is it something more? And could they even make it work if they wanted to?
The other element that makes The Wedding Date a unique read is that Alexa is Black and Drew is white, so they have to work though the dynamics that brings to their relationship, for Drew especially. I don't naturally gravitate towards diverse books, and I am clearly missing out because there is so much here that is relatable and relevant.
A little magical
Garden Spells, Sarah Addison Allen
This book is not new, but it's a charming, beautiful story and one of my favorites for summer. Claire Waiverly has a special gift. She can bake delicious food and the ingredients work their magic on whomever enjoys the delicacy. Nasturtiums that aid in keeping secrets, pansies that make children thoughtful, and snapdragons intended to discourage the attentions of her amorous neighbor. When Claire's sister returns home, with a daughter in tow, her life is turned upside down. This is a book about family, connection, blessings, curses, and using the gifts we have to help each other find exactly what we need.
One Upon a River, Diane Setterfield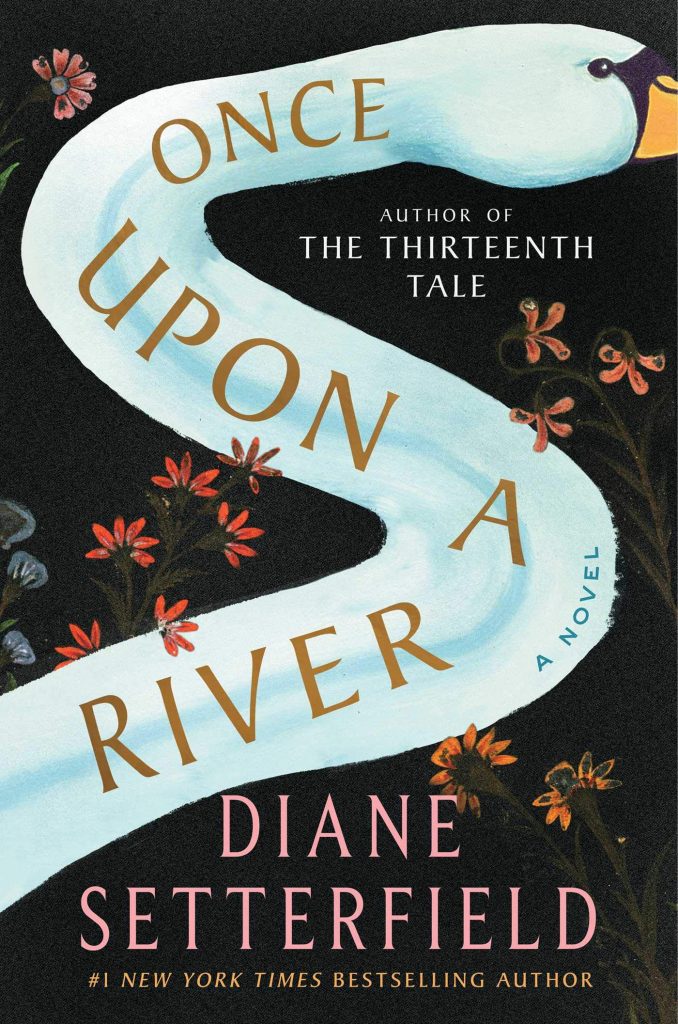 On a cold winter night, a man shows up at a centuries-old inn with a lifeless little girl who appears to have drowned in the Thames River. Hours later, she stirs and returns to life. Is it a miracle? Is it magic? Is there a scientific explanation? The little girl is mute and cannot answer any questions on her own, so different villagers arrive to claim her. The village becomes enthralled with the mystery of this little girl and her true identity. If you're looking for a sweeping, atmospheric novel with powerful storytelling, this is it.
A little thrilling
The Mountain Story, Lori Lansens
The tag line of this book reads, "Five days, four lost hikers, three survivors." The Mountain Story is a suspenseful, page-turning novel that speaks volumes about the resilience of the human spirit. Four hikers separately head to Angel's Peak and end up stranded together. This book almost reads like a memoir describing how the next five days unfolded. It is so well-written, and the story will stay with you long after you finish reading.
My Lovely Wife, Samantha Downing
This book is described as Mr. and Mrs. Smith meet Dexter. On the outside, this couple looks picture perfect. They have been married for 15 years, have two teenage children, and live in a beautiful house in Florida. However, they keep some dark secrets. The premise is definitely on the creepy end of the thrillers, but it's a "keep you at the edge of your seat" type of book with characters that you will love to hate.
For our little ones
Things My Son Needs to Know About the World, Fredrik Backman
Fredrik Backman is particularly well-known for his fiction (Beartown, A Man Called Ove.) Things My Son Needs to Know About the World is a collection of non-fiction essays and anecdotes Backman shares with his son about early fatherhood. I have read many parenting books written from the perspective of women, so it is really wonderful to get a father's point of view.
This collection is witty and heartwarming and full of love. It will absolutely make you smile, pull at your heart, and give you a few things to think about in your own life. I already look forward to rereading this someday. I admire Backman's writing so much that I'd read his grocery lists at this point. Also, this is a great read for any parent. Not just boy mamas 🙂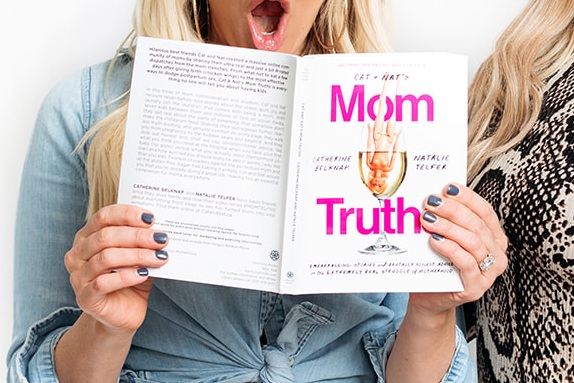 Mom Truths, Cat and Nat
This is such a fun book to read. Mom Truths is the first book from the best friends, and motherhood internet celebrities, Cat and Nat. The duo share their own parenting wins and fails, to help you both have a few tips, and also not feel like you're the only one to which crazy parenting crap happens!
Mom Truths vividly brought me back to my maternity leave when I would literally count the minutes until my husband would come home from work. Those were not my best days. In retrospect, Cat and Nat helped me see that some are simply days I just needed to get through, and that's absolutely okay. Our children aren't going to remember that part. They are going to remember how much we loved them.
Kristen's Take: Everything Cat & Nat touch is magic, and obvi so is this book!
I Brushed My Hair Today, Karen Johnson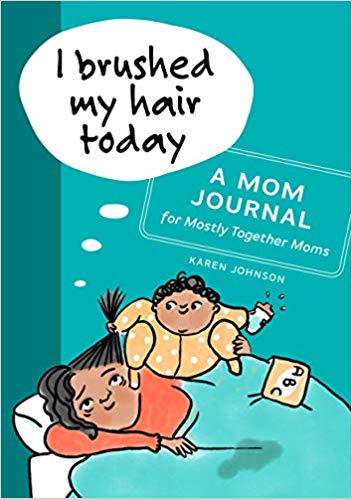 If you are a mom, you know how appropriate this title is and totally get why she picked this name! I Brushed My Hair Today titled "A Mom Journal for Mostly Together Moms." Karen Johnson, the hilarious and poignant writer behind The 21st SAHM created a place half inspiration, and half a vent session. It's a way for you to decompress after a hard day of riding the mom train. This makes a great gift for new or seasoned mom, and as a fellow journaler (is that a word?) I love the idea!
I hope you loved this list as much as I did, and thank to Jenn for helping us out. Please drop me a line and let me know your FAVS over on Facebook or Instagram.
You might also like my fav parenting books!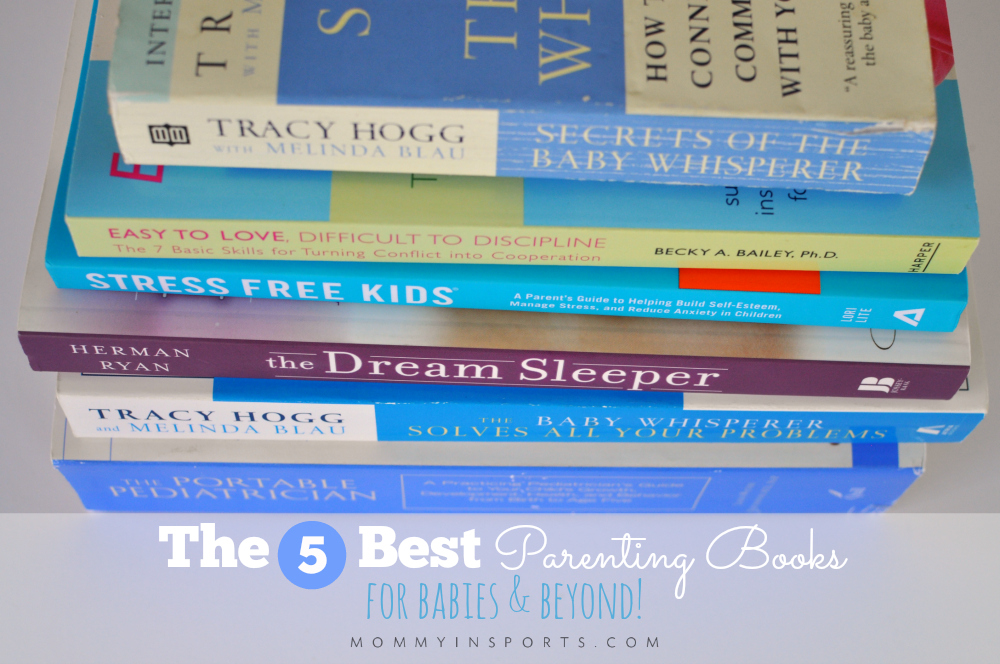 Or my top inspirational picks!