Disclaimer: This post contains Amazon affiliate links.
Looking for some new reads this summer while the kids are at the pool? We usually hit the library each week to stock up on new books. It's a fun activity to beat the heat, but also motivates our girls and encourages their love of reading. And I'll admit, I haven't made much time for reading these days, one of my favorite past times. So I decided to scour the net and find the top books to add to your summer reading list!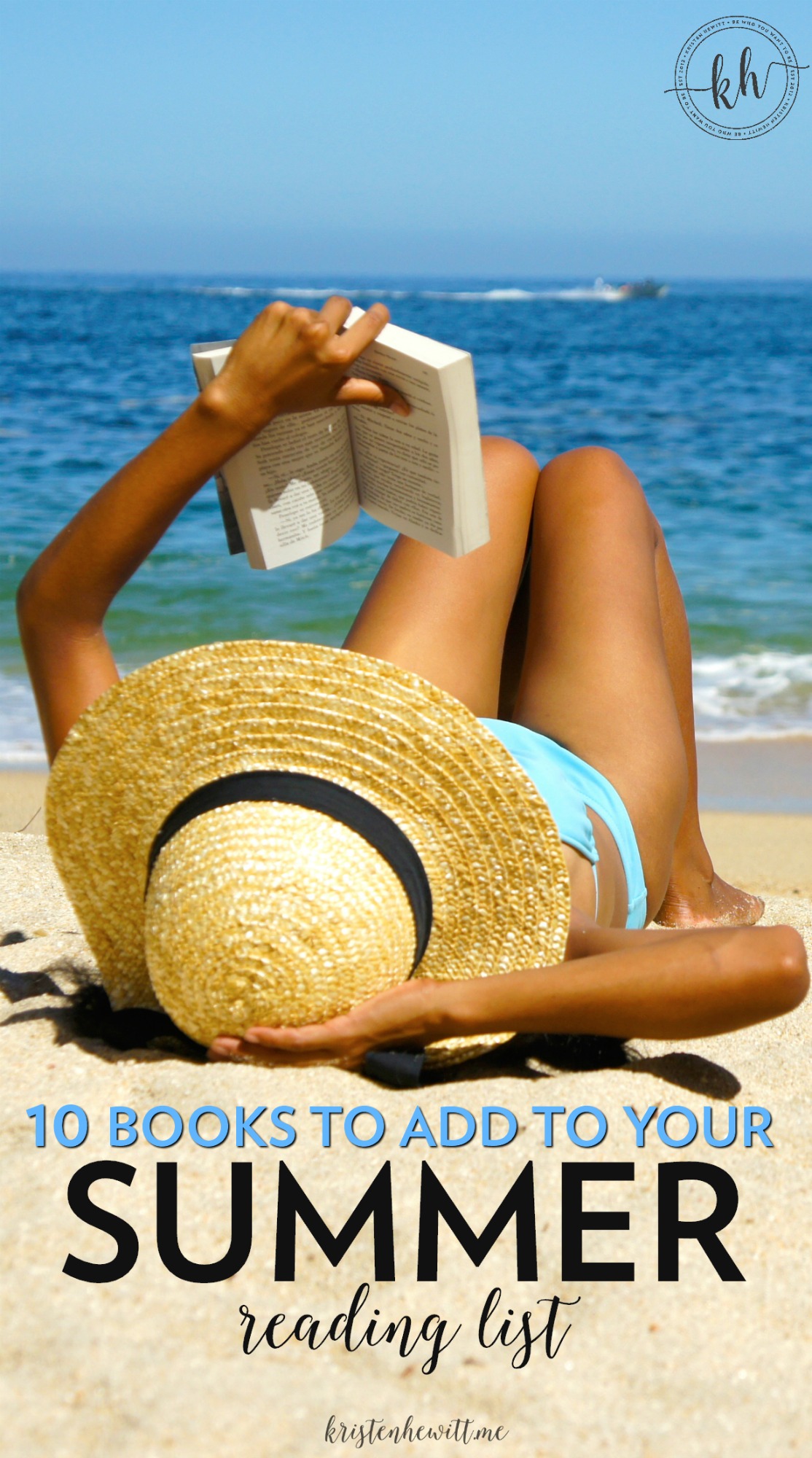 Some of these I've read, and some I've been meaning to forever. So if you aren't sure what to read this summer, check out this list. It has something for everyone, I promise!
10 Books to Add to Your Summer Reading List
Big Magic, Elizabeth Gilbert
I've checked this book out from the library twice and never read it. But third time was the charm, because it was calling to me a few months ago. Elizabeth Gilbert will totally inspire your creative passion in this read completely unlike Eat, Pray, Love. But you'll love it
Essentialism: The Disciplined Pursuit of Less, Greg McKeown
My friend and business coach Tara Newman tackled this in her book club, and it was such a necessary read for anyone. No matter if you're a CEO, or a stay at home mom, there is so much truth and advice in this book. The premise? Do less better. It motivated me to make several changes in my life, and I wrote about it in Stop Doing All The Things. If you are feeling overwhelmed in your life, I promise this will help you get your priorites sorted. And if you're not following Tara Newman she's a motivational badass, and you're missing out.
The Candida Cure, Ann Boroch
You probably are like huh? Candida? Is she talking about yeast infections?! Um no. Candida is a fungus that causes so many symptoms in our bodies. Fatigue, hormonal issues, sinus problems, allergies, food sensitivities, digestion issues, joint pain, the list goes on and on. Diet is becoming increasingly important to our health with so many preservatives and processed foods most of us consume, so I bought this book to understand how candida and diet changes with help with my perimenopause. And guess what? It's working! Not going to bore you, but if you struggle from any chronic health issues, this is a must read. The accompanying cookbook is amazing too!
You Are A Badass at Making Money, Jen Sincero
This is the follow up to Sincero's bestseller You Are A Badass. I can't wait to read this one because she rocks, and who doesn't need more money?
First Comes Love, Emily Giffin
I have always loved Emily Giffin, even before her books became movies, but this new novel is wonderful. The characters are complex and so real, I really enjoyed this story.
Confessions of a Domestic Failure, Bunmi Laditan
Do you follow Bunmi Laditan on Facebook, the creator of Honest Toddler? Because this book reads like one of her hilarious Facebook posts. She takes an honest real-life approach to motherhood and this story will have you nodding your head up and down. This is a great one for traveling!
The Magnolia Story, Chip & Joanna Gaines
Does this really need an explanation? The best show ever on HGTV proves why its hosts are so authentic and full of pure awesome-ness. You don't have to watch Fixer Upper to love this book full of the back story of Jo & Chip's empire, plus poignant life lessons. I couldn't put this one down. And it's not because I'm obsessed and went on a girl's trip to Waco to see Magnolia either!
The Nightingale, Kristin Hannah
I haven't read this yet but it's been recommended to me by four people. This one debuted last year but is still slaying it on the bestseller list.
We Are Never Meeting In Real Life, Samantha Irby
Several of my writing friends have posted about this book so I had to load it on my Kindle. Here's the description from Amazon:
With We Are Never Meeting in Real Life., "bitches gotta eat" blogger and comedian Samantha Irby turns the serio-comic essay into an art form. Whether talking about how her difficult childhood has led to a problem in making "adult" budgets, explaining why she should be the new Bachelorette—she's "35-ish, but could easily pass for 60-something"—detailing a disastrous pilgrimage-slash-romantic-vacation to Nashville to scatter her estranged father's ashes, sharing awkward sexual encounters, or dispensing advice on how to navigate friendships with former drinking buddies who are now suburban moms—hang in there for the Costco loot—she's as deft at poking fun at the ghosts of her past self as she is at capturing powerful emotional truths.
Coach Wooden and Me, Kareem Abdul-Jabbar
I have always loved biographies, particularly sports bios. And a book about two basketball legends? No-brainer. Curious to read about Abdul-Jabbar's relationship with Coach Wooden!
I hope you find a good book here to add to your summer reading list! And if you do try one of these, give me a shout on my Facebook page!
Did you like this post? Then check out my Top 5 Inspirational Book picks!