Looking for a cozy mountain getaway for you and your extended family? Tango Lookout Lodge is open for travelers looking for a safe place to vacation in the gorgeous Western North Carolina mountains. It took me a few days to share these photos and listing because my cup is overflowing, and I can't stop crying tears of joy. And honestly, I wanted to keep this home just for us for a few weeks before I opened it up to the world.
Finally buying and setting up this log cabin is a dream come true. It has been SO much work, and we poured our hearts into it each item we purchased and every square inch of this house. Every single room holds a memory of Heather, who we lost to pancreatic cancer two years ago. She was an interior decorator, and many pieces of artwork, furniture, and decorative items came from her.
We wanted this to be a retreat for families, a place to disconnect from the world and connect to each other and in nature. And we hope that those who visit love the peace, views, wildlife and serenity as much as we do.
OK enough sappy stuff. Here's the listing to rent and the photos yo. Hit me up on Instagram with any questions, and our awesome property manager Tiffany can help you as well if you try to book.
Here's the main living space. This is our couch I love from our home, an adorable birch trees painting, and I had to add one bear pillow. Did you know bears are my favorite animal? Fun fact #1: you may see bears in our neighborhood in the summer! (I can't wait!)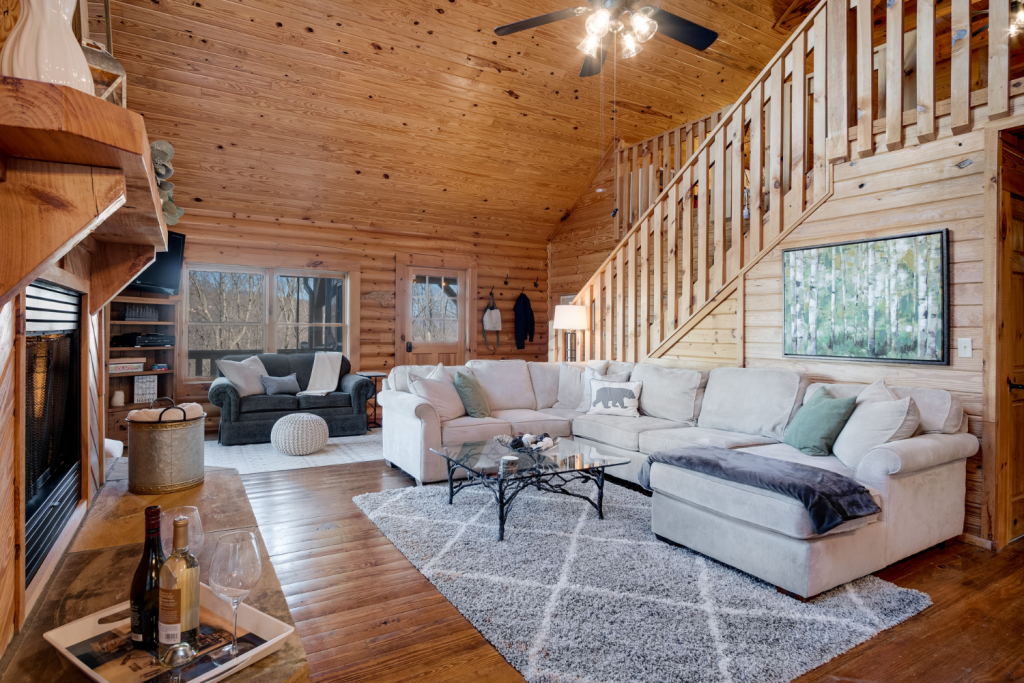 I spy a HEAT hat by the front door. Can't take the Miami out of the girl.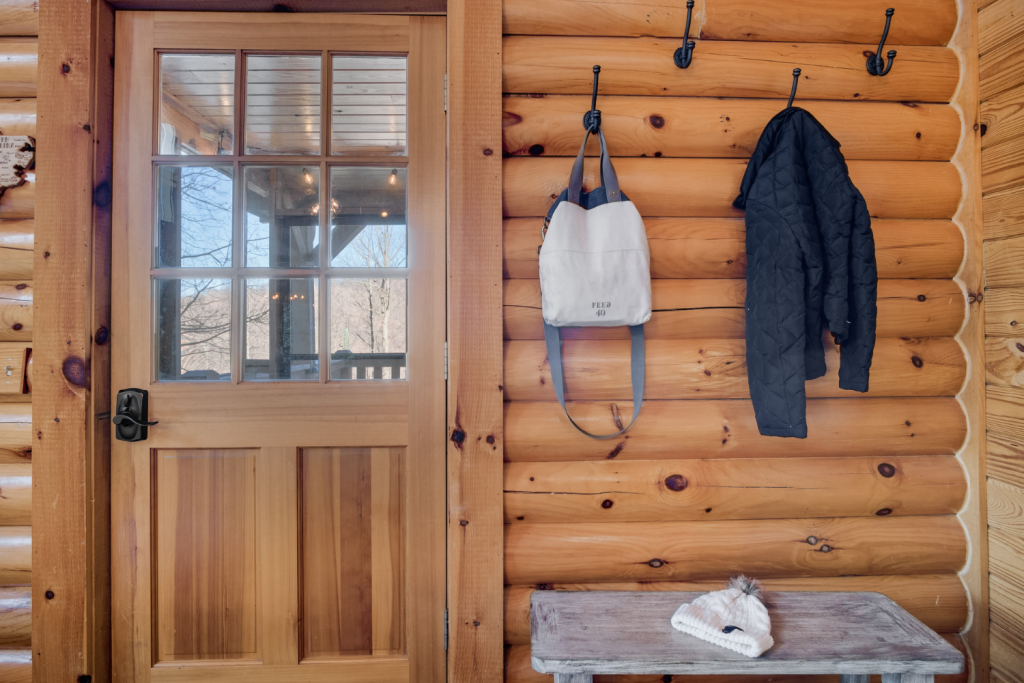 Dining space with new light fixture. I almost didn't buy this GATHER sign but am so happy I did because it pops! Also, a custom coffee bar behind the table. We provide coffee, cream and sweeteners for guests so they don't have to run to the store when they arrive.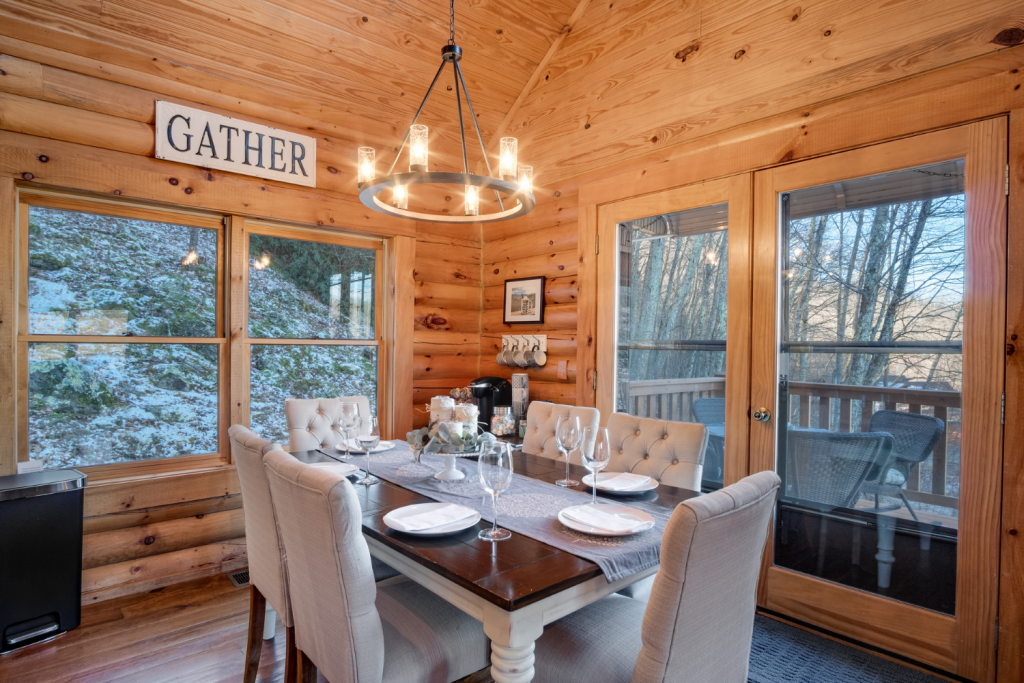 There are stunning views from any direction from the main floor.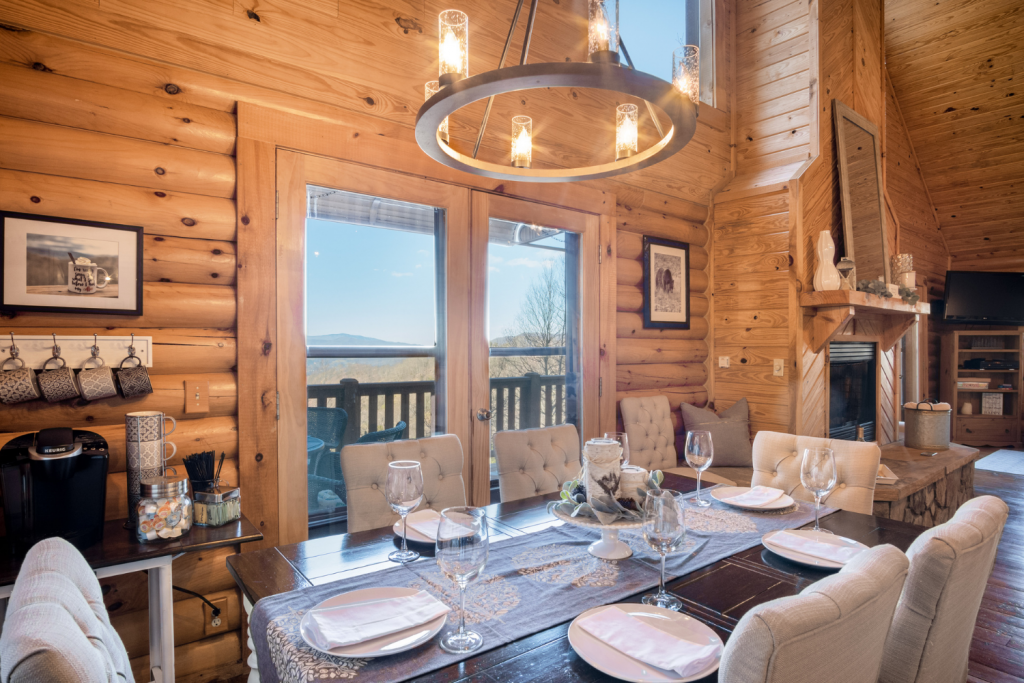 Both sides of the fireplace have photos from trips we've taken. On the left is a bear from Yellowstone our friend took, and on the right is High Falls from a hike in Brevard, NC. Go there if you come visit, it's my favorite hike. Shout out to my friends on Facebook for helping me decorate the mantle.
The kitchen is fully stocked for any culinary creation you want to make! Or you can just use the fridge for leftovers from all of the amazing restaurants in Asheville (just a 30 minute drive away) and Waynesville, which is adorable and only 15 minutes away. Oh, and tell your kids we have a Chick-Fil-A in town so you are set!
This is my favorite room in the house, the main floor master bedroom. The bedding is so soft and comfy, and I love the furniture and artwork. The lamps and nightstand have USB ports for charging, and I created a little office so anyone can work if they have to.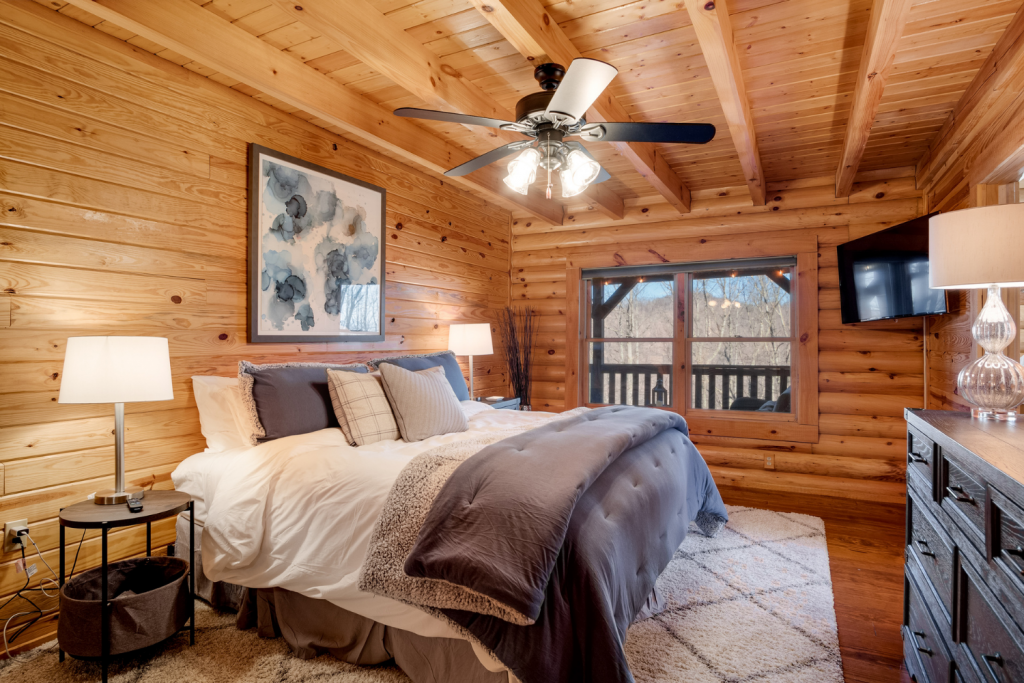 Fun fact #2: Bob and I went to the Biltmore when we were dating and the corks from this bulletin board were given to us during a wine tasting. We've come full circle and it now hangs in our mountain house. PINCH ME!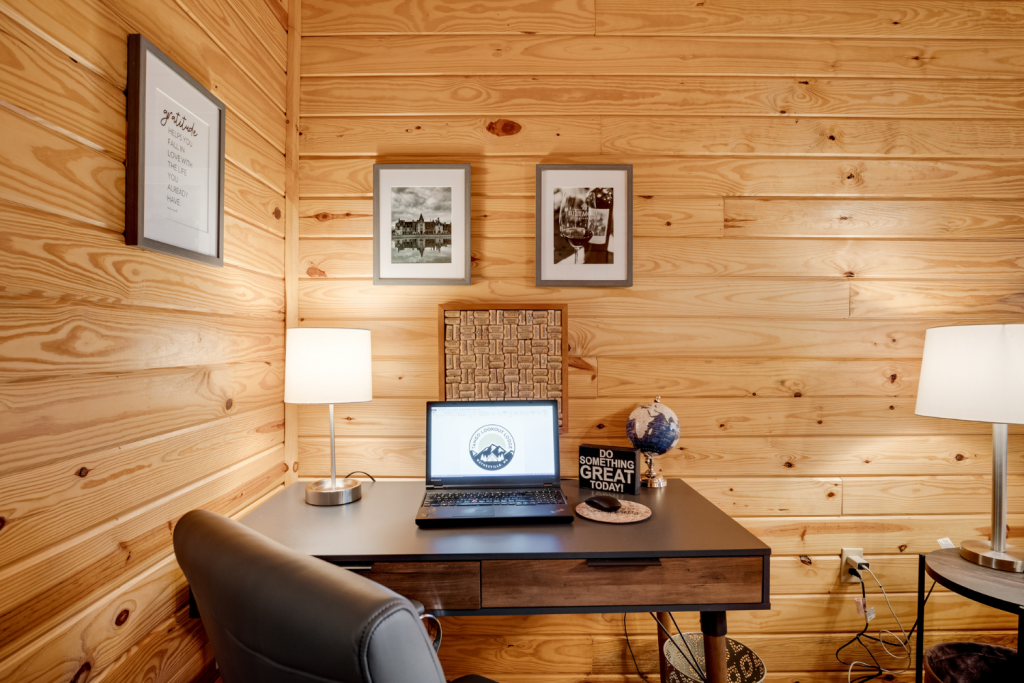 This is my 2nd favorite room in the house, the black and white room. I had to get Magnolia bedding for this one, and all black and white art.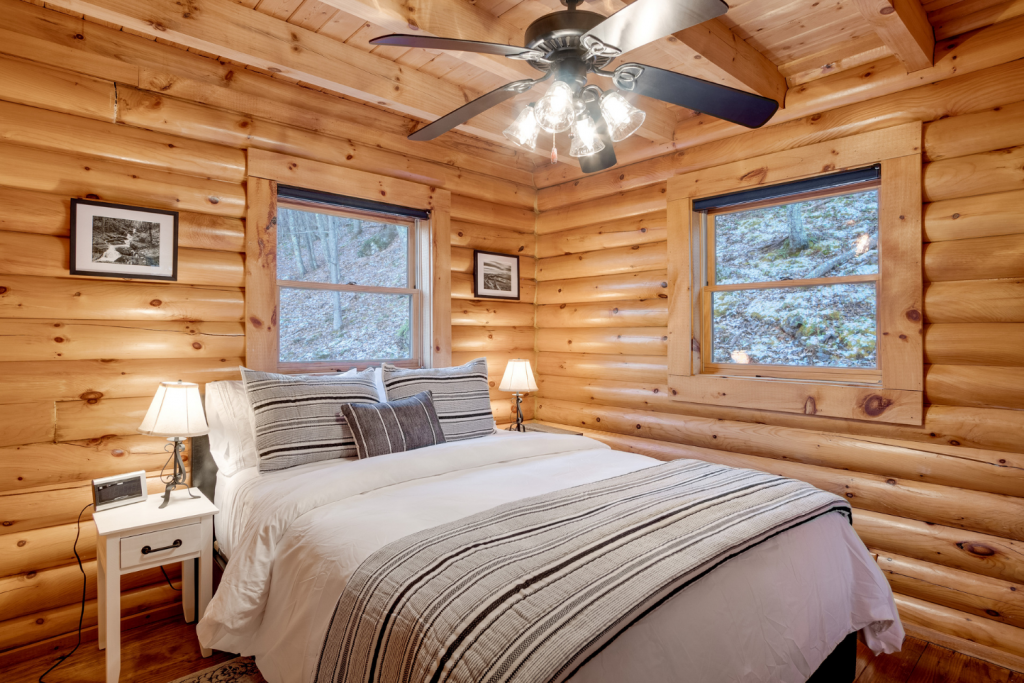 Welcome to the loft. It houses a queen, two twins, couch, chair & coffee table for games, plus a half bath. Oh, and lots of games and books for grown ups and kids. It also has an amazing view from the couch if you want to get away for some quiet time. Your feet will love the fluffy rugs too!
This is the downstairs suite which includes family room, kitchen, king master and full bath, plus a spin bike. You also have your own porch and French doors that take you to the outdoor porch and fire pit.
This area is accessible from the driveway with no steps, and has a ping pong table and darts in the garage.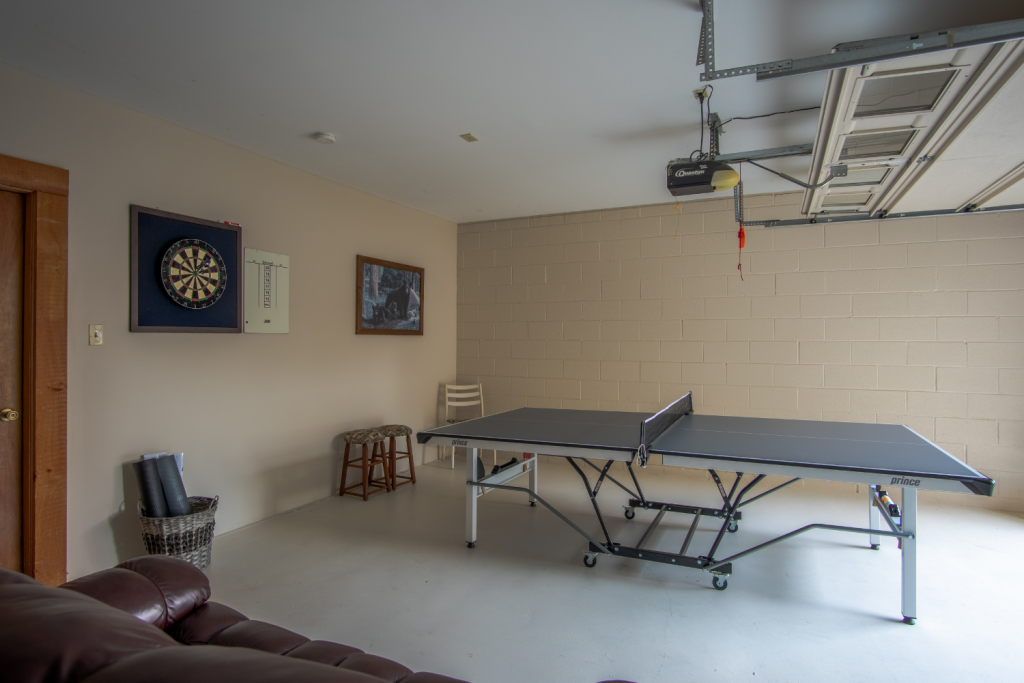 And here's the firepit I mentioned from the downstairs porch.
When you enter through the front door this is the screened in porch and my favorite sitting spot with 180 degree views of the mountains plus remote controlled twinkle lights. Perfect place for coffee or wine!
And this is the outdoor porch from the main floor complete with outdoor dining space, a swing and rockers. The views are stunning from this location all day long. But if you're an early riser you'll love watching the sun come up!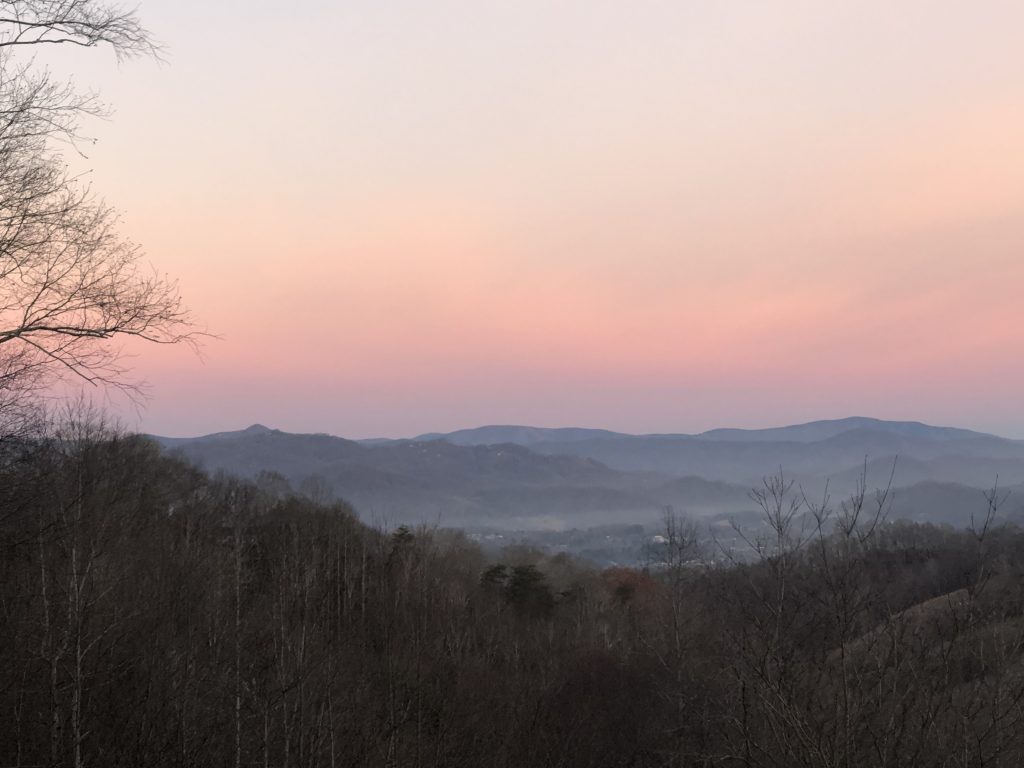 Views for days are exactly what I crave and hope they bring you as much joy as they have our family. Here once again is the link to rent with loads more photos, hope to see you there soon!