I hid in my room today. Away from the kids, away from the noise, and away from the chaos.
I'm not sure why I was feeling so moody and frustrated. I mean we survived the biggest hurricane to ever form in the Atlantic, our house is still standing, we have minimal damage, and we finally have power. We are so lucky, so why was I so angry? And then a friend pointed out how traumatic this has been for us.
But not just our family, ALL of us.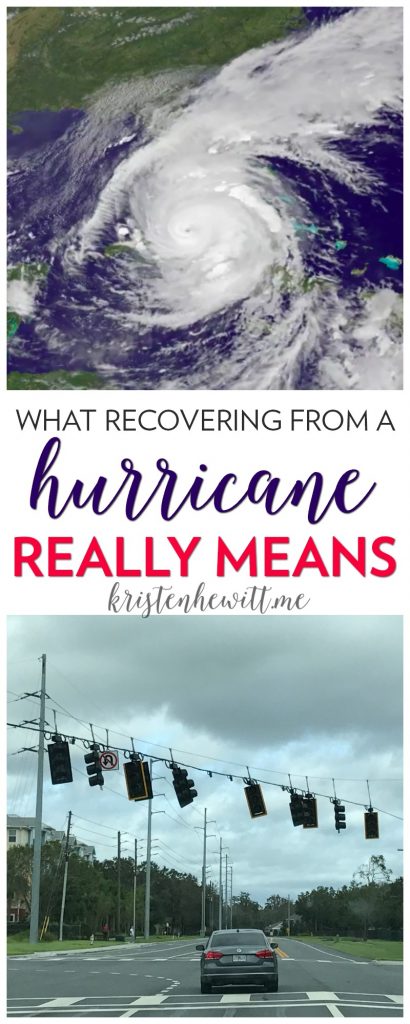 Hurricane Irma has been consuming our lives for 12 long days. That's when I first knew it was going to be a problem, back on September 3rd. I entered Costco as soon as they opened that Sunday morning to get my supplies, even though I knew we'd be evacuating. I also knew that morning we'd have to cancel our 15-year anniversary trip to Banff to ride out the storm somewhere with our kids.
Irma was a tough girl to predict though, she weaved and bobbed, kept changing her mind about who she'd like to strike and where. And the anticipation and anxiety of landfall were maddening. We began preparing our home the Tuesday before she came, doing laundry, and packing for evacuation. Wednesday things were serious though, and Irma was predicted to go right over our home, and that's when we made the list.
Have you ever made the list? You know what I'm talking about right? The list of things you would save if your house was totally devastated? That was one of the single hardest things I've ever done. Sitting down and looking at all of our memories and trinkets and deciding which were worthy of coming with you. Just in case you had nothing to return to.
But we did it, like many others, the exhausting task of hurricane preparation, packing up our house, and driving to Orlando. We knew we would still be hit there, but we would be with our family that lived in the area, and a South Florida landfall would lessen the blow of Irma in Central Florida. We felt grateful we had a place to go, and the means to get there. Our nerves were frayed, but we made the most of our time by riding the monorail at Disney and visiting the hotels before she arrived.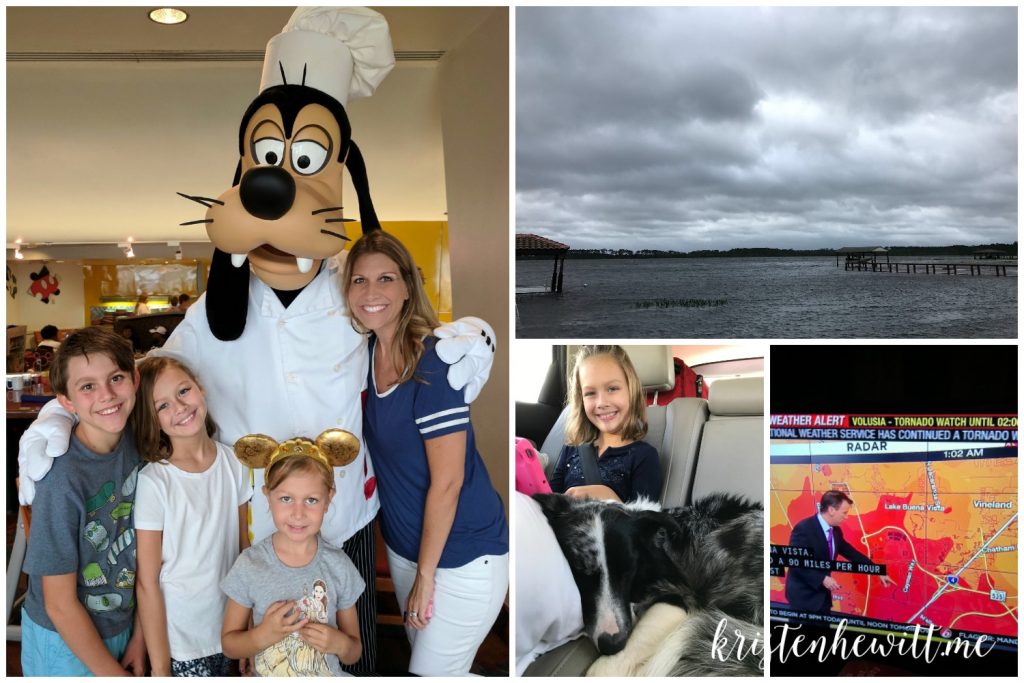 The hurricane itself was fun for the kids, I mean who doesn't like flashlights and snacks?! But the event itself still frightening, as Irma shifted again eastward and her eye came within miles of us. The winds howled, the trees cracked, and we were up most of the night Sunday. We lost power of course, and couldn't wait for it to end. As soon as Irma passed though, we once again packed up our kids, dog, and tranquilized the cats for the long trip home.
The funny thing is, as exhausting as that sounds, the travel wasn't even the hardest part. The cleanup is what really killed us. Because not only did we all have to take down the hurricane shutters, but we now had days of yard work. Downed trees, branches, piles and piles of leaves, broken roof tiles, the swing set destroyed, and all the rest that needed to be hauled away. And we did this without an air-conditioned home.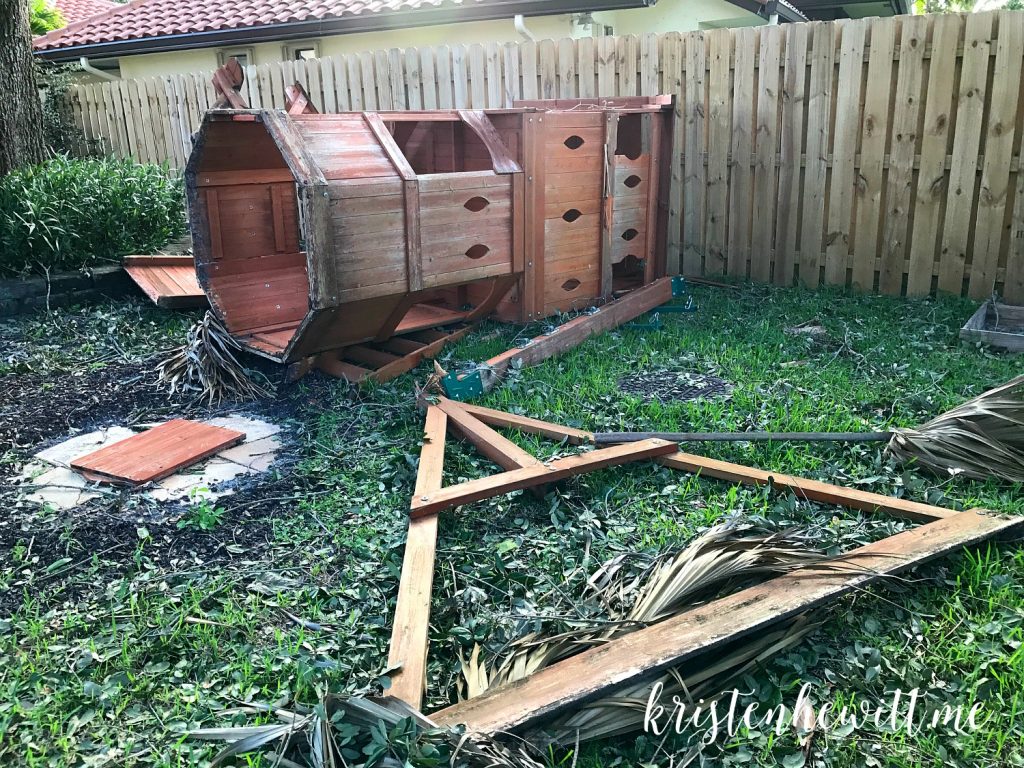 We had a silent house, filled with heat and darkness. No television to distract us. No charge for our cell phones and no service to communicate with our friends and family. Once we were home and safe, we decided to stay with friends who had power, because the heat made sleep difficult.
We were among the lucky ones though, getting our power turned back on Wednesday, four days after Irma blew through South Florida. It's flickered a few times since then, and I panicked a bit today when we lost it again, but we have started to return to normal. Others aren't so lucky….they'll have to find a new normal.
Several communities are still under water, and many have lost everything. And there are still countless families in the dark, waiting and suffering in the heat for the comfort of electricity.
Millions have lived through the chaos and trauma of Hurricane Irma, though it's touched us in various ways. Some she just skirted by with no effects at all, and some were decimated by the wrath of her eye. She has turned our lives upside down, shaken us to our core, and returned us home to a landscape that looks completely different.
Trees are down, homes are battered, native animals are missing, streetlights don't work, stores don't have much food, gas and ice lines are long, most restaurants aren't open yet, and everyone seems just a bit dazed.
And so today I rested, alone, which is something so many of us need. To take a couple hours to process what we've all been through, and give ourselves some space to heal. It's a lot, whether you stayed or evacuated, both mentally and physically. And now we all need to recover. Not just our homes but our bodies and minds as well.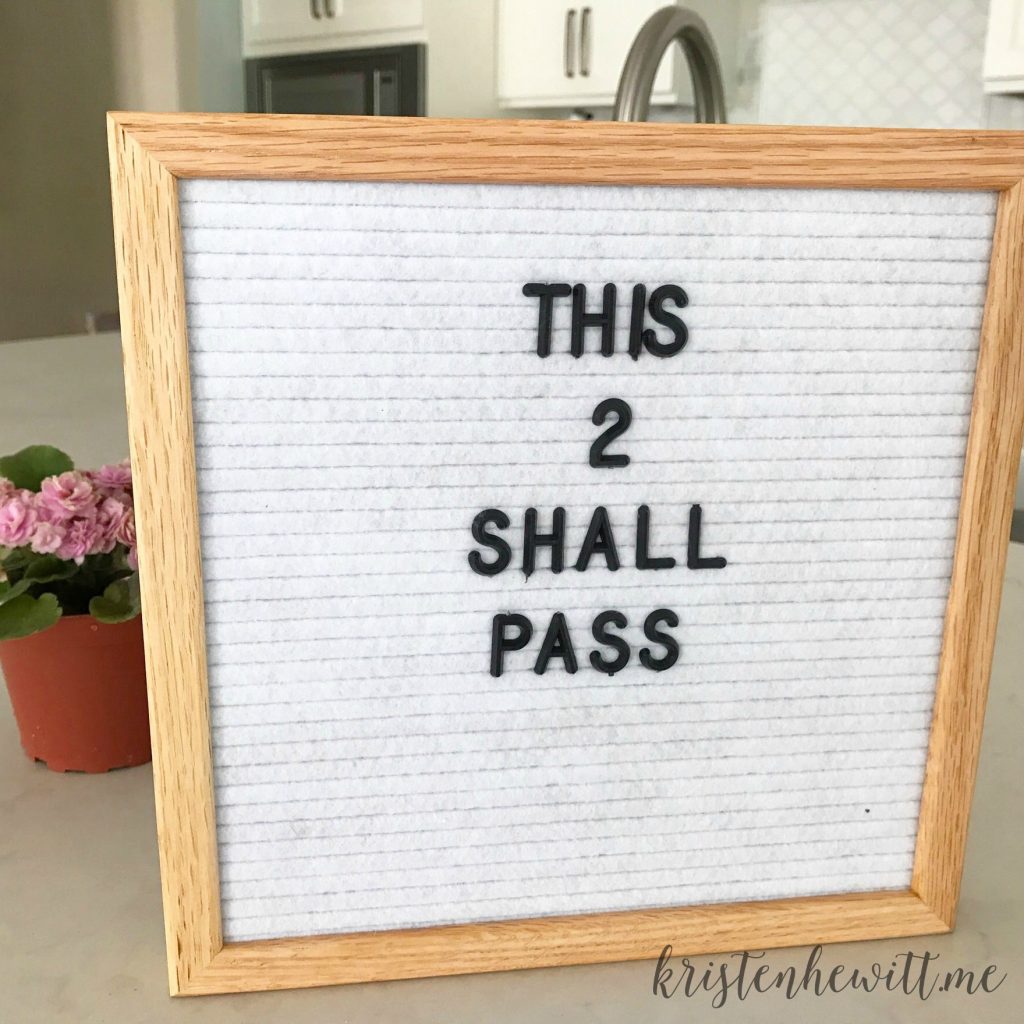 As we all try to make sense of Irma – don't forget to make space for you. We survived, and each day will get just a little bit easier. This too shall pass.
Until the next storm.
*A special thanks to my brother Eric and his wife Heather for welcoming us for nearly a week in their home. Big hugs to Crystal and Joe for letting us stay with them until we got our power back, and also to the many neighbors who loaned us their generator and kindness. We are forever grateful.
If you liked this post, please check out my hurricane hacks. And follow along on Facebook!