Disclosure: This post contains Amazon affiliate links.
Floridians and coast-dwellers are no stranger to hurricanes. We scoff at tropical storms and throw the best hurricane parties. But when a big storm blows to town, we take planning and preparation seriously. We know which neighbors own generators, when to put our shutters up, where to get our propane tanks filled in a hurry, and how much wine to buy. We also know when to evacuate and when to ride out a storm. Except with Hurricane Matthew.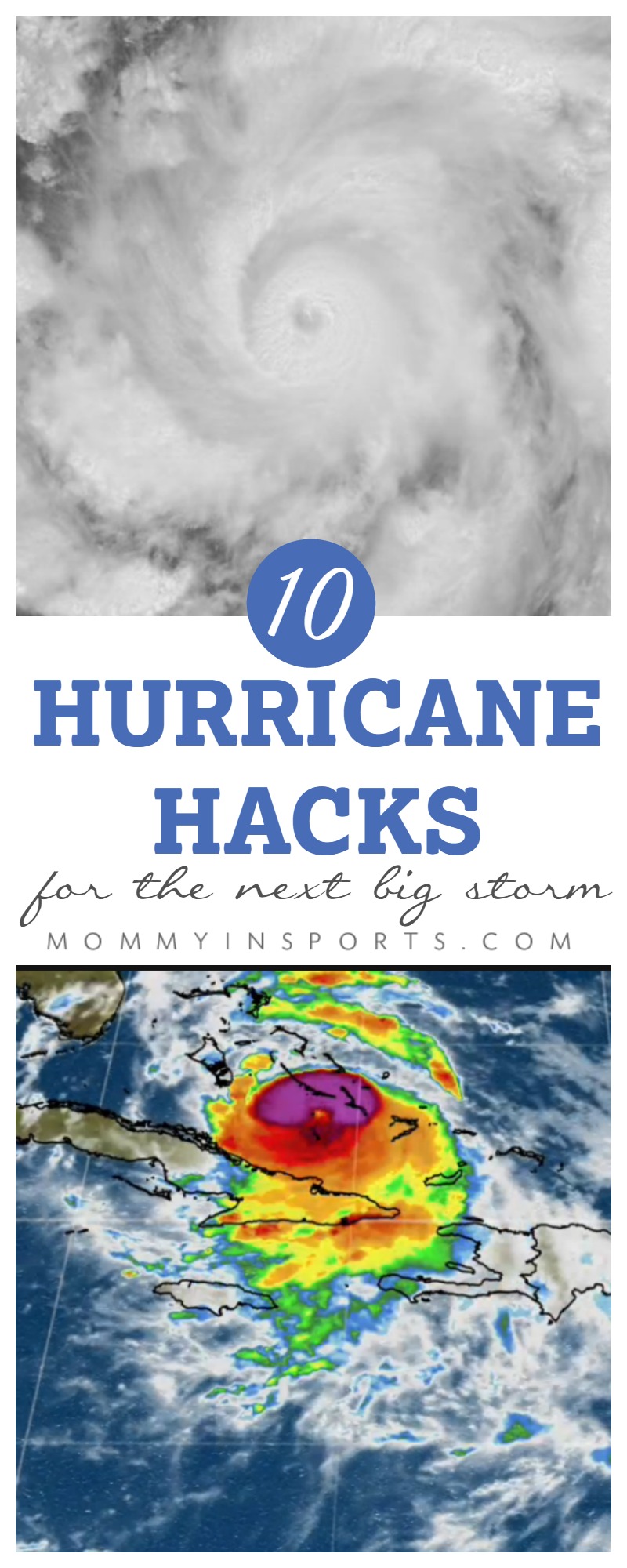 This big category 4 storm is as large as the state of Florida, and as wide, so there's really no place to hide. The last time we rode out a storm was 2005 with Hurricane Wilma, in the B.K era – BEFORE KIDS. So this time around we didn't take any chances and planned for a direct hit. After living in Florida for 38 years, and my husband living here his entire life, we've been through a few hurricanes. So here are some hurricane hacks we've learned to help you ride out the next big storm.
hurricane hacks
I did a Facebook Live video sharing some of our hurricane hacks, but if you prefer read below!
Stockpile Ice & Fill Freezer Bags with Water – Sometimes it's hard to find ice a few days before a storm, and if you DO find it, it doesn't fit in your freezer! So I fill a couple of freezer bags every day leading up to the storm. They are smaller and your freezer will continue to make ice. You can also just fill freezer bags with water and make ice blocks to keep your food and milk cool. My parents also fill milk cartons with water and freeze, whatever works for you!
Freeze Water Bottles – Freeze a few of your water bottles (or an entire case!) to put in your coolers if and when you lose power.
Crank the Air Conditioner – The night before the storm hits, turn down the AC! You want it nice and cool when you lose power. Also, close as many blinds as possible to keep the sunlight and heat out.
Turn Down Your Freezer & Fridge – Chances are when a storm rips through town, it will take your power lines with it. So make sure your freezer and refrigerator are as cold as possible to sustain your food. Also, take pictures of your food so if it spoils you can get reimbursed from the insurance company. (If you don't have a big deductible like we do.)
Take Pictures and Videos of Your House Before the Storm Hits – Don't forget to document your house before the storm, inside and out. Take photos of every room, closet, possessions, and what your home looked like on the exterior as well. This way you have proof of the value of your belongings if storm damage occurs.
Fill Up Your Bathtub – Fill up your bathtub for extra drinking water and to help you flush toilets. Also good for washing if you don't have a pool.
Get Mucho Cash – You know what doesn't work when the power is out? Your debit card. And when the storm is over and you really need that cup of coffee, you will need cash. Or you could just give up coffee like me! Seriously though, it's important during any emergency to have an ample amount of cash to last a week if necessary.
Do the Laundry – Get your clothes clean, you may not have power for awhile. Plus what else do you have to do while you're watching hurricane coverage and listening to your kids complain they're bored?
Charge All Devices – You know what the worst part of a hurricane is? Living without power afterward. So charge those devices, load them with movies and games for the kids, and charge your backup chargers.
Dishwasher to the Rescue – If you need to keep important papers dry, the dishwasher is a great waterproof safe in case of an emergency.
Of course, you need to buy water (which you can order on Amazon, another hack!), food, batteries, flashlights, and extra wine, so here's a comprehensive list for supplies. Hope these hurricane hacks help you ride out the next storm, stay safe!
Here is a comprehensive guide to hurricane safety if you're not sure when to evacuate by Mama in the Now – READ IT!