Disclosure: This post contains affiliate links from Amazon, all opinions are my own.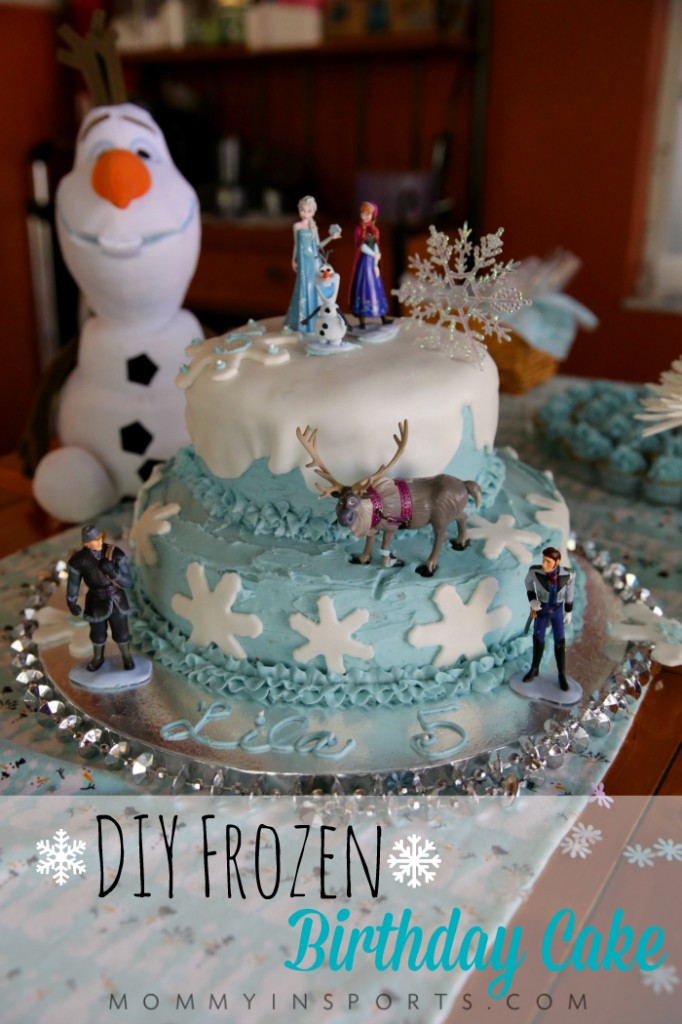 Since the release of the Frozen DVD this week, it seems like it's the first time in forever since we've seen the film. (It's now on automatic loop in the minivan.) And since so many friends are getting ready to throw their kids a Frozen birthday party, I thought I'd share how to make your own special DIY Frozen birthday cake. Minus the big price tag.
I made this two-tiered cake for my daughter's Frozen 5th birthday party. After perusing Pinterest I found tons of gorgeous cake ideas…but then priced them out with local bakeries and home based bakers and was shocked at the price. I figured how hard could a two-tiered cake be? It was surprisingly easy, as I split up the process over a week so it wasn't overwhelming.
So if you are a novice baker like me, here's the dummies guide to baking this DIY Frozen birthday cake! Please note I am not a professional and have zero culinary training. Unless you count hours baking and tasting my own confections!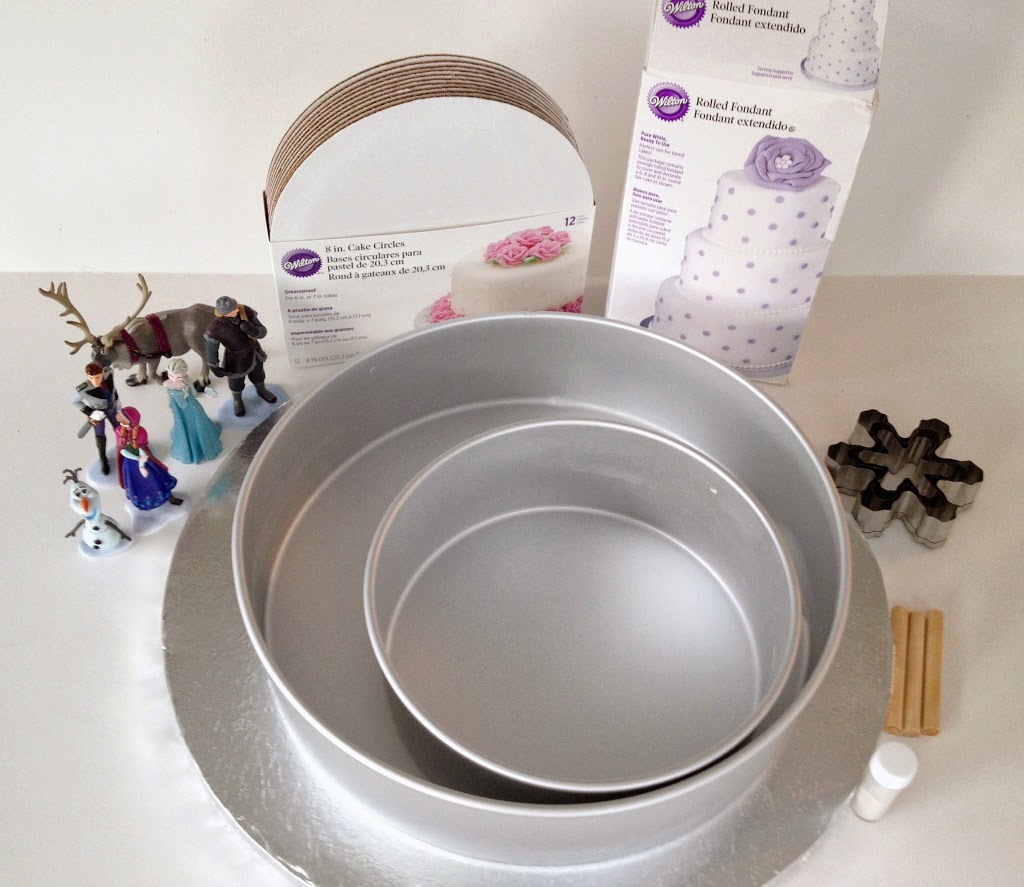 WHAT YOU NEED
2 – 12 inch pans
2 – 8 inch pans
Snowflake cookie cutters
Fondant
Dowels
8″ inch cardboard cake circle
Frozen Figurines
Cake Base
Cake Ingredients
BAKING THE CAKE
Here's a tip I learned from a friend that's a baker, bake the DIY Frozen birthday cake way in advance and freeze it. I made the two 12″ inch layers, and two 8″ inch layers a week before the party, and froze them. You can do boxed cake, or scratch. I did vanilla cake for the bottom layers, (here's my go to recipe), and chocolate for the top. The Hershey's recipe rocked by the way, it was my first time trying it! After they cool just wrap them in cling wraps, stack them in the freezer. This is the easiest way to frost them, as you won't get those annoying crumbs!
Oh and for the 12″ inch cakes, I doubled the yellow cake recipe, or that would be two boxed cake mixes. A single recipe is fine for the 8″ inch cakes.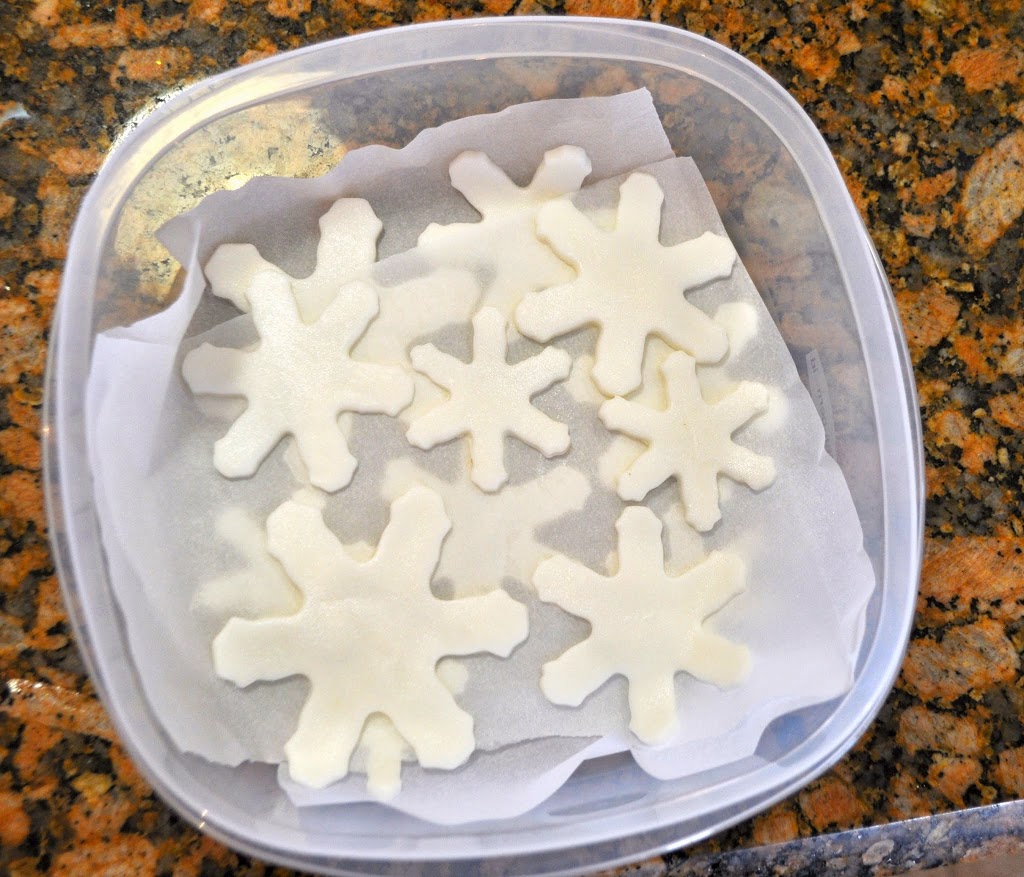 DECORATIONS
Here's another time saving tip…you can roll out the fondant a week out as well, and then use snowflake cookie cutters in varying sizes to cut snowflakes for decorations. I also bought iridescent powder for fondant at Michael's to make the snowflakes sparkle. I stored these in an airtight container and then just popped them on the cake after it was frosted.
I also rolled out the snow for the top of the cake early as well, and cut the rounded snowy edges with a pizza cutter. Actually my friend Amy did this…with her fancy fondant rolling mat and pin…while I watched in awe. Thanks Amy!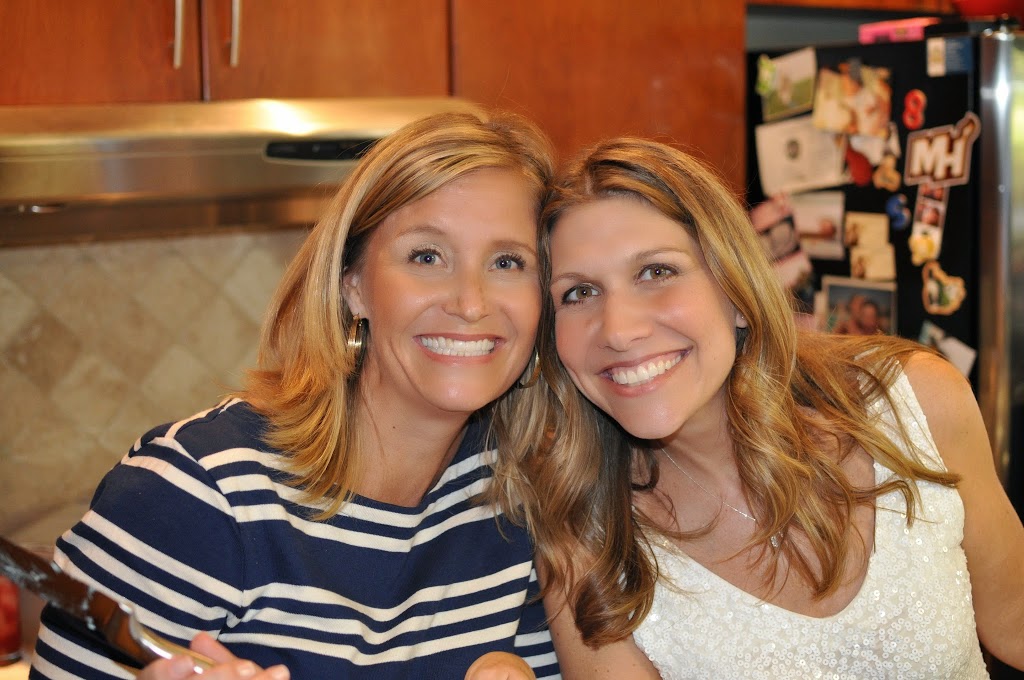 Thank God for good friends…especially the crafty & baking kind!
CAKE ASSEMBLY
Here's the quick way to put this DIY Frozen birthday cake together on the day of the party. First set out your cake base and line with wax or parchment paper around the edge of the cakes. Then frost! I made the frosting the night before. When you are done with the icing process, you just slide out the parchment paper and voila, you have a clean cake base!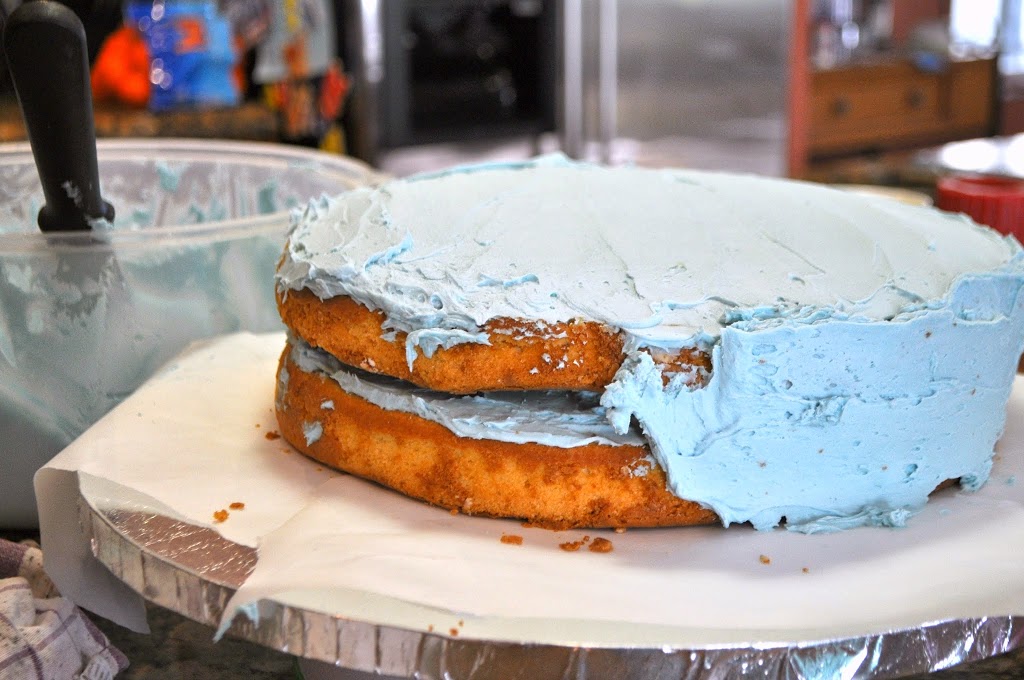 Next put in dowels to support the weight of the next tier. Some say this is unnecessary, but I went ahead and did it just to be safe.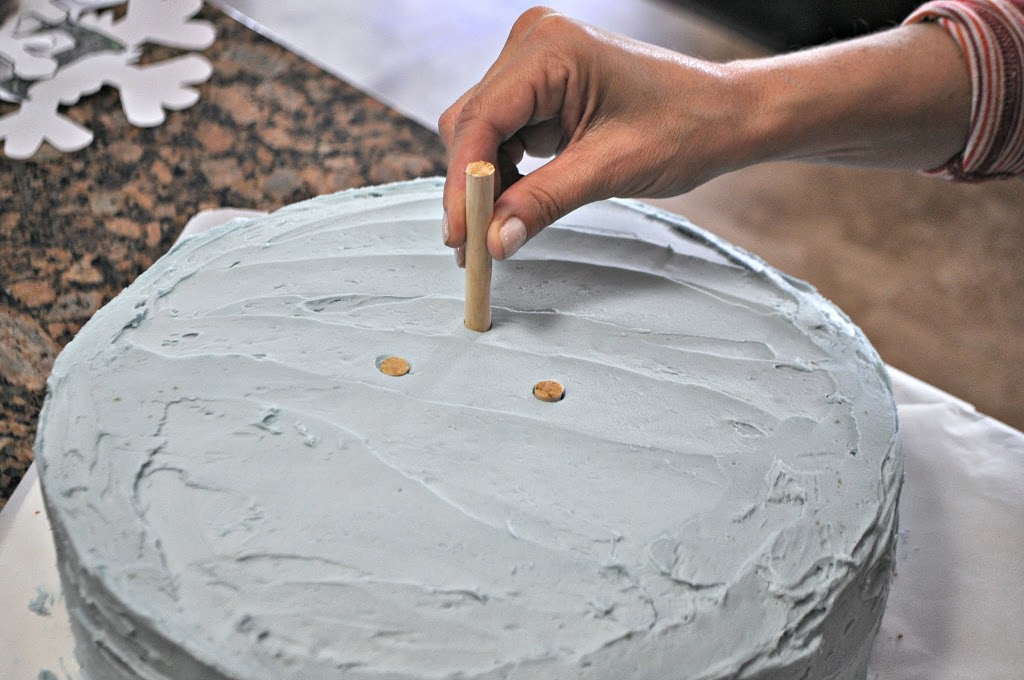 Next put your 8″ inch layers on an 8″ inch cardboard circle. This way you can easily remove the top tier to cut and serve. I put a little frosting on the cardboard circle to prevent the cake from sticking in case we wanted to separate it. Then frost the top layers!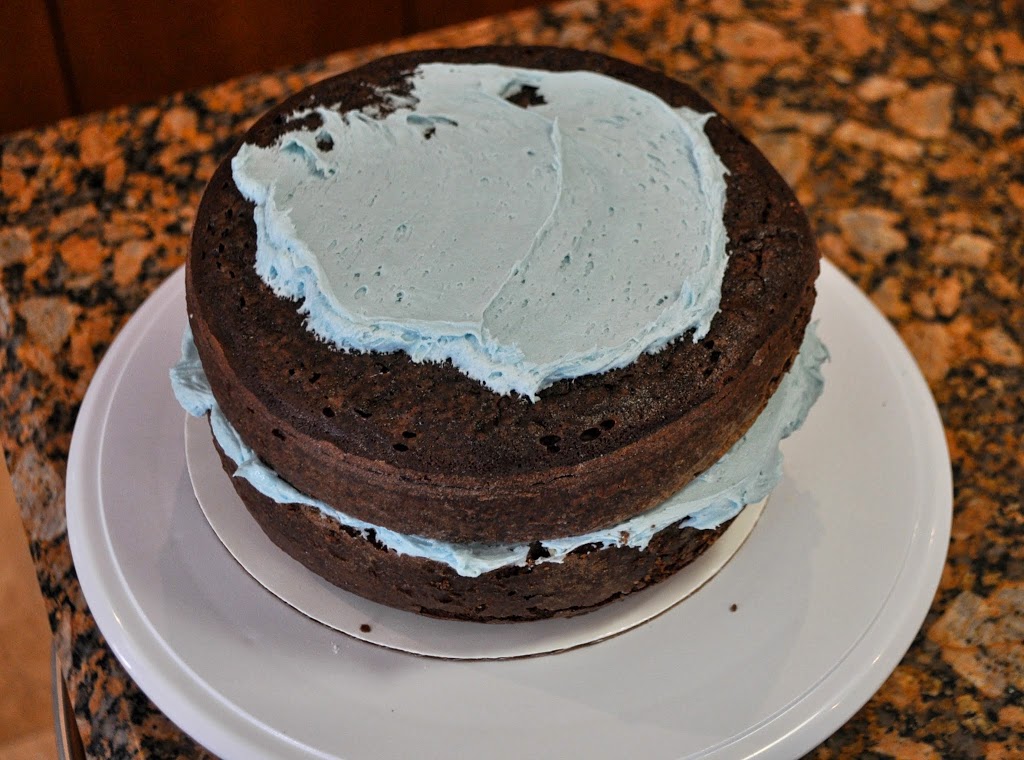 Now it's time to put the tiers together and decorate!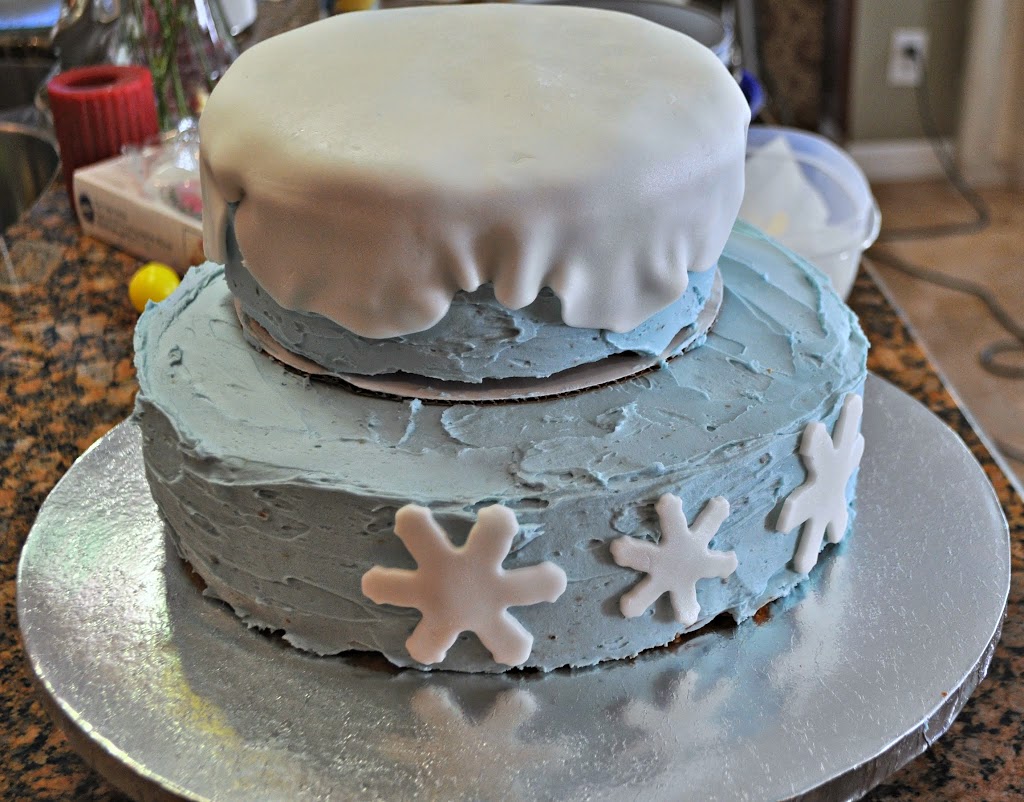 Don't forget piping around the base of the cakes! I totally need to take a class on decorating, but this turned out pretty cute. I wish I had saved a bit of white frosting for the piping, instead of using the same blue. I also added Frozen figurines from the Disney Store as the final touch, as well as a snowflake from my Christmas tree boxes.
And I wrote Lila's name and age on the cake base, and on leftover fondant snowflakes.
Since I had extra frosting, I pulled out some mini cupcakes I had baked from the freezer, and added them to the dessert table.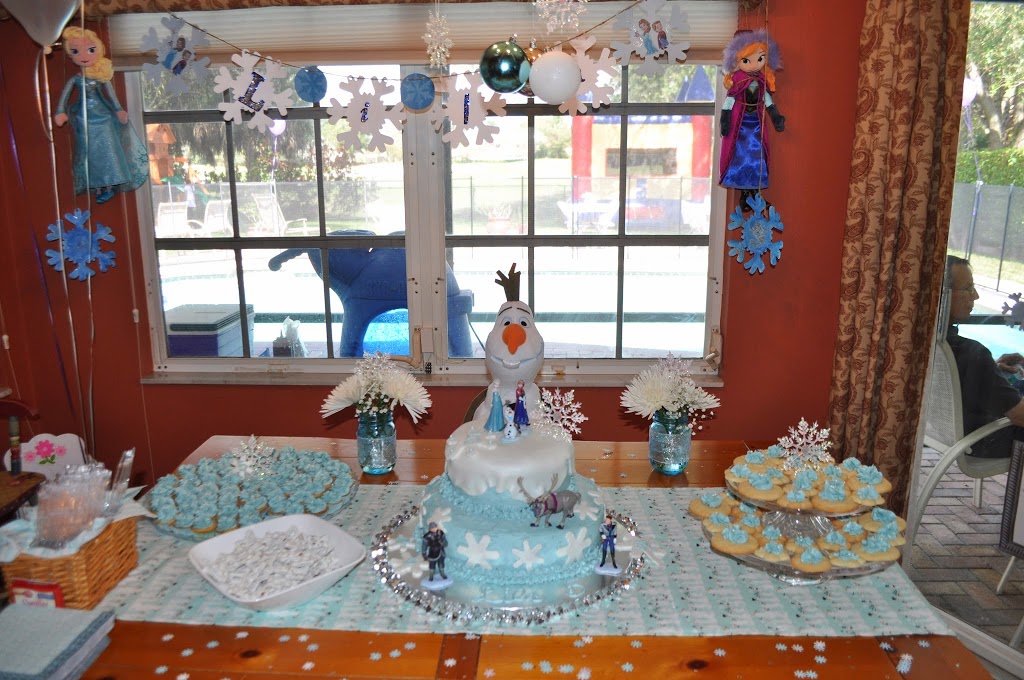 The whole process of baking the cakes and cupcakes took about 3-4 hours, including cleanup. And then the day of the party it took about 2 hours total to assemble and frost the cakes. As for the cost, since I had to buy the cake pans, fondant, cake base and cardboard circles, it was about $80. And that includes ingredients for cakes, frosting, cupcake liners, and all the decorations for the cake. It might have been cheaper to order one from a grocery store, but nothing tastes better to me than a homemade cake with buttercream frosting! Plus I love baking, and this was a fun challenge for me.
And she was pretty happy too.
And it was de-lish…if I do say so myself!
Not bad for my first try at multiple tiers…but I still need some practice in the art of icing and decorating. Baby steps! What do you think of this DIY Frozen birthday cake?
Fancy cakes of course aren't necessary…but they sure are fun to make! If you are indeed throwing a Frozen birthday party, here are some ideas for
decorations
,
favors
, and fun! Oh and grown up
slushies
make the time pass for the parents.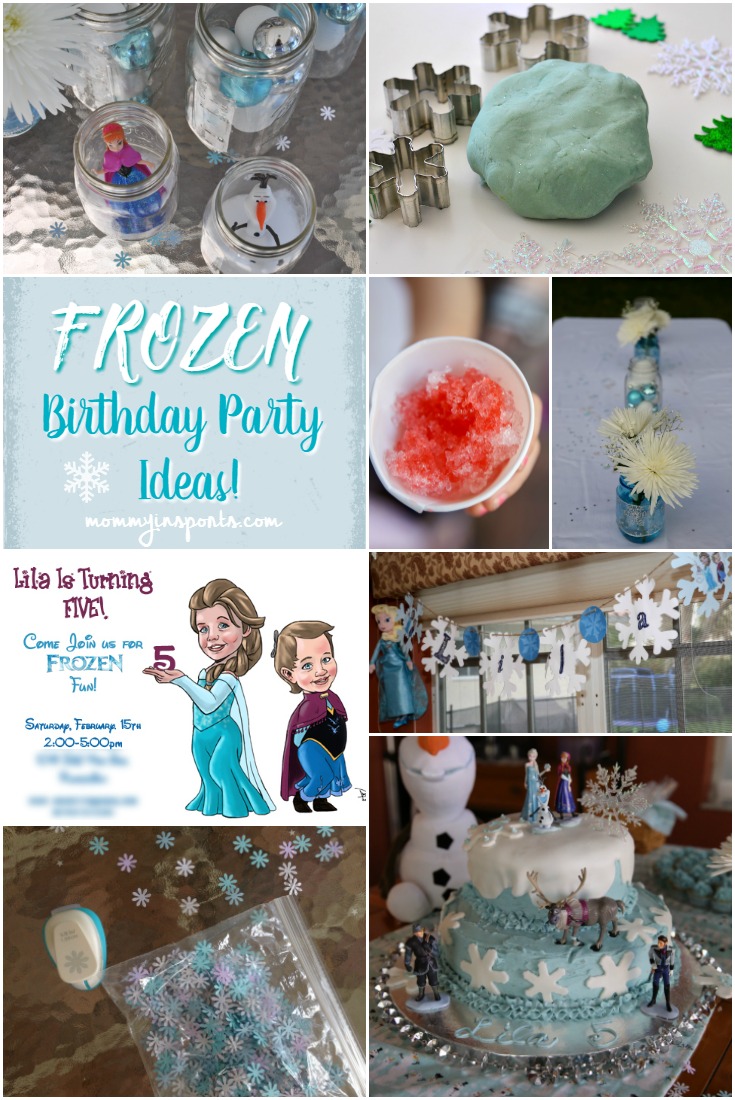 Follow mommy in SPORTS on Facebook for more great birthday party ideas, crafts, and parenting stories!
will you try your hand at baking this cake?