Thanksgiving weekend came and went and I didn't get the decorations up. I have no intention of putting up outdoor decorations this year either.
My usual love of shopping and picking the perfect gifts for the ones I love has disappeared, replaced with quick Groupon and Amazon picks on my phone. I didn't play Christmas music all weekend and I'm already scoffing at my beloved Hallmark Christmas movies, "Where is this so-called Christmas magic? Who goes Christmas caroling?"
I'm seriously considering offing the Elf forever – I mean why did I even start this tradition?!
And I roll my eyes every time I see a car with reindeer ears and a red nose.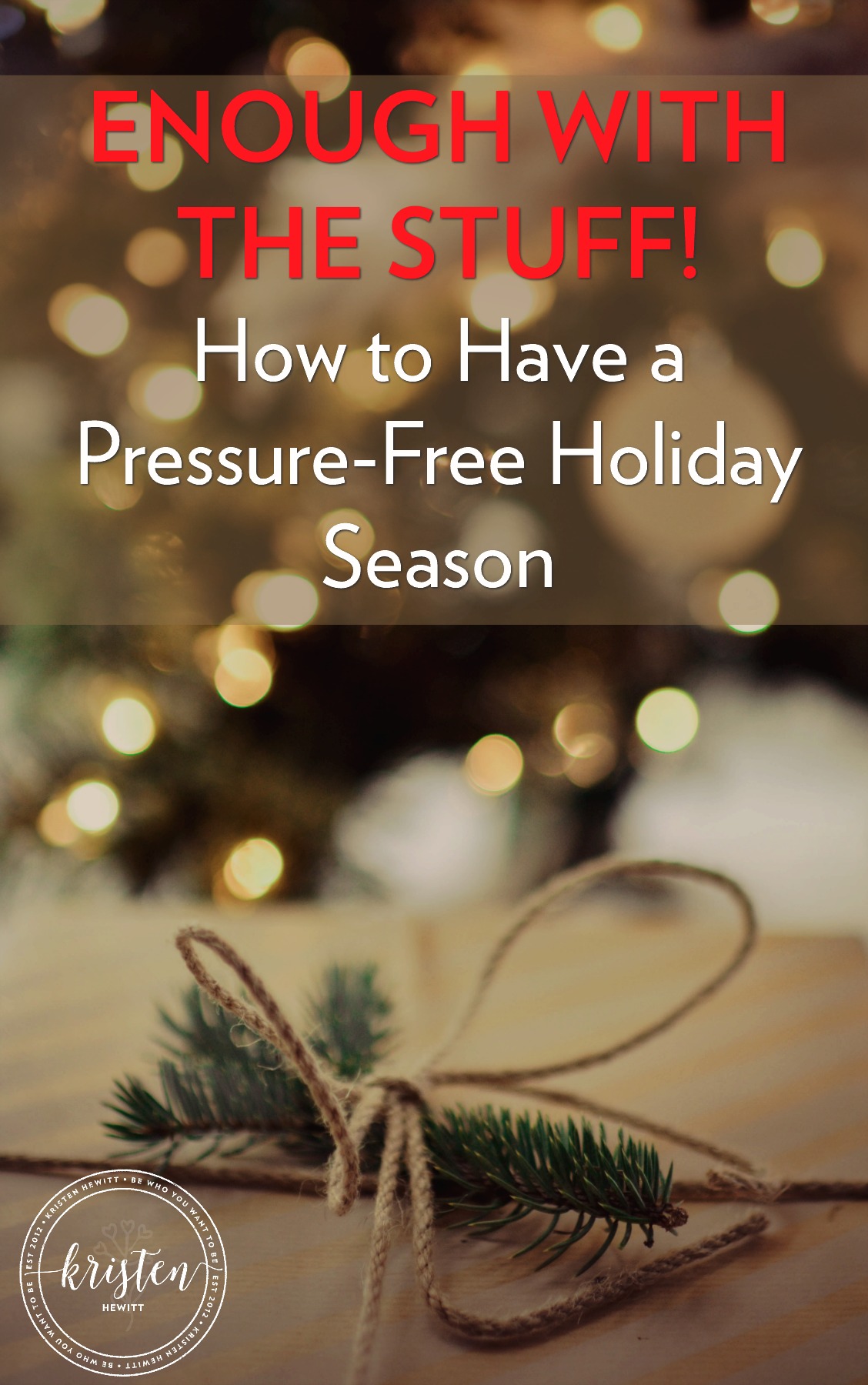 I'm left wondering…am I a Scrooge? Why is there so much pressure to make this the most wonderful time of the year? Can't we be kind and loving to each other, help our neighbors, and celebrate Christ all year long?
I didn't used to feel this way. I used to love all things Christmas, baking, crafting, and Black Friday sales. But now it feels like it's become too much.
Too much pressure from retailers to buy all the things – when all we really need is more time together.
Too much competition on Instagram to have not one but two Christmas trees – with color coordinated stockings hung on a mantle we don't have because it's 88 degrees and we don't own a flipping fireplace!
I mean who has time to work, take care of the kids, take care of yourselves, and make it the hap hap happiest freaking month for everyone you know?
I don't.
I don't have the time or energy to worry about the perfect anything. Gift bags and gift cards will likely be my BFF this year. We may not see Santa and that's OK because my daughter thinks it's weird to sit on a strange man's lap. And I may order Christmas Eve dinner from Whole Foods eaten on paper plates so I don't have to cook and clean and slave for 48 hours.
Ya'll…the holidays are anything you make them. They can be stressful and exhausting as we try to keep up with the Smiths and the Jones (no apostrophe) with your perfect cards, or they can be relaxing and laid back.
The choice is yours. But this year I choose making quality time and memories with my family. I choose easy and relaxing. I choose God and the reason for the season.
And I choose me.
If you liked this post, please follow along on Facebook. You might also like WHY WE ARE DOING SO MUCH LESS THIS HOLIDAY SEASON.