The holidays can be so draining both physically and financially. We're spending loads of money on cards, gifts, food, travel, and more, so when it comes to holiday decor it's time to get creative. I'm all about using what you have to create simple yet beautiful DIY holiday centerpieces!
I was beyond thrilled with a local TV Network, the SFLCW asked me to appear on their Holiday Fix show to talk about this very topic…not as a host, but as a guest! Use your imagination, mason jars, wine glasses, and cake plates oh my! Need some inspiration? Here are a few simple DIY holiday centerpieces I created using items I mostly already had in our home.
5 simple diy holiday centerpieces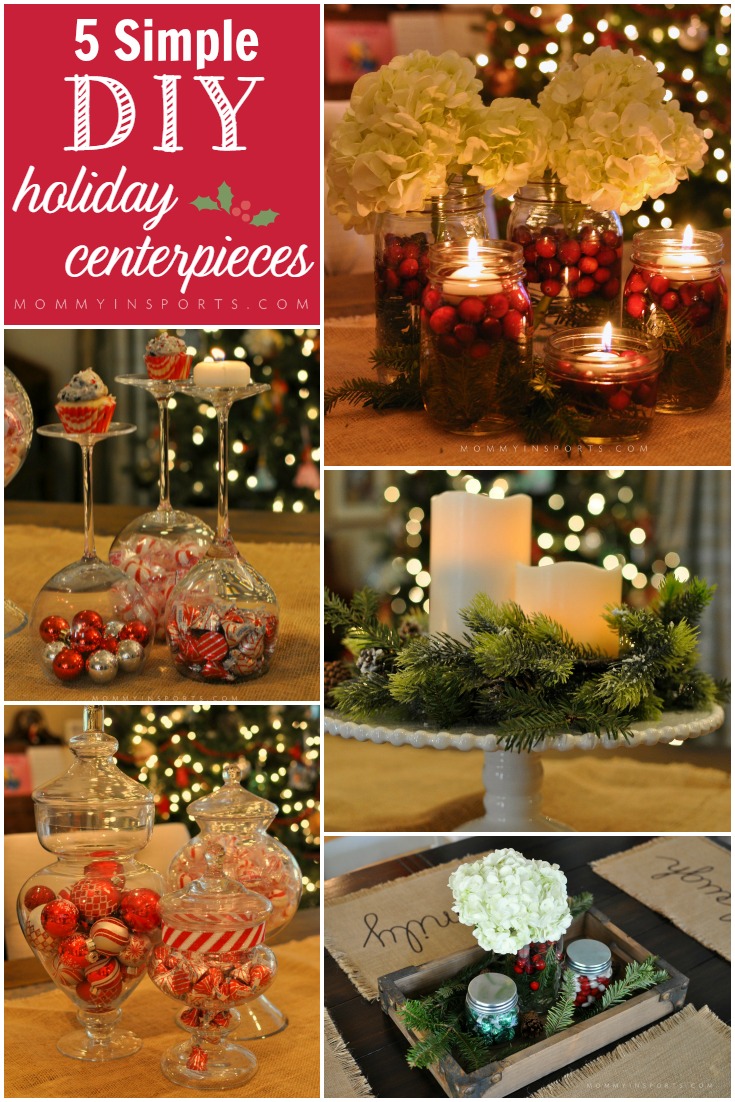 apothecary jars
I think everyone needs to own apothecary jars for any occasion. You can fill them with fall gourds and M&M's duirng the fall, use them as a candy bar at your kids party, or for the holidays give them a festive finish! I filled these with peppermints, Hershey's kisses, and ornaments in red and white, and even hot glued ribbon on one in case you want to get extra crafty! Pretty and whimsical! These sit atop my entertainment center.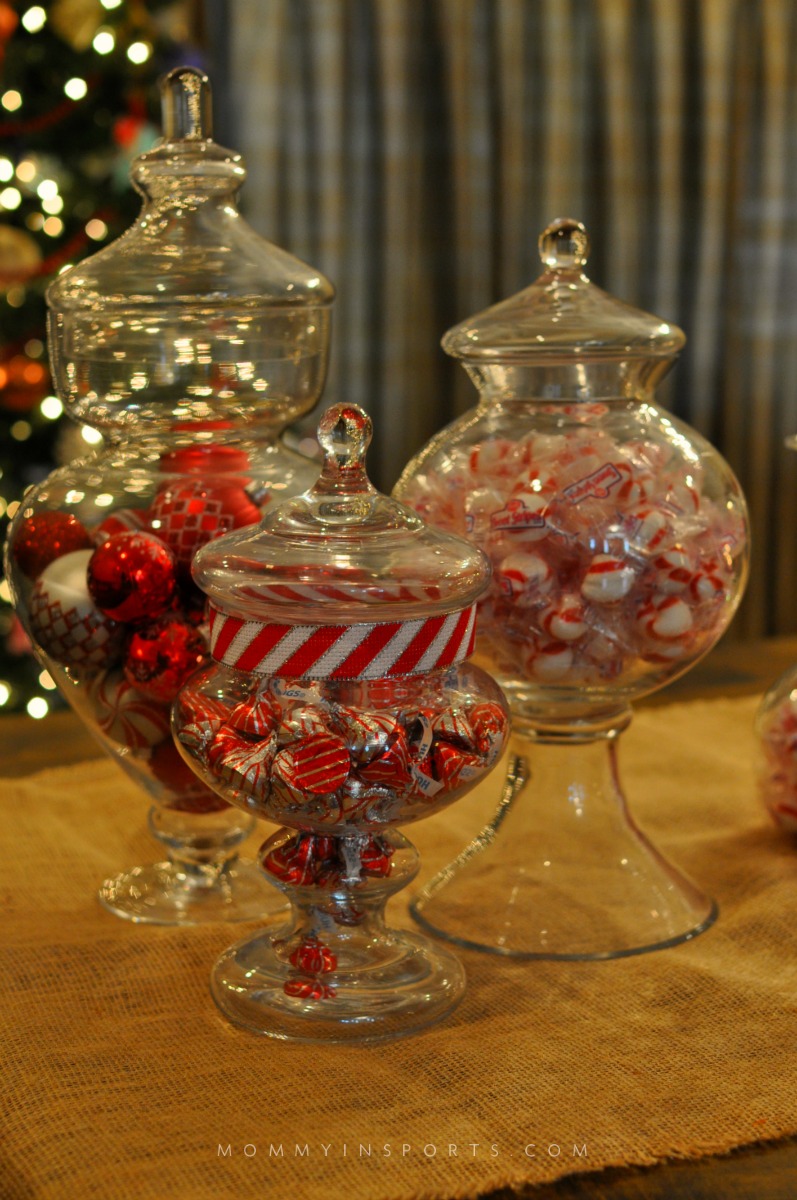 wine glasses
Want to achieve the same look as the apothecary jars at a fraction of the cost? Use your wine glasses! Just flip them upside down and fill with candies or ornaments!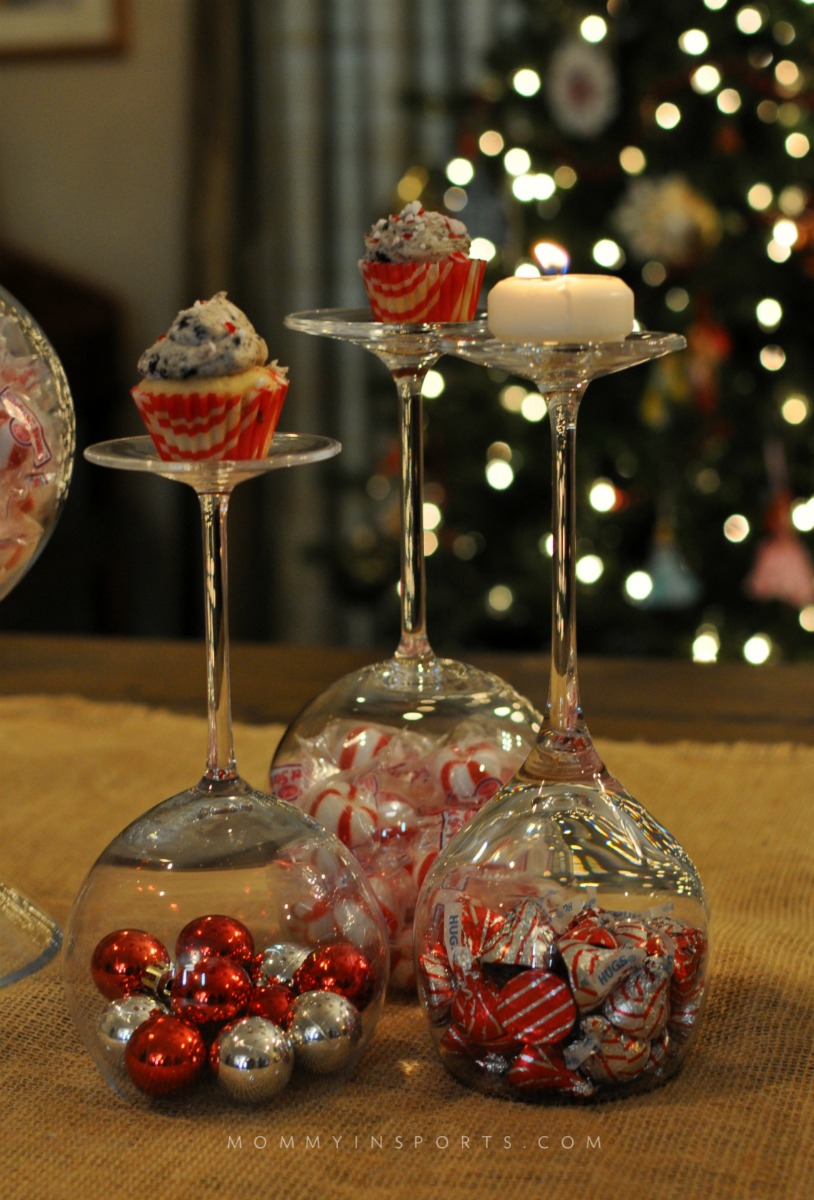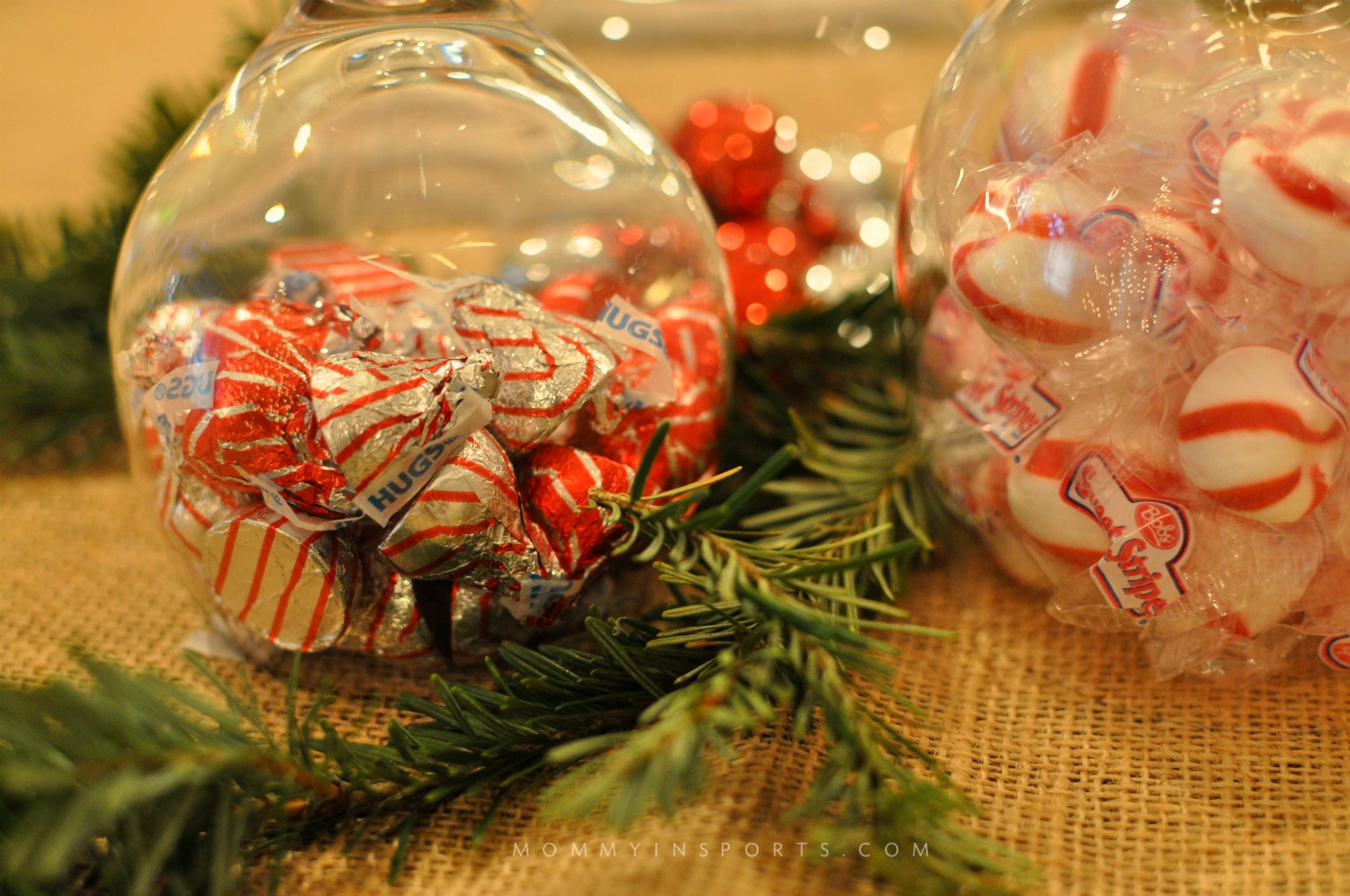 You can top them with candles or cupcakes!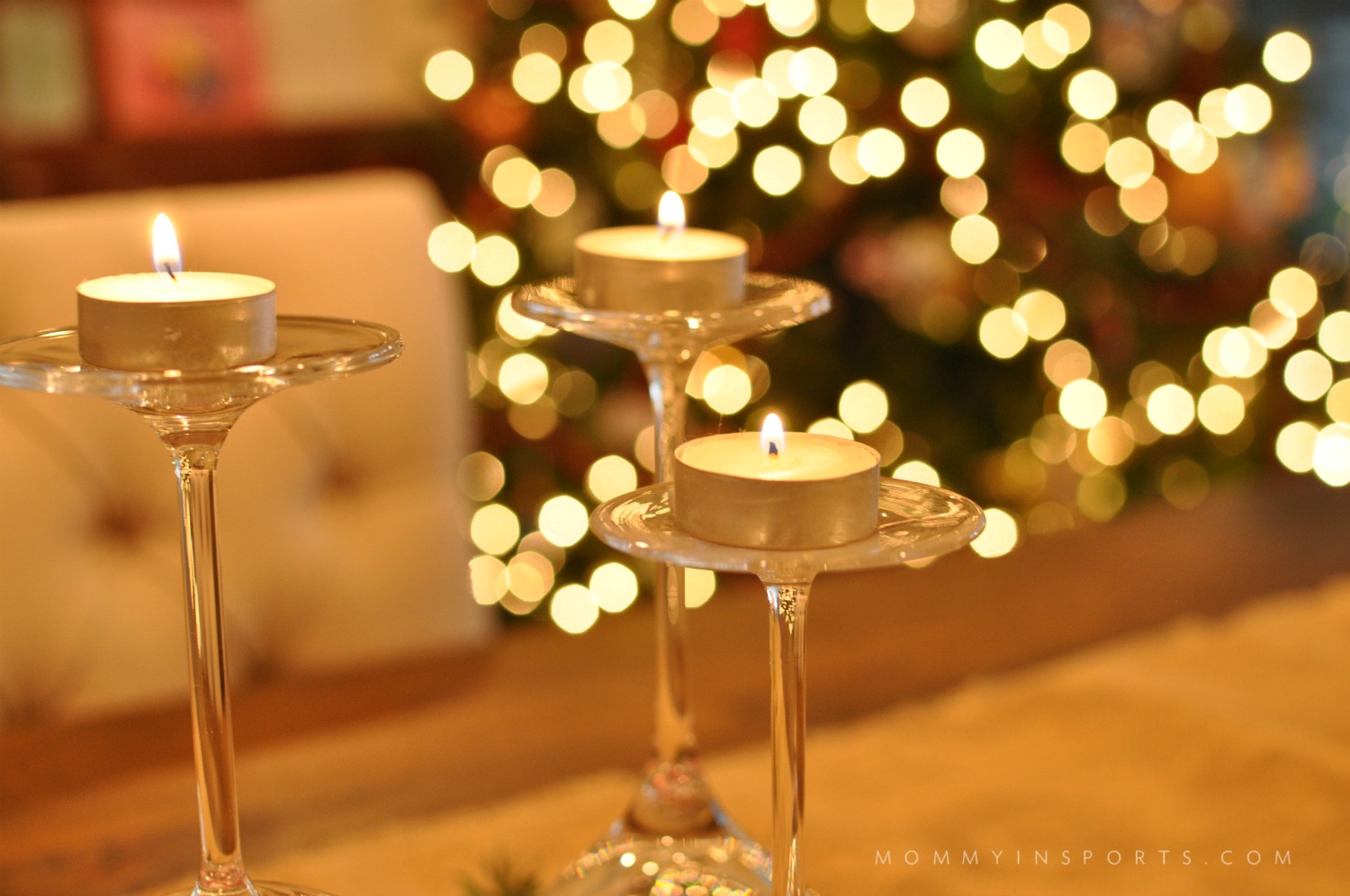 mason jars
It's safe to say I'm obsessed with mason mars and these centerpieces. They really deserve their own blog post! I purchased loads of mason jars for my mom's 70th birthday soiree, and they're so versatile I've re-used them for numerous projects and birthday parites. Yes they are perfect for Frozen, Ariel, and beyond!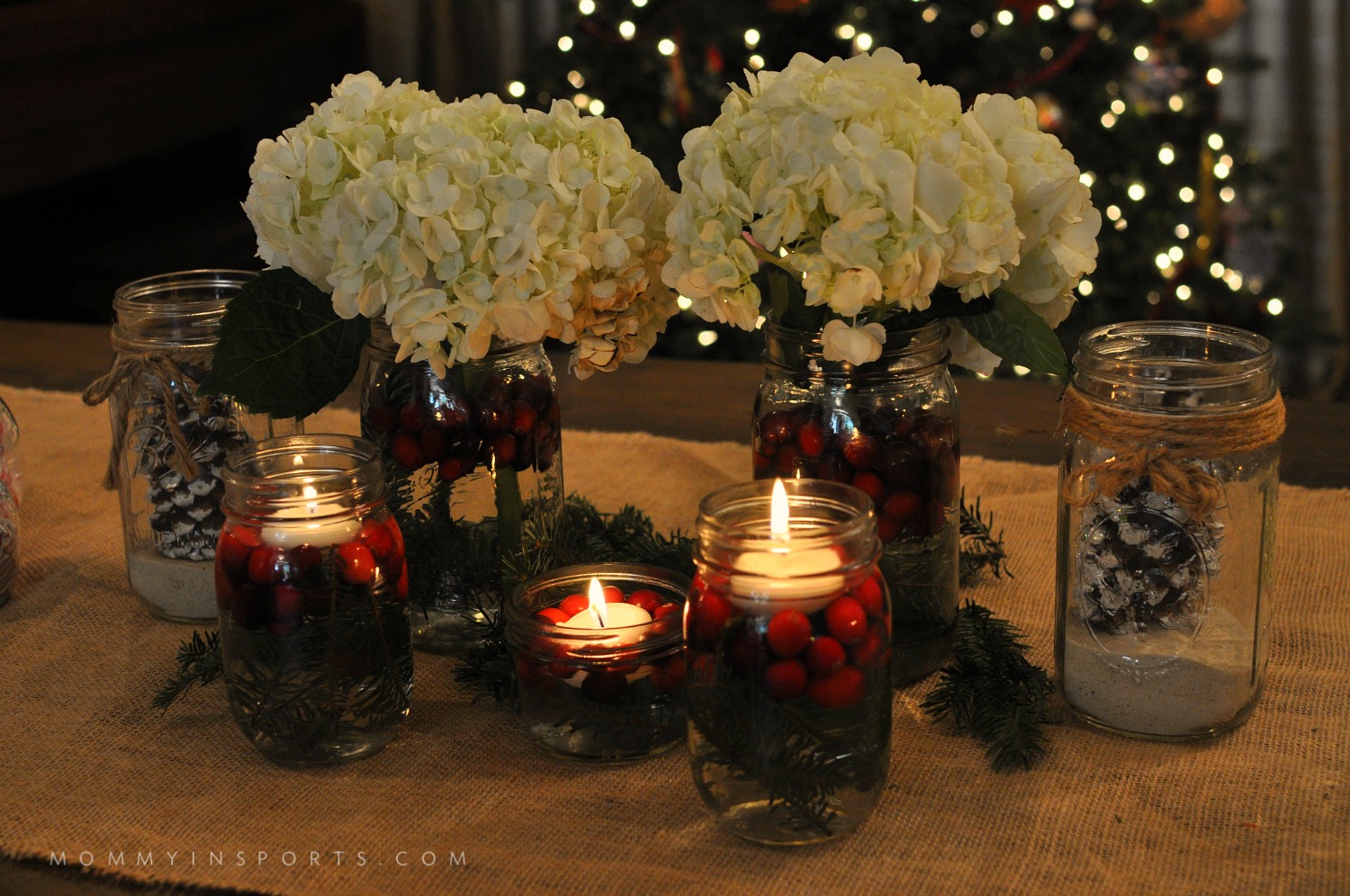 For these I just put fresh cranberries in various size mason jars, and added Christmas tree clippings. Those were free at our local tree lot!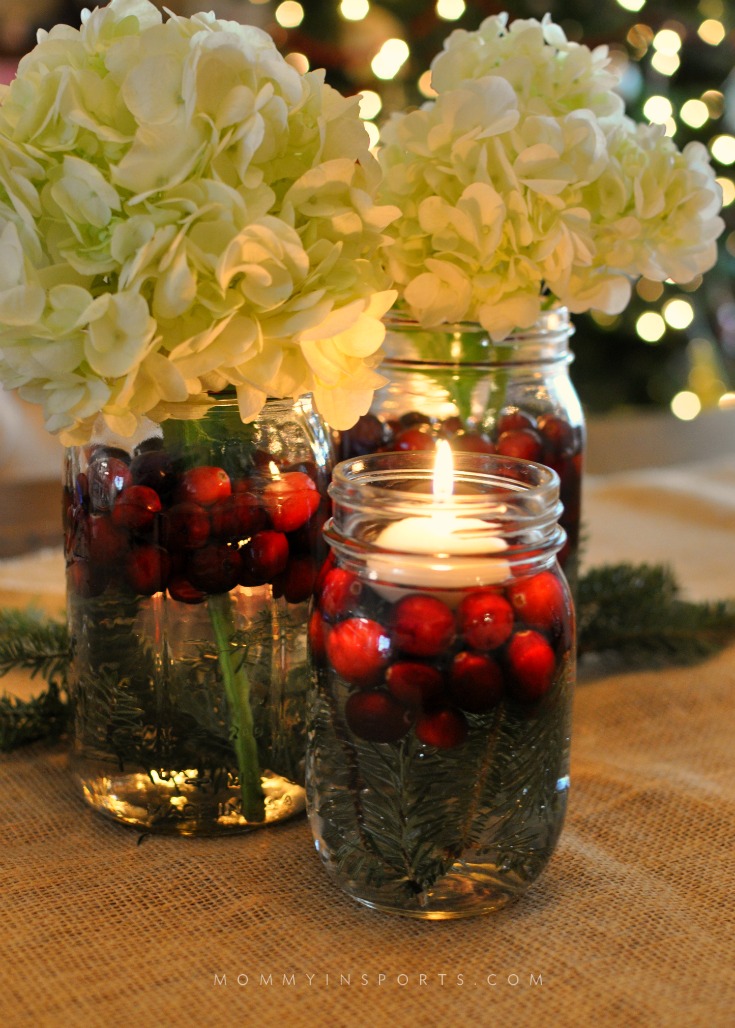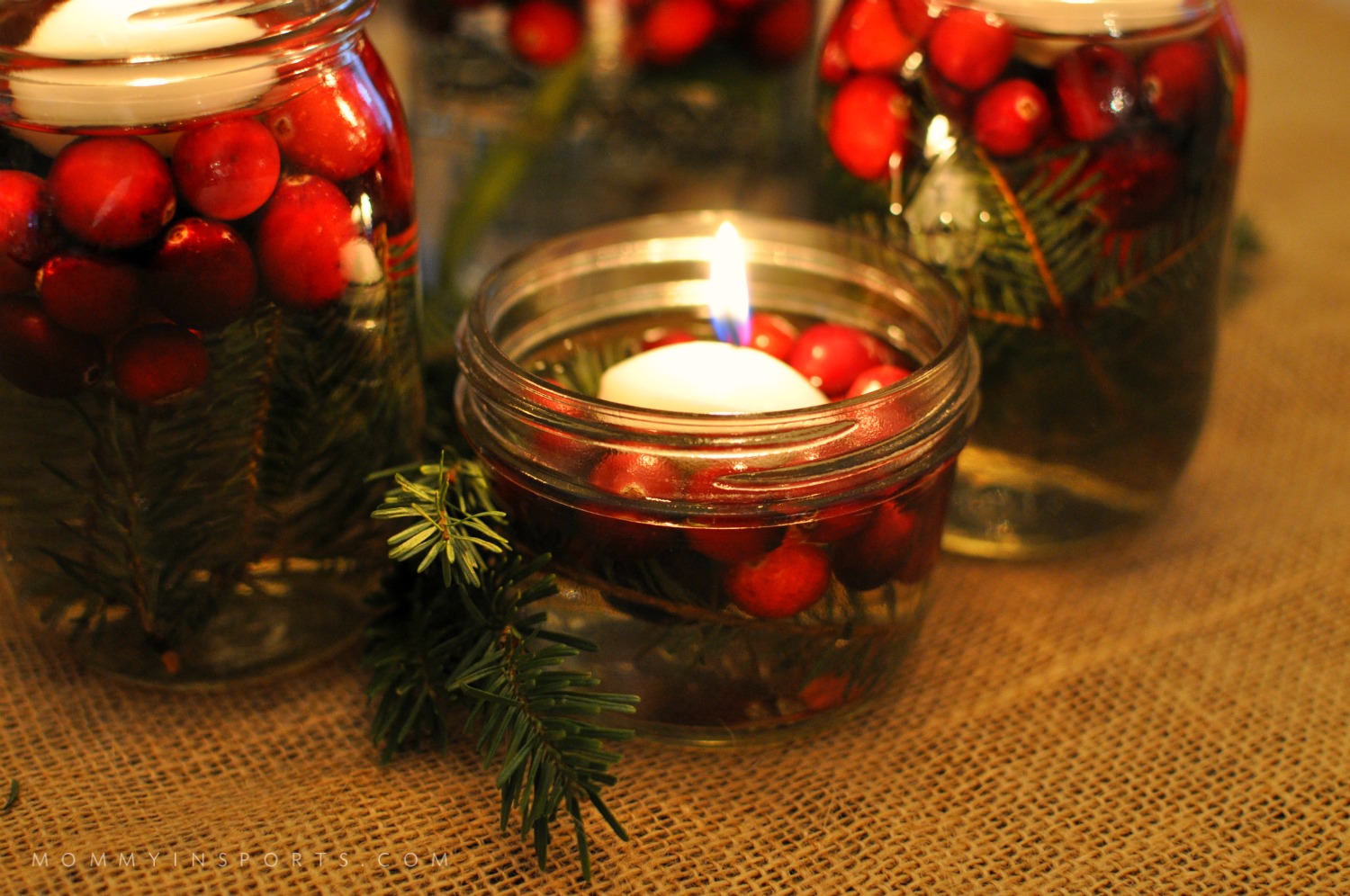 Add some floating candles and white hydrangea and you have a rustic yet chic setting for the holidays! The flowers were sold in a packege of three hydrangea for $5 at Trader Joe's , and the cranberries just $2.50. Can't beat the price!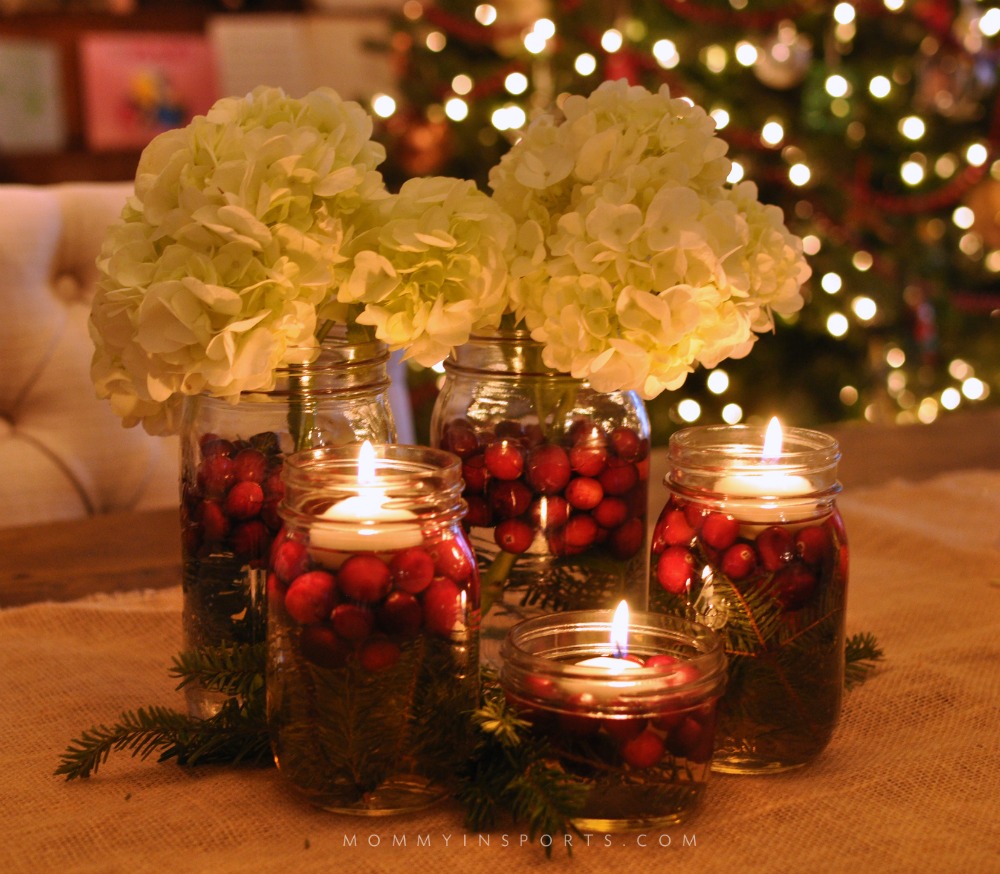 Keep in mind you can also just put pinecones or other wintery items in mason jars as well!
cake plate centerpiece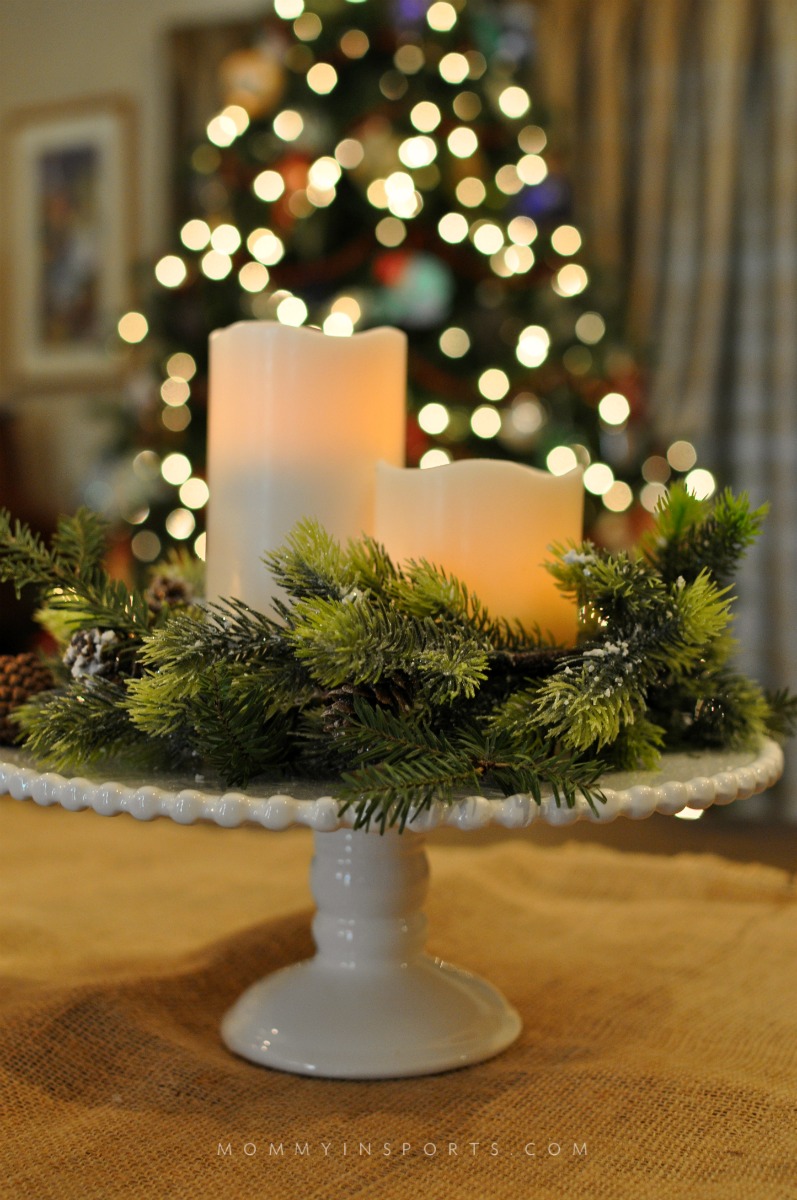 How cute is this? I literally just grabbed my cake plate, grabbed some greenery from an old candle, added some fresh evergreen clippings, a few pine cones, and dug out these battery powered flameless candles. Total price $0, but the look is priceless!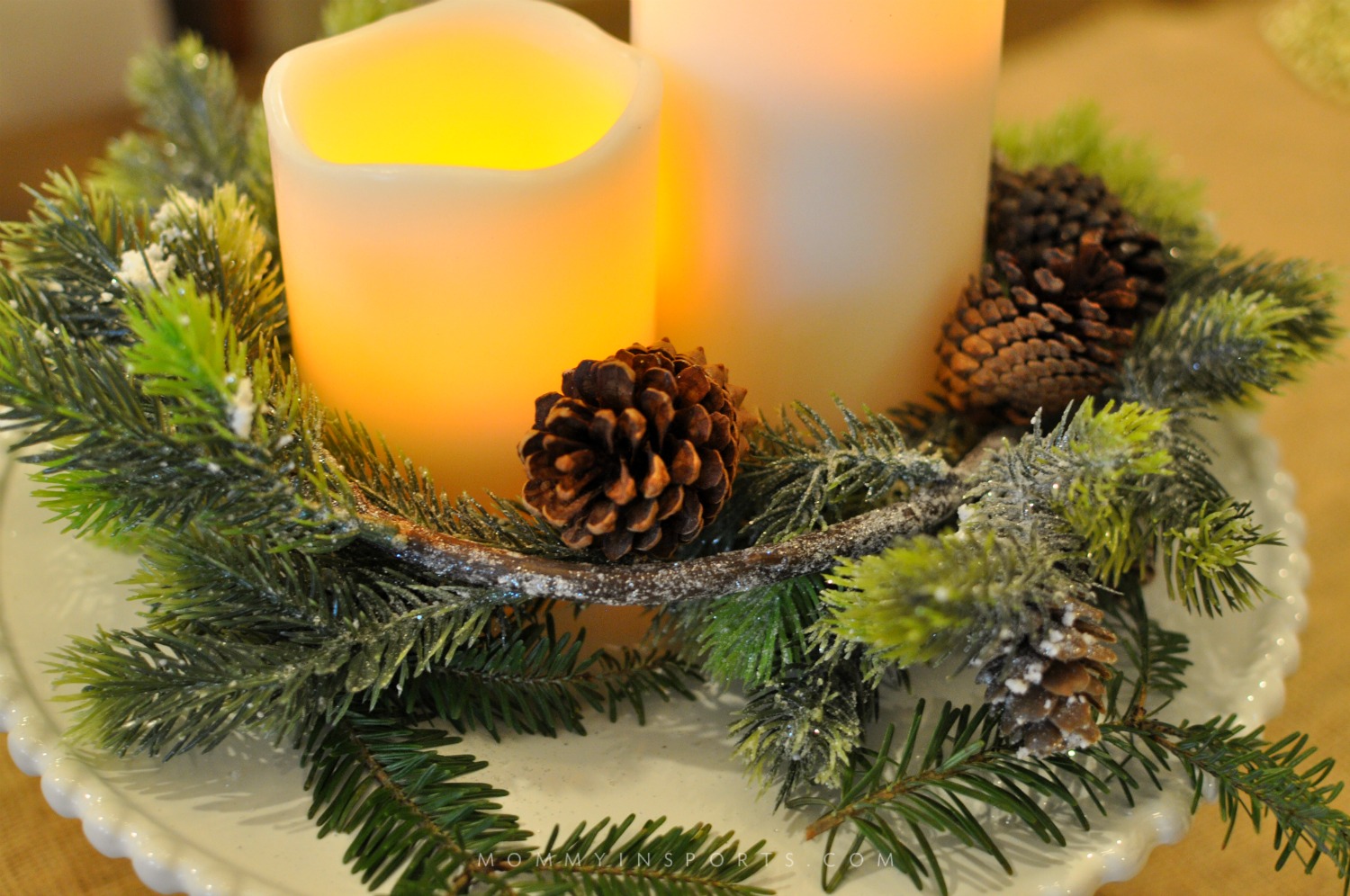 This lovely centerpiece sits on our kitchen island, and will live there throughout winter! A lovely way to pretend the seasons are changing here in South Florida!
wooden box or wine crate centerpiece
This hodgepodge turned out to be a conglomeration of all of the above combined. I meant to use my wooden wine crate but it was too big, so I pulled out this wooden tray I use on top of our ottoman.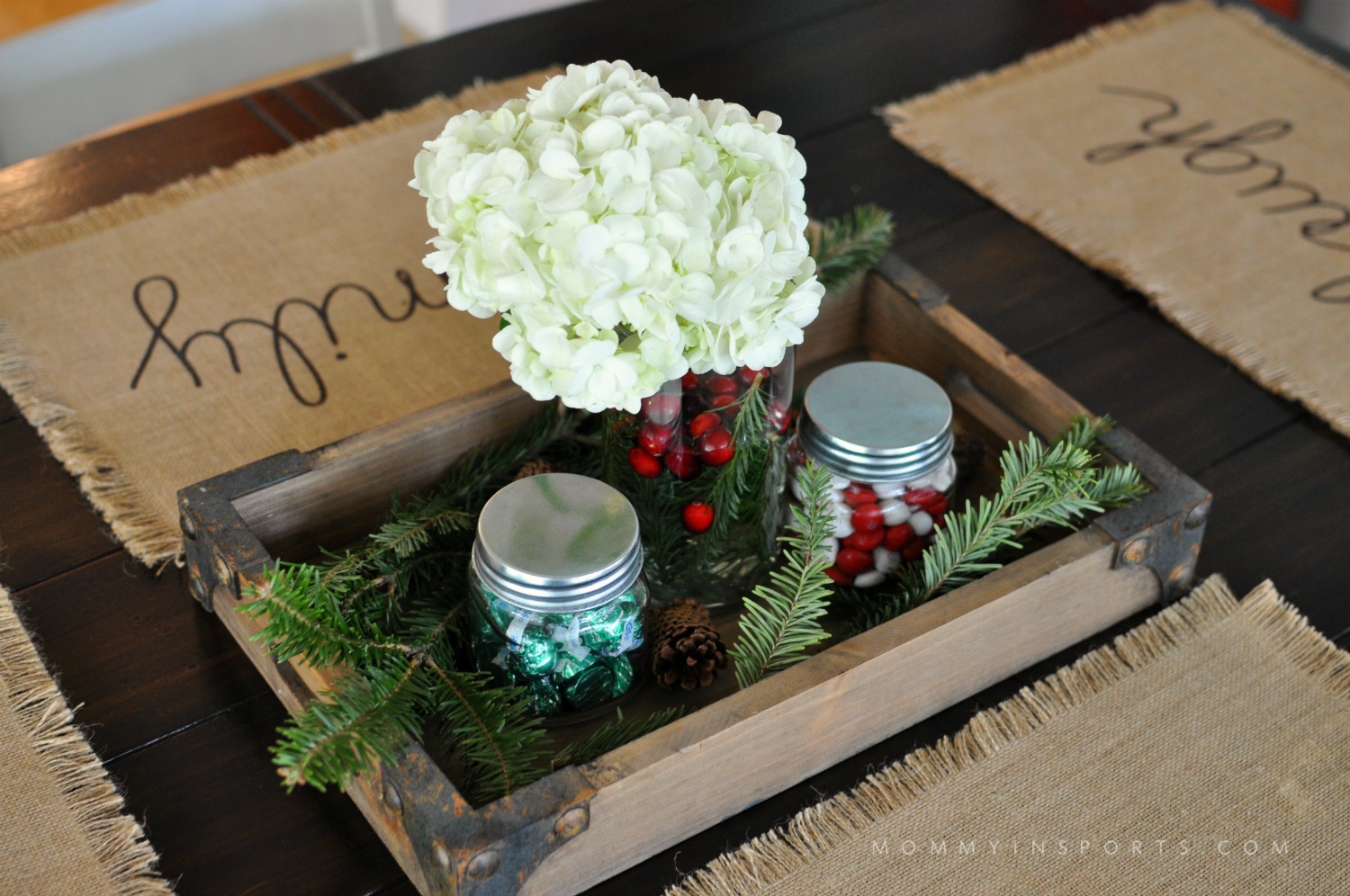 I added some $1 jars from Target I had leftover from our fall decorations, some candies…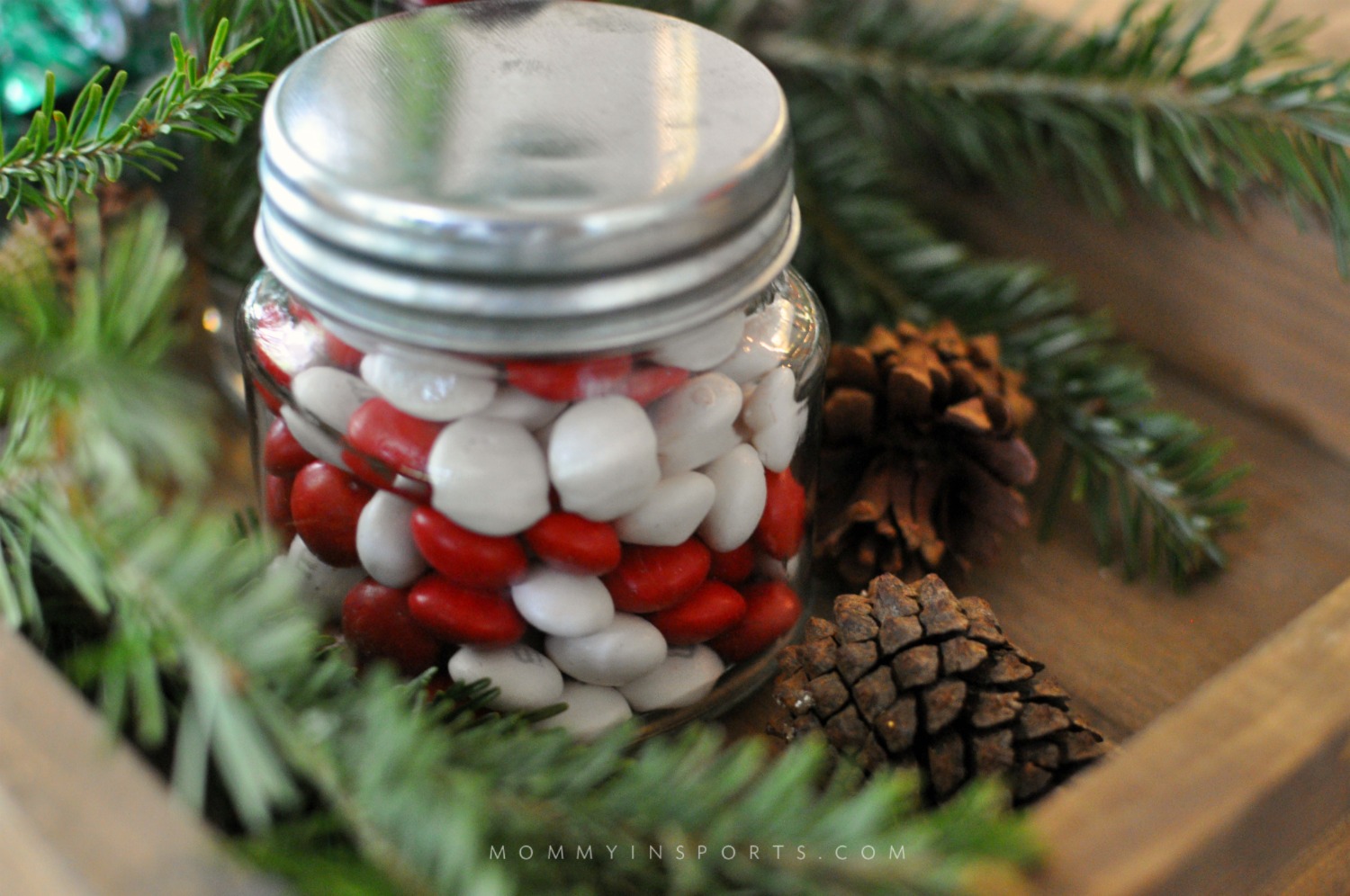 and some more pine cones and fresh evergreen clippings. So pretty! Use this on your ottoman or maybe in your kitchen nook.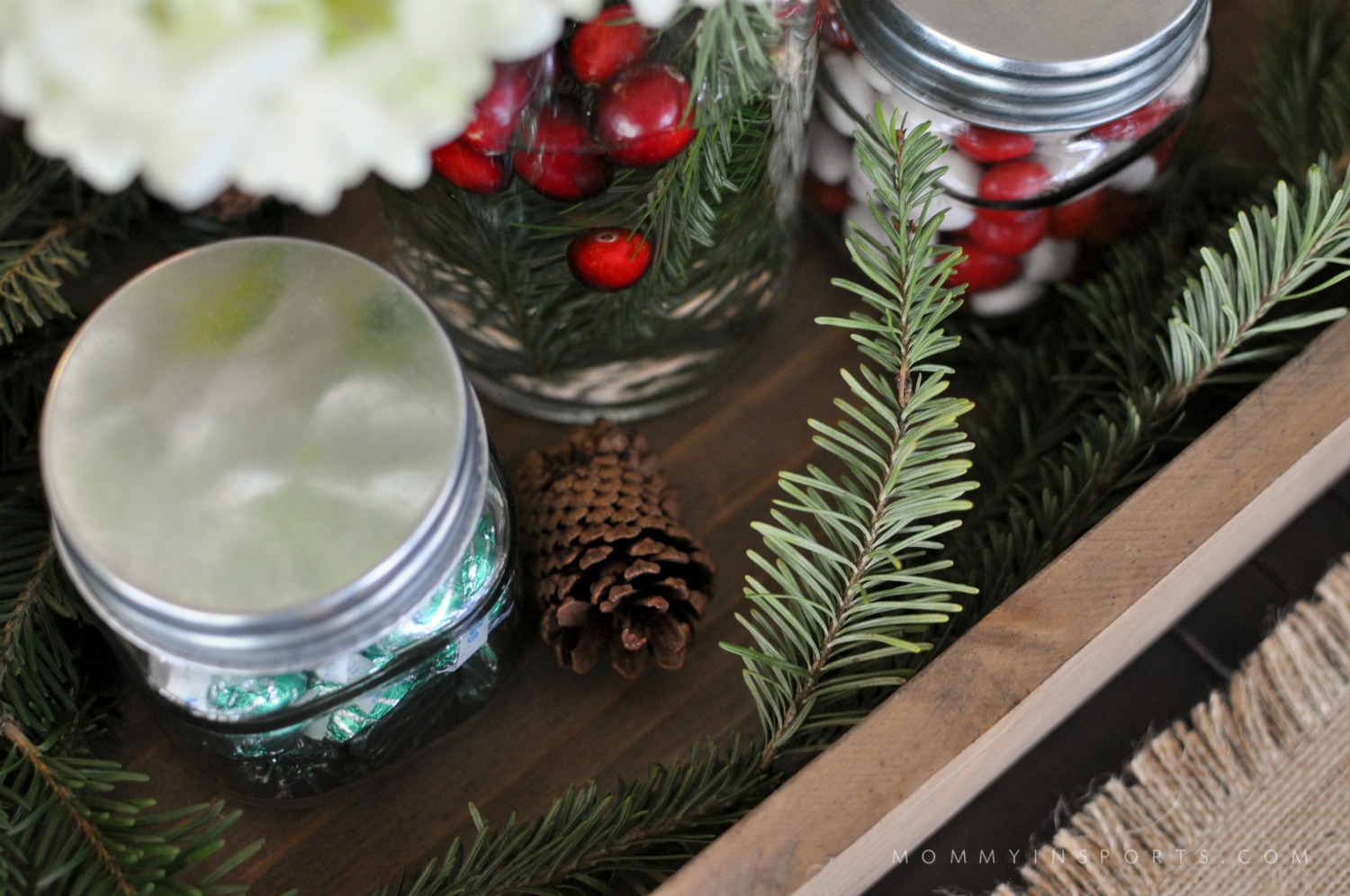 These simple DIY holiday centerpieces will all be featured on December 13th and 20th on the SFLCW here in South Florida hosted by Jessica Alpern and Dave Aizer – plus more centerpiece ideas (can you believe it?) for New Year's! Need gold, glamour, and glitter to help you ring in 2016? We've got you covered and you can find my ideas only on the SFLCW Holiday Fix! Tune in at 5pm on December 13th!
Did you like this post?! Then if you want to make your home merry and bright check out these easy holiday DIY home decor projects!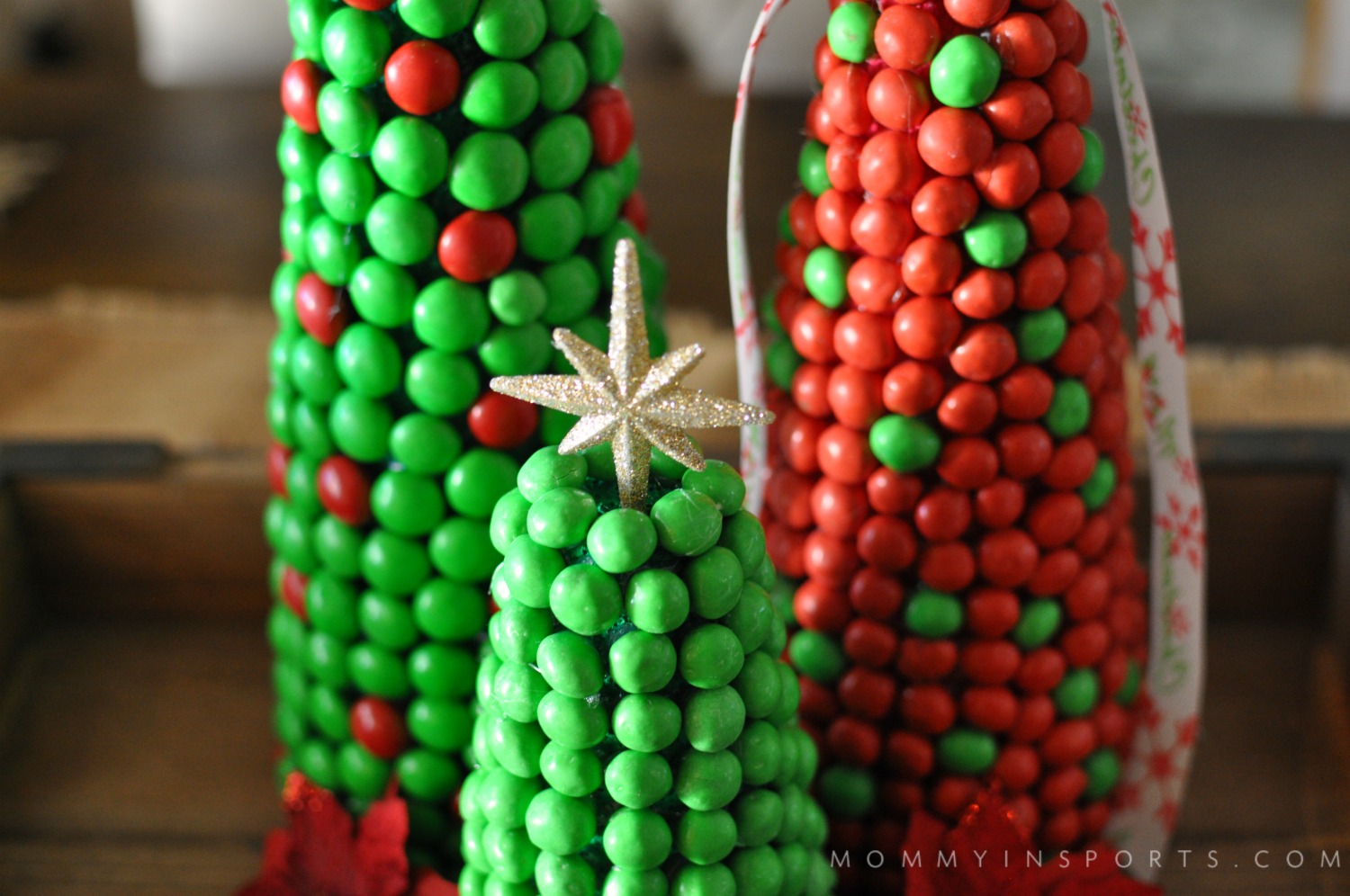 Don't forget to follow along on Facebook for more inspiration!! And check out these DIY Clothespin Snowflakes!