Disclaimer: This post is sponsored by BabbleBoxx.com on behalf of popchips.
While the world turns to their flat screens and the big game on Super Bowl Sunday there are two things that often trump the actual game: the commercials and Super Bowl snacks. I mean is there anything better than football food?! Friends and family gather to watch the halftime show, I mean football game, and bring their favorite apps, dips, and desserts. But how do you feed a crowd that will satisfy your hungriest guy and your pickiest eaters?
With these five simple yet delish football snacks.
After riding this motherhood carousel for the past decade I've served a lot of touchdowns and fumbles. So here are some simple Super Bowl snacks that will feed a crowd and keep your kid's happy, fed, and hopefully calm! Feel free to assign one per person and don't be afraid to let your family help you in the kitchen. My kids are OBSESSED with number five and can make them on their own!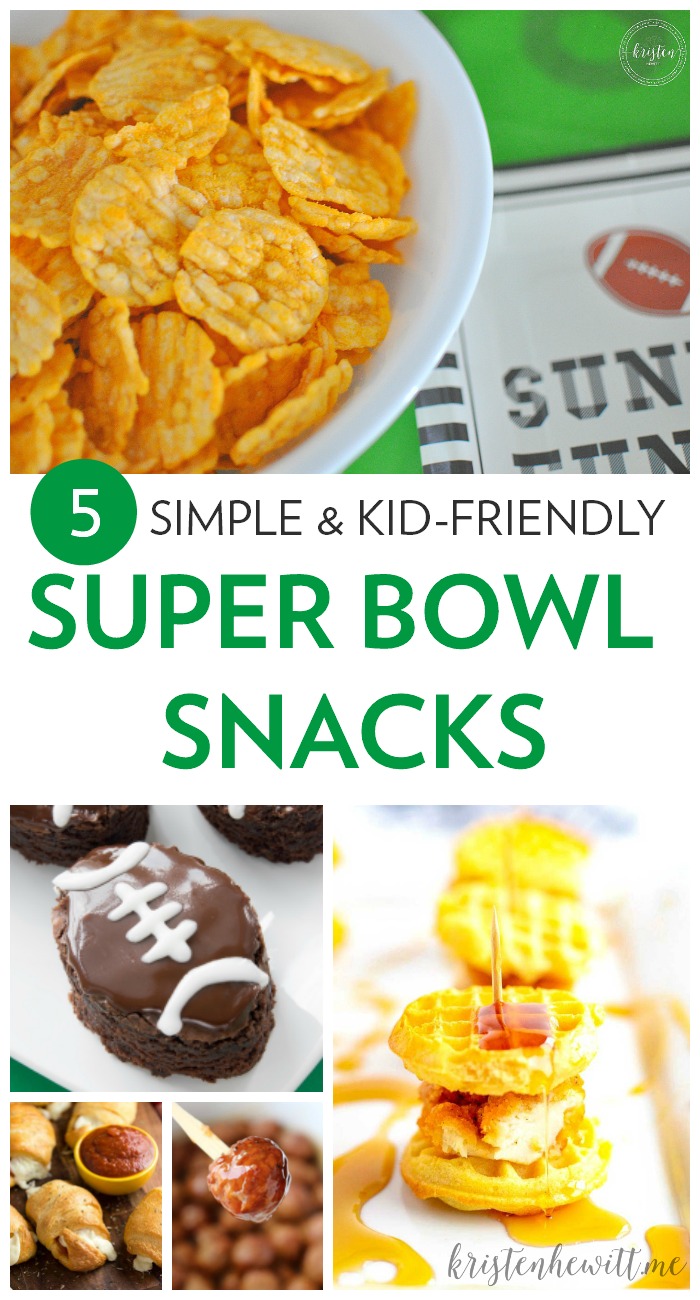 5 SIMPLE SUPER BOWL SNACKS THAT WILL MAKE YOUR FAMILY CHEER!
1.Chicken and Waffle Sliders – Can you say HOLY YUM BATMAN?! How do you simplify this? Grab some nuggets from Chick-fil-a and pop them between mini Eggo waffles. These are a crowd pleaser, even with your littlest critics! (Note, don't add the syrup, let your guests do it so they don't get soggy.)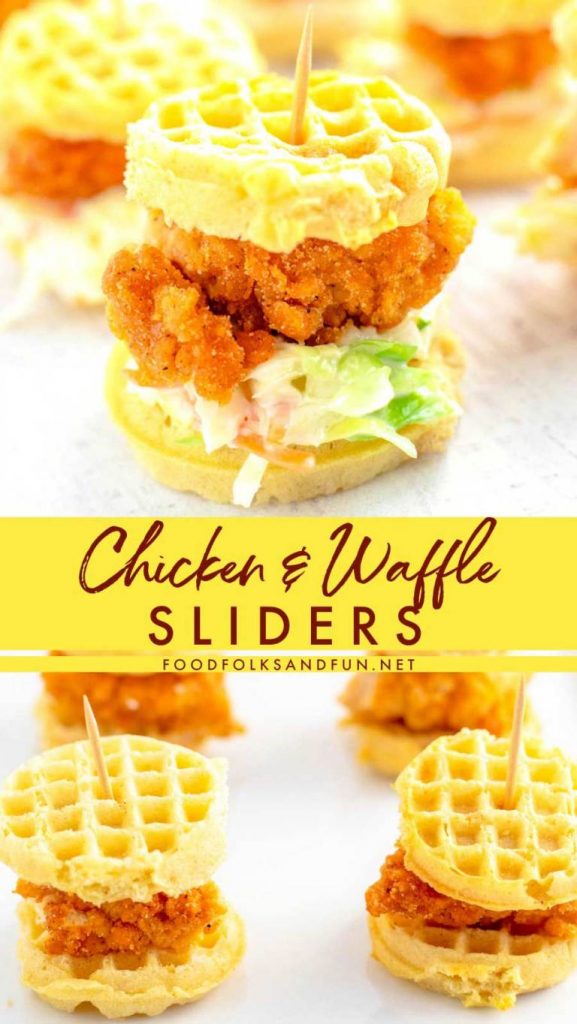 2. Pizza Rolls– Of course you can order pizza, hello that's what everyone does! But in our house, the kids fight over the pizza sauce, crust, toppings, and taste of every major pizza chain. Sound familiar? So to combat the drama – we make our own pizza rolls. You can buy pizza dough (we love Publix brand in the bakery) or crescent rolls, and then everyone can make what they love. And bonus when you do this, the anti-sauce kid-lets don't have to dip! It's the perfect solution for your pickiest terrorist…I mean loves of your life, and everyone can fill with their favorite toppings.
3. popchips – Every party needs a little crunch and these bold and crunchy ridges pack a lot of punch!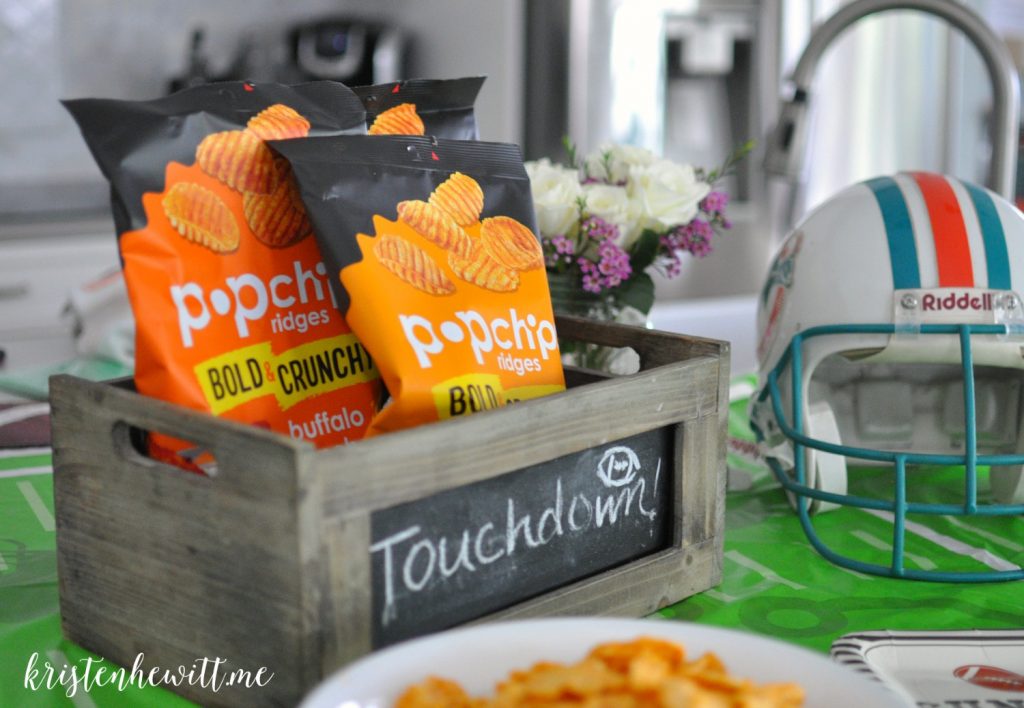 They come in the perfect game day flavors like buffalo ranch, tangy barbecue, and cheddar and sour cream, (plus seven more varieties) and are perfect for dipping or are full of flavor on their own. We all love buffalo sauce but popchips don't bring the same mess. And popchips are so thick they can hold some guac like a boss! (And everyone knows guacamole is my BFF.)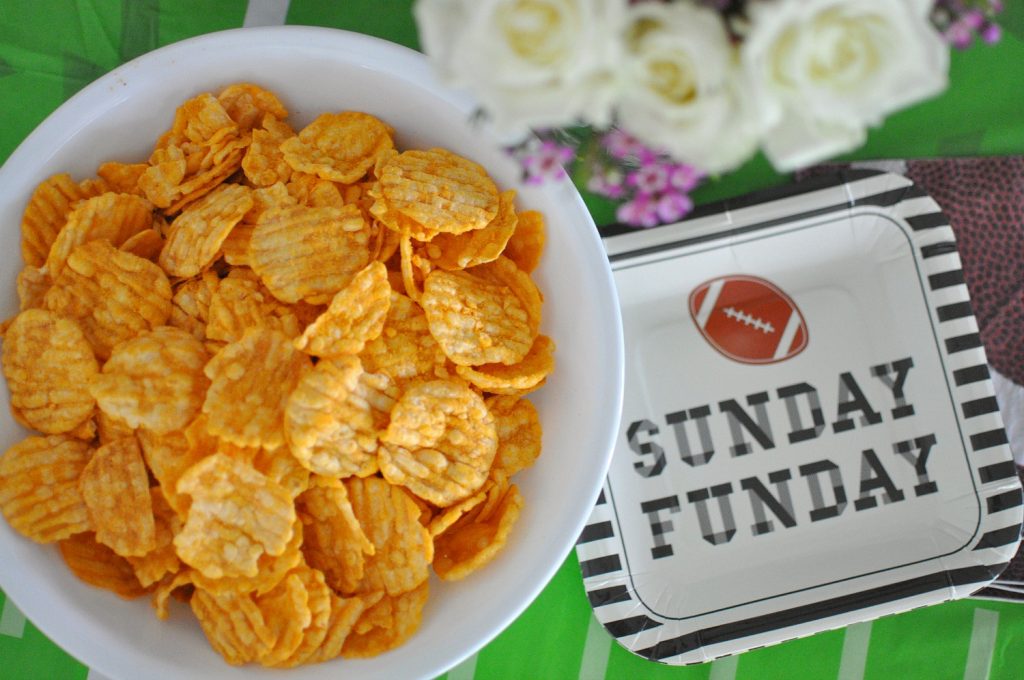 Bonus popchips are never fried, they are baked, contain real ingredients, some flavors are non-GMO, and 130 calories or less per serving.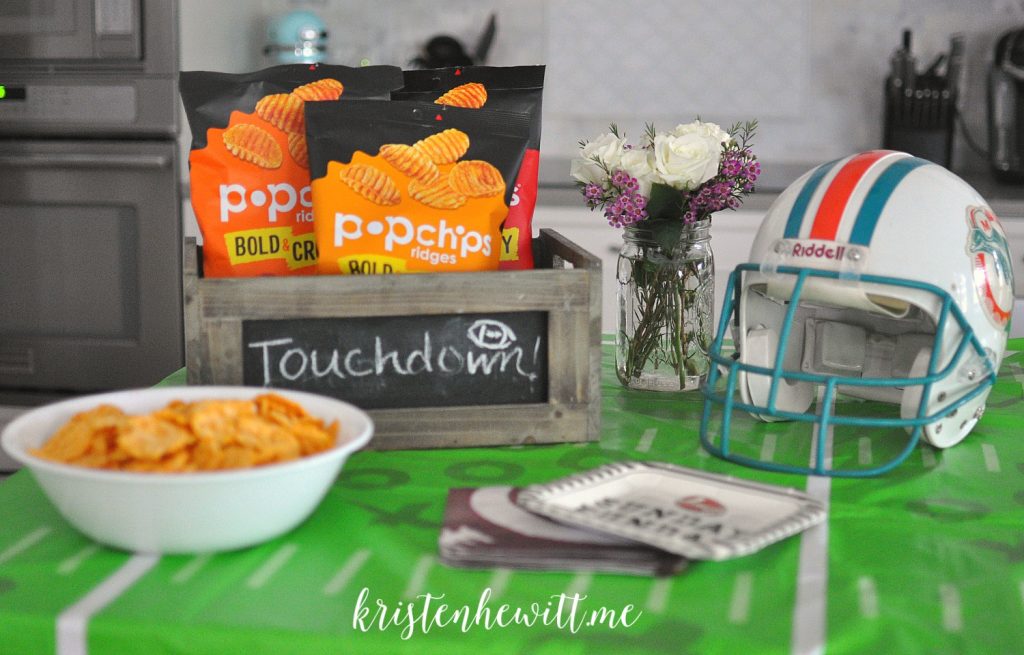 You can pick up popchips at your local grocery store or on Amazon, and score big at your Super Bowl party.
4. Honey Garlic Meatballs – I think a unicorn landed in our home on a double rainbow, because (knock on wood – don't jinx it) both of our girls actually like meatballs. Sometimes I just buy Whole Foods version of marinara meatballs, but on special occasions, we throw these in a crock pot. They are really good and better than the grape jelly meatballs everyone else makes. Plus once made, you can freeze for dinners or lunches throughout the month!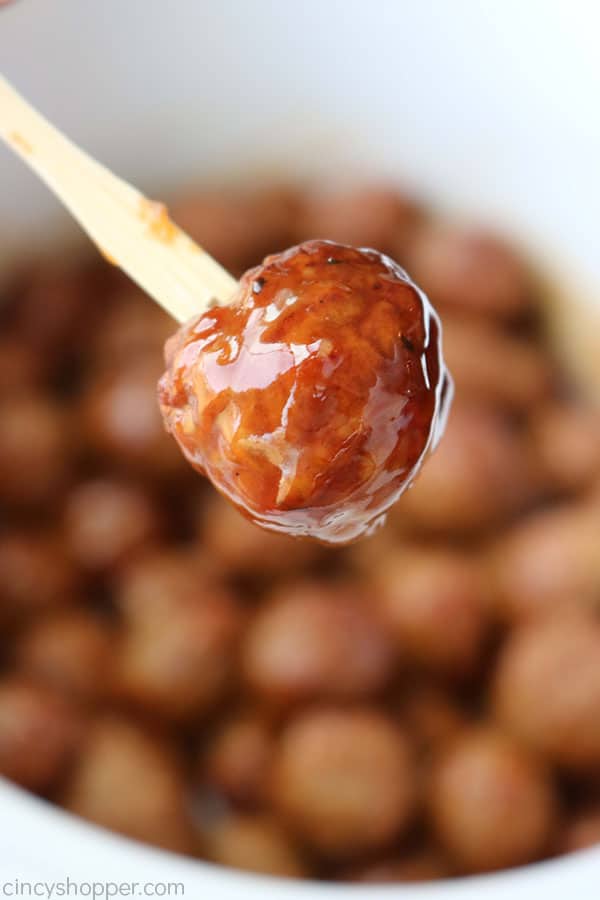 5. Football Brownies – Every Super Bowl party needs a dessert and these are easy peasy lemon squeezee! Buy some brownie mix and a football cookie cutter and you are good to go. And yes our almost 10-year-old not only bakes these solo but ices them like a pro. So much better than I can do, watch out Kid's Baking Championship, here she comes!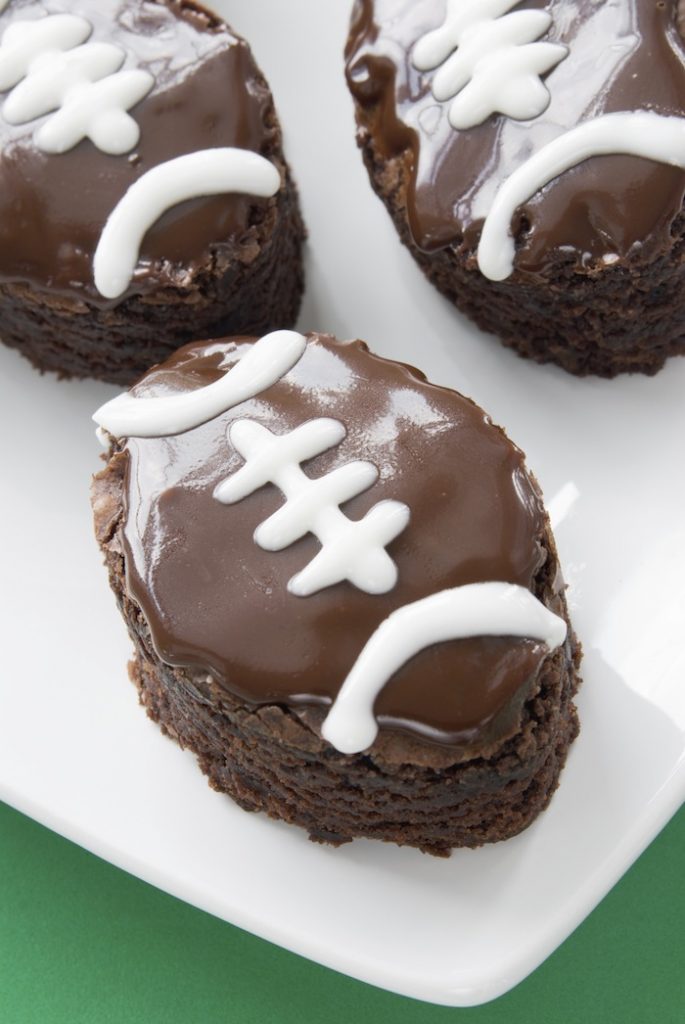 Hope this gave you plenty of ideas for your family-filled Super Bowl parties! Remember, it doesn't have to be fancy, just full of flavor and love. Happy snacking!
Did you like this post? Then you will love these 10 Healthy Football Snacks + Game Day Party Ideas!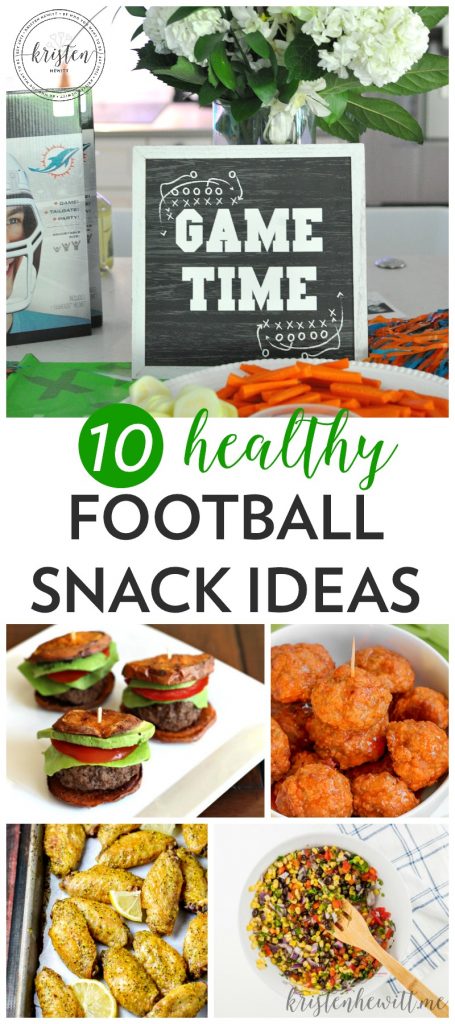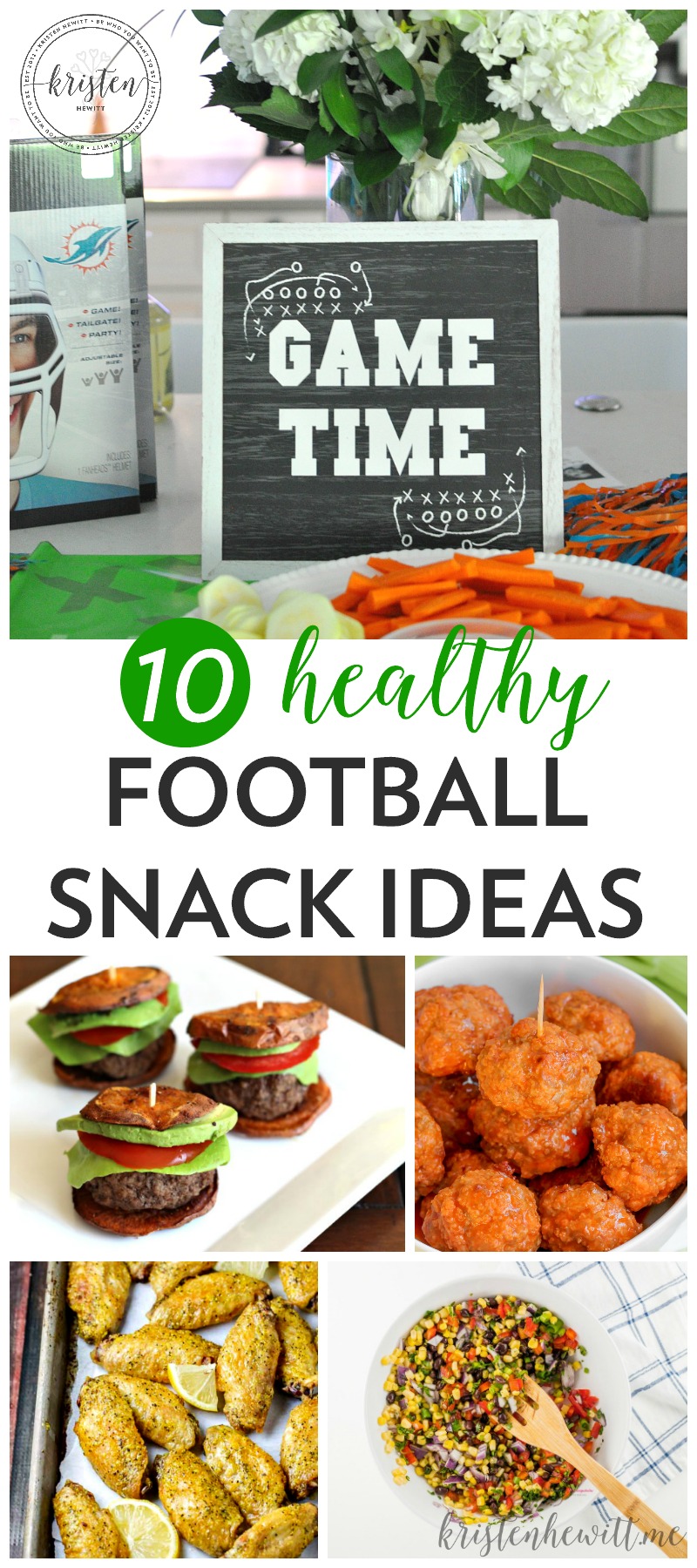 Or these Paleo Super Bowl Snacks.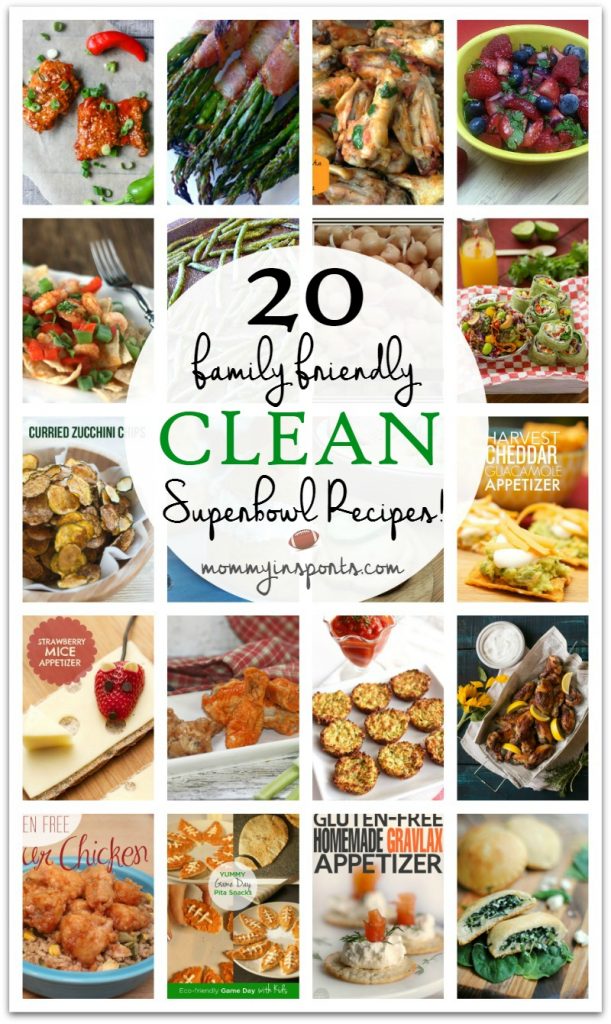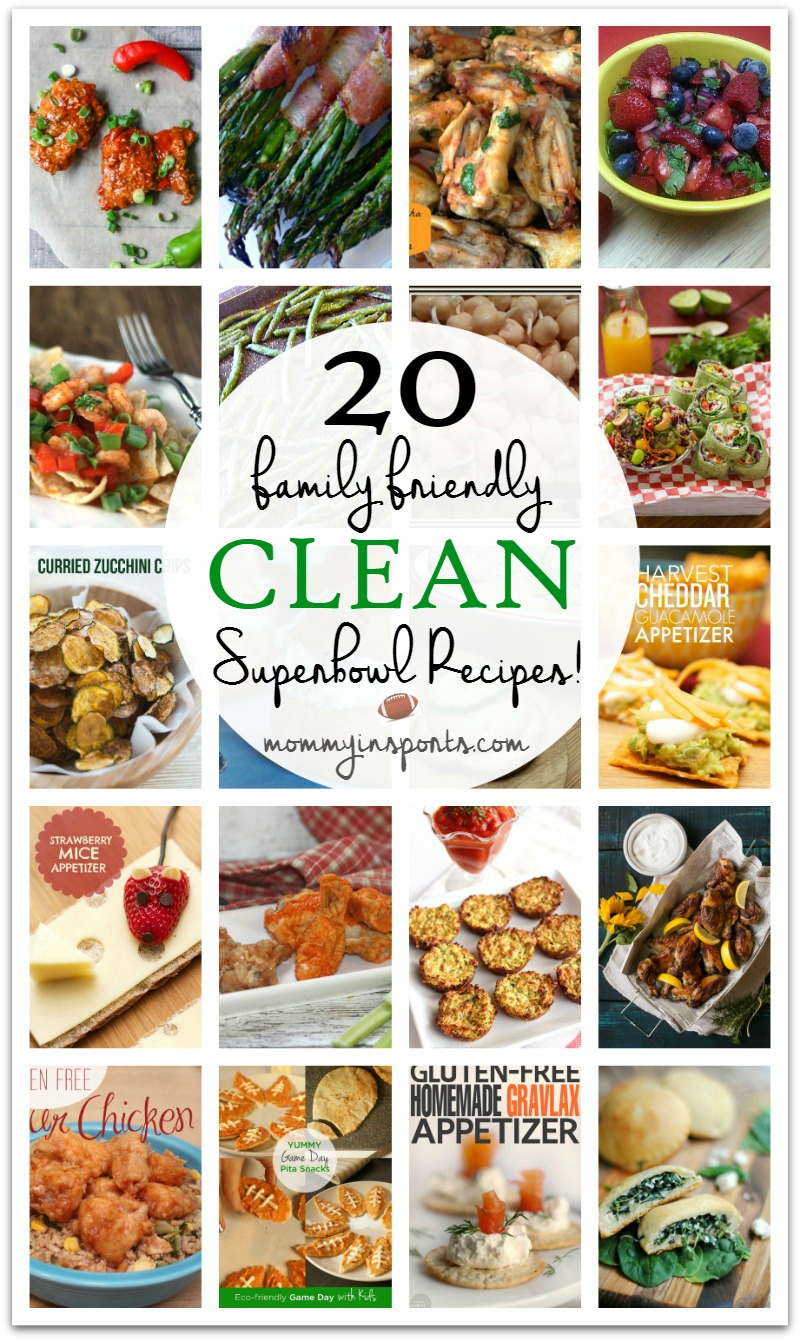 And if you are looking for a cute craft, check this Football Painting for Kids!