We recently were treated to an unreal vacation upon the Allure of the Seas. Our wonderful mother-in-law took us aboard and we traveled to Nassau, St. Thomas, and St. Kitts, but the ports weren't the hit of the trip, the ship was. We were blown away by the ice skating rink, shows, characters and more, and had an excellent time. But even though we had been on cruises before I was still unprepared. So while on the cruise (yes I'm insane) I drafted this post, 20 things you need to know before you go on a cruise with kids.
These aren't just tips for the kids though, these are tips for you too, so you can enjoy and savor every single minute of not doing laundry or dishes. Take my advice and read on, and enjoy that vacation!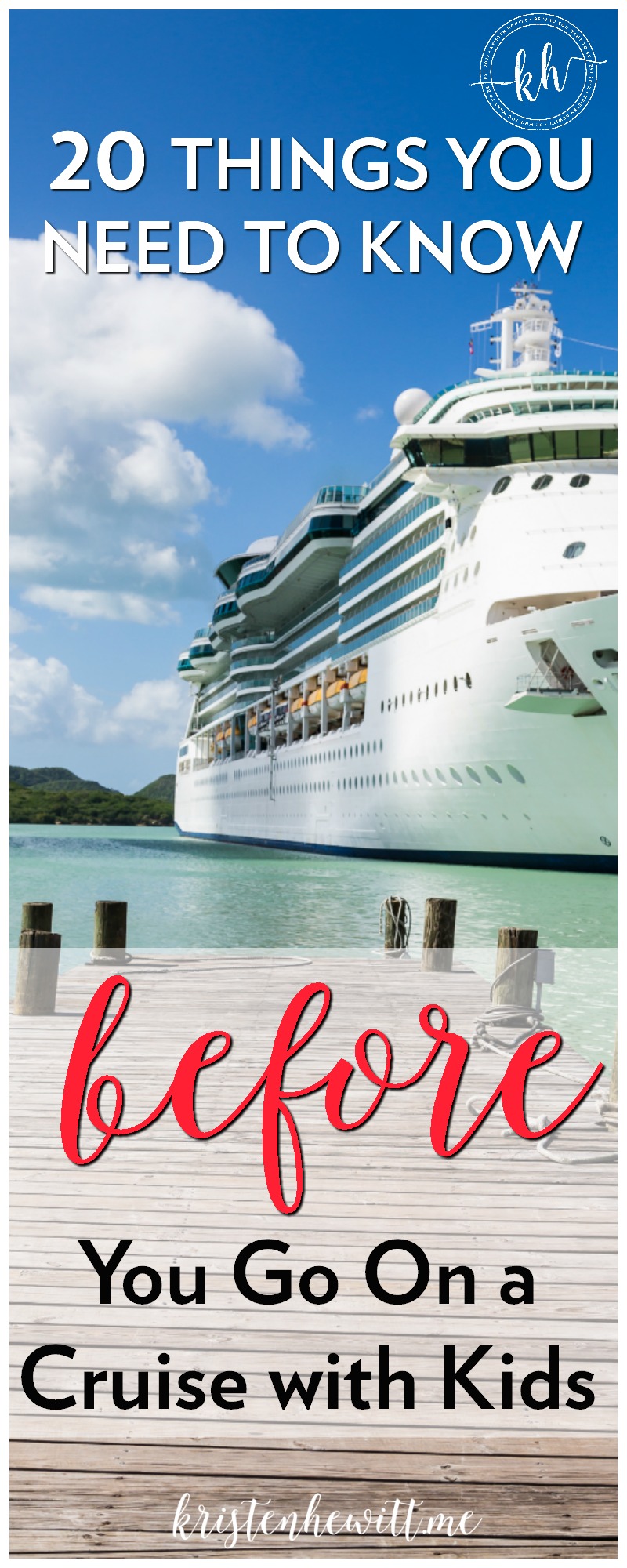 20 Things You Need to Know Before You Go On a Cruise with Kids
For the Kids:
Let them eat cake, or whatever else they want. Sure you can insist on a protein, vegetable, and fruit every meal, but they will survive one week of sugar-laden nothingness. Also, tablets at dinner aren't just acceptable, they're necessary.
Use kids club. It doesn't mean you don't love your kids – it means the opposite. Let them make friends, be independent, and get some space from each other. It's your vacation too.
Bring a stain stick, kids spill every single meal. Especially chocolate breakfast mornings. (There are three.)
Pack more shirts than you think you'll need for the kids. (See above comment)
Pack a sweater and socks. It was cool in the evenings on the ship, especially in the dining room. And we didn't think we'd need sneakers but it would have helped to have socks and closed toe shoes.
The elevator buttons and key card to the room are a big flipping deal, let them take turns. (More tips on truths of vacationing with kids here!)
Book the character breakfast if your ship has one, it's worth it.
Go on vacation with family or friends, it helps to have a baby sitter so you can get a date night!
Bring snacks for excursion days. It saved our butts to have peanut butter crackers, granola bars, fruit pouches, and snag cereal and fruit from breakfast buffets. They never like the "local flavors" and are always hungry.
Don't stress about sleep, they'll nap when and if they need it.
Pack meds, children's Tylenol was $16.99 on the ship. Trust me, someone will get sick.
For the Grown Ups:
Bring the two bottles of wine you are allowed on board, and buy more at the ports. It's way cheaper than those drink packages. Oh and buy bottled water from street vendors at ports and stock up your room.
Be grateful every single second you're not making beds, doing laundry and dishes, and cooking. Be served daily in the dining room, it's delightful!
Take the stairs to offset the mass quantities of bread, dessert, and alcohol you will consume. Also, don't be the lazy person that takes the elevator to go one floor. Everyone will hate you.
The gym is actually fun and a nice break from your kids. There are stretching classes, yoga, and a killer running track, use it! On tired and hungover days it invigorated me.
Indulge. It's OK to eat all the things. Just listen to your body. By day five I was craving oatmeal and green juice. Do you.
Wear the damn bikini. Get some tan lines. Be free!
You don't need your phone as much as you think you do. Turn it off, trust me.
Reconnect with your partner. Remember who you were before kids. Find the adults only pool, hold hands, listen to a band, do something just the two of you. Sea days are great for that, especially when you put the kids in kids club!
Laugh, dance, and do what you love! It's not just taking your kids on vacation, this is your experience too.
I hope this list helps you prepare for your next cruise with kids, and here are some products we couldn't live without on this one.
Don't forget to follow on Facebook for more family fun stories! And if you liked this post check out 10 Truths of Going on Vacation with Kids.