It's September so you know what that means? Fall is almost here! The air will turn crisper, the leaves are about to change to a glorious myriad of golds, reds, and amber, and the pumpkins are almost ready for Halloween. A new color pallet will be blooming outside, and for our taste pallet a slew of pumpkin flavored products everywhere!
Pinterest is already stock full of pumpkin recipes including pumpkin muffins, pumpkin rolls, pumpkin bagels, and pumpkin snickerdoodles…and you can wash them down with pumpkin coffee, pumpkin beer, or even a pumpkin spice latte made famous by Starbucks. And while most can't wait for this glorious new season and the promise of pumpkin paradise, I'm simply not ready.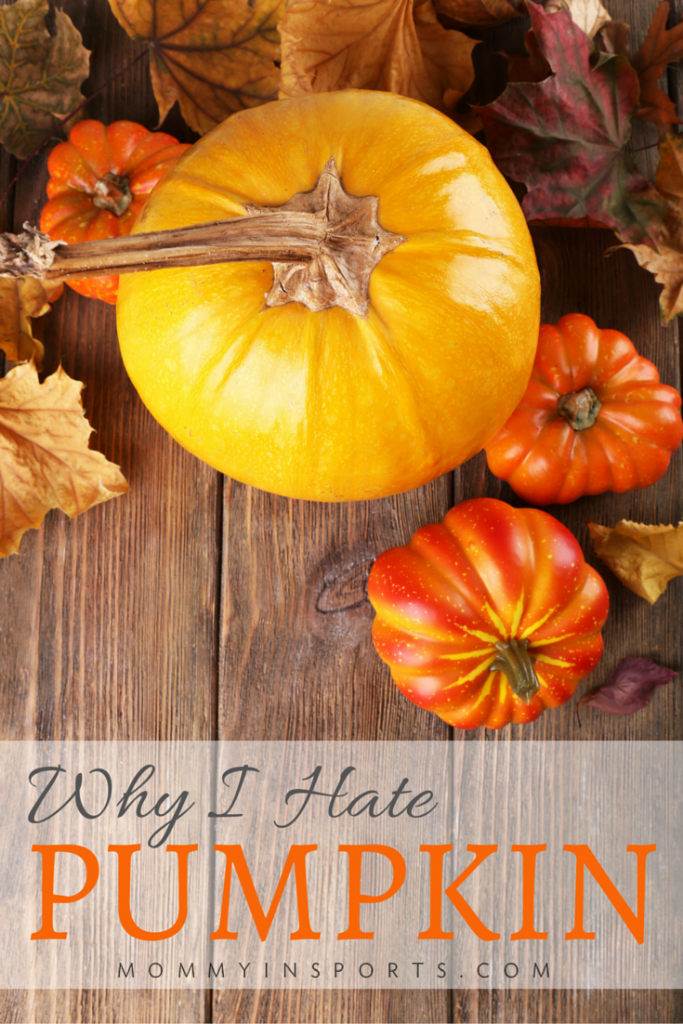 Because I freaking hate pumpkin.
Not the actual fruit of course (yes it's a fruit – google it). I mean who doesn't love decorating with fall gourds? It's so much fun to carve those little suckers up, pull out their guts, and toast the pumpkin seeds. And the kids love to paint them! But eat them? No thanks. Not yet anyway.
I'm not sure if the latest pumpkin craze is a blogger trend or a conspiracy from the pumpkin farming cartel, but enough already! Everywhere you turn there's freaking PUMPKIN! On storefront windows, in endcap displays at grocery stores, and all over our Facebook feeds. But guess what?
IT'S NOT EVEN FALL YET!
Nope, the official first day of fall is September 23rd, but people are still jamming pumpkin down our collective throats. You know who I want to punch in the throat? PUMPKINS. (If they only had one.) Why oh why do I need pumpkin recipes now? I'm not making a pumpkin pie for my kids after school! Hell, they won't even eat pumpkin flavored anything! Trust me I've tried.
I get it, you're ready for a new season. Tired of the heat, grilling, and corn on the cob. You want to try something different, a foray into a cooler time of year. But we can do it with other recipes, can't we? I mean I've seen some yummy apple crisp recipes floating around. Or how about a sweet potato casserole or butternut squash soup? I mean they're orange inside and still signify fall, right?
I just don't understand the fascination with the spicy pumpkin flavor. Don't get me wrong, I used to like it…love it even. I made pumpkin muffins each year and raced to Starbucks to get my beloved Pumpkin Spiced Latte. (Before the Food Babe told me it was full of deadly chemicals.) But like Kim Kardashian – pumpkin has become overexposed.
It's like when you first taste cookie butter and you exhale orgasmically and have to have another spoonful. Then you eat a little more and you still like it, but not as much. And by the time you polish off the entire jar, you're so tired of it you just want to vomit. (My husband calls it the law of diminishing returns – whatever that means). Well, that's how I feel about pumpkin.
So while the rest of you are toasting fall prematurely with your Pumpkin ale, or pinning your premature pumpkin recipes…I'll still be here brooding. Boycotting the fleshy fruit and avoiding the pumpkin popularity like the plague. Instead, I'll search for the next big fall flavor…like Brussel sprouts. Or rutabagas anyone? Oooh, how about Persimmons…that sounds sexy!
Who am I kidding? Pass the pumpkin bread.