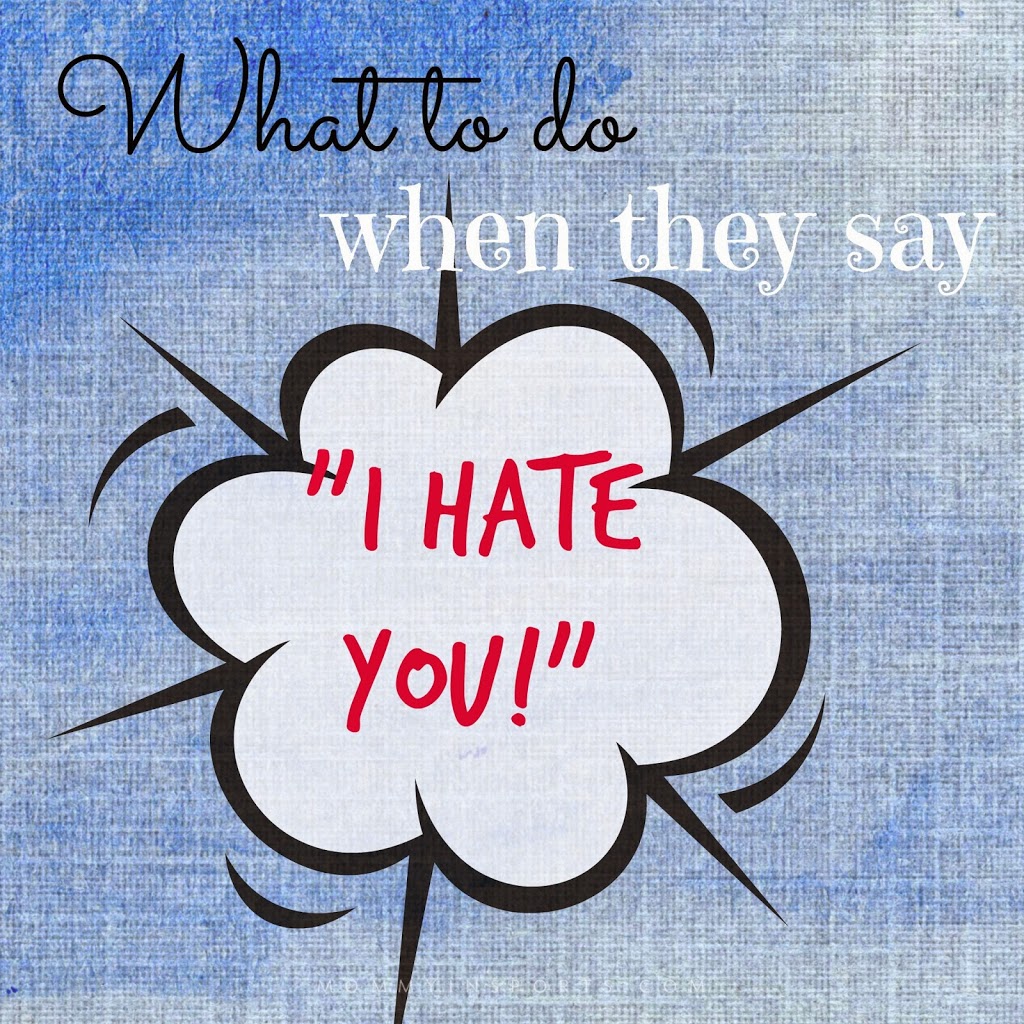 It happened about eight years too soon in my opinion. She uttered the quiet yet explosive phrase that cut through me like a knife early one Saturday morning during an epic tantrum.
Lila woke before the sun and we had company staying with us that I didn't want her to disturb. She flat out refused to change out of her pullup, and after throwing her pajamas at me, I quietly told her she lost iPad privileges for the day. Her response?
Seething she whispered, "I hate you."
I sucked in a breath, glared at her, and walked away. I thought to myself over and over "don't react, she'll know she got to you. If you make it a big deal she'll say it again." But really, I had no idea what to do or say. So I let her cry in the bathroom,
And I cried too. Just a few tears before I composed myself. How could this sweet child who I went through hell to conceive hate me already? I understand change is hard for her, as she has sensory issues; she is sleeping in a different bed, staying up late, and is frustrated and overtired. But nothing can excuse talking to a parent that way…or saying the worst 4-letter-word.
After she screamed and cried for about  twenty minutes she eventually got dressed. I had a talk with her about the word hate. I told her she can tell me she's angry, tell me why she's frustrated or doesn't want to do what I ask, but in the end I'm the parent. I explained that words hurt. She was so very sorry it broke my heart.
Afterwards I had no idea if the way I responded to the situation was right or wrong. Was there some other way to help her deal with her anger? So I did what most of us do in the social media age…I took it to Facebook and received some amazing advice from so many wise bloggers and friends.
This was one of my favorite responses from Tammy Doiel of Creative K Kids.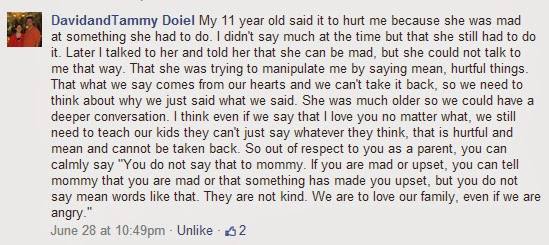 The perfect words for this situation and our family.
Alicia from Adventures in Naptime also helped out, sending me this article aptly titled When Your Child Screams I Hate You. 
I feel thankful to all in the blogging community for this wonderful advice, and am grateful I know how to handle it if and when it happens in the future. What did I learn from this?
Words hurt more deeply than anything in the world. I will be more careful with mine.
Five year olds have big feelings, and need help learning how to cope with them.
There is no perfect way to handle each parenting situation, trust your intuition.
I am so not ready for the teen years.
I hear kids have little problems when they are little, I don't even want to know what big problems lie ahead. I just hope that loving them will get them through. And a little Pinot Grigio will help me!
Has your child ever told you they hate you? What's your best tip to deal with this situation?