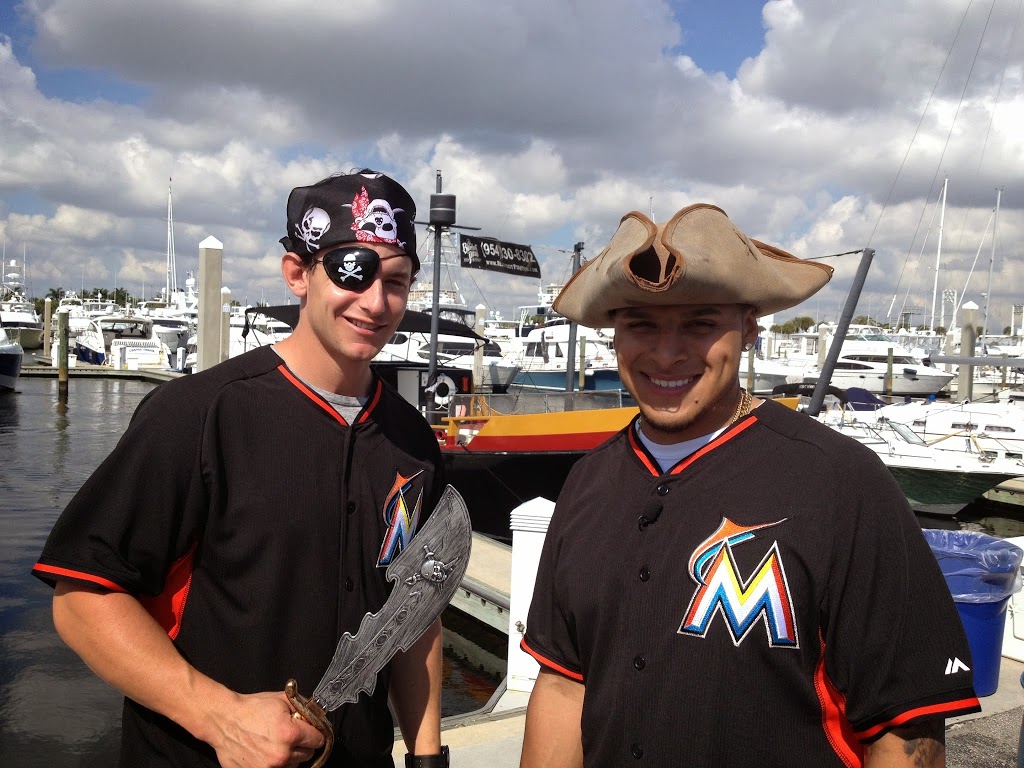 Miami Marlins Rob Brantly & AJ Ramos set sail on a pirate adventure!
Last week the Miami Marlins officially kicked off their season with Marlins Ayudan week. This is a wonderful initiative where several players, coaches and staff are visible in the community helping the city of Miami. I was able to cover many of the events as part of Billy's Bunch, the Miami Marlins kids show that airs on Fox Sports Florida.
My favorite (and the most fun!) event took place at Bluefoot Pirate Adventures in Ft. Lauderdale, with Marlins players AJ Ramos and Rob Brantly. On February 11th, the Marlins escorted a group of students with Billy the Marlin and our kid reporter Frankie on a high seas adventure. Well sort of…it was on the intercoastal…but it was a blast, (literally and figuratively) and produced some very entertaining television thanks to AJ Ramos!
Here's one of my favorite outtakes of the day that won't make air. And yes, I'm always thinking like a mom…

AJ BLOOPER from Kristen Hewitt on Vimeo.
AJ is right of course…he did mean the treasure…right? A big thanks to he and Rob Brantly for being so great with the kids. They are always friends of the show, and they took the time to chat with me afterwards. Here's my interview:
Marlins Pirate Adventure from Kristen Hewitt on Vimeo.
Some other fun facts about these guys learned on this day:
Rob Brantly will dance but not sing on camera.
AJ Ramos almost blew out his hamstring doing the limbo.
And Ramos has never been to Disney World, therefore he has never heard the song "yo ho yo ho a pirate's life for me".
Never been to Disney? How is this possible?! Maybe a Billy's Bunch field trip is in order…let's work on this Fox.
You seriously don't want to miss the premiere episode of Billy's Bunch which airs April 6th on Fox Sports Florida. We have new kid reporters, Preston Wilson is back, and some great new features for kids and parents. Tune in! Can you believe baseball is back?