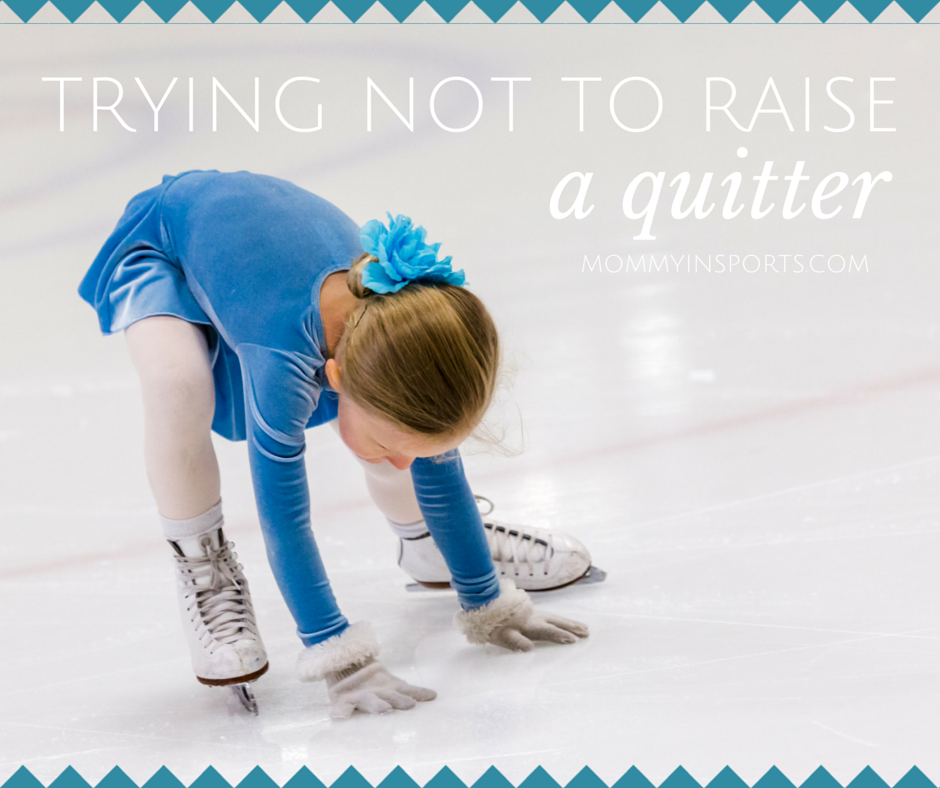 If our oldest had her way, she would try everything once and never do it again. She hated gymnastics because the uneven bars hurt her hips. Protested ballet because the tights were too itchy. And even boycotted her bike for a year because she fell off…once. But we believe in persistence…so we finish all of our activities, even if we grow tired of them. And especially if we've paid for them.
Saturday I knew would be hit or miss. I had to cover a "Try Hockey For Free" clinic put on by the Florida Panthers for Fox Sports Florida. I had my kids with me and thought they would love to learn to skate. The ultimate mommy in SPORTS moment right? And after watching the Olympics I knew my oldest loved figure skating. Fun huh?!
Uh…wrong.
Our two year old just wanted to be held the whole morning. (Thanks to my Ergo for lightening the load a bit!)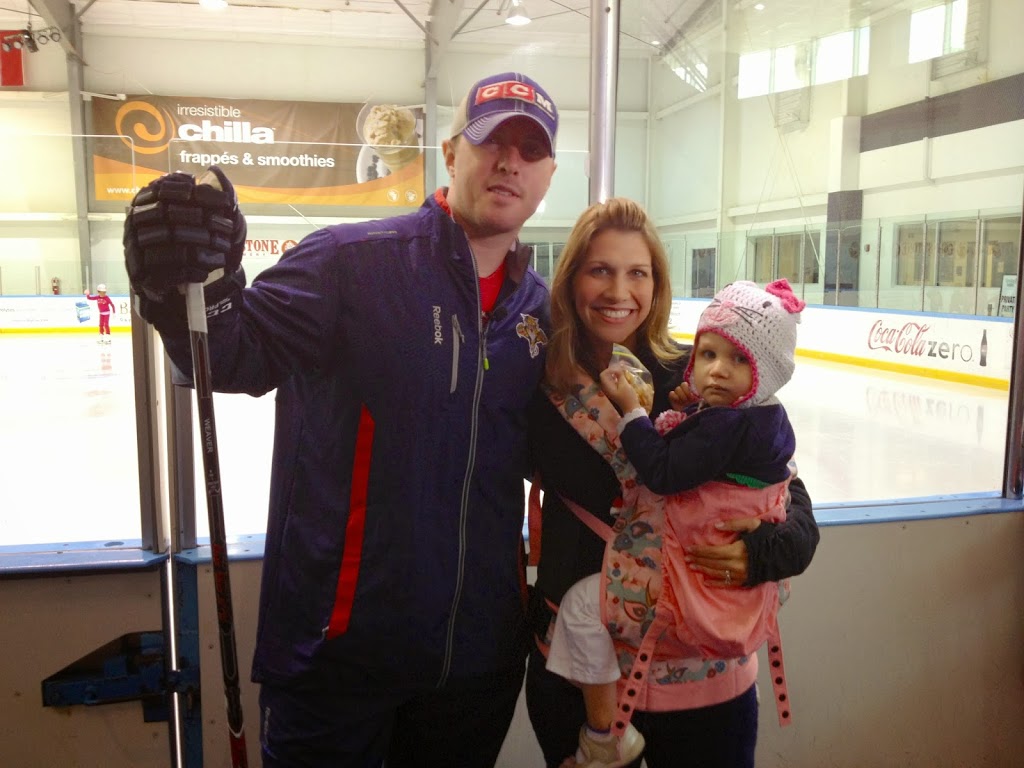 With Eric Joyce, Assistant GM Florida Panthers, and Emylia.
And our five year old? Well she just complained. And whined. And cried. Non-stop.
Lila: "My hands are coooold and so are my legs and feet!"
Then after she fell, multiple times she muttered through tears at the end of the clinic, "My boo boo hurts so bad on my bum. I don't like this at all! I want to go home."
So I thought a bit of hot chocolate might make the day better. Except even after cooling it down it was still too hot, she spilled it everywhere, and had another epic whining/crying spell; "It's too hot…I have an owie burn! WAAAAH wah waaah!!"
At one point everyone was staring at us and I literally had never seen a kid so miserable. I had to think and react and try to salvage this experience. Each day of motherhood brings such interesting situations, and I had no clue how to navigate this one. I didn't want her to detest skating, as this is one of my favorite activities…rollerblading especially. But she has some sensory issues, so I know how difficult new sensations, temperatures, and experiences are for her.
So as she stomped to the car, I put her sister in the car seat and decided to have a little chat with Lila Bean.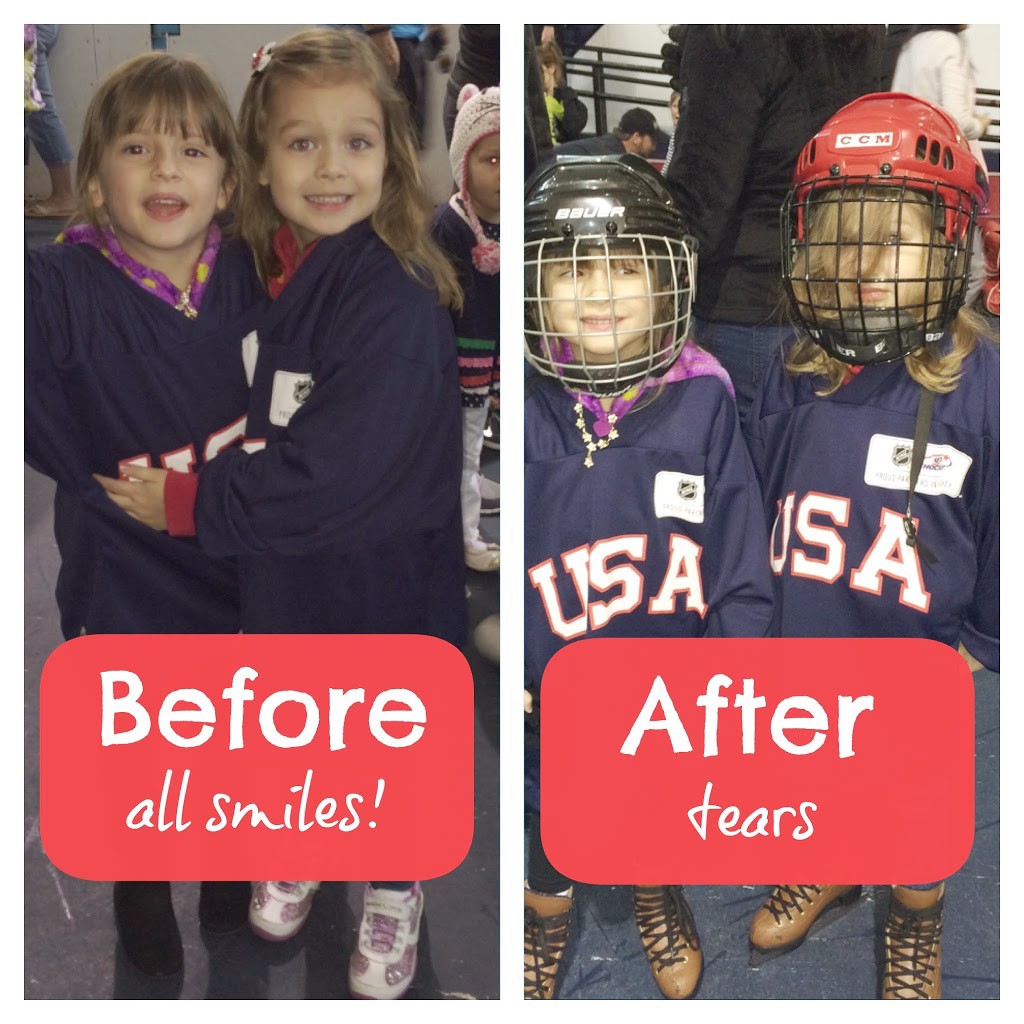 Me: "I know you are sad right now, and I know you are cold. But please tell me, what was your favorite part of skating today?"
Lila: (eyes still filled with tears) "I liked the chicken dance, that was my favorite" (she showed me the dance.) "But I didn't like falling and I cried a lot." (continues to cry, poor thing!)
Me: "That's ok, I fall too. The best part though is standing up and trying again. I'm proud of you for doing the whole clinic and not giving up! Did you like dressing in warm clothes?"
Lila: "Yes, I need gloves though and a pretty tutu. I was too cold!"
Me: "How about next week we try again, I'll skate with you, we'll put legging under your jeans so you are warmer, and we can do the chicken dance together?"
Lila: "Ok, do you know how to skate? Cuz the teachers can help you, but I really don't like falling."
Me: "Yes I love skating. Everyone falls, just promise me when I fall, will you help me up?"
Lila: "Yes! But you're too big." Uh, thanks?
The scowl disappeared and she giggled. I exhaled and chugged the hot chocolate.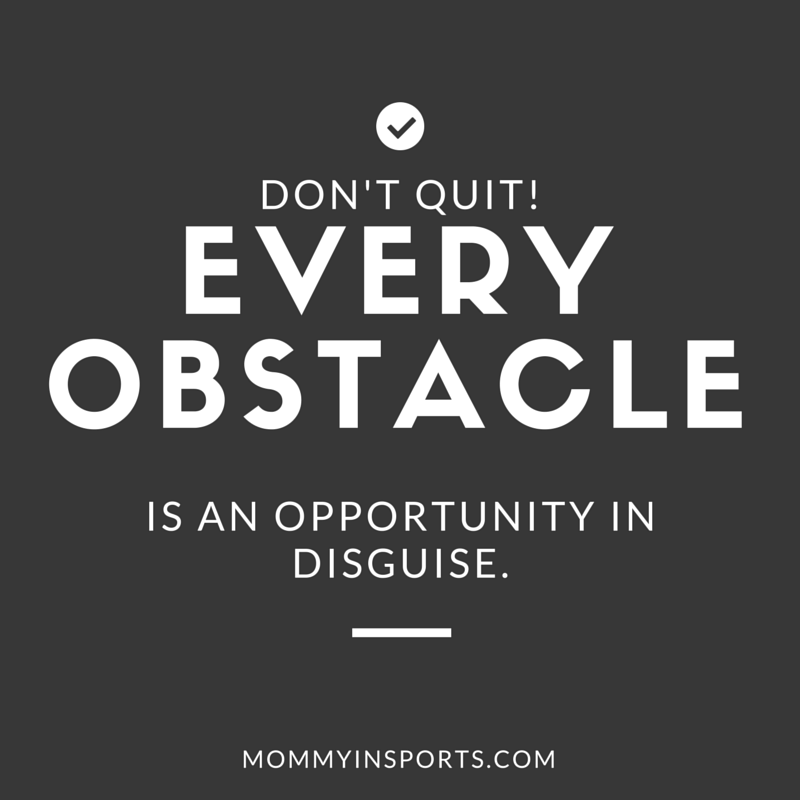 Maybe she won't be the next ice skating phenom, and maybe she'll always shy away from sports. But we can't quit in life just because something is hard. And no matter what, Lila needs to learn that no one is perfect at anything, especially in the beginning. It takes practice and hard work. Sometimes you fall. Sometimes you fail, but trying again is what builds character, self esteem, and confidence.
So we are going back next Saturday, same time, same place. We will be warmer, well rested, our tummies full, and no matter what…we will make it fun. And if she still doesn't like it, then we'll try something else. But at least we didn't quit.