How many times has this happened to you? You are late for work, or driving your kids to school and while racing out the door you forget to eat breakfast. You slam down a cup of coffee and feel full enough, but an hour later your tummy grumbles and you groan. Or you pack your children's snacks, sippy and lunch for a day at the park…but forget to pack something for yourself?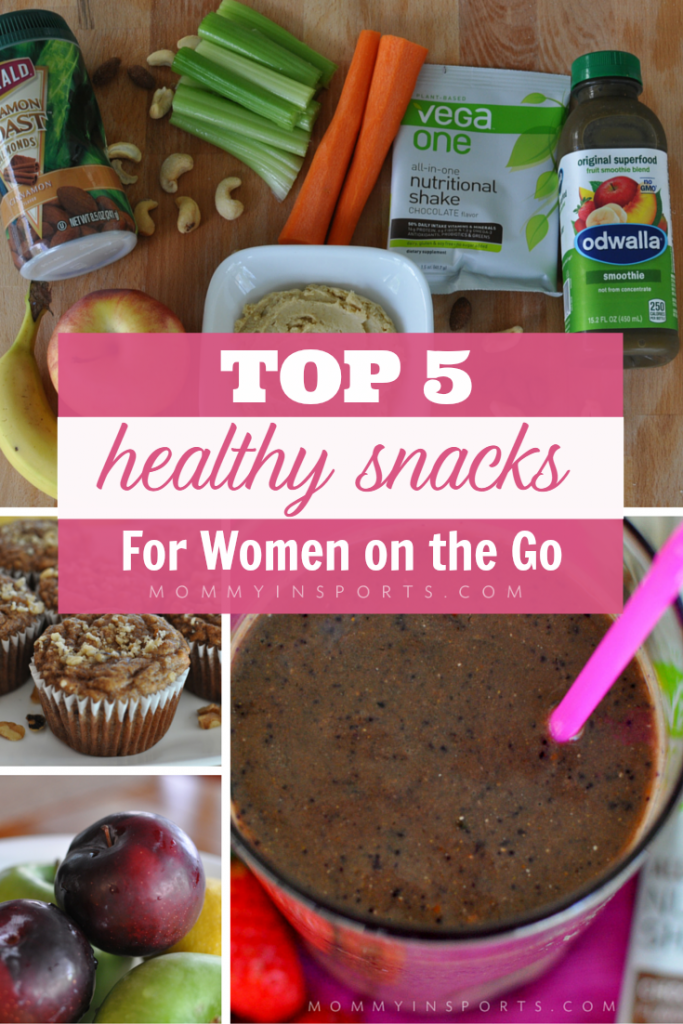 It's something we all do, but taking care of ourselves needs to be priority number one. Eating small snacks frequently helps curb cravings and binge eating, and stabilizes your blood sugar and insulin levels. But women on the go don't have time to stop to make smoothies or juice, and with summer around the corner many of us are trying to prepare for bathing suit season.
When I work late night games I often get hungry after dinner and after walking my 30,000 steps, but I don't want to eat the standard chips and sodas in the press room. So here are my top 5 healthy snacks for women on the go! (Please note I follow a modified paleo diet, with very little dairy due to allergies and intolerance.)
1. Smoothies
One of my favorite smoothies when I could eat dairy were EAS Advantage Carb Control, but now I'm addicted to Vega One. You can bring a packet with you and mix in a bottle of water, or pre-make these with fruit on the weekends and freeze them in a sealed mason jar. Then you pop it in your bag and a few hours later it's melted and perfect for lunch or a snack! Here are my two favs that I make on a weekly basis: Banana Berry Smoothie and Chocolate Berry Bliss.
Keep in mind if you are freezing your smoothies, no need to put ice in them when you mix. And don't fill in to the top, leave at least an inch for the liquid to expand.
2. Nuts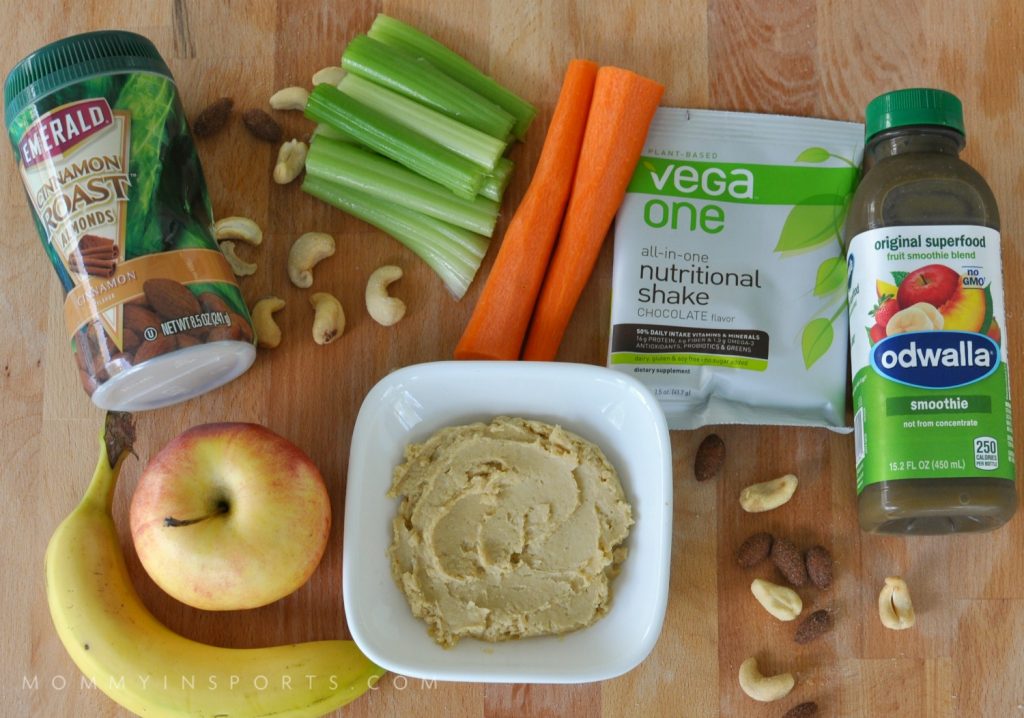 Cashews are a great source of protein as are almonds. We like the cinnamon almonds from Emerald. I make a homemade trail mix out of these almonds, with Enjoy Life dairy free chocolate chips, and dried cranberries or raisins for a treat for our girls!
If you don't like raw nuts how about an apple with peanut butter or celery boats with almond butter? You can buy nut butters in small on the go packs now!
3. Hummus & Roasted Chick Peas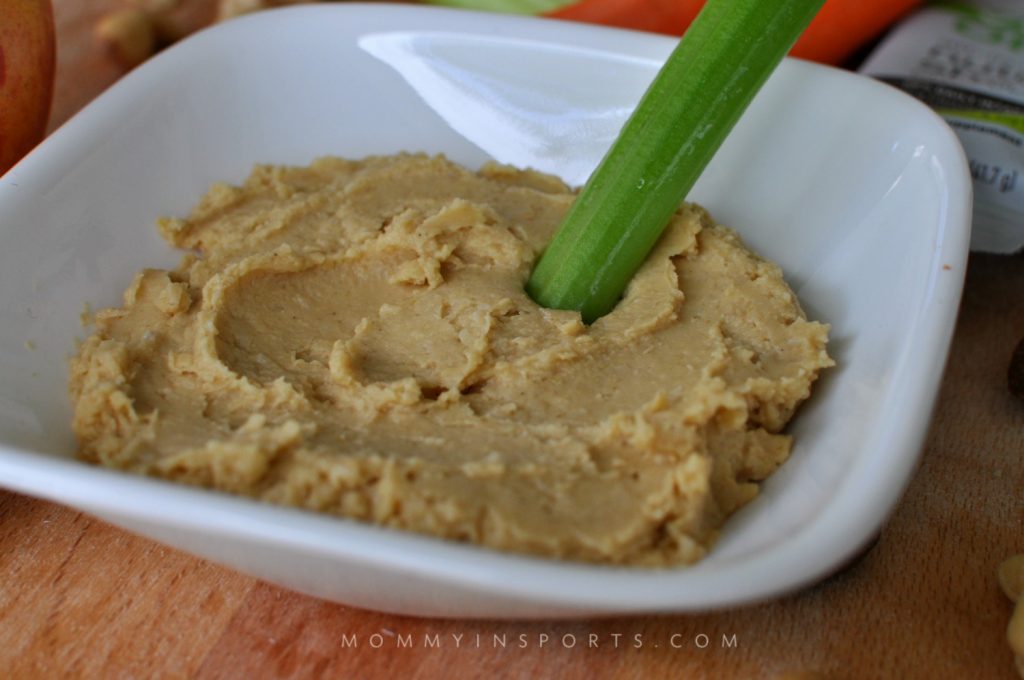 Hummus is another great source of protein you can pair with raw veggies or crackers or even pita. Plus it's easy to portion into small containers on the weekends and have ready for you when you are in a hurry! Don't forget to pre slice your veggies as well.
If you don't eat beans, there are other ways to make hummus, here is a great alternative recipe. And I love these spiced maple roasted chick peas from 20 Something Allergies!
4. Muffins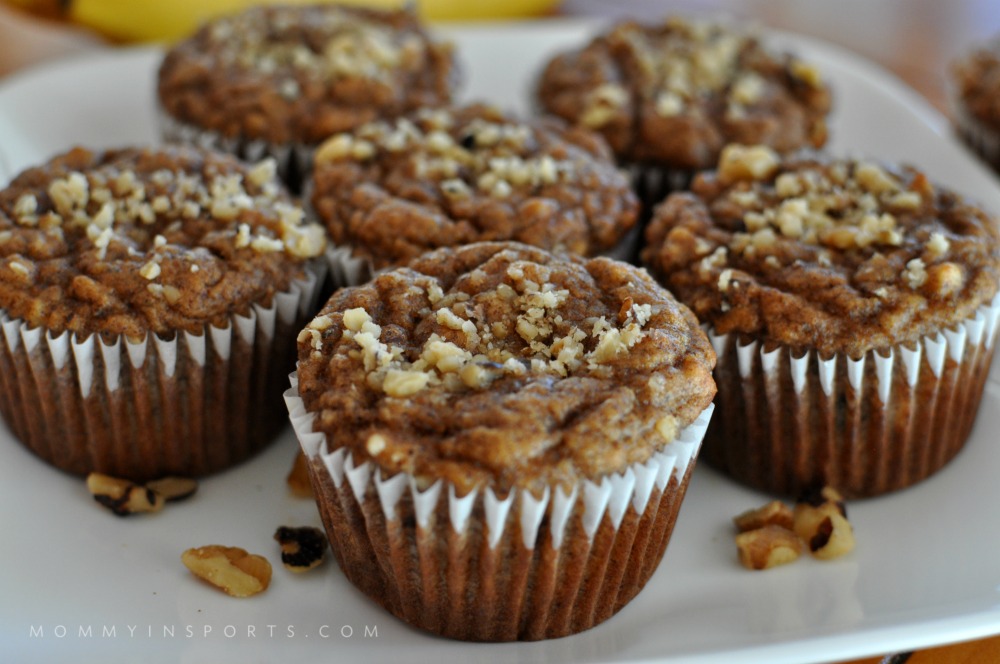 Anyone starting a paleo diet knows muffins are a godsend. They satisfy your sweet tooth, and are super portable. We make some kind almost every week, Danielle Walker's Against All Grains is a great place to start for muffin recipes.
5. Juice and Fruit
Don't underestimate the importance of juicing! Much like smoothies, you can pre-make juices over the weekend and seal in mason jars. Or just pick up a delish bottle at the grocery store. Also you can throw an apple, banana, or your other favorite fruit in your bag for the day for those times when you are starving.
For those of you that can tolerate dairy, string cheese is a great snack for on the go. And don't forget about edamame fresh or dried. I also love this post from Paleo Grubs, which has 53 healthy snacks to keep you satisfied. And here are some more ideas on pinterest!
Follow Kristen Hewitt's board Healthy Living on Pinterest.
Hope these snacks help to motivate you to plan ahead for the week! And if you need more inspiration here are 6 healthy eating tips to get you back on track.