Like most I struggle with the work-home-life balance. Yes I try to eat a paleo diet for my health issues, but sometimes I get so tired of food prep, that I just want to hit a drive thru! But finding healthy fast food options that my family will like is not easy. They want nuggets and fries when I want a salad. But lately we've found our stride, and after repeatedly trying some #onenewfoods, we all have a few healthy fast food places we like when we're in a hurry for a quick meal!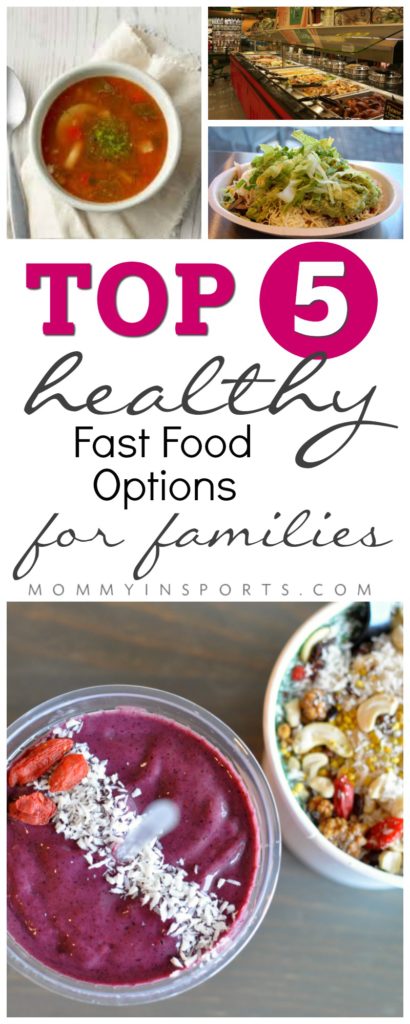 top 5 healthy fast food options for families
Whole Foods

Yes I know most call this Whole Paycheck, but a new store just opened up in Davie, FL, and the hot bars are amazing! When I don't feel like cooking we all can find something we like from meatballs and veggies, to salads or soups, or even sushi for my husband. It's a great option when you're on the go and need to feed your family something nutritious!

Jugo Fresh

Inside that Whole Foods store is the juice company Jugo Fresh, which has 11 locations in South Florida. I love them so much I did a juice cleanse with Jugo Fresh, and they just launched a new menu, which includes more than just juice. I love the protein packed smoothie bowls for a quick breakfast or lunch, and the girls of course are obsessed with their smoothies. This is a great option on the go for kids of all ages! (For awesome kids' smoothies recipes read this!)

Chipotle

I wasn't a huge fan of this chain when they first hit the market, but now I love their burrito bowls. They are less then 500 calories, and without dairy (unlike the photo above) are the perfect Paleo meal for me. The kids love the quesadillas too! We also respect that the meat is antibiotic and hormone free, and most of the ingredients are organic. This is a great option when travelling too, and definitely a healthy fast food!

Panera Bread

I don't eat deli meat, but Panera Bread offers several organic meals and non-GMO ingredients. I like the dairy free soups, salads, yogurts, all natural peanut butter and jelly and grilled cheese on whole grain bread for the girls. It's hard not to eat their delicious bread, but in a pinch I can always find something nourishing for the family at Panera Bread.

Jason's Deli

Jason's Deli is a great option for lunch or dinner. About 1/5 of their menu is organic, and the nutty mixed up salad is my favorite. I just boycott any cheese, and top with oil and vinegar. When the girls were little, the salad bar was super filling for them, but now they can always find something they like. And every once in a while we partake in Jason's Deli's free soft serve cones!
So the next time you're eating out, and are tired of the grease, consider one of these healthy, filling, and delicious fast food options. You too just might find a new family favorite healthy "fast food joint"!
what's your favorite healthiest take out meal?
You also may like, our Top 5 Healthy Snacks series for women on the go, or kids playing sports! Don't forget to follow along on Facebook!
*Disclaimer: Jugo Fresh gave us complimentary products, but we would have included their yummy smoothies regardless!