Disclaimer: This shop has been compensated by Collective Bias, Inc. and its advertiser, however all opinions are 100% mine! #PalmoliveMultiSurface #CollectiveBias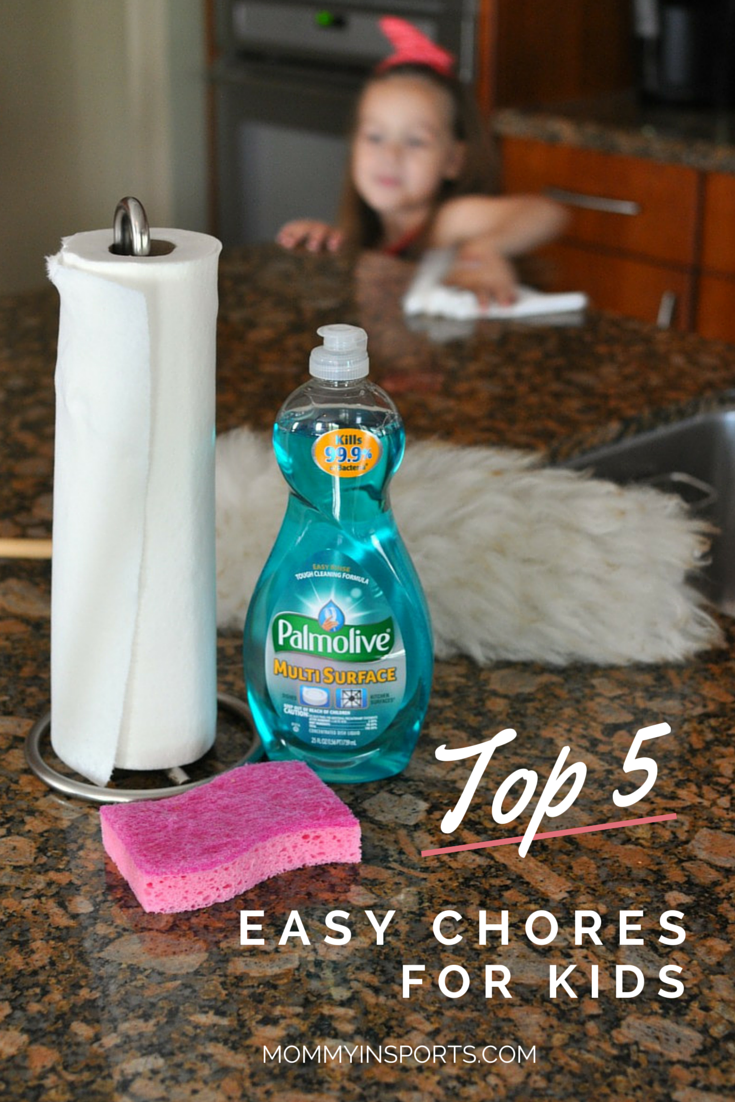 It's clean up time!
Spring has sprung and who isn't in the mood to start (or finish) their spring cleaning?! But mom and dad aren't the only ones who have responsibilities around the house. Our children can start their own cleaning routine as early as the baby stage. We've always felt it's super important to involve our kids, and teach them to pick up after their toys. But once they hit age three it's time to start adding in daily chores. We started small with putting dirty clothes into the hamper and cleaning up spills, but now our girls help out in big ways that save mommy lots of time! That gives us more quality time after dinner for play and reading time. Plus it teaches children independence and helps them feel like they are part of the family and contributing. Kids thrive when they are in the middle of the action – a win win in our book!
Here are our Top 5 Easy Chores For Kids!
1. Clean Up Time

Call me crazy or OCD…but we try to clean up one activity before moving on to the next. Whether it be legos, puzzles or even an art project, it really helps keep the mess contained. I learned this the hard way one day when I walked in to my bedroom to find a bin of legos, Mr. Potato Head and all it's pieces, and a slew of nesting blocks and puzzles all over the floor. We still have to remind them sometimes, but this has almost become a habit. Our girls also know Saturday morning is clean your room day! We get this done early so we can have a fun weekend once our chores are done. "Clean up, clean up everybody do your share!" (Yeah that song is getting old!)
2. Laundry Time
Laundry could be the most hated chore on the planet, but moms, you don't have to do it alone. Kids can help bring their dirty clothes to the laundry room, and it's a fun sorting game to make the piles. Then when the laundry is clean, our girls love picking out their own clothes and putting them into piles to help fold, and after folding it they can take their clothes straight to their rooms. And trust me, three year olds love to put their clothes away, and our six year old has mastered hanging up her own clothes. Don't underestimate the ability of those little hands!
3. Wash the Windows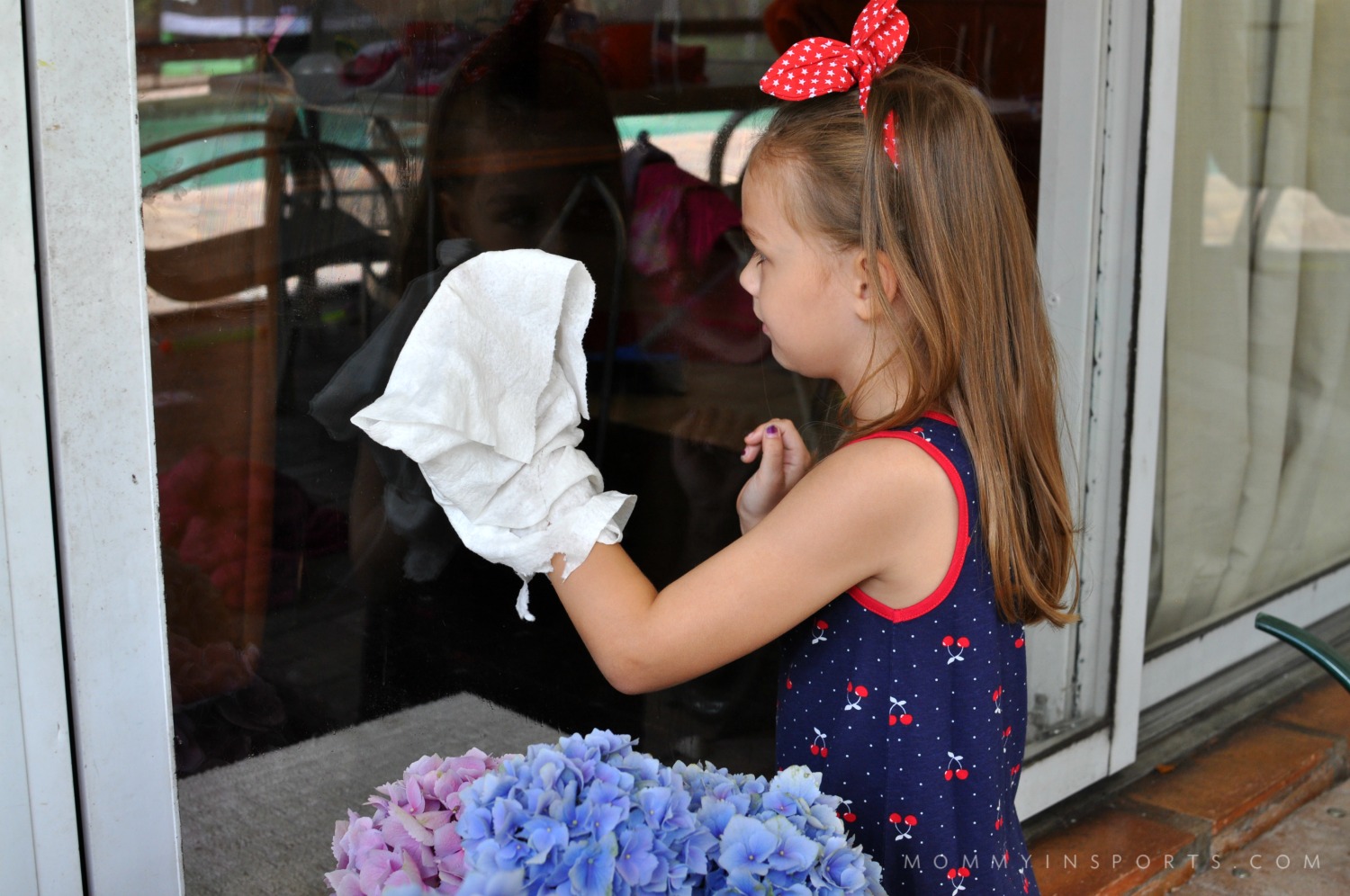 Let's be real, who has time to wash the windows? Unless we're having a big party of course! But for some reason our girls love to wash the windows. So get out that spray bottle and roll of paper towels and watch them have fun!
4. Vacuum
Since toddler-hood our kid have been fascinated with the cordless kitchen vacuum. They also love sweeping too, so a couple times a week they get their sweeping tools and help clean up the floors after dinner. And since we introduced a kitten to our home, they also vacuum their bathroom now and pick up the stray litter. It may not be perfect, but it helps me while I'm loading the dishwasher!
5. Clear the Table and Wipe Down Counters

Speaking of dinner, once they are old enough (around three) after dinner we all take our plates to the sink. Then we clean off the excess food into the trash and then wipe down the table. They also like to help wiping down the counters and island, I think it's all the bubbles from Palmolive® Multi Surface cleanser! I love that it can be used on dishes and kitchen surfaces, plus it smells really fresh!
You can pick it up at Walmart in the detergent aisle…
and then let your kids get to work!
And Palmolive® Multi Surface is not just for dishes, it's great for cleaning up after craft projects,or spills on the floors and counters. Palmolive® Multi Surface eliminates 99.9% of bacteria (*staphylococcus aureus, Salmonella enterica and E. coli ((157:H7)) from dishes and hard non porous kitchen surfaces. Plus it's important to let our children learn to help take care of themselves and their messes. It empowers kids and gives them confidence that it's OK to make a mess, and they are big enough to clean it up!
Good luck with your spring cleaning and don't forget to call on your junior helpers!
what's your child's favorite chore?