Miami's Fashion Week is right around the corner May 15-18. I know because I've read about it online, and seen previews on social media. I briefly thought about attending, as I've never been to an event like this. But then shook my head and realized that a fashion show is the last place I'd like to go.
Why?
I'm totally unfashionable. I don't know much (if anything really) about labels, and rarely find time to go shopping. In fact, I'm so bad at finding clothes to wear on camera, that I have to rely on my friend Heather Schatz. She helps me coordinate outfits, and even hooked me up with these divine designer dresses to wear to Miami HEAT games. Do I like nice clothes and shoes? Of course! I just don't get a lot of what's "in style," and prefer simpler, more classic pieces. Plus for me, comfort > look. And I was more than a little giddy when I saw GMA's instagram photo last week:
Surprisingly, I'm not a huge fan of Birkenstocks, but comfy sandals I can totally get behind as a trend! Maybe it's my Midwest roots, or maybe it's my dislike for Miami fashion in general. I believe less is more…as in showing less skin. We know you've got the girls and hot bod under there…we don't need to see every inch people!
As I peruse pics online of the bold and beautiful models wearing amazing and expensive clothes, I realize I've fallen into the pit of mom fashion. So, in honor of David Letterman and his impending retirement, I give you my Top 10 Signs You've Entered Fashion Mom-Landia. And for the record, I'm totally ok with my new mom attire.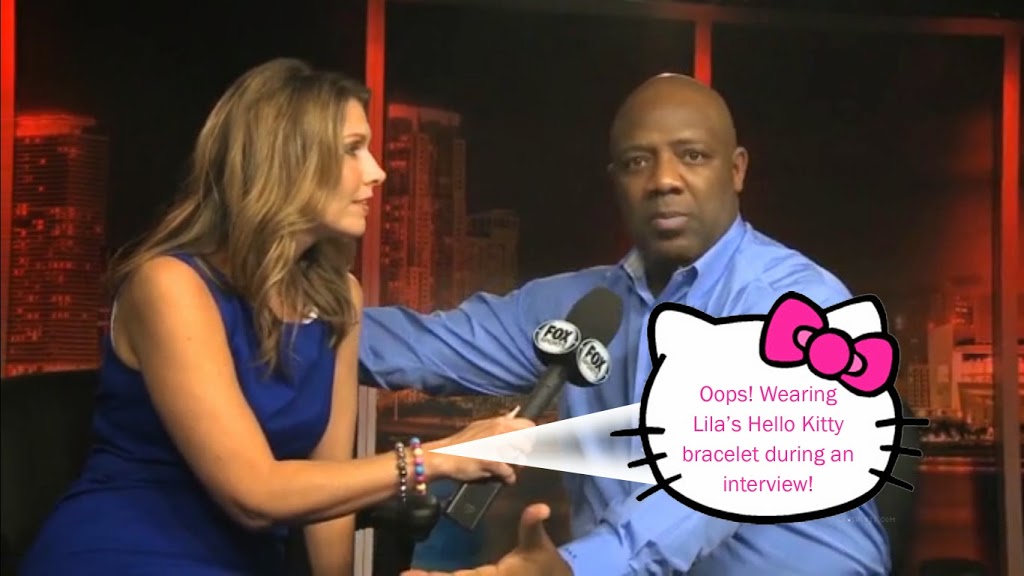 Rocking my daughters Hello Kitty bracelet while interviewing Miami HEAT/Sun Sports Courtside Reporter Jason Jackson
The Top 10 Signs You've Entered Fashion Mom-Landia
10. You own mom jeans. Yes you know what I'm talking about.
9. Your undergarments are stained with breast milk, and spanx are your new best friend.
8. You wear your hair in a ponytail at least 4 days a week.
7. You buy the majority of your clothing where you buy diapers: Target or Costco.
6. You don't know what size you are anymore because everything you own has an elastic waistband. Yoga pants are now a uniform.
5. Tankini. Enough said.
4. Your bling has been replaced with birthstone necklaces, your kids initials, or plastic baubles your baby begs you to wear to work. (Hello Kitty is hot in our house!)
3. Maxi dresses are more like formal wear.
2. Your latest 'it' bag no longer has "Louis Vuitton" or "Gucci" logos, but rather Elsa, Minnie Mouse, or you carry the hottest new diaper bag from Thirty-One.
1. You can't decide which pair of flip-flops match your outfit. High heels…what heels? Those are saved for special (sometimes annual) occasions.
Shout out to Heather for adding to this list! She actually wants to take me to Miami Swim Week this summer. Models in bathing suits will require mass amounts of Pinot Grigio consumption…but should be fun to check off the bucket list.
What's your favorite 'Mom-landia Fashion Moment'? I'm sure I've missed loads…please share it in the comments below!