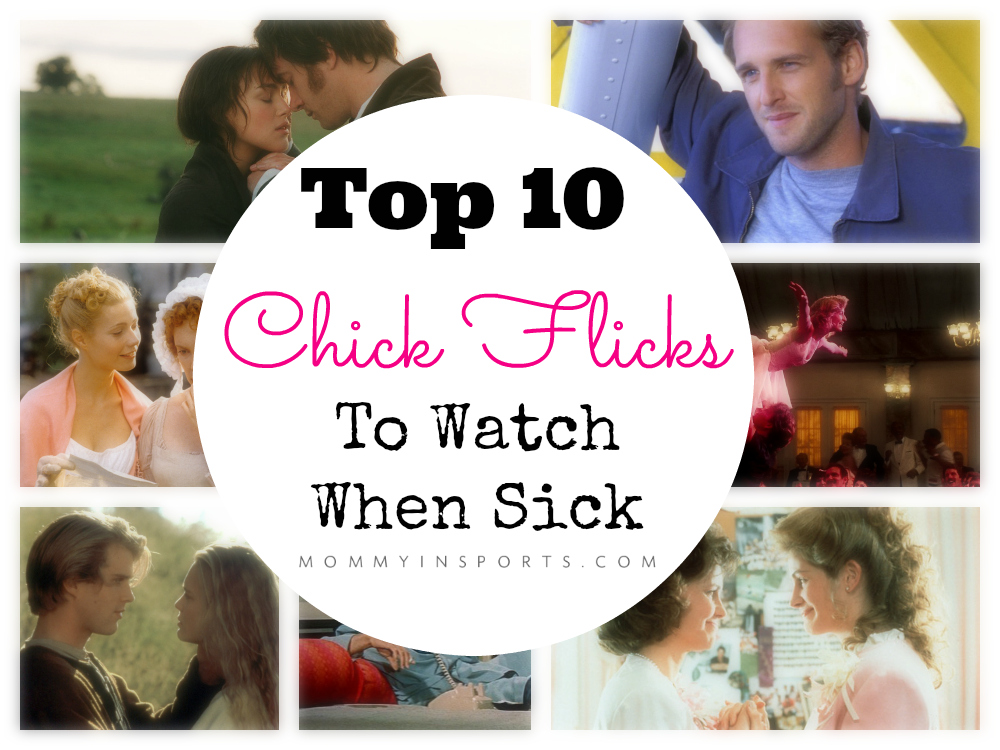 Tis' the season for overbooked schedules, tired families, and cold & flu season. A couple months ago it was the stomach flu – and this week we've caught a bit of the sniffles and sore throats. While we'd all love to be snuggled up in bed totally vegging when we're feeling under the weather, life and responsibilities go on. But when time does stand still – is there anything better than a chick flick?
I always seem to find comfort in my favorite classic movies – which got me thinking (Carrie Bradshaw)…what are the best chick flicks to help you when you are feeling blue?
Top 10 Chick Flicks to Watch When Sick!
10. Dirty Dancing – Have you gone back and watched this recently? It's so bad in so many ways…but I can't stop watching Baby and Johnny dance. "Nobody puts Baby in the corner." Plus the soundtrack is great! This is one of those that I can't help but watch, even if it is a ridiculous premise.
9. Bring It On
This new millennium movie always makes me happy….as does Dwayne Wade's leading lady Gabrielle Union. "Brrr…it's cold in here…there must be some Torros in the atmosphere." I know all the cheers by heart. And no Kirsten Dunst isn't necessarily cheer-tastic, but they do a good job editing around her limitations.
8. Emma – Have you seen this one based on Jane Austen's novel? It was actually the basis for Alicia Silverstone's 90's classic Clueless. Emma portrayed by Gwyneth Paltrow is always trying to play matchmaker – and is concerned with social status. An easy watch that will leave you entertained and tug at the heartstrings.
7. The Princess Bride – I was surprised to learn that is one of my husband's favorite movies – and my kids loved it as well. Who knew?! This movie has so many quirky & quotable lines and characters. From the battle of wits to the swordfight scene at the top of the cliff…this film will never get old. Nor will seeing Fred Savage and Columbo narrate the story. "Inconceivable! You keep saying that, I do not think it means what you think it means"
6. Steel Magnolias – I'll never forget watching this blockbuster at the theater with my mom and grandmother. Such an amazing cast from Julia Roberts, Sally Fields, Dollie Parton, Darryl Hannah, Shirley MacLaine, and two of my favs Tom Skerritt and Dylan McDermott. You laugh, then cry, then laugh again. This is the ultimate chick flick that may not cheer you up….but you definitely can't stop watching. If you are a younger generation than I and have not seen this…do so immediately! But have some tissues handy…like a whole box.
5. Sixteen Candles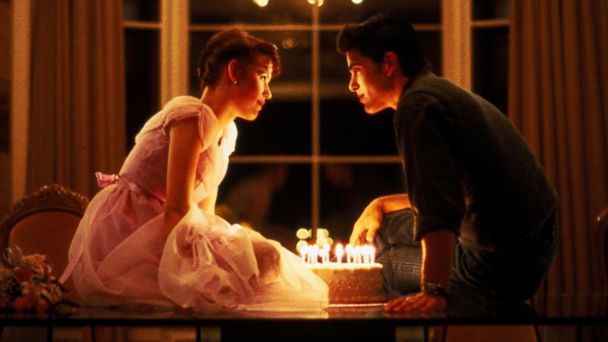 Who doesn't love Jake Ryan and Long Duck Dong? This is another great flick that has the ultimate 80's soundtrack. (I'm aging myself huh?) Not only do I watch this when under the weather, but literally every time it's on television. Even though I own the DVD.
4. Love Actually – Love love LOVE Love Actually. It's technically a holiday movie, but I can watch it anytime of year. I've always been a fan of how they interwove the storylines and characters. Hugh Grant is endearing, as is Liam Neeson.
3. Pillow Talk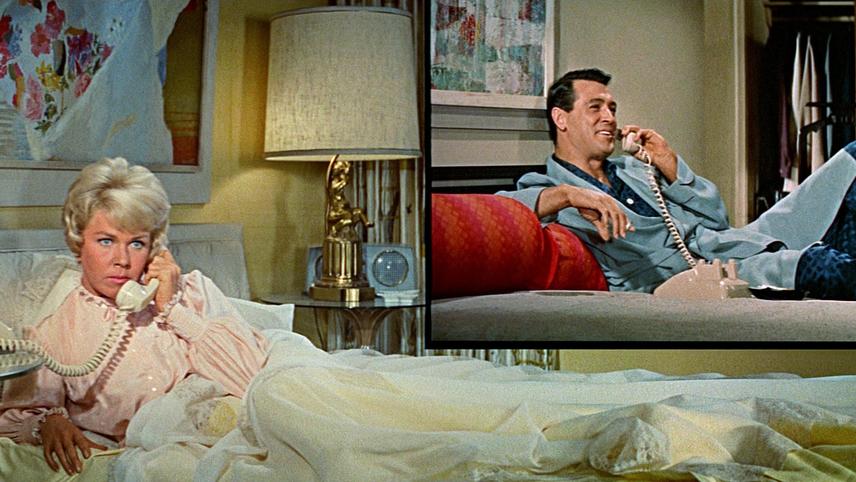 Ok, so I originally had Pretty Woman in this spot. And I do love the Julia Roberts – Richard Gere boy meets prostitute flick. But this list is based around being sick, and in terms of making me feel better, nothing does the trick like a dreamy Rock Hudson film. And of course Doris Day steals the show in Pillow Talk. I used to watch old Doris Day and Audrey Hepburn movies with my mom on Sunday mornings as a child – and this one in particular always makes me smile and forget the offending illness. It's amazing how just watching a movie like this transports me back to my mom's bed with the big fluffy covers when I was little. (Note to self, start tradition like this with our girls!)
2. Sweet Home Alabama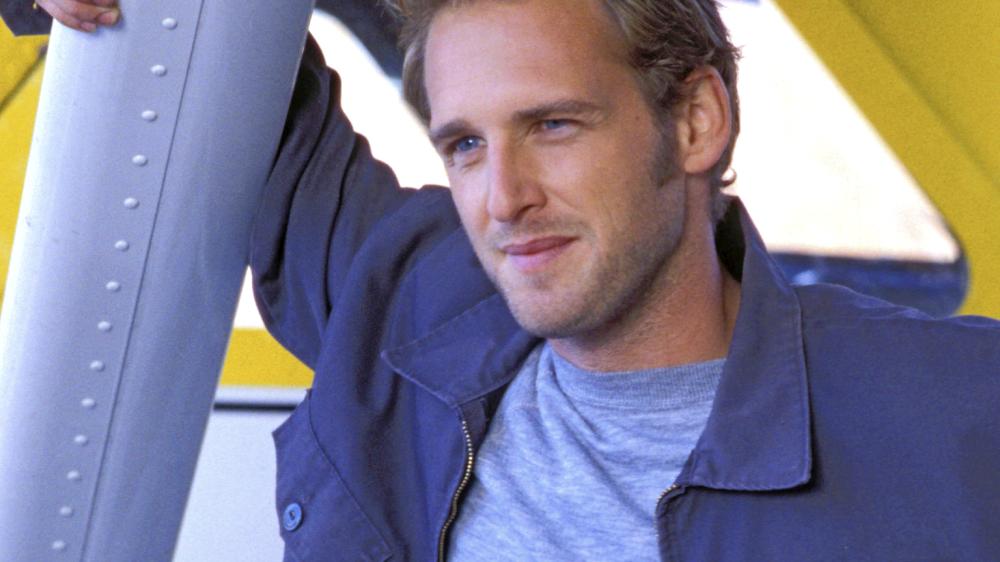 I am not embarrassed to admit that I know this movie by heart, and still watch it all the time. Is there anyone hotter in Hollywood than Josh Lucas? I know I'm in the minority here…but those piercing eyes and sweet storyline always suck me in. As does McDreamy as the other man. This will always be my go to when I need some me time, or can't sleep at night.
1. Pride and Prejudice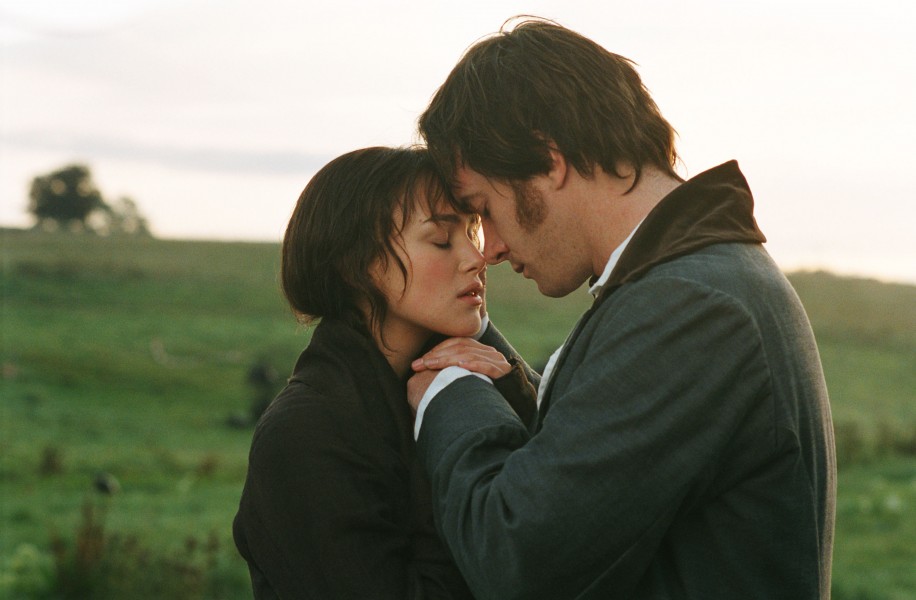 The version with Kiera Knightly actually made me read the entire novel by Jane Austen. The last line of the movie, with the sun rising perfectly behind Mr. Darcy and Elizabeth when he proclaims, "You have bewitched me body & soul…and I love, love, love you" leaves me breathless everytime. If only to hear those words just once in my life like that….(swoon) so completely romantic.
Other movies that were in my top categories for making me feel better were: Sabrina (Harrison Ford – Greg Kinnear version, sorry Hepburn fans), Legally Blonde, Pretty Woman, and Goonies. While Goonies isn't quite a 'chick flick' – it is an amazing film from the 80's before the Brat Pack were teen heartthrobs.
what's your favorite movie when you are hiding under the covers?