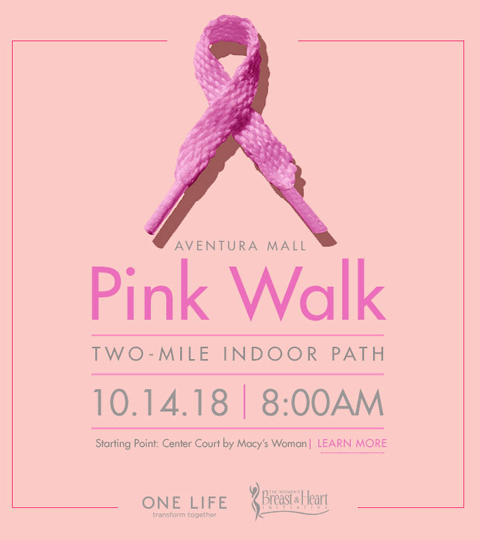 One in eight women will develop invasive breast cancer in their lifetime, and sadly my Aunt Helen was one of them. She fought the disease for two decades but eventually succumbed to cancer seven years ago. Though she's gone from our lives here on Earth, I can still hear her voice calling me on the phone saying, "Hey Babe!" And I'll forever be her little stinkpot.
So many of us have loved and lost someone from breast cancer, and that's why in October we think pink. Our girls have helped me participate in the past at the Walk for the Cure, but this year we are attending the Breast Cancer Awareness Pink Walk.
The Aventura Mall has partnered with Women's Breast & Heart Health Initiative to host this amazing Pink Walk on Sunday, October 14. Participants meet in Center Court at Aventura Mall, where "I Pink I Can" t-shirts will be available for purchase. All proceeds will benefit the Women's Breast and Heart Health Initiative and Aventura Mall will match every dollar donated. (Wow!) Additionally, the first 50 people who donate $20 dollars will receive an "I Pink I Can" t-shirt. (Totally hope I get it!)
The Women's Breast & Heart Health Initiative was founded by Andrea Ivory, a breast cancer survivor. She decided to help at-risk women just one year after her diagnosis by providing access to resources to help minimize the risk of both breast cancer and heart disease. "There is a sense of community that reaches beyond the walls of Aventura Mall," said Ivory. "Our work is an extension of the goodwill the mall provides to its shoppers."
What I love about this walk is that it's indoors, and I know my fellow South Floridians will agree AC is best! After the walk, there will be a cooldown and stretching session followed by light bites and refreshments. Attendees can also create keepsakes to honor their loved ones affected by breast cancer. Here is a rundown of the event at Aventura Mall:
Registration – 8 a.m.
Powerumba warm-up dance class – 8:30 – 9 a.m.
Pink Walk – 9 a.m.
You can RSVP here.
Bring the kids and have them join the Breast Cancer Awareness Pink Walk at Aventura Mall. It's a great way to show our family's that even in a large city, we can still help members of our community. And we can all honor the memory of someone we love who is no longer with us. Hope to see you there!