Lila and Emylia LOVE their wagon!
I was in tears last night when my 13 month old said "night night". It sounded like something more like "ni ni"…but the point is…they grow up too fast. So I went over to the baby book and started to record some of her milestones, and found a few cute, funny, and sometimes rude things my almost 4 year old has said recently. Keep in mind my husband has worked for the team since 1999, he is a Television Director and Graphics Operator. Enjoy!
Christmas moment:
Me: "Let's write a letter to Santa"
Lila: "Oh ok, how about "L" for Lila?"
After Her Baby Sister's Seizure:
Lila: "Is Emy going to need sugary?" (uh, surgery?)
On the HEAT:
Me: "Who are you rooting for tonight?"
Lila: "I like the My-hammy Eat!"
Lila: "Why is his name Chris Bosh? Did his mommy name him that when he was a baby? Whoa he must have been a big baby!"
Me: "Who's your favorite team?"
Lila: "I think the red ones. Red is my favorite color." (Guess she'll like the HEAT in February when the team wears their red throwbacks.)
On Her Daddy Traveling with the HEAT:
Lila: "Why is it called a road trip if they fly in an airplane?" (Uh, great question.)
Watching a Road Miami HEAT Game:
Me: "Lila look, Daddy's game is on TV."
Lila: "Where is Daddy?"
Me: "In the TV Truck"
Lila: "Oh does he drive the TV Truck?"
And my favorite came when we went to the circus 2 weeks ago and we saw this picture on the wall of the American Airlines Arena.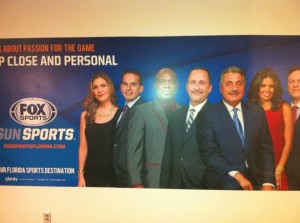 Lila: "Look mommy, there's Jason Jackson!"
Me: "Who's the girl?"
Lila: "I don't know"
Me: "In the black dress?"
Lila: "Oh that's you! Why is your picture here?"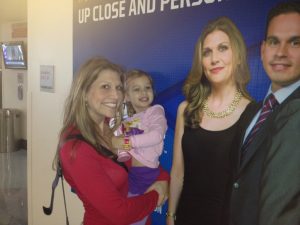 Now she gets it!