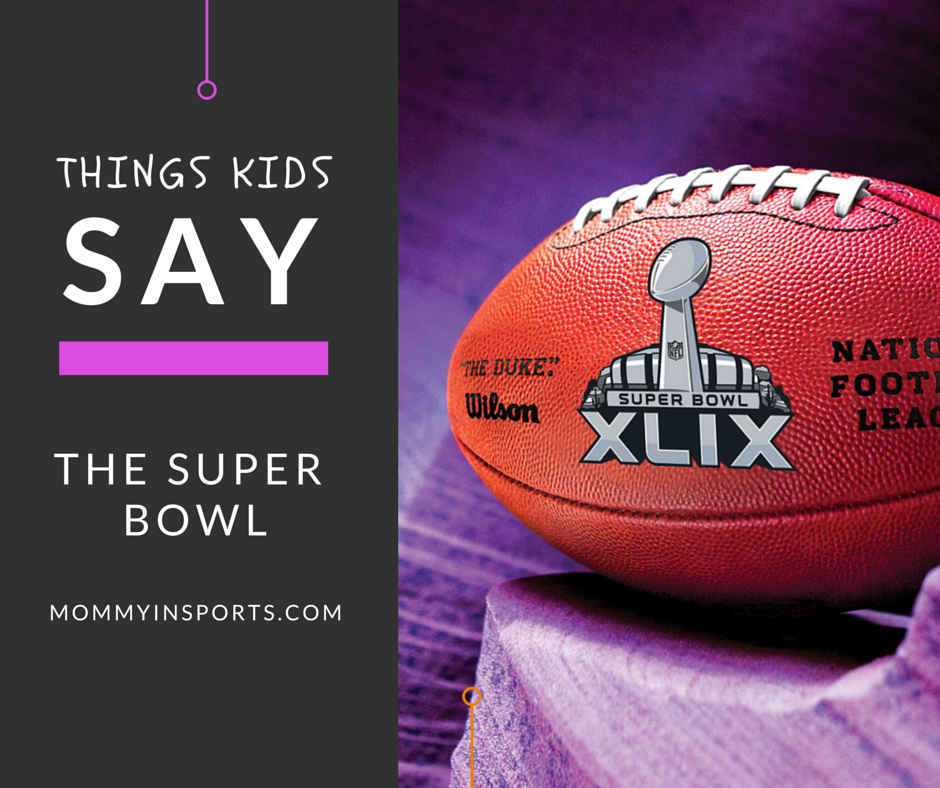 I wasn't going to let them stay up, it was a school night after all, and I'm a stickler for bedtime. But as I heard the girls singing in their beds and there were only 2:00 left to play in the half, I decided to break the rules. Katy Perry is their favorite after all! But of course the two minutes ended up taking nearly twenty minutes, so lots interesting football questions and discussion ensued!
The Teams
Lila: "Are the white guys the bad guys?"
Me: "No people thought they cheated, but it turns out they may not have."
Lila: "Well I like the blue ones better, the pelican is cute."
Me: "That's a Seahawk."
On Protective Gear
Lila: "Why do they wear those hats, so they don't get hurt?"
Me: "That's right – but they're called helmets."
Lila: "They need helmets for their knees and arms too. Like Baymax"
On Tackling
Emy (age 3): "Why do they fall down so much?"
Me: "It's called tackling. It's part of the game."
Emy: "How come they get to tackle and I can't jump on Lila?"
Me: "Because it's part of football, and they wear clothes that protect them. You aren't allowed to tackle and wrestle in the house."
Emy: "Awwww…that's not fair! I want to play that game with Lila!"
Halftime Show
I wish I had a picture of the girls reaction when Katy Perry came out on that Liger…wide mouth gapes of surprise and delight. Roar is their fav too, so it was worth the wait and the lenghty halftime recap segments.
Lila: "She looks beautiful! I could draw fire like that!"
Me: "I bet you could have made a better costume than that."
Seriously what was that outfit? It's the Super Bowl, I get whimsical, but you couldn't have called the Kardashians and had boatloads of Swarovski crystals brought in?!
Lila: "Um…those dancing trees and sharks…is this Yo Gabba?
Me; "No it looks like it though!"
Still fun to watch though! And it appears the dancing sharks were more popular than the actual performance on twitter…this is worth the scroll!
On Missy Elliot
Lila: "what is this music?"
Me: "It's rap, they talk instead of sing to the music."
Lila: "Oh I like it."
Clearly I'm not playing enough mainstream music, note to self, dump the Disney DVD's and fork up the $10 bucks a month for satellite radio. But I loved Missy and wanted to get up and get my freak on. (yeah I sound old typing that.)
The Commercials
Lila: "I thought you said they were funny."
Me: "Me too. They used to be."
No they weren't as funny as years past, but on a serious note, the #LikeAGirl ad was super powerful. It's amazing to me in such a short time they were able to create such an enormously meaningful ad. Well done by an impeccable brand, something we all need to remember as we try to empower and inspire our girls to love and believe in themselves. Here's the full version.
All in all a fab Super Bowl in my opinion. A thriller that came down to the end, decent commercials, and a halftime show I could actually let my kids watch.
what was your favorite moment of super bowl 49?