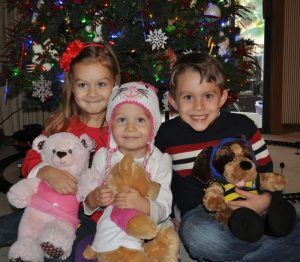 My 2 girls with my nephew Ryan. Cute huh? Until they start asking questions!
Oh Yes. It's begun. The incessant questions from my 4 year old have started…and with a flurry. First it was "why?" after I asked Lila to brush her teeth. Then "why do I have to eat my green beans?" And finally "Why don't cookies have vitamins like green beans?"
"Why?" "WHY?!"
"I'm not sure what vitamins are in cookies — maybe we can look that up later, after you eat your green beans." Sigh.
I understand that her inquisitiveness is basically a sign of her growth and understanding of the world around her. And I am thoroughly impressed and entertained by some of the questions. I love learning how her mind works, and what interests her. But I seriously am stumped on some of these, and sometimes get frustrated. So I've learned to do two things; limit the "Because I told you so!" response, and actually try to give her a good answer, and if I really can't answer, I've realized it's ok to say "I don't know, let's find out together."
So here's a little sampling of what I've been asked in the past 12 hours. Please, if you have good responses to these let me know…because even Siri couldn't help me this morning.
Before bath last night…
Lila: Why do we use a different brushes for our teeth and hair?
Me: Because you can't fit a hair brush in your mouth silly!
Lila: Why does poop smell?
Me: I'm sure it has to do with food in your tummy, umm let's google that after you get dressed.
Lila: What's google?
Me: A search engine on the internet that can find answers to most subjects
Lila: What's the internet?
Me: Brush your teeth!
While in the bath…
Lila: How do we know God is real if we can't see him? (Seriously, I'm getting this at 4? I really should have paid better attention in CCD.)
Me: You just have to believe, God is everywhere, even inside you.
Lila: How did he get inside me?
Me: How do you know God is a boy? (stumped her there!)
Lila: Is Santa Claus real? Because the first Santa I saw had a white beard, and the one at school had a grey beard.
Me: Put your head back, I need to wash your hair. (Do I tell her? No clue how to answer this…)
Lila: How do reindeer fly? They don't have wings.
Me: Magic
Lila: Is magic real?
Me: Do you believe it is?
Lila: I don't know…that's why I asked you.
Today on a long car ride while watching an Aerial DVD…
Lila: Does an octopus have bones? Because I think the tentacles look jiggly.
Me: Probably not, but why don't you ask Siri, I'm driving. (hand her the iphone)
Lila: She can't find anything. (later we searched the web on my phone, and no they don't have bones. I'm sure you were dying to learn the answer!)
Lila: If Aerial is a mermaid, how come her daughter has legs and not fins?
Me: Because when she had Melody, Aerial was a human?
Lila: If we go to the beach will I see a mermaid?
Me: Uh no.
I am thankful my 2 year old doesn't ask questions….yet. What's the one question your child has asked that totally stumped you? Answer in the comments below!