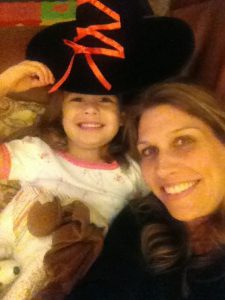 Selfie with my girl watching hoops! Rockin' the witch hat.
Once again my 4 year old darling Lila, (can you see my eyes roll?) cannot sleep due to a cold and fever. She wants to lay in bed with her mama and watch basketball. And as happy as I am to oblige her, the constant questions are both entertaining…and well…tiring. So I thought I would share her observations on the Miami HEAT's first preseason game of the season. It's amazing how much she knows, how much she has yet to learn, and how much her questions have taught me. I have some work to do…pronto.
On Rules of the Game:
Me: "See that man shooting a free throw, that's Ray Allen"
Lila "What's a three throw?"
Me: (I explain a free throw–emphasizing FREE)
Lila: "Uh-huh, so they get 3 points for the 3 throw?"
On Players Names:
(back to Ray Allen)
Lila: "Is his name Allen?"
Me: "No it's Ray. He's one of my favorite players in the league."
Lila: "Like a stingray on Octonauts? That's silly!"
On Hairstyles:
Lila: "His hair is messy." (Sorry Spo)
Lila: "Wow his hair is sticking up, all square. Why?"
Me: "That's Norris Cole, it's called a flat top."
Lila: "Oh that's cool. But girls are not supposed to have flat tops."
On Injuries:
Lila: "Where's Birdman?"
Me: "He hurt his foot, he's out tonight."
Lila: "Where did he go?"
Me: "No not out of the building, out of the game."
Lila: "It's boring without him. Maybe someone stepped on his foot."
On Sun Sports host Jason Jackson:
Lila: "Is Jason Jackson the one with the headband?"
Me: "No, that's Lebron James"
Lila: "Doesn't Jason Jackson sing all the song in the Curious George movie?"
Me: "Jack Johnson sings all those songs"
On Lack of Women on Television:
Lila: "Girls can't play basketball on TV. We can just play games at home. Only boys can play."
Me: "No, girls can play basketball on TV, it's called the WNBA."
Lila: "Maybe we can watch them tomorrow. Will Burnie be on?"
Several things learned on this evening with my girl. One, I really need to explain the game to her better. There are so many rules and nuances that are second nature to us, but completely foreign to her. Like dribbling, and fouls, and free throws! Santa will definitely be bringing a hoop to her this winter.
Two, why in the world have we not introduced her to female athletes? This is a MAJOR parenting fail. I am so ashamed that she thinks women cannot play basketball. I never realized that by watching the Miami HEAT, she would associate or notice the gender differences. It's amazing how perceptive and intelligent children are at such a young age. We need to expose her to all of things women can do… not just sports. I hate that she thinks "girls" can't do anything. Girls, and she specifically, can do anything she puts her mind to. But thankfully she did tell me that she wants to be a doctor when she grows up. Whew!
And three….she really needs to get better and GO TO SLEEP! I'm one tired mommy. Happy NBA season folks, enjoy the ride!