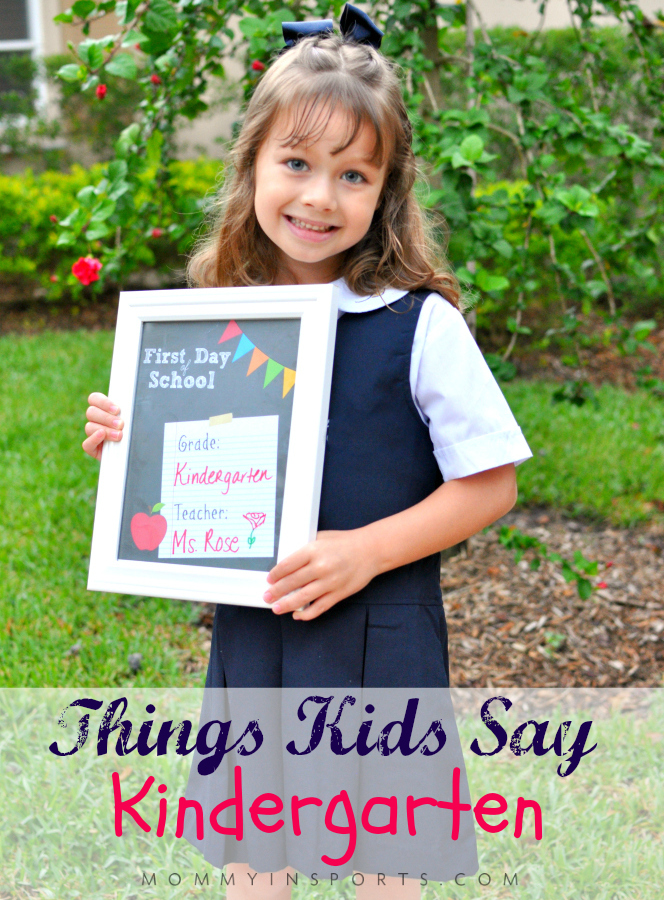 We are a couple of weeks into the school year, and the transition has been less than smooth. Thankfully our daughter loves her teacher, and the school is fabulous….but the wake up time has been a killer. As has the car line.
I have taken for granted though the magic of what back to school used to mean for me. The fresh school supplies, new clothes, shoes and hair accessories, and the promise of new friends and new experiences. Here are some of the cute and memorable things our daughter has said during her first weeks as a Kindergartner.
BACK TO SCHOOL
On Wearing Uniforms…
Lila: "Can I wear the tic tac toe skirt tomorrow?"
Me: "Huh? Wait you mean the plaid one?"
Lila: "No the one that has tic tac toe's on it."
On The First Day of School…
Me: "How was it – did you make any friends?"
Lila: "I like the girls better than the boys, the boys are always punchable."
Me: "Punchable?"
Lila: "They touch each other and wrestle and stuff too much."
LESSONS LEARNED
Me: "What was your favorite part of the day?"
Lila: "There'a a girl at my table and she spits at everyone."
Me: "Oh really, sounds lovely. What's her name?"
Lila: "I'm not sure – but boy did she get in lots of trouble!"
On Fire Drills…
Lila: "There's a loud noise and we did a fire drill. It's so loud I want to cover my ears but I can't because we have to hold hands."
Me: "Was it scary?"
Lila: "Yes but I don't cry, the tears are in my eyes but they don't leak out."
Me: "It's just a loud noise, it's a good thing to help you if there's a fire."
Lila: "I know, but I don't go to the bathroom at school in case the loud alarm goes off I don't want to get stuck." (Poor baby, we are working on this.)
On Chess…
Lila: "We learned about the chess pieces today."
Me: "Oh really, I don't know how to play chess. Can you name them?"
Lila: "There's a queen, and a day and a night, and a bishop and a rook and pond."
It was too cute to correct, guess she'll learn those a little later! Also lost on me was what going to school would mean for our toddler. Lila was home from preschool well before nap time, and now little Emy is noticing that her big sister is gone much longer.
Emy: "Where's Lila? I want to play with her."
Me: "She's at big girl school now…"
Emy: "Oh…I miss her! Can I play with her toys now?"
At least she gets to pillage her big sisters' room now that school has started. Don't you just love the things kids say?!
What's your favorite back to school quote so far?!