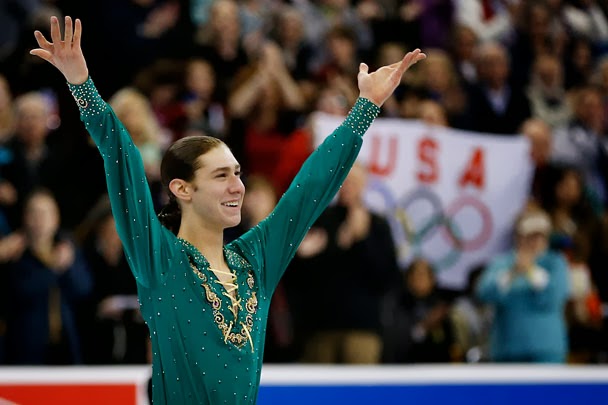 Jason Brown brings down the house in Boston. If you haven't seen his free program, google it. Amazing.
With the 2014 Winter Olympics starting on February 6th, I figured it was time to get my daughter used to the television being tuned to winter sports, instead of Disney Junior. So today we watched the US Freeskiing Grand Prix from Park City, UT, and the US Figure Skating Championships from Boston while I prepped dinner. I didn't realize that explaining the Olympic Games would be harder than the actual sports…but here was when I knew I was in for it.
On Olympic Games…
Me: These athletes are competing to be in the Olympics. The Olympic Games are when every country in the world competes against each other to find out who is the best in every sport.
Lila: Mmmhmmm…like basketball and baseball?
Me: Well no, those are summer sports…these are winter sports. Like hockey, figure skating, speed skating, bobsledding, skiing…so the US skiers today are trying to win so they can go on to the Olympics.
Lila: Do they win the trophy like the HEAT?
Me: No, they win Gold, Silver and Bronze medals. Can you name a country other than America?
Lila: Of course! Orlando.
On Men's Figure Skating…
(When Jason Brown skated)
Lila: Oooooooh! He's spar-ka-leeeey! (she says it with 3 syllables) Do all boys wear sparkles…I've never seen Daddy?
Me: Not all boys, he wears them because it's a costume.
Lila: Maybe Daddy and me could wear costumes like that on Halloween?
Me: I think he would love that!
(Then later Jeremy Abbott who placed 1st skated)
Lila: Where's the rest of the team?
Me: There is no team, it's just one skater at a time.
Lila: How do they win then if there's no game?
Me: The judges keep track of their jumps, spins, and certain footwork elements, and them give them a score at the end. The best score wins.
Lila: He jumps really really high and didn't get dizzy, I think he should win.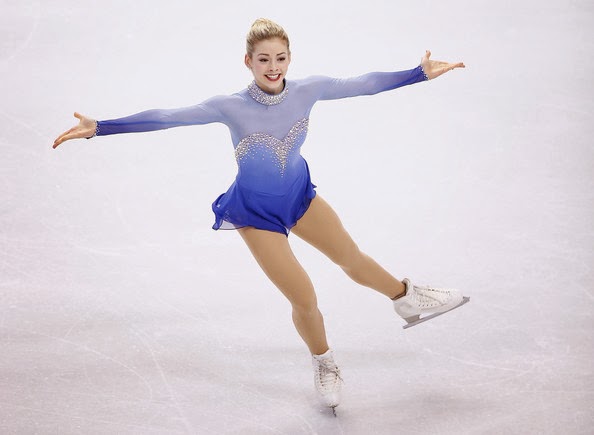 18 year old Gracie Gold captures her first national title in Boston.
On Women's Figure Skating…
(For the women's competition, wardrobe trumphed actual performance)
Lila: Oh…I want her to win…she looks like Queen Elsa!
Me: Sort of, her dress is blue like Elsa's.
Lila: Is it made of ice?
When the Couples Competition Began…
Lila: Is she a real life princess?
Me: Why would you think that?
Lila: She has a crown on. I really like princesses.
Me: It's a tiara, and it's just a costume.
Lila: I want to play that sport. The ice is cold so you don't get hot and sweaty, and you get to wear pretty costumes and lip gloss.
Me: Ask your Dad.
Lila: Are they husband and wife?
Me: Probably not, they have different last names. Why?
Lila: Because he's touching her close and they look like they are going to kiss. We only kiss our husband's right?
Me: Right. You are smart.
Lila: Why is his skate breaking the ice? Will he fall through and get wet?
Me: Enough TV, come eat dinner.
Can't wait until the Olympic Games begin! This is going to be such a great exercise for my kids in geography, and sportsmanship…and who am I kidding, I just need them to be semi-interested.
What's your favorite Winter Olympic event?