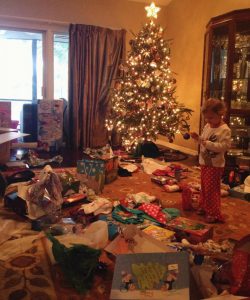 This was the mess, after round 1 of cleanup.
Are you always stressed during the holiday? Have too many "to-do's" and not enough time? This was the first year that I had two kids to actually shop for. Yes technically it was Emylia's second Christmas, but really the first one where she was cognitively aware of her surroundings. And after all the angst, stress, planning, shopping, wrapping, baking and worrying, Christmas came and went with great success, and in a hurry. It took about 20 minutes to peel off the ribbons and rip the wrapping paper to shreds…and then it was over. And we were left with a flurry of trash, and hours of assembly ahead.
Here's what I've learned this holiday season, and will hopefully improve upon next year.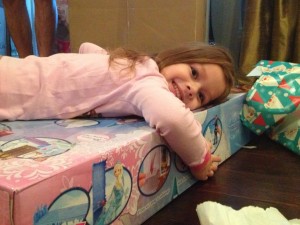 Frozen suckers in this house. Please let her like this for at least 3 months…
Limit the Number of Gifts
And not just from us either, but from grandparents, friends and Santa. My kids are spoiled, and do not need 30 Barbie's at the tender age of 4. Once my daughter opened the Frozen dolls, she had no interest in anything else…she just wanted to play. Next year each of my children will get 3 gifts: 1 educational, 1 frivolous toy, and 1 art project or other activity. Then they will each buy one gift for each other. Four packages on Christmas morning, plus a stocking full of little goodies is more than enough.
Stocking Stuffers
Am I the only one whose kids liked the stocking stuffers more than the actual presents? Mine are loving the puzzles from the Dollar Tree, lip gloss, and new color pages more than their "big" gifts. Note to self…keep eyes peeled all year long for small things.
Same Number of Gifts for Each Child
Who knew they would count and compare gifts this early in life? My 4 year old is already noticing who received what and from whom. We need to be equal in the amount of gifts to both children. And no, I will not buy two of everything. They have to learn to share, and if they can't share then no one is allowed to play with it. To quote my very smart sister-in-law, who has raised 4 children, "people are more important than toys."
Focus More on Giving
The past two Christmases we made homemade gifts for teachers and friends, and once again they seemed to really like them. We will do this again this year, but start in November, and work on them during the Thanksgiving break. This way we won't feel pressure (aka me feel stressed!) during December. Also, my daughter loved buying and wrapping special small gifts for her grandparents and aunt, we need to continue this tradition of giving. It is after all, better to give than receive.
Different Wrapping Paper and Labels from Santa
Major fail this year on wrapping…I blame the wine. We used the same paper on gifts from Santa Claus and gift from us. Next year we need to switch this up…and use different labels and handwriting. I wonder if my daughter has noticed that Santa and her Elf have the same signature?
Chuckie is his name, annoying me is his game. He doesn't keep their behavior in check either.
That Elf!
Speaking of the blessed elf…why oh why did we start this silly tradition? I was so excited to have my first child after seven years of trying, that I embraced the Elf on the Shelf, and couldn't wait to make her smile every morning. Two years later I'm over it. Yes it's fun sometimes to come up with a clever shenanigan here and there…but it's just too much work. I need to devise a plan this year to rid us of this elf….hmmm…to be continued.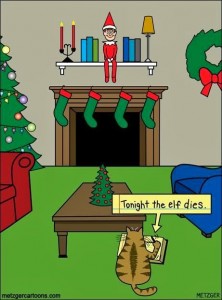 Bake Less
Is it me or is everyone on a diet? I love baking, and stayed up late a couple nights in a row to decorate and make our favorite classic cookies for friends and co-workers. And upon receiving these delicacies filled with love, most groaned loudly. What a bunch of party poopers! Message received…no more cookies for you. By the way…they were delicious.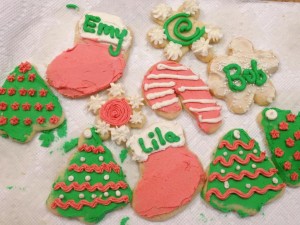 Stress Less – Relax More
Isn't this what we all need to do in life in general?! One of the things we Floridians pride ourselves on is the weather in the winter. Next year I am (hopefully) going to get my cards out right after Thanksgiving, and spend December enjoying the great outdoors. Rollerblading, bike riding with the kids…tis the season in South Florida to get fit and healthy!
Hope you all had a wonderful Christmas and enjoy a healthy New Year! Now tell me…what did you learn this Christmas? Let me know in the comments below!