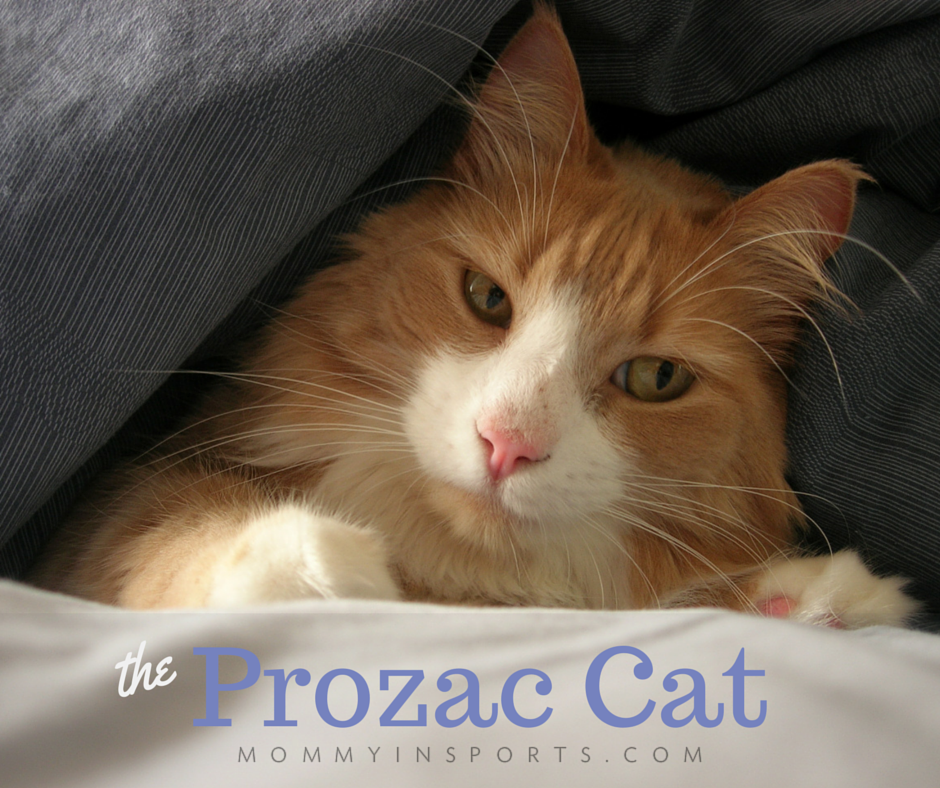 "How are you?"
The text came through on a Friday evening when I was beyond exhausted. My husband was on the road and I had spent three long days going between vets and an internist trying to find out why my cat was scary skinny and ill. I should have noticed he was eating less sooner…and I did. But you know how life gets in the way. And after beating myself up all day, questioning what I could have done differently, and worrying that we might have to say goodbye to little Riley that day….I was toast.
When I heard the bing of the text that asked how I was, I responded quickly and typed, "OK." But I never hit send. Because I wasn't OK. But I couldn't figure what I was feeling. So I did something I rarely do these days…I closed my eyes and leaned my head against my headboard and just breathed, and listened to him purring beside me. After a few minutes of solitude I typed back,
RELIEVED. CONCERNED. EXHAUSTED. SCARED. WEARY. GUILTY.
It's funny how it takes near life altering events to make us stop and think, stop and breathe, stop and just be. But that's what this was for me. A chance to reflect on how Riley came into our lives, and how much he's meant to me.
I spotted the little kitty at PetSmart one weekend while buying dog food. He sat among the cages behind the glass with his sister just waiting to find a family. I really wanted another dog…but Brutus wasn't the most social Golden/Australian shepherd mix on the block. (My husband always joked he didn't know whether to herd or retrieve.) I was surprised to see this particular kitten named Hudson had the exact same markings as our dog, and cuddled right in my lap when I asked to meet him. The volunteer workers at the cat rescue told me, "He's quite a talker!" Never having owned a feline…I was clueless as to what that meant.
I found out the next day when I took my husband back to meet little Hudson. His immediate reaction was, "That's a good looking cat!" So we adopted him, and he meowed and howled the entire ride home. (So that's what a talker meant.) I had butterflies that day on March 3, 2003 thinking….what did we just do?
Though Hudson Hewitt had a nice ring to it, I promptly re-named him Riley; partially because I always liked that name and also because Bob and I had met at a HEAT game…and you know…Pat Riley. He lived in our master bathroom for the first few days to get him comfortable with me, and to keep Brutus from devouring him. I'll never forget the first time Brutus saw Riley…I was terrified. Riley immediately drew blood though on the tip of his nose, and Brutus knew he had a worthy adversary. They eventually became friends, and Riley slept with me every night. He was the first pet that was really mine.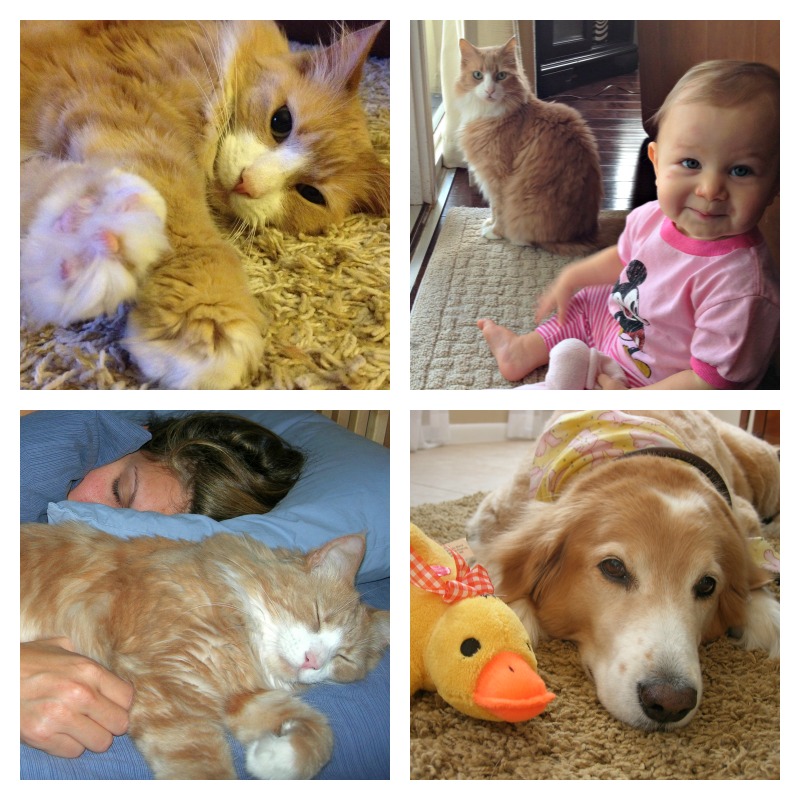 Things changed drastically though when we had Lila six years later. Brutus barked at her and her little newborn billy goat sounds, and Riley was terrified of the baby. I didn't have to worry about our cat suffocating the Lila…Riley hid from her. Until he found that under the crib was a lovely sleeping spot. Our furry friends who had once been treated like our babies slowly and unintentionally became afterthoughts. Did we remember to feed them or clean the litterbox? Eventually, but the time we had to give them was cut in half.
When Lila could crawl, and then walk, chasing our four legged friends was a favorite past time of hers. He then hid even more, and would only come to me when the baby was sleeping. And after we moved into our new home when our second child was just four months old, our old cat went a little cuckoo for cocoa puffs. That's when the problems began; crystals in his urine, peeing and pooping all over our house. He was too scared to come out when people would visit and the vet bills starting adding up. Until our veterinarian came up with this awesome solution:
"I think Riley needs Prozac. It will mellow him out and he'll feel more comfortable using the litterbox."
To which I scoffed loudly in a waiting room full of people, "What do you mean my cat needs Prozac? I NEED Prozac!" I rejected this blasphemy until a few more visits and bills poured in…then we tried the Prozac.
The medication helped a little but the health issues have persisted. And because I'm so busy with life, work, and the kids I've missed the signs over the past three weeks. I noticed him eating less food but thought it was old age. Because he still hid all the time I didn't see him as much as I used to. He stopped grooming himself and after a week of not brushing him I felt the mattes. And then last week, he wouldn't eat his Prozac treats…something he normally inhales. I knew we were in trouble.
After trips to two different vets, and a third to an internist at the Animal Care Cancer Center where I was scared out of my mind we might lose little Riley, we finally figured out the reason behind his drastic weight loss, a kidney infection. He's on new medication and feeding him is no longer an afterthought, it's imperative. I need to get him healthy and well, and take care of this little creature who has comforted me the past 13 years.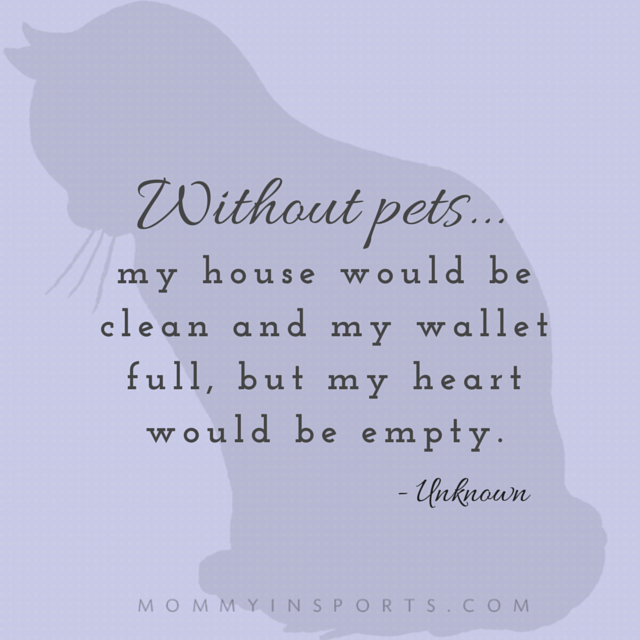 The guilt has been so heavy on my mind it's been hard to focus this past week, but the bottom line is this; I'm doing the best I can. We all are. We are trying to keep our children healthy and loved, work, pay attention to our spouses, pay the bills, keep the house up…inevitably something falls through the cracks. And unfortunately it was not noticing the health of my littlest family member declining sooner. Because that's what pets are…family.
No I'm not necessarily a cat person, but I am thoroughly smitten with this little purrball. He lays on my desk when I work, he hangs out with me when my husband travels, and his purr lulls me to sleep every night. And when I can't sleep he further keeps me company and helps me through long nights. Yes, he's a bit crazy, and needs more love and attention than I sometimes have to give….but aren't we all?
As he ages and this new problem emerges, I try to appreciate him more. I feel sad that I had less time for him when the babies came and missed out on some of the better years, but I still look forward to his visits every night.
How am I? For now thankful and happy to still have my Prozac cat.