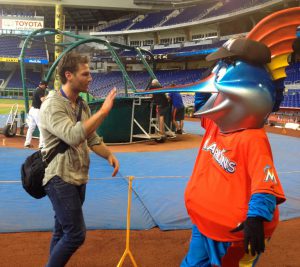 The Bachelor meets Billy the Marlin. Did he get a rose?
So I headed down to Marlins Park today for my last shoot of Billy's Bunch for the season, (sniff sniff), when I heard some spectacular news. I was told that Juan Pablo Galavis, the newly named Bachelor of ABC's 18th season of the show, was going to be there to shoot segments. My eyes lit up, the Bachelor! Anyone that knows me, or follows me on twitter knows that this show is my guiltiest pleasure.
Am I enamored with Juan Pablo like the rest of the women out there? Not really. Though he was really fun to watch on Desiree Hartsock's Bachelorette season this summer.
I'm just absolutely fascinated with reality television, the lack of actual reality involved, and yet, people STILL go on these shows. I mean there are so many production people on these dates, how can and do they REALLY fall in love? I actually asked Trista Sutter this once at a Miami HEAT game this year when I interviewed her, she said it's soooo different now. But I'm digressing.
So we had just finished shooting a segment with Juan Pierre, when Juan Pablo walked in…with a slew of production folks of course. I asked one of the producers if this was the actual show being shot in Miami, but she said it was just an intro video to show where he lives, in Miami. Since Galavis works for the Venezuelan Baseball Hall of Fame and Museum, it's a natural storyline that he follows baseball, and wants a wife that loves sports as much as he does.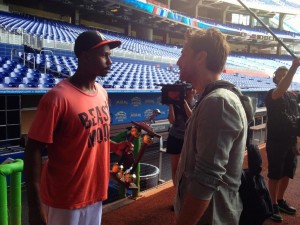 Juan Pierre holding his Billy's Bunch, "Fastballs with Frankie" trophy while speaking with the Bachelor.
The producers were having him goof around at batting practice and talk to several players. Right after I finished with JP (Juan Pierre), I told him to go up and ask the other JP (Juan Pablo), "hey, are you the bachelor?!" And he did. You're welcome ABC.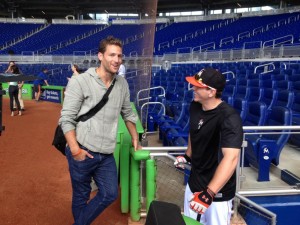 Juan Pablo Galavis chatting with Logan Morrison.
I also asked LoMo if he knew what the Bachelor is, he doesn't watch it apparently, but they talked a bit. Jose Fernandez didn't know who Juan Pablo was either, here's how my conversation went with Jose today:
Me: So do you want to talk to the bachelor?
Jose: huh, what's that?
Me: You know, the tv show where the guy tries to find a wife on tv, and gives girls roses?
Jose: Who, that guy?
Me: (with sarcasm) Yes, didn't you watch that show in Cuba?
Jose: We didn't have a tv in Cuba. You crazy?!
But they spoke, and afterwards Juan Pablo told the cameras "you better watch him, he's going to be good". Yeah he's already good, but that's ok.
I of course asked to interview the Bachelor for Fox Sports Florida, and for my blog. I was told that People Magazine gets the first interview, so no go for me. Total bummer. I did speak to him though, and took a picture with him. I felt so cheesy asking him.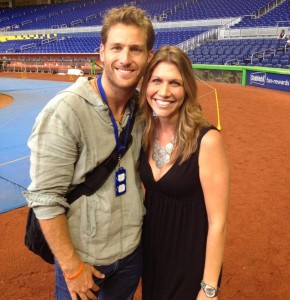 Obligatory fan shot. I had to do it….even though I loathe asking for photos.
It's funny, ironic, and interesting to me that these average Joe's go from their normal lives to super stardom overnight. He seems like a very nice guy and huge sports fan, with an even bigger personality. Hope it translates well on the "show". Because seriously, if there were 5-6 people with him today on a little promo shoot, can you imagine the production crews on those dates? Reality? I don't think so…but I'll still watch. After I read Reality Steve's spoilers of course.
Are you excited about this season of the Bachelor?