[dropshadowbox align="none" effect="raised" width="auto" height="" background_color="#ffffff" border_width="1″ border_color="#dddddd" ]Disclosure: This post contains affiliate links.[/dropshadowbox] Though the temps are still warm down here in South Florida, with the holidays almost here it feels like it's time to teach about winter. Our girls have never seen snow, but desperately want to build a snowman. Largely in part to seeing the Disney movie Frozen, but also because the walls in our home are decorated with pictures of mountains and various past ski trips. Even though we can't experience a true winter here in Florida, we certainly can read about it in our favorite books. And since our oldest in Kindergarten has mastered her sight words, reading has become a favorite activity. So it's time to pull out our top five winter reads for kids, and crank the air conditioning!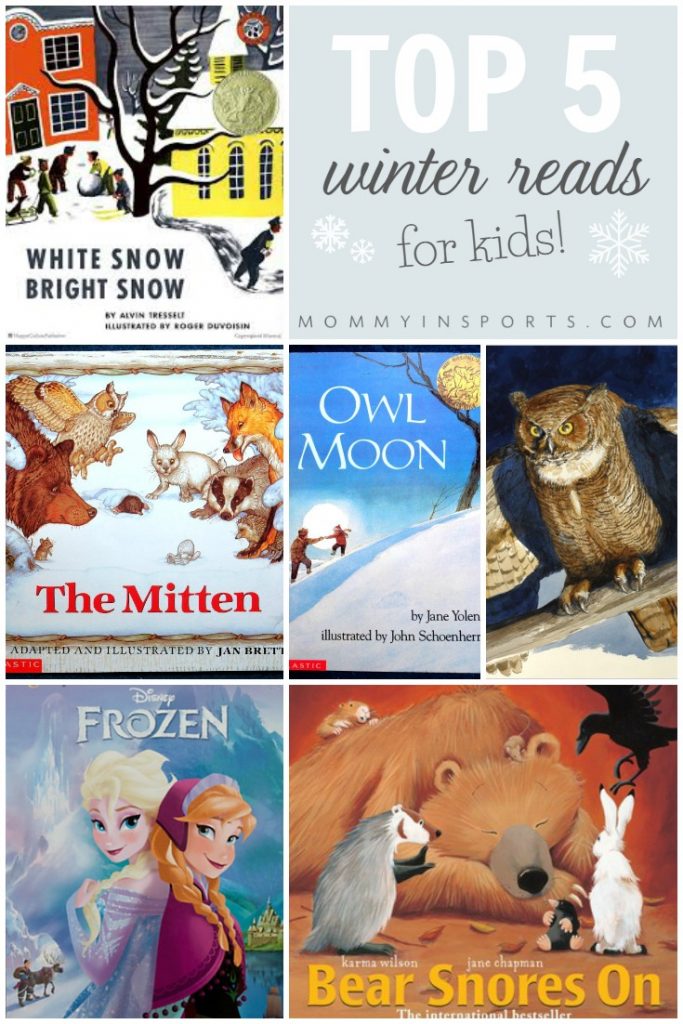 (PS – If you can't tell – I am a fan of the classics!)
top 5 winter reads for kids!
5. FROZEN
It's not literature, but it is the aforementioned Disney's Frozen, and it has captured the hearts of my children. And moi for that matter. Great movie, cute story, and really good ending. Your typical damsel in distress, but not your typical Disney story.
My kids love this book, and we've read it so many times that if I miss a word, I hear about it. Not only do we have the Big Golden Book, but also the Look n' Find version, and the Busy Book.
No shortage of fjords and magical snow princess books in our house! It's last on my list…but number one to the kiddos.
4. WHITE SNOW BRIGHT SNOW
Author: Alvin Tresselt
Illustrator: Robert Duvoisin
"White snow, bright snow, smooth and deep. Light snow, night snow, quiet as sleep. Down, down, without a sound; Down, down, to the frozen ground."

Originally published in 1947, the vintage book White Snow Bright Snow won the Caldecott Medal in 1948. It is a classic story of a snowfall, and how it affects a policeman, a farmer, a postman, and children. The language is poetic, sometimes humorous, and does an adequate job of explaining the change in seasons. I love the bright illustrations, and easy readability.
3. OWL MOON
Author: Jane Yolen
Illustrator: John Schoenherr
Another Caldecott Medal winner in 1988, Owl Moon is a classic. It is so beautifully descriptive, that you can actually feel the cold, and hear the quiet of the forest while reading. It is a story about a little girl who goes owling with her father. The anticipation of searching for the owl keeps us glued to the pages.
"Our feet crunched over the crisp snow, and little gray footprints followed us. Pa made a long shadow, but mine was short and round."


2. THE MITTEN
Author and Illustrator: Jan Brett
The Mitten was a gift from my sister in law and we read it often. It's a story of a Ukrainian boy who asks his grandmother to knit him white mittens. She is afraid he will lose one in the snow, which he does, but something magical happens. All the animals of the forest climb inside for warmth, one by one, until the bear sneezes and the animals are scattered in the snow.
Along with this book, we were also given a knitted mitten and little wooden animals that match those in the story. We re-enact the story as we read, putting each animal inside the mitten. Such a wonderful gift and teaching tool, and all of our daughter's teachers love it.
1. THE BEAR SNORES ON
Author: Karma Wilson
Illustrator: Jane Chapman
If you are going to talk about winter, you might as well teach about hibernation as well! And The Bear Snores On is hands down my favorite children's book. All time, not just winter. I love the beautiful illustrations, the rhyming rhythm and repetition, and the alliteration.
"In a cave in the woods, in his deep, dark lair, through the long, cold winter sleeps a great brown bear. Cuddled in a heap with his eyes shut tight, he sleeps through the day, he sleeps through the night. The cold winds howl and the night sounds growl. But the bear snores on."
This story is super fun to read out loud, and has a great message. I also love that there is always a vocabulary lesson every time we read this. What is a lair mom? What's a spark? We always find something new to talk about. There are several other bear books as well by Wilson and Chapman like the Bear Feels Scared or Bear Gives Thanks. A truly wonderful series.
If you are in the mood to delve into winter, go ahead and check these out at the library. Or check out Oh Honestly's list as well, she has some great holiday picks! If you have another winter favorite, please share with me in the comments below. We love finding new books! Stay warm this winter.