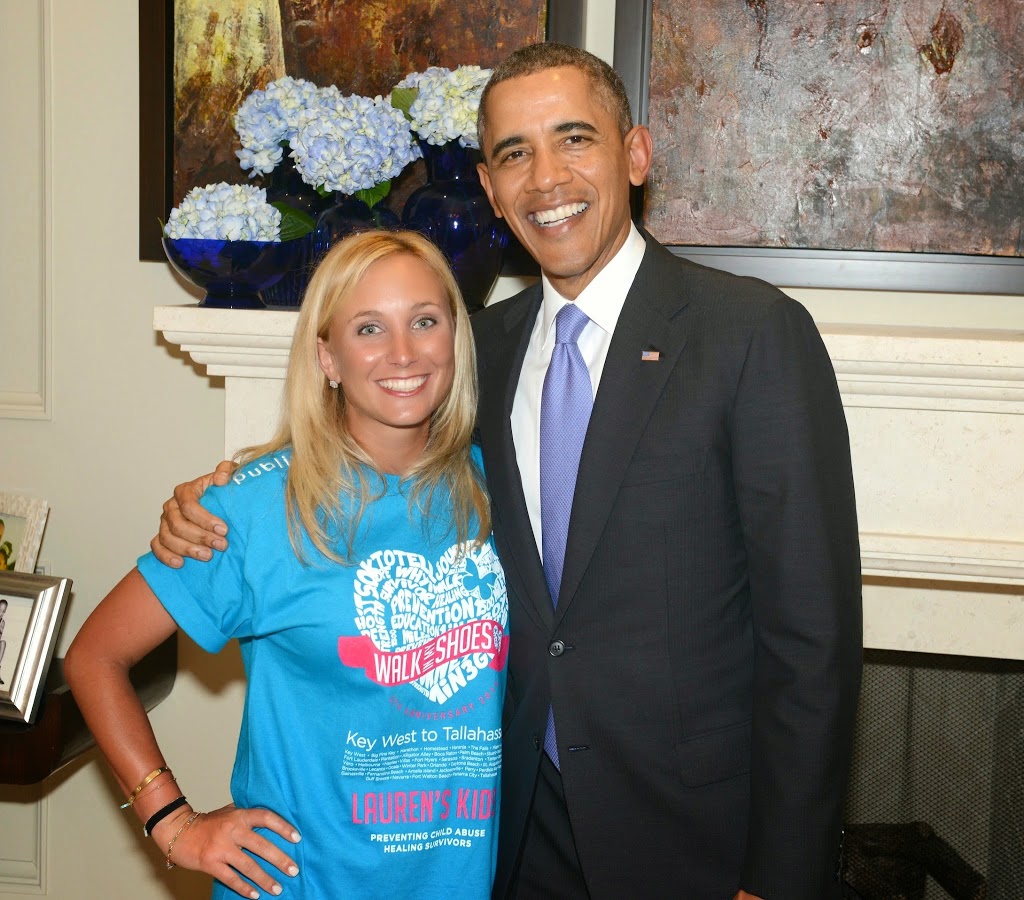 Lauren Book with President Obama, March 20, 2014. (Photo Courtesy Joe Reilly)
Not only is today April 1st, but it's also the first day of National Sexual Assault Awareness Month and National Child Abuse Prevention Month. So I thought this would be the perfect time to share Lauren Book's journey during her Walk in My Shoes for Lauren's Kids. Her message is simple, clear, and the single most important thing we need to teach our children: It's ok to tell.
Lauren Book is a survivor. She was sexually abused as a child for six years at the hands of her nanny. She told me recently that when she was dealing with the emotional trauma of this abuse, her father Ron Book counseled her with this advice; you can either feel sorry for yourself, or you can help others. This brave woman decided on the latter, and formed Lauren's Kids. Her mission is to prevent childhood sexual abuse through awareness and education, and help survivors with guidance and support.
Sexual Abuse Statistics
Did you know 1 in 3 girls and 1 in 5 boys will be sexually abused? These statistics frightened me when I heard them recently at the Call of the Game Dinner organized by Eric Reid and Tony Fiorentino. 95% of abuse though is preventable with education.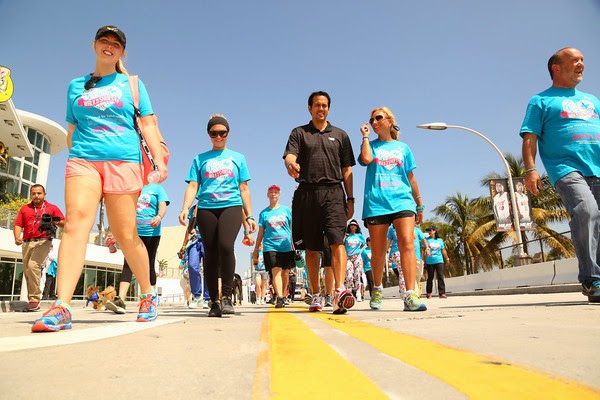 Lauren walking with Miami HEAT Head Coach Erik Spoelstra . (Photo Courtesy: Omar Vega, LaurensKidsPhotos.org)
Walk in My Shoes
For the fifth straight year, Lauren is in the middle of her Walk in My Shoes, where she walks for 42 days from Key West to Tallahassee to spread awareness for the 42 million survivors of childhood sexual abuse in the U.S. Lauren literally pounds the pavement for 1,500 miles, all in hopes of saving children. She begins her day every morning at 4:00 am, and walks until sundown. She is such an amazing person, and I am so thankful to have met her through the Miami HEAT, and have walked with her.
Lauren began her trek this year in Key West on March 16, 2014, and did a lap around the American Airlines Arena on March 21st. I had a chance to sit down and chat with her, and she shared the keys for parents on how to broach this difficult subject with our kids.

Interview with Lauren Book from Kristen Hewitt on Vimeo.
In addition to her walk, her memoir
"It's OK To Tell"
, and being named L'Oreal Woman of Worth in 2013, Lauren has also developed a
curriculum
for preschool and kindergarten students. I have shown this curriculum to my daughter's preschool in hopes that they may implement it in their VPK program. But in the meantime, here's what we've already discussed with our 5-year-old.

What Can You Tell Your Kids?
No one can touch you where your bathing suit fits, except those we allow. (Just parents and doctor if we are present)
You are never to approach a stranger, talk to someone you do not know, or sit in a strangers lap. Especially if they are trying to give you candy or a present.
Develop a trusted triangle, the 3 people your child knows he/she can talk to or fully trust.
If someone makes you uncomfortable or touches you, extend your arm and yell "stop stranger danger!"
These are just the first of many things we can do as parents to give our children a voice, and empower them to tell us if something feels, as Lauren puts it, "icky". I want my daughters to know that their feelings are important, and give them the confidence to speak out. This is especially difficult for children if someone they know tells them it's not OK to tell.
Lauren concludes her walk on April 22nd at the states capital with a rally in Tallahassee. If you live in Florida please join her on the walk. You can also read more about Lauren's story here, in her own words.